Ancient Amulet – Purveyors of preferred Classic Thai Buddhist Amulets for the True Devotee and Distinguished Collector
Ancient Amulets of the Pre and Early Post-Modern Era, of high esteem and Sacred Value, for Devotees and Collectors to study and collect. Ancient Thai Buddhist Amulets. Study and Collect the Ancient Classic Amulets of the Masters of Ancient Times, and Learn about the Magical Aspects, and the Art of Perusal of Ancient Thai Buddhist Amulets of Pra Niyom preferred Master-Class Category
Pra Pim Luang Por Dto Nuea Wan 2506 BE Luang Por Oe Wat Hang Nam Nong Khaem
03410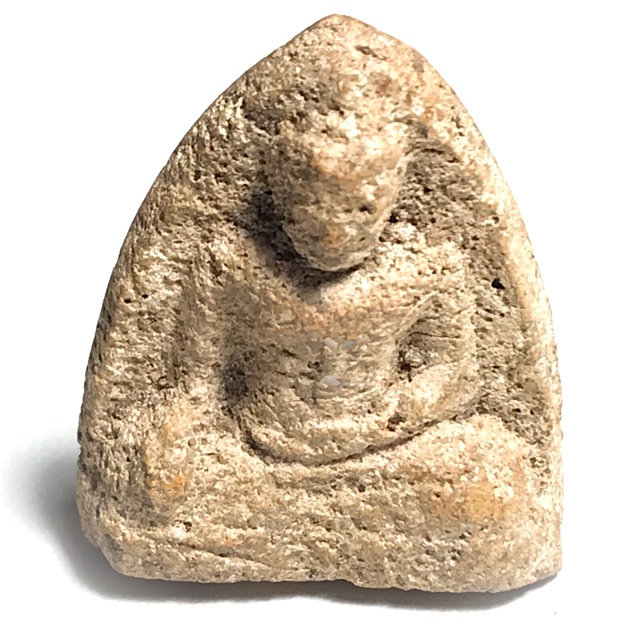 An extremely pristine condition Pim Niyom exhibit, in top form, the Pra Pim Luang Por Dto Pim Mara Wichai (Bang Grating) from the great Blind Monk Luang Por Oe Intachodto, of Wat Hang Nam Nong Khaem. The Pra Pim Luang Por Dto of LP Oe, is an amulet which has legends around it from the many stories of devotees who experienced its power.This exhibit displays 'Nuea Jad' type dry hardened Sacred Clay.
The amulets were made in various pim (Khad Samadhi both hands clasped, and Mara Wichai, one hand touching the earth), with different colours sacred powders, with this model in Nuea Wan 108 sacred herbal pollens, with Pratat fragments was released in the Piti Sao Ha 5th Lunar Saturday Ceremony in the year 2506 BE. The amulets are highly revered for their miraculous reputation, and are very rare amulets from a Gaeji Ajarn who was famously endowed with Abhinya Powers.
Luang Por Oe was born in the year 2438 BE, and was afflicted during his early years with smallpox, which was in epidemic at that time. When he reached the age of about 7-8 years old, he became apprenticed under the mentorship of Luang Por In, who was abbot of Wat Hang Nam Nong Khaem at the time.
Luang Por In was a highly reputed Master Monk with many Wicha, who was considered incomparably powerful in his Region. It is said that nobody was ever able to take a photograph of Luang Por Oe, unless he was asked and gave permission. Any photos people tried to take without asking him first would never turn out with any image visible.
Below; a close up Macro shows pieces of 'Pratat' present within the Muan Sarn powders of the Sacred Clay
And this is said to be the reason why the only photos which are documented are those as he was freshly ordained, and at the end of his life, but none from the middle of his life. When Luang Por Oe reached the age of 18 Luang Por In took him to be ordained by the Great Luang Phu Tes, of Wat Sra Tale, who was one of the Greatest Masters of that Era. Luang Por In was very loving towards Luang Por Oe, perhaps because he was Blind. Despite his Blindness, Luang Por Oe developed immense interest in the Khom Agkhara Sacred Scripture, and practiced until he was able to master it.
Luang Por Oe had the following Kroo Ba Ajarn as Initiating Mentors; 1. Luang Phu Tes (Wat Sra tale) 2. Luang Phu Sukh (Wat Pak Klong Makham Tao) 3. Luang Por Ngern (Wat Pra Prāng Lueang) 4. Luang Por Mee (Wat Ban Bon) 5. Luang Por Bpan (Wat Had Tanong) 6. Luang Por Derm Wat Nong Po.
Luang Por Oe learned how to make and empower Nam Mont Holy Water from Luang Por Ngern, whose Wicha Nam Mont was legendary for its power. This Nam Mont was known as 'Nam Mont Jinda Mani', and was so well known and popular that it is said even His Majesty King Rama 5 visited Luang Por Ngern for his holy water blessings.
There is a tale about Luang Por Oe, of a time when an enemy had paid a gunman to find and assassinate Luang Por Oe. The Gunman walked into the temple looking for Luang Por Oe, and found only one solitary monk sat under a tree. He asked the monk 'Do you know Luang Por Oe?'.
And the monk answered 'Yes i do'! So the Gunman and would-be assassin then asked the monk 'Where is he now?' the monk replied 'Oh he left the temple a long time ago already, i don't know where he has moved to'. The Gunman then went on his way, convinced that his target was long gone. in fact, he had been talking to Luang Por Oe, who was the only monk at the temple at that time.
Below; the Khom Kata 'Na Cha Lī Dti' for Pra Chimplee (Pra Sivali) is embossed on the rear face of this Pim
Even though Luang Por Oe was BLind, it is said that he had Wicha to command Rak Yom Devas within the temple, to patrol around and report to him what they had seen. He would often tell devotees what they had been doing or mention things that he could not have known without seeing.
The amulets of Luang Por Oe are very difficult to find, because the local devotees have never been prone to let their amulets from Luang Por Oe go. His Abhinya Powers are said to have paralelled those of the Great Luang Por Guay of Wat Kositaram in Chainat, another of the greatest Masters of that Era. Luang Por Oe's Pra Nuea Krang resinous herbal amulets are an incredible rarity renowned for their power to protect, heal and bring lucky fortunes, increase status, as well as for their mercy charm.
In the years 2501 - 2506 BE, Luang Por Oe began to make Loi Ongk Statuettes in his image, with the first edition being in Nuea Dtakua alchemical leaden alloy. In 2502 he brought out his second edition kown as the 'Pim Khao Kwang' (wide knees model). The 3rd edition was known as the Pim Dtor', in the same year as the Roop Lor Fang Ploi image with gemstone inserts. Until in the year 2506 BE he stopped making amulets. One of his rarest amulets are his Takrut scroll spells which are immensely favoured for Klaew Klaad Kong Grapan and Choke Lap. It is very rare indeed to see one of his Takrut, or any of his amulets in fact, in the present era.
In the year 2508 BE, Luang Por Oe passed away, and his remains were kept in the mausoleum until the year 2539 BE, when his relics (hairs and robes) were distrinuted to the devotees, with luang por's skeleton remaining on show to the devotees as a last teaching in the Dhamma of Anijja (Impermanence).
Temple:Wat Hang Nam Nong Khaem
Maker of Amulet:Luang Por Oe Intachodto
Weight:3 Grams Without Casing
Recommended Uses:Protection, Lucky Fortunes, Status, Buddhanussati, Miraculous Events
Number of Amulets Made:Very Few Made
Size:2.5 x 1 x 2.8 Cm
Encasement Options
Solid Gold Custom Casing - We will email you with a price quote according to current Gold Prices, and Invoice You after Agreement (0) Waterproof Casing (9) None (0)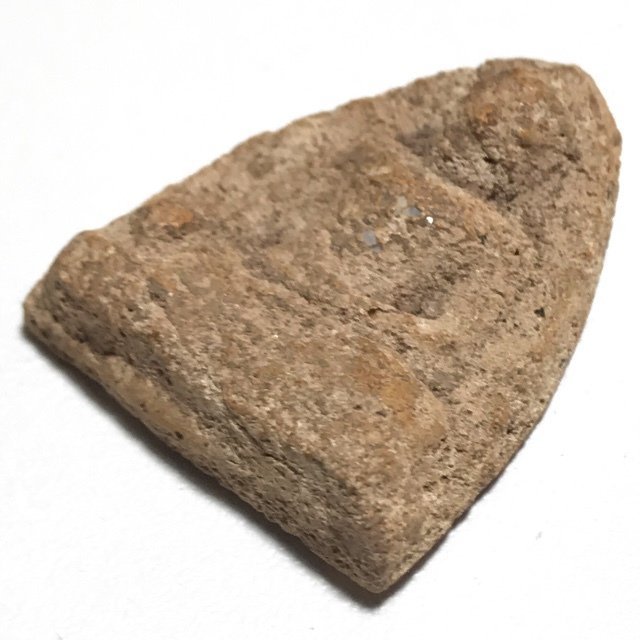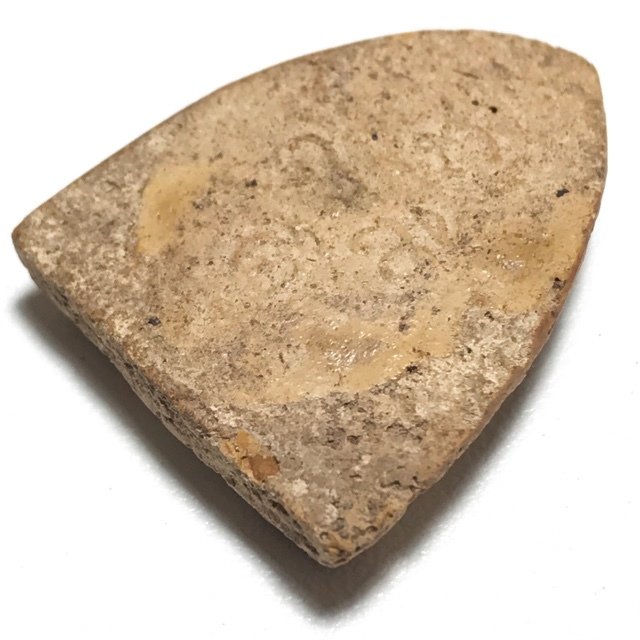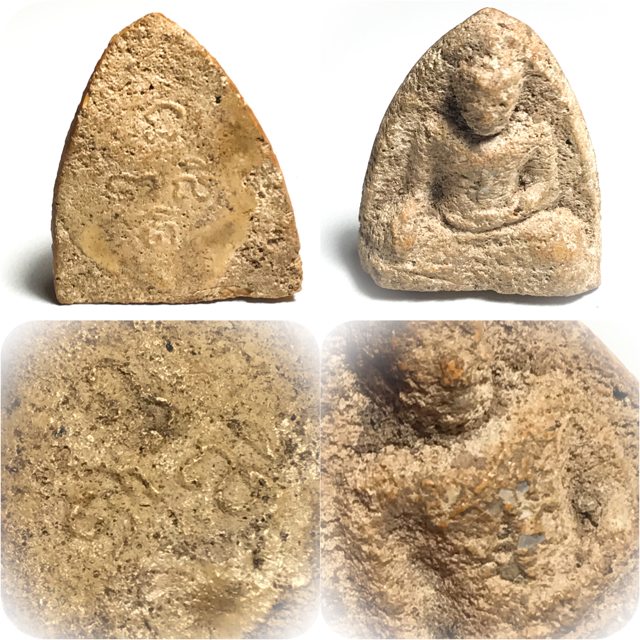 Welcome to the World of Ancient Thai Buddhist Amulets!