Ancient Amulet – Purveyors of preferred Classic Thai Buddhist Amulets for the True Devotee and Distinguished Collector
Ancient Amulets of the Pre and Early Post-Modern Era, of high esteem and Sacred Value, for Devotees and Collectors to study and collect. Ancient Thai Buddhist Amulets. Study and Collect the Ancient Classic Amulets of the Masters of Ancient Times, and Learn about the Magical Aspects, and the Art of Perusal of Ancient Thai Buddhist Amulets of Pra Niyom preferred Master-Class Category
Pra Pruhnang Nuea Pong Klueab 2459 BE Buddha with Mokhallana Sariputra Votive Tablet Luang Por An Wat Prayat
03372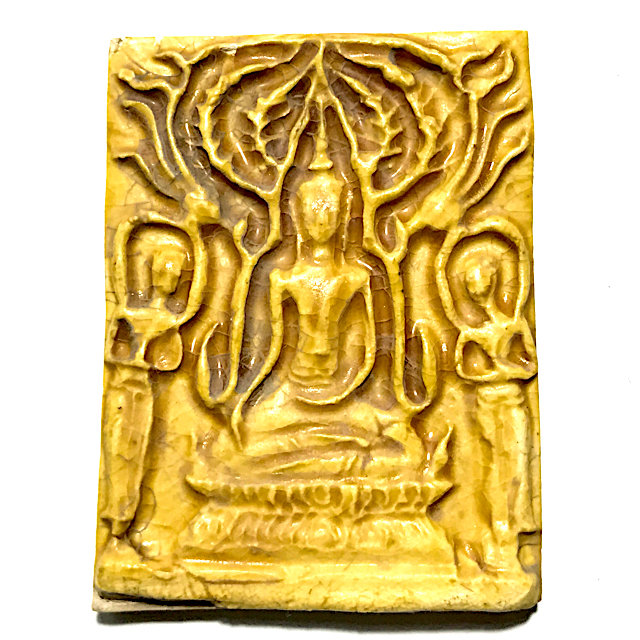 A pristine and extremely well kept classic amulet from the Great Luang Por An, of Wat Prayat, the Pra Pruhnang Song Mokhallana Sariputra Klueab Ya, with Muan Sarn Sacred Powders from the Kroo Ba Ajarn of Luang Por An, Luang Por Glan, preceding Abbot of Wat Prayat. HIghly recommended amuledt as a much more affordable alternative to the Pra Khun Phaen Klueab Luang Por An of the same year.
The amulets were blessed for three months by Luang Por An in the year 2459 BE, after which Luang Por An gave the amulets to Luang Por Jong at Wat Na Tang Nork to perform 3 days and nights of extra empowerment, and then to Luang Phu Si of Wat Sakae, for a further three days and nights of empowerment
The Pra Pruhnang Amulet is a Historic Buddha Image of immensely tasteful artistic design, and made using sacred clay with added powders of Luang Por Glan (Wat Prayat), the Kroo Ba Ajarn of Luang Por An. Luang Por An was the Looksit Aek first Initiate of Luang Por An inherited the Sorcery Wicha of Luang Por Glan (Wat Prayat), and his special Muan Sarn Sacred Powders, and who blessed these amulets with the invocations of his Lineage Master Luang Por Glan.
The muan sarn clay was made from an admixture of various ancient amulets of the Ayuttaya Era, such as Pra Nai Putsa, Pra Wat Tagrai, Pra Kring Klong Takian, Pra Kone Samor, Pra Luang Por Dto Wat Bang Grating, Pra Luang Por Parn, and amulets from Wat Koo Salort, as well as a large number of other Ancient Pra Kru hiding place amulets from around the Ayuttaya province. Luang Por An also used a number of Pra Khun Phaen Klueab from the Wat Chai Mongkol Kru Hiding Place find to mix into the Muan Sarn Sacred Powders.
The Pra Pruhnang is one of the more highly prized amulets of collectors and devotees of Luang Por An, and of Thai Buddhist People everywhere, for its beauty, and the presence of three Arahants, in one amulet.Luang Por An was one of the Great Gaeji Ajarn Masters of His Era, considered one of the Great Ayuttaya Master Monks, whose amulets are extremely favoured throughout all circles of collectors.
The Pra Pruhnang Klueab, along with the Pra Khun Phaen Klueab glazed baked Sacred Clay amulets are amongst his most famous and preferred amulets of the pantheon, along with his Takrut, and Pra Luang Por Kor Hak amulets. Most devotees of Wat Prayat will collect and Bucha amulets from both Luang Por An, and his Kroo Ba Ajarn Luang Por Glan (hard to find), for the magic of both Masters is seen to be second to none for Klaew Klaad Kong Grapan Chadtri Metta Maha Niyom power.
Luang Por Glan was the abbot of Wat Prayatigaram, in Ayuttaya, and the Kroo Ba Ajarn of the Great Luang Por An, who succeeded Luang Por Glan as abbot of Wat Prayat after his passing. In turn, Luang Por An was also a Great Master of Olden Days, whose amulets were immensely famous during the Wartime Era, for their Kong Grapan Chadtri Klaew Klaad power. Luang Por An inherited and learned most of his Wicha from Luang Por Glan, who was one of the top ten Masters with the most powerful psychic powers of his Era.
The Pra Pruhnang, which features an image of the Buddha in Mara Vichai (subduing Mara), is seated touching the earth, calling the Dharani Earth Goddess as his Witness. The two Savaka Pra Mokkhallana and Pra Saributra are standing to either side of the Buddha, who is surrounded by a decorative Arch.
The Pra Pruhnang Amulet is an ancient Amulet of the Ayuttaya Kingdom which is a Historical Artifact, and a Highly revered Votive Tablet. The original Pra Pruhnang is found at Wat Putai Sawan and was discovered hidden at other Temples in the Ayuttaya Region too.
Below; Pra Pruhnang Leaden Amulet, from the Ayuttaya Era.
It is a famous fact that both the Great Khun Pan (Sergeant Pantagij Rachadech, creator of the Jatukam Ramathep Amulet) and his Unkillable Enemy the Bandit 'Suea Fai', were both known to highly rever the Pra Pruhang amulet, and wore more than one of them on the same neck chain around their necks. Even after retiring from hunting Bandits, Khun Pan still wore the amulets for protection until his old age. The Pra Pruhnang is one of the most famous amulets for its power of Kong Grapan Chadtri and Klaew Klaad protective magic, and also for its healing powers.
Luang Por An was born in the year 2435 BE, and ordained into the Sangha at Wat Prayatigaram on the 26th May 2456 BE, with the Great Luang Por Glan Tammachoti as his Ordaining Upachaya,Luang Por Chaay (Wat Dtong Pbu) as his Gammawajajarn prompting officer. The name of his Anusawanajarn witness is no longer recorded, but most devotees assume it to be Pra Ajarn Rod Widtuyo of Wat Ayotaya (also called Wat Gasankh), or a few historians believe his Anusawanajarn witness to have been Luang Por Lueang, of Wat Pradoo Song Tam. In the year 247ึ7 BE, Luang Por Glan passed away and Luang Por An became the next abbot of Wat Prayat.
The Great Luang Por An passed away in 2512 BE as he was on travels visiting Wat Pra Singh in Chiang Mai, for a Buddha Abhiseka Blessing. His body was kept for devotees to worship at Wat Prayat for 25 years before he was cremated in the year 2536 BE.
Temple:Wat Prayat
Maker of Amulet:Luang Por An
Weight:12 Grams
Recommended Uses:Protection, Evasion, Lucky Fortunes, Mercy Charm
Size:5 x 4 Cm
Encasement Options
Solid Gold Custom Casing - We will email you with a price quote according to current Gold Prices, and Invoice You after Agreement (0) Waterproof Casing (9) None (0)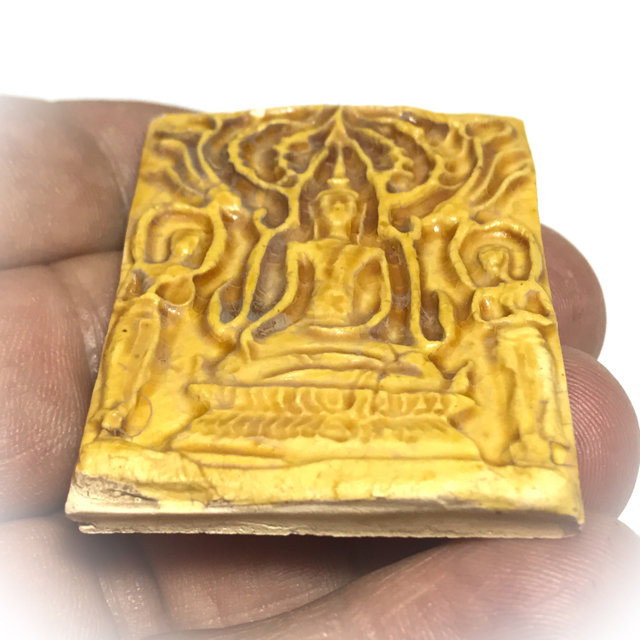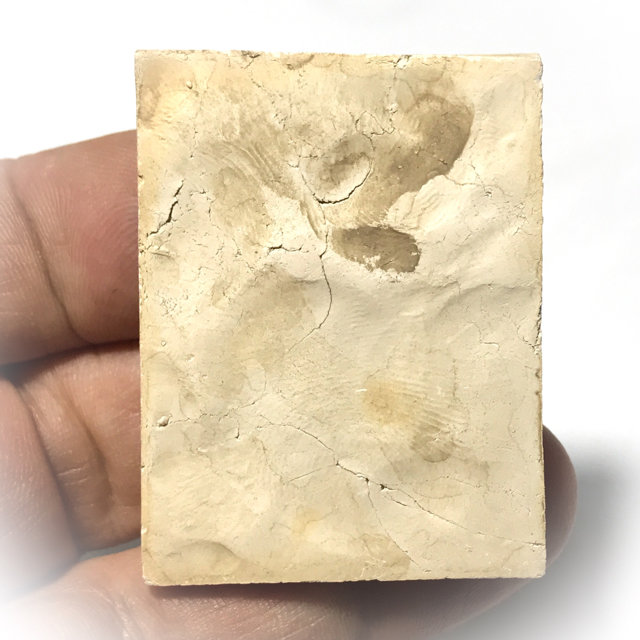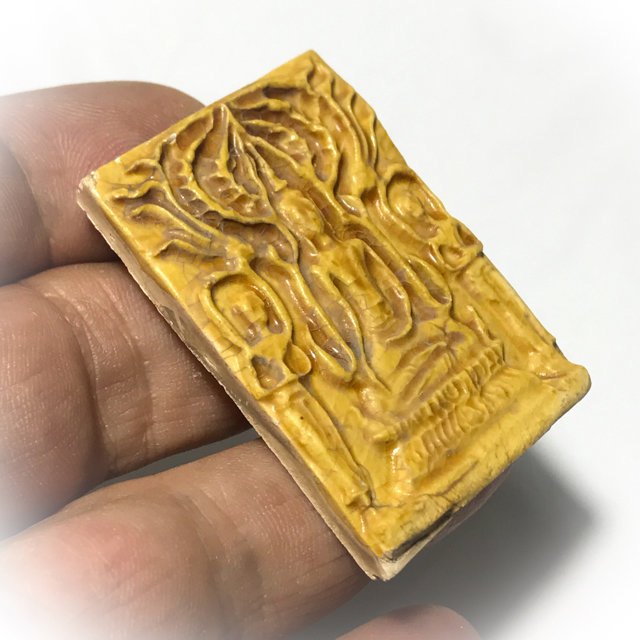 Welcome to the World of Ancient Thai Buddhist Amulets!