Ancient Amulet – Purveyors of preferred Classic Thai Buddhist Amulets for the True Devotee and Distinguished Collector
Ancient Amulets of the Pre and Early Post-Modern Era, of high esteem and Sacred Value, for Devotees and Collectors to study and collect. Ancient Thai Buddhist Amulets. Study and Collect the Ancient Classic Amulets of the Masters of Ancient Times, and Learn about the Magical Aspects, and the Art of Perusal of Ancient Thai Buddhist Amulets of Pra Niyom preferred Master-Class Category
Pra Sivali Arahant Amulet Pim Roop Khai Fang Takrut 2521 BE - Nuea Gesorn - Luang Phu To Wat Pradoo Chimplee
02825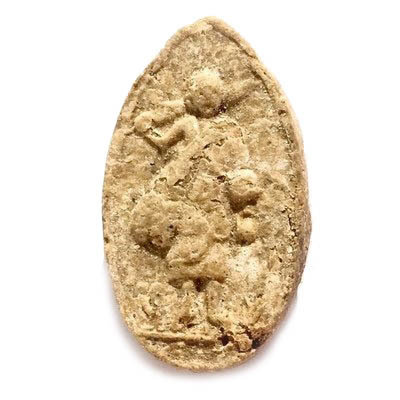 Pra Sivali Arahant with Miraculous power to quickly attract favor and riches. Presenting the Classic Pra Niyom Amulet 'Pra Pong Sivali Maha Thera Jao Pim Roop Khai' Arahant Amulet from the Top Guru Master of the Previous Generation, and maker of the most highly preferred Pra Niyom Category Amulets, Luang Phu To, of Wat Pradoo Chimplee
Made from Nuea Gesorn Sacred Pollens, thus model is Ongk Kroo, for the presence of a silver Takrut spell inserted within the base. The Pra Sivali series were made in white, beige and black powders, both with and without Takrut, the model with Takrut being the rarer of the two models. The front face features the Pra Sivali Arahant carrying a Yam monk's bag, and Glod umbrella, which signifies he is on Tudong Forest wandering.
Pra Sivali is always featured with this posture and imagery, for it is said that Pra Sivali was the cause of Lucky Fortunes of the Bhikkhus who travelled through the forest with the Buddha.
It is said that it was Pra Sivali (along with Pra Sangkajjai) who were always called upon to travel along when the monks were forced to travel through thick jungles and forests, where few villagers were in the area, and there was little chances of any devotees being iin the area to come and donate food to the Bhikkhus. The Buddha himself is reputed to have said that Pra Sivali was the cause of being saved from starvation on various occasions when the Sangha were forced to travel through the wilderness.
Pra Sivali is hence the top Buddha Amulet for Maha Pokasap and Maha Lap Magic (along with the Pra Sangkajjai Arahant). Pra Sivali Maha Thaera is also imbued with powerful Serm Duang and Metta Maha Niyom for Mercy Charm and Karma Improvement. Sivali amulets possess only auspicious magic and to not have any kind og Dark Sorcery within them, and are hence not only Auspicious amulets for adults, but also completely recommendable amulets for children.
Luang Phu To of Wat Pradoo Chimplee was one of the greatest Masters of the Last Century, and a Highly revered Monk around the whole Kingdom of Thailand. he was Respected and revered by His Majesty Our great King, who was a close friend and companion. This Great Monk achieved his status through his Great deeds and his great Diligence in his Patipatā (Practice of Purity and Renunciation), and in his Great Attainments in Dhamma Pariyatti and Dhamma Patipatā.
Luang Phu To was born on the 27th March 2429 BE in Ban Klong Bang Noi in Samut Prakarn and passed away on 5th March 2524 BE. His many honorable awards of status reflect his great practice and diligence, since beginning to study the Dhamma Vinaya at Wat Pradoo as a Samanera Novice monk, through to become the Bishop of the Ta Pra Municipality (2463 BE), to becoming awarded the charge of being the Pra Kroo Sangka Wichit for the Abbot of Wat Maha Tat in 2457 BE.
In 2463 BE, Luang Phu To became ascended to the status of Pra Kroo Sanya Badtr Chan Dtri (Third Level, tantamount to Batchelor of Arts in Dhamma). In 2497 BE, Luang Phu then became promoted to Pra Kroo Sana Badtr Chan Toe (Second Level, tantamount to a Doctorate in Dhamma), of Royal Category. In the year 2500 BE, Luang Phu was then given the additional status of Upachaya Ordaining Officer. In the year 2506 BE, Luang Phu attained the status of Pra Kroo Sanya Badtr Chan Ek (tantamount to a Masters Degree in Dhamma).
In 2510 BE Luang Phu To was given the charge of being the Gammagarn treasurer of the Temples of Ta Pra Minicipality. Then, in 2511 BE, Luang Phu To was promoted once more to Pra Kroo Chan Kroo Pised (tantamount to an Honors degree in Dhamma).
In 2516 Luang Phu became Pra Racha Kana (Royal Appointment Sangha Comittee) and head officer of the General Affairs of Vipassana Practice. In 2521, Luang Phu To received the status of Pra Racha Kana Chan Rach (tantamount to being an Archbishop of the Royal Decree). His Blessings are believed to possess the most powerful protective power, and to increase success and prosperity.
His amulets are both highly revered for their sacred Power of Protection and Prosperity, but also as a connection and Buddhanissati reminder of the Great Guru master, tto beseech his blessings through the amulet. One of the most highly sought after Pra Niyom Category Amulets, which is seen to grace the pages of any and every important amulet encyclopedia, and the highly prized and jealously guarded talisman of the high end collector and devotee.
Kata Pra Sivali
Ahang Wantaami Siiwaliitaadtuyo Ahang Wantaami Sappaso
Kata to Bucha Pra Sivali
Iminaa Saggaaraena Siiwalii Thaerang Apibpuchayaami
(When you chant this whilst making Bucha to Pra Sivali, then say in your inner heart silently the following words;
Bpuchidtang Sappalaapang Bprasitti Mae Thaerassa Aanupaawaena Sappa So Thee Pawandtu Mae
Kata Pra Sivali (Luang Por Guay - Wat Kositaram, Chaynat)
Siiwalii Ja Mahaa Thaero Bpajjaya Laapa Buchidto Manusso Taewadtaa Into Pramaayamo Yagkha Waa Bpidtassa Nirandtarang Bpana Laapa Saggaarae Aanaendti Nijjang Siiwalii Thaerassa Laapo Saggaaro Hodti Siiwalii Mahaa Thaeranja Buchagassa Sataawaabi Kaatanja Sangwadt Dtanassa Laapo Ja Saggaaro Hodti Thaerassa Aanupaawaena Laapo Mae Hodtu Sappataa Aedtaena Sajja Wachaena Laapo Mae Hoedtu Sappataa
Kata for chanting when going on Business trips
Na Chaa Liidti Bpasitti Laapaa
Kata Hua Jai Pra Chimplii (heart Mantra of Pra Chimplii)
Saatu Siwalii Ja Mahaa Thaero Na Chaa Li Dti Bpasitti Laapaa Bpasanna Jidt Dtaa Sataa Hondti Bpiyang Ma Ma Sappae Chanaa Pahu Chanaa Sappae Tisaa Samaa Kadtaa Gaala Pochanaa Wigaala Pochanaa Aakaj Chaaya Aakaj Chaahi Bpiyang Ma Ma
Short Kata Pra Sivali
Siiwalii Ja Mahaa Thaero Chay Ya Sitto Mahit Tigo Thaerassa Nupaawaena
Katas for Pra Sivali for each day of the week
Sundays (Chant 6 times) - Chimpalii Ja mahaa Naamang Sappa Laapang Pawissadti Thaeras Saanupaawaena Sataa Hondtu Bpiyang Ma Ma
On Mondays (Chant 15 times) - Yang Yang Bpuriso Waa Idthii Waa Turaehi Waa Sami Bpaehi Waa Thaeras Saanpaawaena Sataa Hondti Bpiyang Ma Ma
On Tuesdays (Chant 8 times) - Chimpalii Ja Mahaa Thaero Soho Bpajjayaa Timhi Chaeya Laapo Mahaa Laapo Sappa Laapaa Pawandtu Sappataa
On Wednesdays (chant 17 times) Tidt Dtidt Tha pa Wae Rachaa Biyaa Ja kara Dtu Mae Yae Saaradt Dti Niran Dtarang Sappa Sukhaa Wahaa
On Thursdays (Chant 19 times) - Chimpalii Ja Mahaa Thaero Yagkhaa Taewaa Pi Bpuchidto Soraho Bpajjayaa Timhi Ahang Wantaami Sappataa
On Fridays (Chant 21 times) - Chimpalii Ja Mahaa Thaero Taewadtaa nara Bpuchidto Soraho Bpajjayaa Nimhi Mahaa Laapang Garondtu Mae Laapaena Udt Dtamo Hodti Sappa Laapang Pawandtu Sappataa
On Saturdays (Chant 10 times) Chimpalii Ja Mahaa Naamang Intaa Prahmaa Ja Bpuchidtang Sappa Laapang Prasitti Mae Thaeras Sanupawaena Sataa Sukhii Bpiyang Ma Ma
Temple:Wat Pradoo Chimplee
Maker of Amulet:Luang Phu To
Weight:5 Grams
Recommended Uses:Maha Lap, Maha Pokasap, Metta Maha Niyom, Serm Duang
Size:3 x 2 Cm
Encasement Options
Solid Gold Custom Casing (Waterproo​​​​​​​f) - We will email you with a price quote according to current Gold Prices, and Invoice You after Agreement. (0) Waterproof Casing (Free Option with this Amulet) (0) Without Casing (0)
Welcome to the World of Ancient Thai Buddhist Amulets!