Ancient Amulet – Purveyors of preferred Classic Thai Buddhist Amulets for the True Devotee and Distinguished Collector
Ancient Amulets of the Pre and Early Post-Modern Era, of high esteem and Sacred Value, for Devotees and Collectors to study and collect. Ancient Thai Buddhist Amulets. Study and Collect the Ancient Classic Amulets of the Masters of Ancient Times, and Learn about the Magical Aspects, and the Art of Perusal of Ancient Thai Buddhist Amulets of Pra Niyom preferred Master-Class Category
Pra Somdej Dtua Hnon Hlang Yant Sariga 2518 BE Nuea Pong Lob - Luang Por Wongs Wat Bpariwas
03347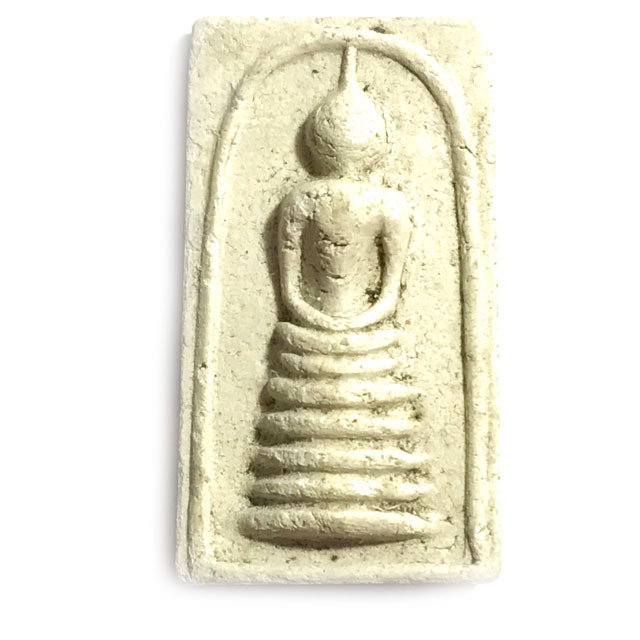 Pra Somdej Dtua Hnon (Maggot Somdej) - Luang Por Wongs Wat Bpariwas - The Pra Somdej Dtua Non 2518 BE, is a classic and inimitable amulet, and an official member of the the Dtamra Pra Somdej of the Wicha of Somdej Pra Puttajarn (Dto) Prohmrangsri, made according to the methods of Yantra Powder Making, Created by Luang Por Wongs, of Wat Bpariwas Rach Songkram Luang Por Wongs was a highly respected monk for his great Metta and readiness to help people, and most famous for his Suea Bpam Tiger amulets, and his Pra Somdej amulets, most famous of all being this model, the Pra Somdej Dtua Hnon.
The early era amulets of Luang Por Wongs leading up to the Somdej Dtua Hnon
Luang Por Wongs began to make amulets, sometime around the year 2485 BE, which were made as Pra Somdej amulets using the Pong Wised special powders, according to the Dtamra Pra Somdej .
It is said that Luang Por Wongs began making special Yantra Powders at the age of 30 years old, by inscribing the 108 Yant to make Pong Bpathamang (1st Powder), Pong Ittijae (108 Yant to make the 2nd Powder), which was reported being witness by Luang Por Sangiam in the year 2478 BE, and is said to have taken more than 10 years to complete.
Once Luang Por had completed these powders, he began to press amulets of the Pra Somdej variety. Pra Kroo Udom once recounted that as he was at Wat Bpariwas in 2489 BE, he witnessed Luang Por Wongs mixing powders and pressing Pra Somdej amulets. Luang Por Wongs pressed his own amulets for many years, but never made any large amounts.
This was because he used a high concentration of 'Pong Lob' Yantra Powders, without mixing large amounts of herbal powders and pollens, preferring to make the amulets almost purely with Pong Bpathamang and Pong Ittijae Yantra Powders.
As they were still fresh and not yet hardened over time, it was not possible to allow them to come into contact with water, because they would dissolve into a blob of clay. The basic composition of his Pra Somdej was the Yantra Powders, mixed with banana, and dried boiled rice from monks alms-bowls. His amulets would hence had a perfumed aroma from the banana, which faded slowly as the years passed by. If the amulets were left lying around without being safely kept, the banana within the powders would attract insects and get eaten up, which also caused a large number of his amulets to disappear from existence, leaving fewer than had been made, and making them even rarer as the years passed by.
Many of his amulets were also lost because they were famous for their powerful Metta Maha Niyom power, which made some people immerse them in water, or drill holes or dig into them with sharp instruments to take the powders and use them for Maha Sanaeh Charms and Love Potions.
Once Luang Por Wongs heard about these practices which desecrated his Buddha Image amulets, he issued a public decree to say that whoever desecrated his amulets in this manner would receive the curse of 'Chip Haay' (lose all their money and good luck would disappear). he then also took the rest of his Sacred Powders and buried them in a Kru Hiding Place Chamber within the Chedi Stupa.
Later, in the Year 2523 BE, as Luang Por Somchai performed some restorations on the Chedi Stupa, the Sacred Powders of Luang Por Wongs were discovered, which had melted into a single block of Sacred Clay, over the years due to humidity and moisture within the Stupa. The workers who were cleaning within the Stupa also squirted water around the floor which caused the powders to disintegrate and be lost to the earth. This is a very sad fact which has only increased the rarity of the Pra Somdej Luang Por Wongs which are in existence.
This of course, means that the only Pra Somdej amulets in existence of Luang Por Wongs, are those which he made before hiding his sacred Powders. The various models Luang Por Wongs made during the period he pressed Pra Somdej, were various; Luang Por Wongs was a devotee of Somdej Pra Puttajarn (Dto) Prohmrangsri, who revered the Great Master greatly, and this was one of the models he made.
Other models were;
When Luang Por Somchai became Abbot of Wat Bpariwas, he investigated the Kuti of Luang Por Wongs,and found various other models of amulets, including the Pra Nang Paya, Pra Putta Chhinarat, Pra Nakprok, and took them to place beneath the base of the Chedi Stupa
Chinarat Buddha which was taken from making a block mold of the Chinarat amulet of Luang Phu Phueak as the template.
Pra Somdej Kaiser (Pim Yai 3 x 4 Cm, and Pim Lek - same size as the Pra Somdej Wat Rakang Kositaram 3.5 x 2.5 Cm)
Pra Somdej Pim Kanaen 1 x 1 Cm (rarest of all)
Pra Somdej Kaiser Hak Sork Broken Elbows Buddha
Pra Somdej Kaiser Khaen SDtrong straight elbows Buddha
Pra Somdej Pim Hlai Trong straight shoulder Buddha
Pra Somdej Pim Ok Rong split torso Buddha
Pra Somdej Pim Kanaen Miniature Buddha amulet
Pra Somdej Prok Po Bodhi Tree Buddha
Pra Somdej Luang Por Somdej Pra Puttajarn (Dto) Prohmrangsri
Pra Somdej Nang Paya
Pra Pim Pra Rod Lampun Buddha
Pra Sum Gor Buddha
Middle Era Amulets of Luang Por Wongs
After Luang Por Wongs stashed his Sacred Powders in the Chedi, he did not make more amulets for quite some time, until the year 2501 BE, when he performed a ceremony to cast a metallic Image of Luang Por Parn (Wat Bang Hia), on the 4th February 2501 BE. Once the ceremony was over, he took the remainder of Sacred Metals and smelt them into the form of Tiger amulets, as his first edition 'Suea Nuea Tong Pasom Tong Hlueang'. 500 of them were made with two code symbols in Khom Agkhara (Dtao, and Put).
He then performed a 'Piti Pluk Sek' empowerment within the Uposadha Shrine Room of Wat Bpariwas, through calling Luang Por Parn of Wat Bang Hia to enter into his mind and assist in empowerment. The spell-casting was performed continually until the tiger amulets began to resonate and move of their own accord. He then allowed the amulets to be distributed, until the edition was depleted after three years of distributing them to Devotees.
Then in 2504 BE, Luang Por Wongs commissioned an Artisan to fashion a Tiger in the same way as the first edition Series, with the difference for this second edition, being that they were made in Nuea Tong Daeng (Sacred Copper Base Alchemical Alloy). 1000 amulets were made, with the Piti Pluk Sek Spell-Casting empowerment once again performed in the Uposadha Shrine Room of Wat Bpariwas, until once more the tigers began to resonate and move of their own accord. They were released in the Wai Kroo Ceremony of 2504 at the Temple, and became fast depleted within a short period of time.
The 3rd edition was commissioned under Mr Kun Mora Ia Wattana who offered his services as an Artisan, and the amulets were once more recreated using the same 'Bpam' Block Press method as before. This time 2500 amulets were made in all, also in Nuea Tong daeng ASacred Copper Alchemical Alloy, and blessed in the same manner and released in the year 2508 BE
The 4th edition of 'Suea Bpam' amulets differed in the fact that they were case using the 'Lor Boran' ancient casting method. This method, involves pouring into a casting mold which is then cut in half and the residues of the edges of the amulet have to be filed down, leaving file markings on the sides of the amulet where each half of the plaster clay cast is broken apart.
This 4th edition was made in sacred Brazen Brass Alchemical Alloy, and 2000 of the amulets were planned to be made in all. However, the Artisan did not complete the work and hence, only 1200 amulets were made in the end. The same spell casting methods were performed with Luang Por Wongs and Luang Por Parn's Spirit invoked to assist in empowerment, until the tigers once more began to resonate and jump about on their own accord.
The edition was released in the year 2512 BE. This 4th edition had two code stamps of different letters to the preceding editions, Letter 'U' in Khom Agkhara on the front of the tiger with an upward rising tail on it, and the letter, and the Khom Agkhara syllable 'Put' on the back of the tiger. This edition was also fast depleted at the temple.
The 5th edition of tiger amulets, was made in 2514 BE, using the 4th edition tiger amulet as the template to create the 5th edition model. Once more the ancient Lor Boran casting method was applied, with 3 code stamps, with the Letter 'U' in Khom Agkhara on the front of the tiger with a rising tail on it resembling the Thai letter 9, and the letter, and the Khom Agkhara syllable 'Put' on the back of the tiger.
5000 of the amulets were made for the 5th edition. The same magical ceremony was performed to empower the amulets as was performed in all prevous ceremonies. But this time, Pra Kroo Pisan Pattana Pitan (Luang Por Somchai), wo was still a Samanera Novice Monk at the time, assisted in empowering the amulets. This 2514 BE edition also saw Luang Por Wongs release two different models of Metallic Guru Monk Coins of Luang Por Parn (Wat Bang Hia). The first of the two was a Rian Roop Khai oval coin amulet, and a round 'Rian Glom' amulet. These were given out to Devotees who donated fr the restoration funds of the Uposadha Shrine Room.
Final Era Amulets of Luang Por Wongs
The Pra Somdej Dtua Hnon Hlang Sariga - Buddha Amulet with Celestial Magpie Embossed/Indented on rear face
The Pra Somdej Dtua Hnon is the most Famous and highly preferred Amulet of Luang Por Wongs Pantheon, and was created in the year 2517 BE. On the occasion of his Majesty the King's Birthday, 5th December, Luang Por Wongs was promoted to the status of Pra Kroo Sanya Badtr Jao Aawaas (Abbot) of Wat Rasadorn as a Chan Dtri (third level) Sangha Monk, and given the name of Pra Kroo Khandtayāpiram. Thiswas officially performed as a Ceremonial Act, in the Uposadha of Wat Racha Bopit temple in Bangkok on the 4th of January 2518 BE.
This occasion was celebrated, with the official presentation of documents being handled by the Grom Sasana Ministry of Buddhist Sangha. This Ceremony and Celebration was a very large Celebration, which was assisted by masses of devotees, with Luang Ta Yom Apibanyo performing the pressing of these most original Pra Somdej Model amulets that can be said to be like no other Pra Somdej in existence to that date. Large Pim yai and small Pim Lek models, wich were at the time named as Pim Kaiser Thaan Jud. The amulets were then presented to Luang Por Wongs for him to bless and empower during the whole evening of that day, and the amulets were then regathered and handed out during the the Wan Rap Pat Yos ceremony for Luang Por Wongs to receive the ceremonial fan of his status. In addition, Luang Por Wongs also distributed some Pra Bai Makham miniature metallic amulets in the form of Pra Nakprok Buddha on Naga Throne to the Devotees
Other editions
2519 BE - 6th edition of the 'Suea Bpam' tiger amulet, through Pra Pimol Itti Dtecho, who made the amulets using the 3rd Edition tiger. They were made from Nuea Tong Daeng Sacred Copper Alchemical Alloy, and in the largest numbers ever, of 50,000 amulets intended, but in the end only 37,500 were made. Of those amulets, 29 of them were made from solid silver. The reason why the full number of 50,000 were not made, is because the last of the 8 block press molds broke as they were being pressed . In this ceremony both Luang Por Wongs posessed by Luang Por parn, along with Luang Por Somchai, performed the spell-casting in the Uposadha, until 16 of the tigers jumpe out of the almsbowls they were placed in of their own accord. The Devotees rushed in to grab them, because Luang Por Wongs had stated that the tigers which jumped out were invincible. this edition depleted in 2532 BE
The 6th Edition of Suea Bpam was made by Pra Kroo Jantr Opas (Luang Por Joy), the Abbot of Wat Saha Tammik, and made 2000 amulets. Then, in the year 2529, as the Uposadha Shrined Room was almost completely restored and built, Luang Por Wongs commissioned Pra Pimol and the Buddhist Nuns (Mae Chee) of the temple, to help to press 7 kinds of Pra Somdej amulets, which were; Pra Somdej kaiser, Pra Somdej Pim Niyom, Pra Somdej Ok Krut Siarn Badtr, Pra Somdej Pim Ok Rong, and Pra Somdej PIm Lek (same size as the famous Pra Somdej Wat Pak Nam of Luang Phu Sodh), and Pra Somdej Pim Kanaen Miniatures. The amulets had the name of Luang Por Wongs embossed onto the rear face of them. 84,000 Pra Somdej in all were made according to the Dtamra Pra Somdej of Somdej Pra Puttajarn (Dto) Prohmrangsri Wat Rakang Kositaram.
There were various kinds of Muan Sarn Sacred Powders used for these amulets, which included; Nuea Pong Khaw Pasom Poon (white powders) and Nuea Bai Lan Phao (Black Baked Powders) The Black Bailan Powders were made using an ancient Dhamma Sermon Parchment Grimoire found by Pra Pimol, who burned it into soot for the amulets.
The burning ceremony made Pra Pimol ill from unknown causes, which had to be solved by Luang Por Wongs performing Holy Water Blessing and spraying the water on Pra Pimol, which cured him. Luang Por Wongs then ordered the burned soot to be used for the amulets and to devote Merits to the Maker and Author of the Bailan Grimoire. Once the amulets were pressed into the whole set of 84,000 they were passed to Luang Por Wongs, who blessed them continually until the day of his passing.
Luang Por Wongs gave his Utmost efforts to empower this set of Pra Somdej amulets fo give Meritorious Blessings to those who gave the final funds and donations necessary to finish the Uposadha Building, and had stated, that the future would see these amulet become rarer and more highly sought after than even his famous Pra Somdej Dtua Hnon of the Pat Yos edition. The amulets received a full 3 years of Blessings before his passing, on the 3nd Augist 2523 BE. This was hence the very last edition of amulets of Luang Por Wongs, and completes shit Dtamra, which documents his amulets.
Below; 4th edition Suea Maha Amnaj Loi Ongk tiger amulet of Luang Por Wongs
The Proverbial saying of Luang Por Wongs when asked about which of his amulets is the most powerful;
"Dtorn Pluk Sek Suea Run Neung Guu Job Chan Phatom"
" Dtae Suea Run Hok, Guu Job Brinya Laew"
Pueak Meung Wa Run Hnai Ja Dee Gwa Gan"
("As i blessed the first edition tigers, i was just finishing my first Diplomas - as i blessed the 6th edition, i received my Master level - which edition do you think is the best?")
Make what you wish of this saying, and may it mean whatever it means to you.
Kata Bucha Luang Por Wongs
Chant Maha Namasakara ( Namo Dtassa Pakawadto Arahadto Sammaa Sam Puttassa) 3 times
Then Chant;
Yōhi Sēdthō Mahã Thērō Wang Sabpā Lōdti Wissudto Tāni Dtang Apibūchēmi Ma Ma Hōdtawā Pimang Kalang
Below; Suea Run Raek first edition tiger amulet Luang Por Wongs
Kata Bucha Suea Luang Por Wongs
Payakkō Payakkā Idti Sunyā Lapadti Heum Ham Ham Ha
Chant 3 Times
Temple:Wat Bpariwas
Maker of Amulet:Luang Por Wongs
Recommended Uses:Metta Maha Niyom, Maha Sanaeh, Maha Lap, Klaew Klaad, Serm Duang
Number of Amulets Made:Unknown
Size:4 Cm x 2.5 Cm
Encasement Options
Solid Gold Custom Casing - We will email you with a price quote according to current Gold Prices, and Invoice You after Agreement. (0) Waterproof Casing (Free Offer) (0) Without Casing (0)
Welcome to the World of Ancient Thai Buddhist Amulets!