Ancient Amulet – Purveyors of preferred Classic Thai Buddhist Amulets for the True Devotee and Distinguished Collector
Ancient Amulets of the Pre and Early Post-Modern Era, of high esteem and Sacred Value, for Devotees and Collectors to study and collect. Ancient Thai Buddhist Amulets. Study and Collect the Ancient Classic Amulets of the Masters of Ancient Times, and Learn about the Magical Aspects, and the Art of Perusal of Ancient Thai Buddhist Amulets of Pra Niyom preferred Master-Class Category
Pra Somdej Gaes Chaiyo Jet Chan Ok Dtan Pim Niyom Nuea Hlueang Sang Khuean Edition 2495 BE with Certificate
03376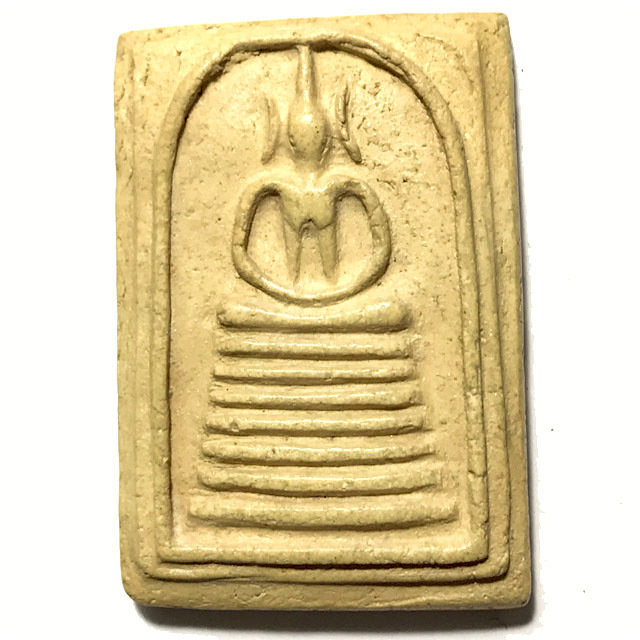 A pristine exhample of a very highly rated and extremely sought after Pim Niyom amulet, from an all time classic edition of Historic Importance, the Pra Somdej Gaes Chaiyo Pim Jet Chan Wat Gaes Chaiyo Run Sang Khuean 2495 BE. The amulet features a Buddha seated on 7 Tiered Dais, and is a Master-Class Category Votive Tablet, from the 2495 BE 'Sang Khuean' reservoir fund edition, released at Wat Gaes Chaiyo. This exhibit is a Pim Niyom in Nuea Hlueang, golden tone with extremely well kept pristine features, for the amulet has suffered almost no wear and tear since its release in 2495 BE. This amulet comes with micro-chipped certificate of authenticity of the Pra Tae Mueang Siam Original Amulet Society, and is registered as a Pra Somdej Gaes Chaiyo Sang Khuean Edition 2495 BE Authentic Amulet.
The surface features of this Masterclass amulet are simply stunning, with all the desired aspects of authenticity present. Rare it is to encounter such a pristinely well looked after exhibit of such fine quality. The Buddha Abhiseka Blessing Ceremony of this Historic and Highly Preferred (Niyom Sung) edition, saw a large number of great masters attending, amongst these were; Luang Phu Suang, of Wat Chee Ba Khaw (Singhburi), Luang Por To of Wat Saket (Ang Tong), Luang Por Pae of Wat Pikul Tong (Singhburi), Luang Por Wara (can also pronounce as 'Worn') of Wat Gaes Chaiyo (Ang Tong), and Luang Por Jun of Wat Tham Yai (Lopburi)
Wat Gaes Chaiyo is an ancient temple which stands on the banks of the Chao Praya river, which floods up to shoulder height every year almost without fail. In the decade leading up towards the year 2500 BE, the floods were particularly damaging to Wat Gaes Chaiyo temple, and so the committee of the temple decided to organise funds to build a reservoir and dam to protect the municipality from floods in future years. And so the Pra Somdej Gaes Chaiyo Sang Khuean edition was created to distribute to devotees who helped with donations and volunteer work.
Below; the small split overlapping line on the bottom edge of the inner border frame which traverses the lines of the two inner borders is a mark of authentication to take note of, for its presence means Pim Niyom category, and of course, authentic.
And so it was, that Pra Ajarn Wora, the abbot of Wat Gaes Chaiyo, and the Gammagarn Committee of the temple gathered together a repository of Muan Sarn Sacred Powders and broken ancient amulets from the Kru chamber in the Chedi at Wat Gaes Chaiyo from Somdej Pra Puttajarn (Dto) Prohmrangsri.
The powders were then mixed up with a host of other Muan Sarn Sacred Powders from a large number of the great masters of that Era and their foregoers. With this powerful and rich mixture of Muan Sarn, they pressed the Pra Somdej Wat Gaes Chaiyo Jet Chan and other models, as well as pressing some metallic coin amulets, rings and other sacred items of Bucha.
Below; the fine line of cement which flows parallel to the inner arch is a mark of authentification to take note of. This line is more or less noticeable in all authentic models of the Pim 7 Chan Niyom, but can vary greatly as to how visible it is to the naked eye. In the case of this exhibit, a Macro lens was needed to catch the light to find the mark of authenticity. This also shows how diligently one must study the visual aspects, when using eye loupe, and hold the amulet at various angles under the light to throw shadows, so that one can find the required markings if present or not
.
The Buddha Abhiseka Blessing and Empowerment was held in grand fashion at Wat Gaes Chaiyo Worawiharn, in Ang Tong. Apart from inviting many of the great living masters of that Era to come to assist with the Blessings, a special ceremony was made to invite the Kroo Ba Ajarn of Pra Somdej, Somdej Pra Puttajarn Dto Prohmrangsri.
This invocation ceremony was performed to invite and beseech the presence of the spirit and mind of Somdej Pra Puttajarn (Dto) Prohmrangsri of Wat Rakang Kositaram, to attend and lend his empowerment to the amulets. The ritual involved attaching Sinjana cords from the brazen image of Somdej Pra Puttajarn (Dto) Prohmrangsri within the shrine down to the amulet horde, and wrapping them around the amulets in their receptacles.
The Pra Somdej Wat Gaes Chaiyo Pim Jet Chan 2495 BE Sang Khuean Edition amulet is almost identical in features to the original ancient Pra Somdej Gaes Chaiyo of Somdej Pra Puttajarn (Dto) Prohmrangsri, with its wide border frames. The chest is 'Ok Dtan' with half split tapered torso. The ears are 'Hoo Bai Sri' elongated curved ears, and the topknot of the head of the Buddha is 'Pragaes Yaw' elongated. The head of the buddha is shaped similar to the head of a matchstick.
The Sang Khuean reservoir fund edition was pressed using the ancient methods, by hand, and with the strict rule that all assistants who helped to press the amulets had to wear white, and take the vow of five precepts, and eat Vegetarian before touching any of the clay or apparatus for pressing amulets. All assistants who pressed the amulets had to perform chanting of Buddhist Mantras, Prayers and Kata throughout the whole time the pressing was being performed until their completion.
When examined under eye loupe, a tiny thin line between each tier of the dais is visible, which is a 'Dtamni' point of reference for authentication. The Muan Sarn Sacred Powders of the Pra Somdej Gaes Chaiyo Jet Chan Sang Khuean amulets were ground to a very fine powder and have a generous quantity of Nam Man Dtang Iw (Tang Oil) mixed into the clay.
This is what results in the Pra Somdej Wat Gaes Chaiyo amulet having a much more golden colour than Pra Somdej Wat Rakang Kositaram or Wat Bang Khun Prohm. Some exhibits may have a more white appearance and some even whitish-pink, but it is the golden toned exhibits which are the most highly preferred. The golden tone of the sacred clay is part of what is expected to be seen in a Pra Somdej Wat Gaes Chaiyo amulet, and is an aspect which makes the authentication process easy on the eye.
Temple:Wat Gaes Chaiyo Worawiharn
Maker of Amulet:Pra Ajarn Wora
Weight:10 Grams
Recommended Uses:Protection, Status and Promotion, Prosperity, Buddhanussati, Auspicious Karma
Size:3.7 x 2.5
Encasement Options
Solid Gold Custom Casing - We will email you with a price quote according to current Gold Prices, and Invoice You after Agreement (0) Waterproof Casing (9) None (0)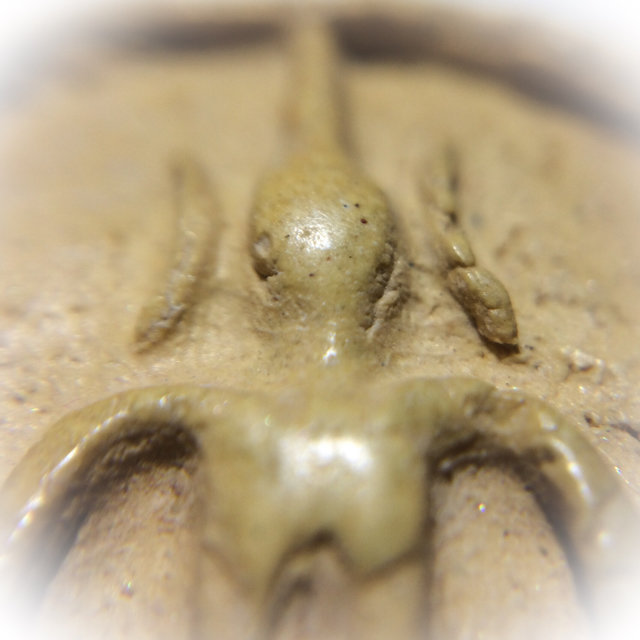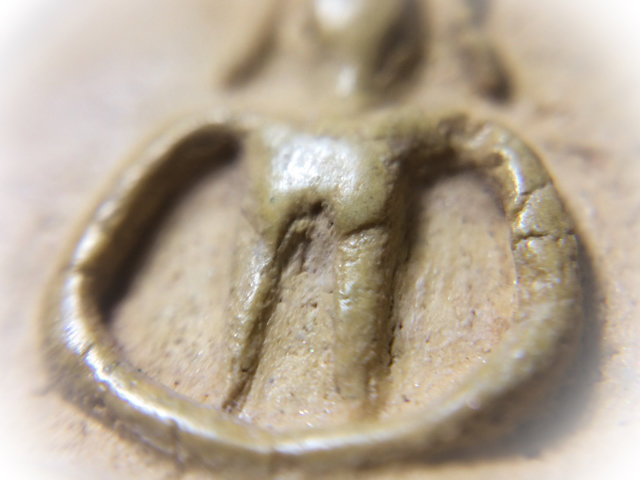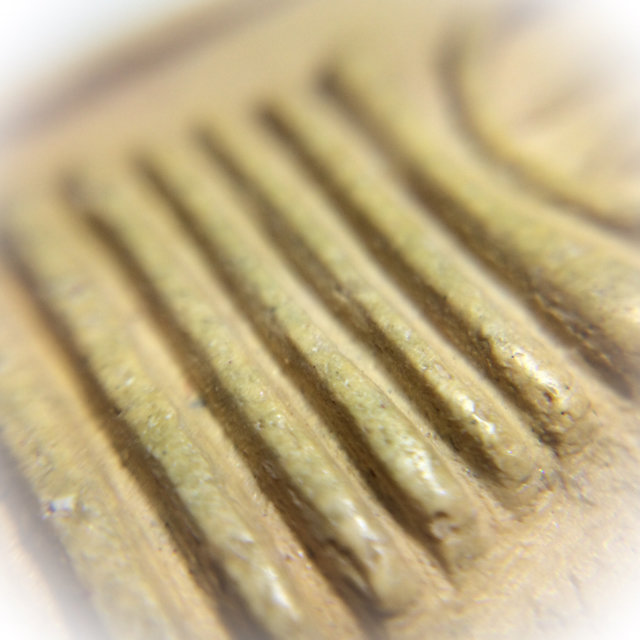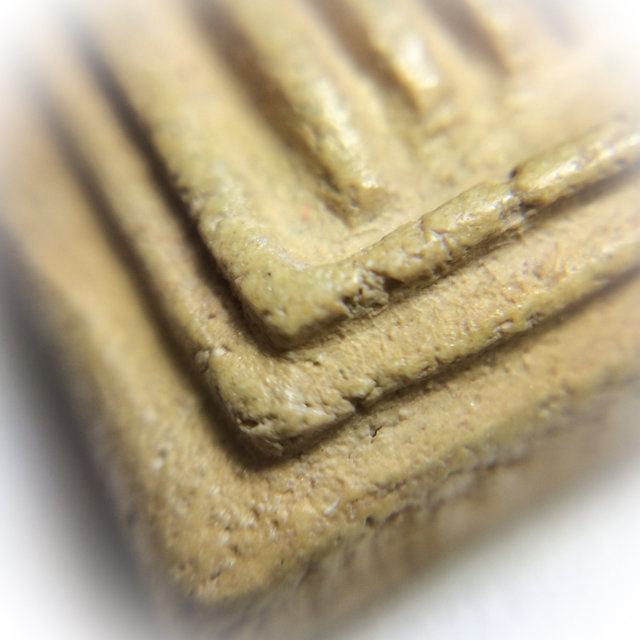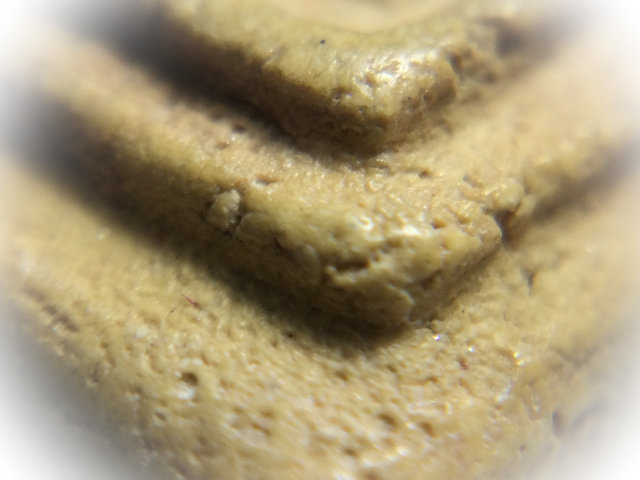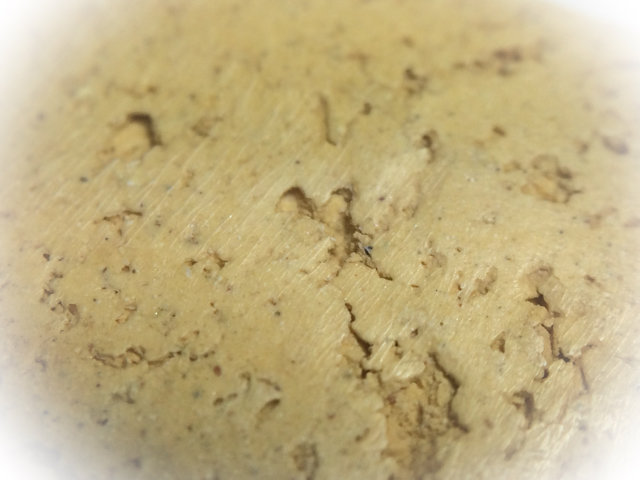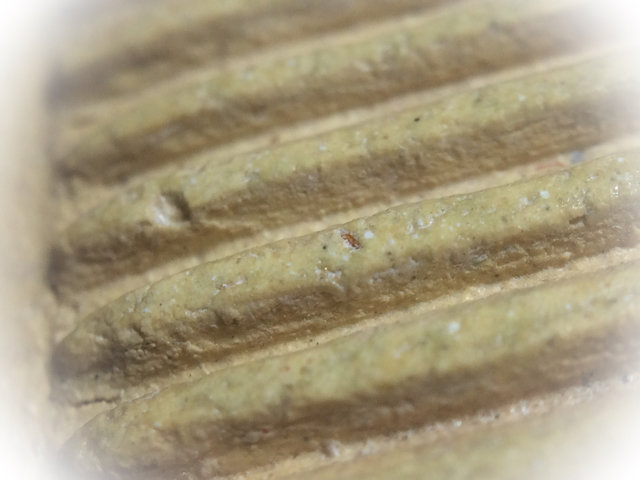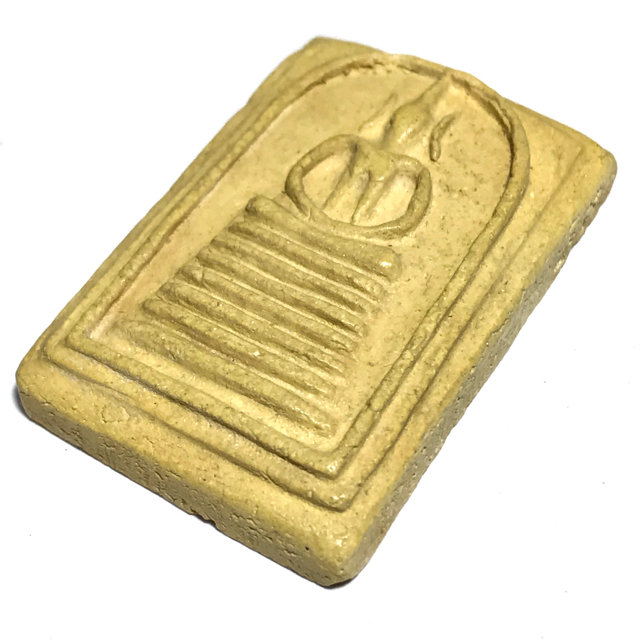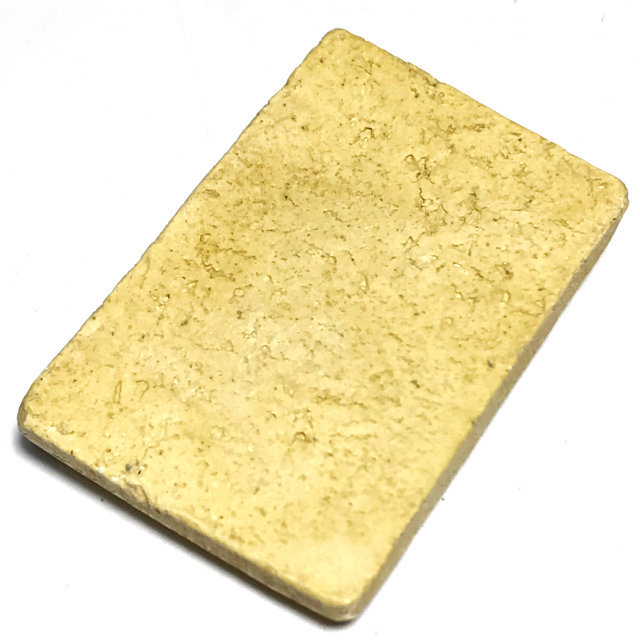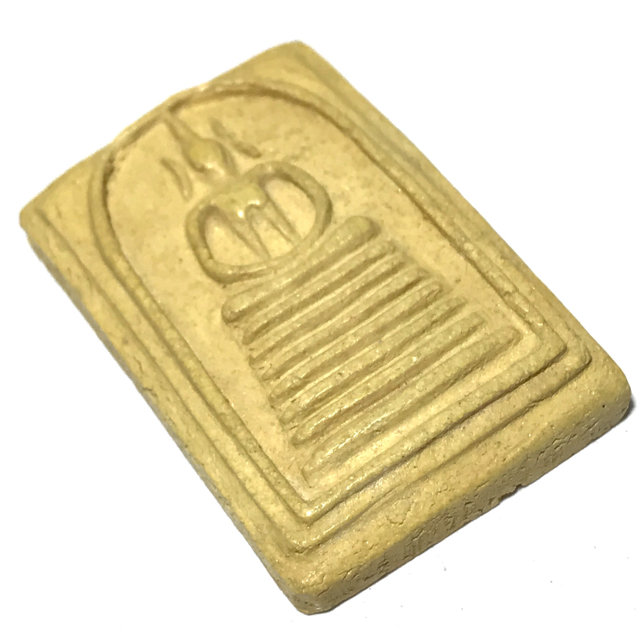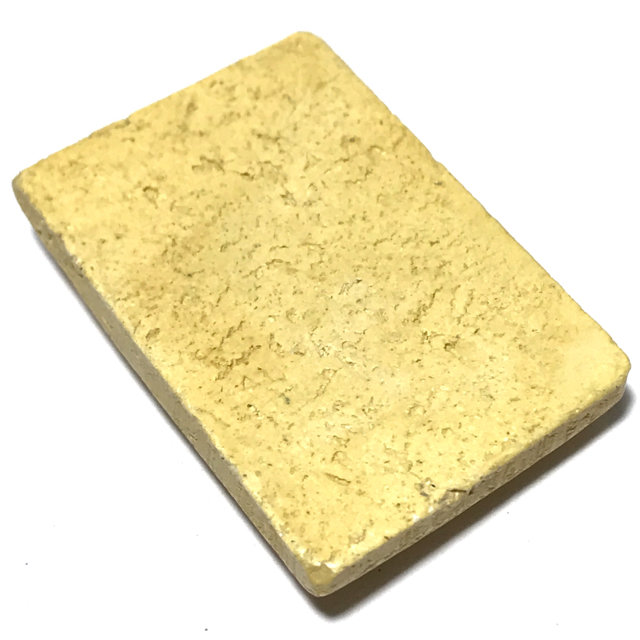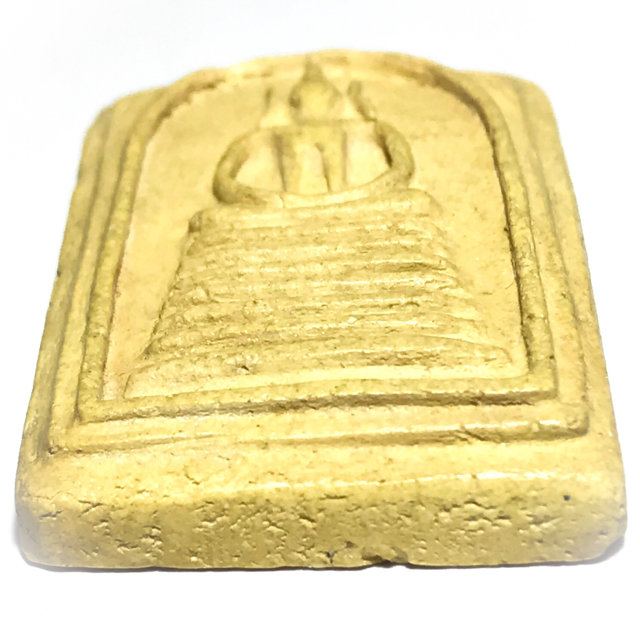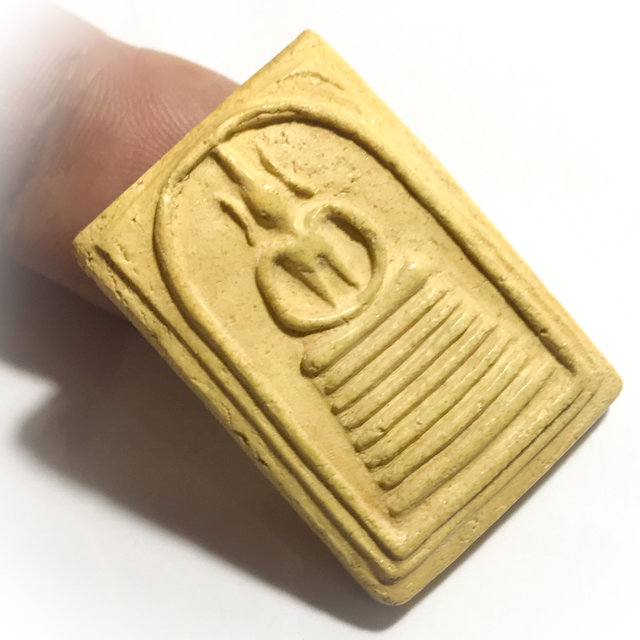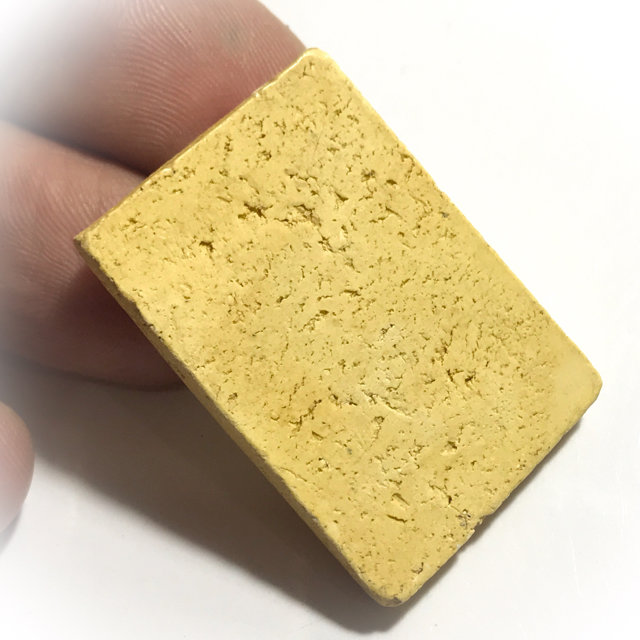 Welcome to the World of Ancient Thai Buddhist Amulets!