Ancient Amulet – Purveyors of preferred Classic Thai Buddhist Amulets for the True Devotee and Distinguished Collector
Ancient Amulets of the Pre and Early Post-Modern Era, of high esteem and Sacred Value, for Devotees and Collectors to study and collect. Ancient Thai Buddhist Amulets. Study and Collect the Ancient Classic Amulets of the Masters of Ancient Times, and Learn about the Magical Aspects, and the Art of Perusal of Ancient Thai Buddhist Amulets of Pra Niyom preferred Master-Class Category
Pra Somdej Pim Pra Kroo Moon (Wat Sutat) - Wat Prasat Bunyawas 2506 BE - Blessed in 2 Ceremonies by 234 Guru Masters
02738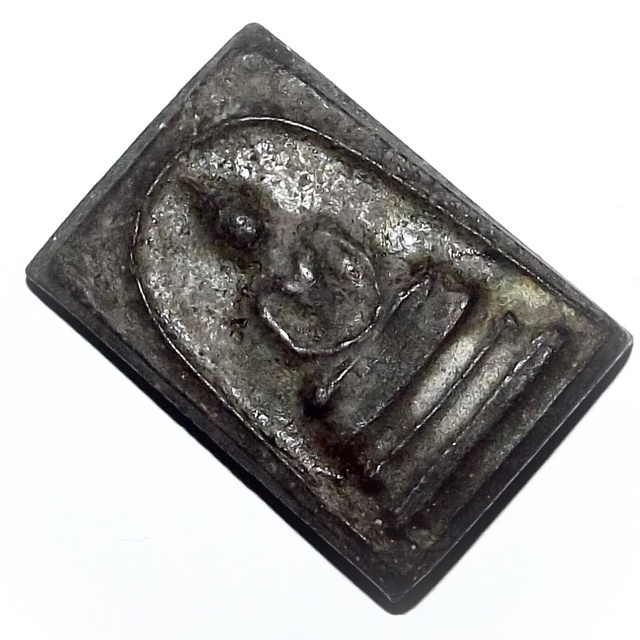 Pra Somdej Wat Prasat Bunyawas 2506 BE Pim 'Pra Kroo Moon Wat Sutat' - Nuea Dam Om Khiaw. A very fine exhibit indeed with incredibly clear cut contours.
The block press from Pra Kroo Moon (of Wat Sutat temple), was given By Pra Kroo Moon, along with many other famous amulet block presses from other Masters (e.g. Luang Phu Tim of Wat Chang Hai, who gave the 2497 BE and 2505 BE Luang Por Tuad Edition Block Presses and also donated for use) to the abbot of Wat Prasat.
Hence, Wat Prasat received Muan Sarn Powders from all those famous editions, and used the original block presses, and had most of the original Master Monks present at Wat Prasat in 2506 BE to bless the whole series, which included a large range of amulets from many great masters, including Luang Por Guay, Luang Phu To, Luang Phu Tim, and so many others Masters..
A very rare Pim indeed from the fourth biggest Blessing Ceremony in History - Blessed by 234 Great Guru Master Monks in Two Massive Blessing Ceremonies.

The amulet reflects dark gray to black (depending on the light), with a greenish tone to it, for which it earns the name 'Nuea Dam Om Khiaw' (Black with Green Fringes)
The 2555 BE (1961) Wat Prasat Bunyawas Edition Amulets, is a universally accepted and officially recognized edition of classic Buddhist Amulets, of extremely high esteem. This model is a Pim Chedi and a Pra Niyom Preferred Model due to the Rasamee Code stamp on rear face.
One reason it is so highly respected as the sacred edition of Amulets, is the fact that the creation of the sacred Muan Sarn Powders for this edition were given extreme attention to detail, and were gathered together over a long period of time, and donated from many great masters.
The blessing ceremony for these Amulets is also a historically famous blessing ceremony, for its immensity, and the presence of great powerful guru monks.
The temple of Wat Prasat Bunyawas was built in 2376 BE, and was first given an official boundary and a name in 2379 BE, being first named 'Wat Klong Sam Sen', because it was located over the Sam Sen tributary canal. Its name was later changed to 'Wat Khwid', because of the 2 Sacred Giant Khwid Trees, which stood beside the Uposadha Shrine Room.
Later, in the year 2498 Buddhist Era, the temple was burned in a terrible fire. Many of the temple buildings were destroyed, including the Uposada shrine room.
Pra Kroo Samuh Ampol Palawatano, the Abbot at the time, decided to build a new shrine room instead of repairing the ruins of the old one. This was because of a seemingly miraculous event; Luang Phu Tim, the Great Guru Master Monk and Abbot of Luang Phu Tuad's Legendary Wat Chang Hai temple, had had a vision of the great bodhisattva Luang Phu Tuad, Who appeared to him in a dream and told him to go to Bangkok and help to repair a temple which had been burned to the ground.
Luang Phu then traveled up from the south to Bangkok, and started asking around at Way Iam Woranuch, to find out if that had been a fire in any temples lately. When he heard about the great fire burning the temple down, he went to speak with the Abbot Pra Kroo Samuh Ampol.
After having spoken, Luang Phu Tim presented the Abbot with some original 2505 BE Luang Phu Tuad amulets (now one of the two most famous classic top editions of millionaire Amulets of Luang Phu Tuad). He said they should be used to press a block mold for the making of a new series of Amulets to fund the rebuilding of the shrine room and the rest of the temple.
He also donated an amount of the Famously Powerful and Rare 'Din Kakyayaks' Magickal Peat Earth to use as Muan Sarn for the amulets, and some other Muan Sarn remaining from the 2497 BE first ever edition of Luang Phu Tuad amulets. These ingredients were the added to a large array of other Historically Famous Sacred Muan Sarn, including broken sacred amulets from many great Masters, and many very famous miraculous editions of classic Amulets.
Some of the more well known amulets used to break up and mix in with the sacred powders included; Pra Somdej Wat Bang Khun Prohm 2500 BE, and Pra Somdej Wat Bang Khun Prohm 2509 BE (The two most famous classic and expensive editions of Wat Bang Khun Prohm amulets).
As far as the Luang Phu Tuad models of this edition, they were made to place 84,000 of them within the Chedi Stupa, at Wat Bunyawas (this is known as 'Kru' hiding place chamber, used to place amulets for safekeeping and folate to distribution to extend the period of the preservation of the existence of the Buddhist religion).
A Large number of extra Amulets were also made in addition to the 84,000 placed within the Chedi, to hand out to Devotees at the temple, during the blessing ceremony.
The Luang Phu Tuad series was completed first and released in the year 2505 Buddhist era. As to the many other different models (such as this Pra Somdej) which were made, they received a second blessing and were released in the year 2506 Buddhist era.
The Edition rceived 3 days and 3 nights of Chanting, from the 6th to 9th of March 2506. The second Ceremony was performed for 4 days and 4 nights, from the 13th to 15th of November 2506.
These were handed out to the congregation who came to paste to gold leaf on the Buddha image which was being installed and blessed with the Buddha Abhiseka (opening of the eyes of the Buddha ceremony). The very same ceremony also installed and consecrated a Buddha footprint image which was also installed in the temple on the same day and covered with gold leaf by the congregation.
A total of 234 great guru monks were present to perform the Chanting of the blessings, and the empowerment of the Amulets. There was so many monks Present, that they could not fit inside the shrine room, and had to fill the surrounding area around the terraces of the Uposadha.
Four full days and nights of chanting were performed over these amulets by the 234 monks. The ceremony was so massive that it was considered to be the largest and most important sacred blessing ceremony of Amulets, since the great 25 centuries of Buddhism ritual, in the year 2500 Buddhist era.
Use the Traditional Thai Buddhist Method for Bucha;
1. Chant Maha Namasakara (3 Times)
2. Chant the Trai Soranakom (3 Times)
3. Chant Kata Aaraatanaa Pra Krueang (3 Times)
Kata Maha Namasakara
Namo Dtat-Sa Pakawa-Dto Araha-Dto Sam-Maa Sam-Put-Dtat-Sa
Namo Dtat-Sa Pakawa-Dto Araha-Dto Sam-Maa Sam-Put-Dtat-Sa
Namo Dtat-Sa Pakawa-Dto Araha-Dto Sam-Maa Sam-Put-Dtat-Sa
Trai Soranakom
Puttang Cheewidtang Yaawa Nipaanang Saranang Kajchaami

Tammang Cheewidtang Yaawa Nipaanang Saranang Kajchaami
Sangkang Cheewidtang Yaawa Nipaanang Saranang Kajchaami
Tudtiyambpi Puttang Cheewidtang Yaawa Nipaanang Saranang Kajchaami
Tudtiyambpi Tammang Cheewidtang Yaawa Nipaanang Saranang Kajchaami
Tudtiyambpi Sangkang Cheewidtang Yaawa Nipaanang Saranang Kajchaami
Dtadtiyambpi Puttang Cheewidtang Yaawa Nipaanang Saranang Kajchaami
Dtadtiyambpi Tammang Cheewidtang Yaawa Nipaanang Saranang Kajchaami
Dtadtiyambpi Sangkang Cheewidtang Yaawa Nipaanang Saranang Kajchaami
Kata Aaraatana Pra Krueang
Puttang Aaraatanaanang
Tammang Aaraatanaanang
Sangkang Aaraatanaanang
Puttang Prasittimae
Tammang Prasittimae
Sangkang Prasittimae
Temple:Wat Prasat Bunyawas
Weight:9 Grams
Recommended Uses:Protection, Prosperity, Auspicious Living
Number of Amulets Made:84,000 of all models of Pra Somdej together
Size:3.2 x 2.3 Cm
Encasement Options
Solid Gold Custom Casing (we will email you with a price quote according to current gold prices at the time of inquiry) (0) Waterproof Casing (9) Without Casing (0)
Welcome to the World of Ancient Thai Buddhist Amulets!