Ancient Amulet – Purveyors of preferred Classic Thai Buddhist Amulets for the True Devotee and Distinguished Collector
Ancient Amulets of the Pre and Early Post-Modern Era, of high esteem and Sacred Value, for Devotees and Collectors to study and collect. Ancient Thai Buddhist Amulets. Study and Collect the Ancient Classic Amulets of the Masters of Ancient Times, and Learn about the Magical Aspects, and the Art of Perusal of Ancient Thai Buddhist Amulets of Pra Niyom preferred Master-Class Category
Pra Somdej Roey Ploi Hlang Yant 2512 BE Luang Por Guay Ultra Rare Masterpiece Amulet
03429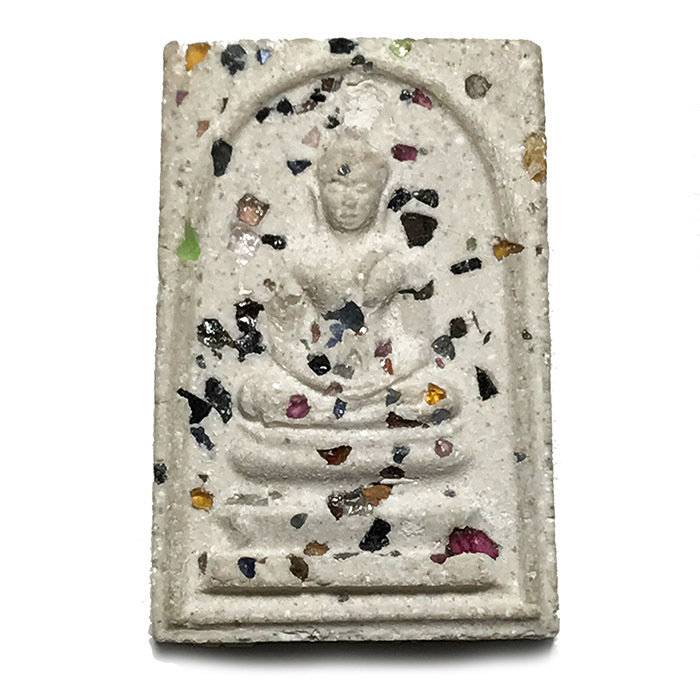 Pra Somdej Pim Sam Chan Hlang Yant Votive Tablet with Gemstone Fragments, Pim Sam Chan Buddha on three tiered Dais on one side, and Sacred Yant on the other side. A now highly sought after series from Luang Por Guay, which he gave to Wat Racha Nadda in 2512, and which were also blessed in Buddha Abhiseka ceremony by Luang Phu To (Wat Pradoo Chimplee), Luang Por Pring (Wat Bote Goeng Tanu), and Luang Phu Nai (Wat Ban Jaeng). The Somdej Roey Ploi 2512 BE is a series which has now since many years officially entered the Tamniab Wadthumongkol Pantheon of amulets of Luang Por Guay, and is accepted by all major amulet appreciation societies.
More than 4 Decades ago, Luang Por Guay made these Exquisite, and now Incredibly Rare Inner Circle Collector Pieces. In the year 2512 BE he passed them on to the Abbot of Wat Racha Nadda, who empowered them even further with a host of great masters who passed through, and, in a final Putta Pisek Blessing with Pra Maha Gomaes inviting Luang Por Guay again to Preside over the final Putta Pisek Ceremony in 2515 BE.
It is said that the amulets which did not get distributed immediately then went into Kru storage until 2522 BE, where they were once again blessed in Buddha Abhiseka by lp Nai (Wat Ban Jaeng), Luang Por Chuea, (Wat Mai Bampen Bun), Luang Por Put (Archbishop of Utai Province), Luang Phu Nak, of Wat Nong Proeng, Luang Por Suwan of Wat Khao Bom Kluay, and Luang Por Pring, of Wat Bote Goeng Tanu.
The front face is a classic Pra Somdej Sam Chan (3 tiered) of the 'Thaan Singh' variety dais Notice the slim line between the Buddha and the 3 tiered dais, which represents his meditation mat. This particular Pim, is unusual for the presence of the Yant Grao Paetch diamond armour Yantra on the rear face, and is notable for the fact that a large amount of gemstone fragments adorn this exhibit, making it extremely attractive
The amulet is filled with sprinkled fragments of precious and semi precious gemstones, which increases the Beauty, and due to the empowerment of the gemstone fragments beforehand) also sacred value of this Ultra Rare and Classic Collector's Masterpiece.
The face of the Buddha is very clearly defined and has retained its detail with pristine clarity, The Buddha is seated in meditation posture (Pang Samadhi).
The second tier from bottom on the dais has inwards inclined sides, whereas the upper tier is more rounded and curved upwards at the outer edges. This amulet and its other models are well documented, and now very rare to find, for the edition has now been officially accepted in the Samakom Pra Niyom. Amongst the more famous models are the Pim Prok Po Gao Bai (9 leaf Bodhi tree Buddha), and the Chinarat Buddha Image. One of the Rarest models is the Pim Hlang Pra Pruhnang model.
This double sided Pim is the Rarest of all Pim, and thus a Pim Niyom Category Showpiece.
Luang Por Guay Chudtintaro (2448 BE - 2522 BE) was a powerful Sorceror Monk and Sak Yant Master with infamous powers of Kong Grapan Chadtri and Klaew Klaad Magic, whose large pantheon of Buddhist Votive Tablets and Krueang Rang Talismanic Occult Charms are amongst the fastest disappearing amulets of the Present Era, since a massive increase in faithful devotees in recent years, have begun to deplete the amulets from public circulation.
In addition, the number of foreign devotees has also greatly increased over time, causing the faster depletion rate. Luang Por Guay's amulets have reached the highest level of respect and collectorship, and are considered to have noticeable effects that are felt be everybody who owns and wears one of his amulets.
The stories of confirmation of their power are more than can be counted, and his Great Patipata and Exceedingly Powerful applied methods of Sorcery are a large part of what attributes to their power.
His amulets are now extremely rare to find because those who already own any will never wish to part with them again, and they are hence becoming one of the rarest kind of amulets to find these days. Usually this happens because of speculation by the collector scene, but in the case of Luang Por Guay's amulets, it has happened primarily for their Sacred Value, much much more than for their collectorship and artistic value, which is of course also extremely high.
Luang Por Guay is famous for his immensely diligent and complex manner of empowering (Pluk Sek) amulets, which involved daily empowerments at various times of day namely at dawn, morning, midday, afternoon, evening and midnight. In addition, he would perform empowerments during the various 'Reuks' (Astrological Influential moments), to bring total coverage of protection and fortuitous blessings to all who might wear and Bucha his amulets.
This ritual involved the Adept knowledge of the 'Reuks Mongkol' Buddhist Auspicious alignments, the 'Reuks Jone' (Gangster Alignments), Inauspicious Alignments, and the 'Reuks Bun Paya Marn' Demonic Influential Alignments. This means that it did not matter who wore his amulets, Good people would wear them, Gangsters would wear them, anybody could wear them without loss of magical effect.
Biography of Luang Por Guay Chudtintaro - Wat Kositaram
Temple:Wat Kositaram/Wat Racha Nadda
Maker of Amulet:Luang Por Guay Chudtintaro (2448 BE - 2522 BE)
Weight:35 Grams
Recommended Uses:Kong Grapan, Klaew Klaad, Kaa Khaay, Maha Pokasap, Metta Maha Niyom, Serm Duang, Maha Lap
Number of Amulets Made:Number made unknown - Very few in existence
Size:3.8 x 2.5 Cm (5 x 3 Cm with Casing)
Encasement Options
Solid Gold Custom Casing - We will email you with a price quote according to current Gold Prices, and Invoice You after Agreement (0) Waterproof Casing (9) None (0)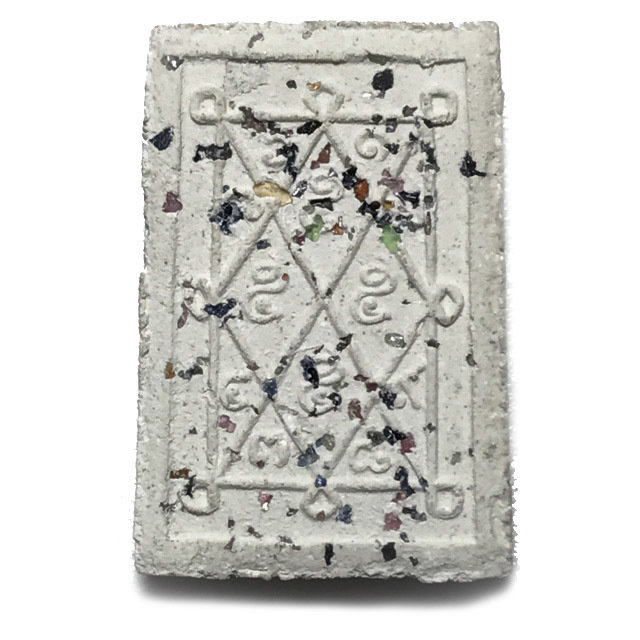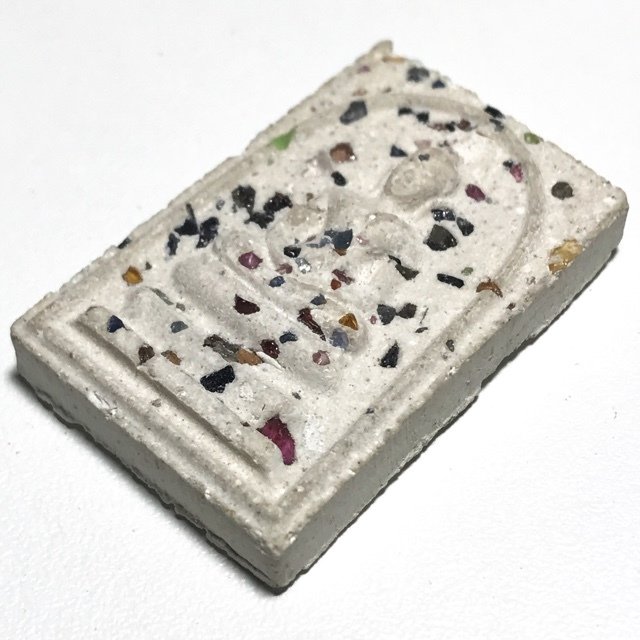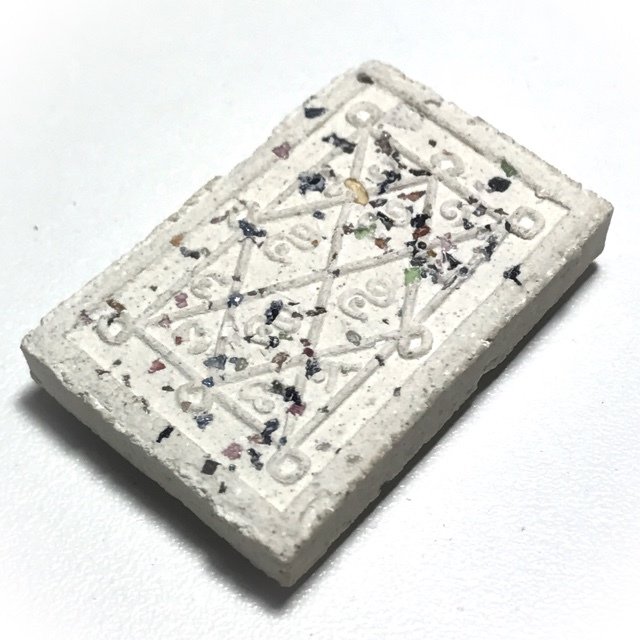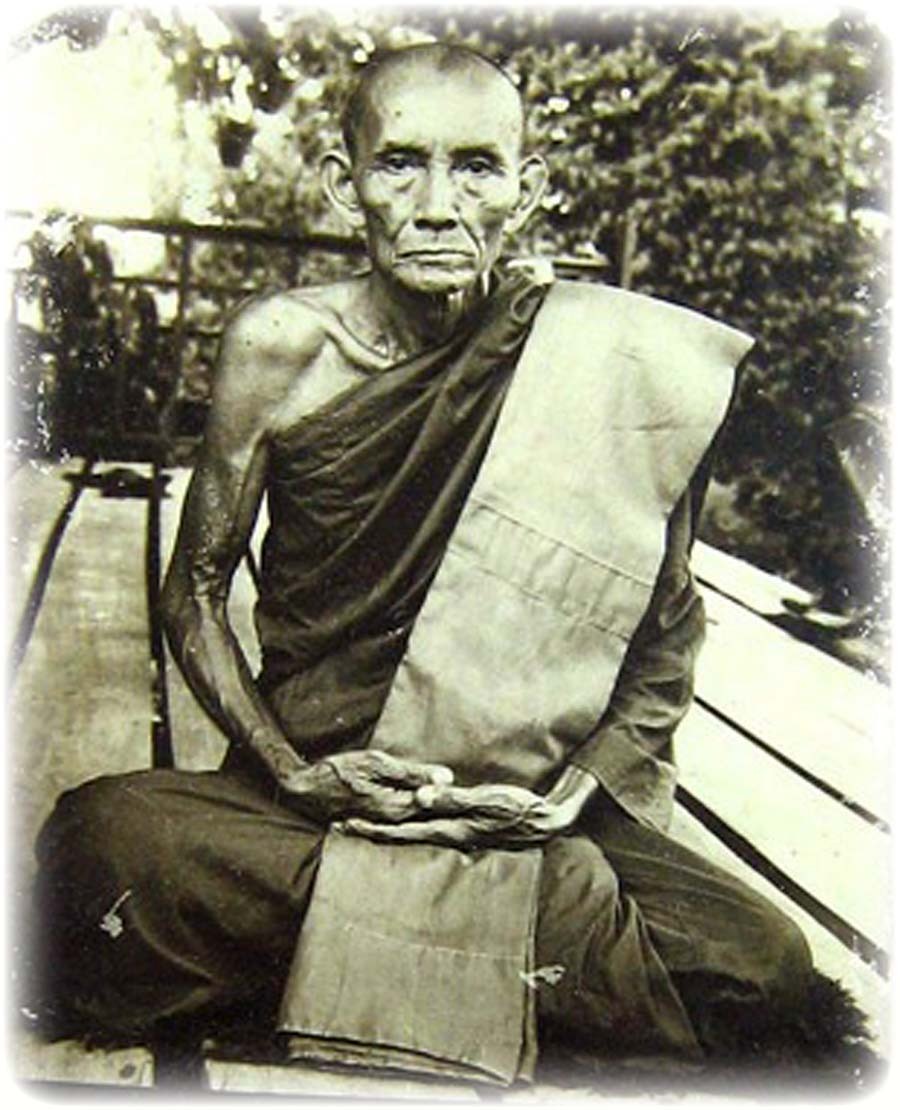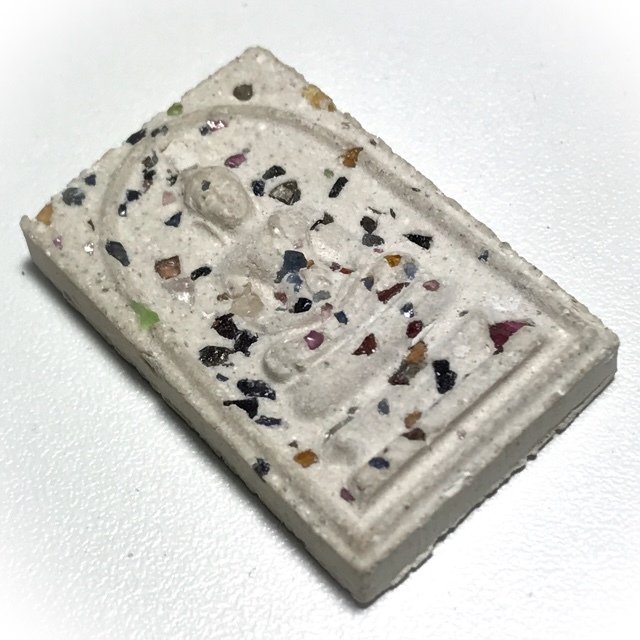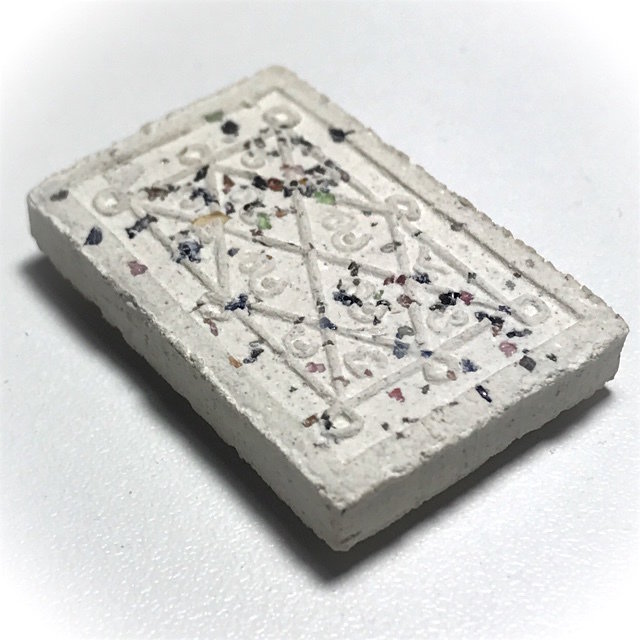 Welcome to the World of Ancient Thai Buddhist Amulets!