Ancient Amulet – Purveyors of preferred Classic Thai Buddhist Amulets for the True Devotee and Distinguished Collector
Ancient Amulets of the Pre and Early Post-Modern Era, of high esteem and Sacred Value, for Devotees and Collectors to study and collect. Ancient Thai Buddhist Amulets.

Rian Gao Pra Ajarn Gao Nak Prach - 9 Guru Monks 9 Philosophers 2513 BE - Wat Taepagorn Blessed by LP Guay, LP To, LP Pae, Kroo Ba Wang, LP Toon, LP Pring
03060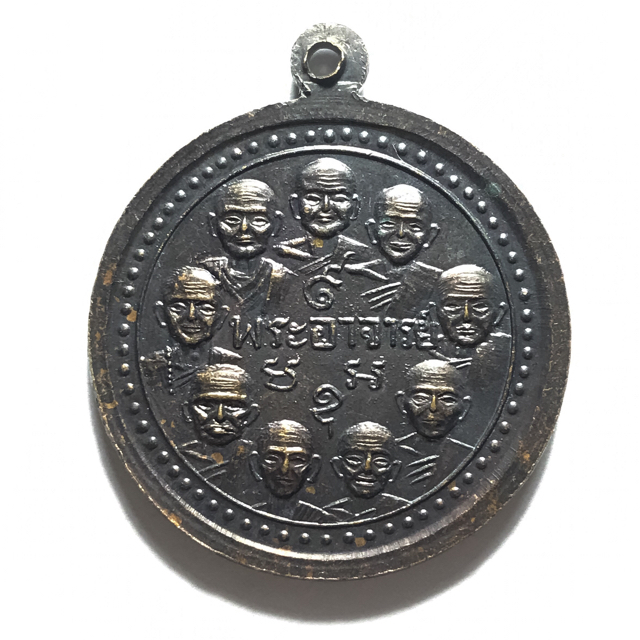 Temple:Wat Taepagorn
Maker of Amulet:Luang Phu To, Luang Por Guay, Luang Por Thin, Luang Por Toon, Luang Por Supoj, Luang Por Nor, Luang Por Pae, Luang Por Pring, Kroo Ba Wang, Luang Por Juan, Luang Por Lamoon, Luang Por Bpuan...
Weight:10 Grams
Recommended Uses:Protection, Promotion, Status, Commanding Influence, Lucky Fortunes, Mercy Charm
Size:3 Cm Diameter.
Encasement Options
Solid Gold Custom Casing (Waterproo​​​​​​​​f) - We will email you with a price quote according to current Gold Prices, and Invoice You after Agreement (0) Waterproof Casing (9) No Casing (0)