Ancient Amulet – Purveyors of preferred Classic Thai Buddhist Amulets for the True Devotee and Distinguished Collector
Ancient Amulets of the Pre and Early Post-Modern Era, of high esteem and Sacred Value, for Devotees and Collectors to study and collect. Ancient Thai Buddhist Amulets. Study and Collect the Ancient Classic Amulets of the Masters of Ancient Times, and Learn about the Magical Aspects, and the Art of Perusal of Ancient Thai Buddhist Amulets of Pra Niyom preferred Master-Class Category
Takrut Tong Daeng Look Om Lokatat Early Era Luang Phu Rian Wat Nong Bua Circa 2480 BE
03401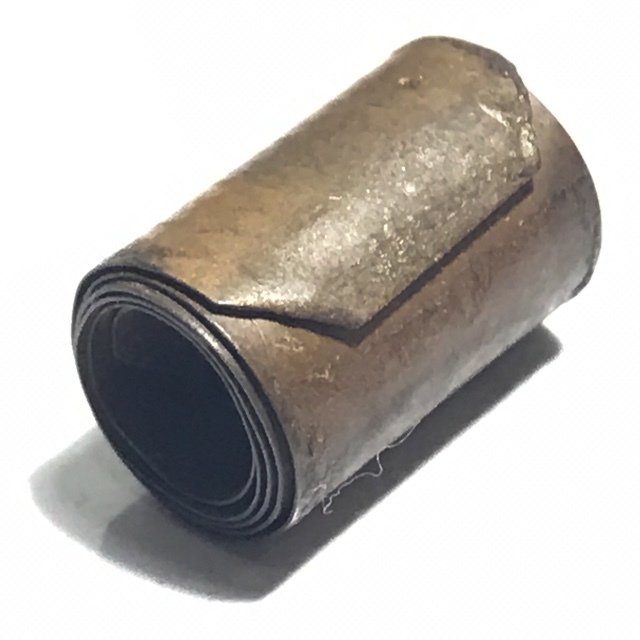 One of the most highly preferred amulets of this master, the Takrut Look Om Lokatat, small sacred Takrut scroll made from a long strip of Copper Yantra foil, inscribed and empowered by Luang Phu Rian, Olden Days Sorceror Monk of Wat Nong Bua, in Kanjanaburi. Luang Phu Rian was the continuance of the Lineage of the Great Luang Phu Yim. The takrut Lokatat were made in various kinds of metals, including Tong daeng (copper) Tong Lueang (brass), Dtakua (lead), Ngern (silver) and even Tong Kam (solid gold).
The amulet is created with the use of a long strip of metallic foil about one foot long, with Incantations inscribed, rolled into a tiny 'Look Om' size Takrut. This amulet measures 1.3 Cm long, and is 0.8 Cm thick. This particular exhibit is from the early-mid era of Luang Phu Rian's trajectory, sometime around 2470 - 2480 BE.
The Takrut Lokatat was made constantly over many decades by luang Phu, with the early ones being recognisable for the fact they were wound into scrolls using a twig of a tree, which results in the scroll having a larger hole in the center tunnel, and being less tightly wound than the later models, which were wound into scrolls using a special instrument, resulting in the later models being less easy to unwind, and having a much smaller central tunnel. The very early editions were also treated with sacred powders smeared on the yantra foil before winding them into scrolls, leaving a residual coating on the surface of the metallic foil, whereas the later models were not treated with sacred powders.
The Takrut of Luang Phu Rian are famed from tales of those devotees who possessed one, for its power of Maha Lap, Serm Duang, Kong Grapan Chadtri and Klaew Klaad. Luang Phu Rian, of Wat Nong Bua, was the Apprentice Master and Wicha Inheritor of the great Luang Phu Yim of Wat Nong Bua. Luang Phu Yim was one of the Greatest Master Gaeji Ajarn of Ancient Times of the Kanjanaburi Province.
Luang Phu Yim would appoint Luang Phu Rian, to Invoke the Kata Akom Incantations, and make the Inscription of Khom Agkhara Spells on the surface of his talismans and amulets in his stead. After Luang Phu Yim had bestowed all of his Wicha upon Luang Phu Rian, Luang Phu Rian then became immensely famous for his powerful Magic.
His amulets received immense popularity with the local devotees, throughout 58 Years of Ordination, until his final passing. He is very famous for his carved wooden Pra Somdej Mai Sao Bote amulets, which were made from the pillars of the old Uposatha shrine room of Wat Nong Bua. It is said that Luang Phu Rian began to perform the carving of his rare and famous Pra Somdej Mai Sao Bote wooden Shrine Room Pillar amulets himself.
He would make many different amulets, some which emulated and continued the Wicha of Luang Phu Yen, and some which were of his own design, or taken from other Wicha. His Pra Pid Ta follow only second to those of his Mentor Luang Phu Yim, and are amongst the most highly regarded Pra Pid Ta amulets of their Region. Both Luang Phu Rian and Luang Phu Yim are considered to be two of the top Masters of Kanjanaburi Province of all History.
The making of the famous Pra Somdej Mai Bote carved wooden amulets of Luang Phu Rian;
In the year 2494 BE, Luang Phu Rian saw that the Uposadha Shrine Room was becoming delapidated, and in need of constructing a new Uposadha. Luang Phu saw that the wooden pillars, which were already over a century old at the time, had received the powerful vibrational energies of the chanting of Luang Phu Yim and the Sangha Monks who had performed ceremonies throughout the century of its existence, and were full of Buddhakun Power from the Incantations of Luang Phu Yim and the prayers of the Monks.
The devotees would constantly bring pieces of the Uposadha pillar wood to Luang Phu to bless and make into amulets. Some amulets were carved by Luang Phu himself, and others were traken to artisans for carving, by the devotees who had been given pieces of the Uposatha pillar wood for Bucha, and some were carved by the villagers themselves, those who were too poor to pay an artisan. For this reason, there are many different levels of mastery
Above Picture; Just some of the many amulets of the pantheon of Luang Phu Rian (Wat Nong Bua), all of which are Rarities in this day and age, and are highly sought after amulets within the cult collector scene of the amulet appreciation society.
Below, the Takrut Bailan of Luang Phu Rian, another of his highly preferred and extremely rare amulets
The pantheon of amulets of Luang Phu Rian arejust as famous and sought after as those of his predecessor and Kroo Ba Ajarn, the olden days Master Luang Phu Yim (Wat Nong Bua). Luang Phu Rian passed away in the year 2503 BE
Below is a picture of Luang Phu YIm and a number of the great pantheon of his amulets, for you to also study and appreciate, and gather knowledge about the Pantheon of amulets of these two great Consecutive Guru Master Monks of Wat Nong Bua, in Kanjanaburi.
Temple:Wat Nong Bua
Year of Issue:
Circa 2480 BE
Maker of Amulet:Luang Phu Rian (2419 - 2503 BE)
Weight:2 Grams
Recommended Uses:Protection, Anti Black Magic, Mercy Charm, Lucky Fortunes, All round Auspicious Blessings
Size:1.2 x 0.8 Cm
Encasement Options
Solid Gold Custom Casing - We will email you with a price quote according to current Gold Prices, and Invoice You after Agreement (0) Steel Capped Transparent Tube (0) Waterproof Casing (9) None (0)
Welcome to the World of Ancient Thai Buddhist Amulets!