Pra Benjapakee – Top Amulets of the Five Major Regions of Thailand
The Benjapakee Amulet is a Pantheon of Ancient Amulets that carry Immortal Historical Fame and Legend in the Thai Buddhist Amulet World, and are perhaps the heart of all Thai Buddhist Amulets which have arisen in a myriad of forms based in the Benjapakee Collection of amulets. The Pra Benja-Pakee is a collection of five (the word 'Benja' meaning 'Five' in Sanskrit), top amulets of each of 5 regions (the word 'Pakee' meaning 'Regions' in Sanskrit)
The Five Benjapakee Amulets of Old are;
Pra Somdej, Pra Nang Paya, Pra Pong Supan, Pra Rod Lampun, Pra Sum Gor
This slideshow requires JavaScript.
However, there also are sub variations of these five Regional amulets which most people will also class within the Benjapakee collection, such as the Pra Kong Lampun, the Pra Beum Lampun, are alsop two pra Kru amulets of Lampun Province which are as highly valued as the Pra Rod.Each Region has its own 'Benjapakee' with its own top five amulets of its region. One can also find 'Benjapakee' collections of one single type of amulet, such as the 'Benjapakee' of Look Om Sacred Powder Ball amulets or the Benjapakee of Top Five Regional Pra Pid Ta Amulets.. This is of course a Folk Tradition and so one can find the word Benjapakee used in more than just the case of the classic historical Ancient Amulets known as the classic original Benjapakee Collection.

---
1st Edition Locket Ajarn Ah Pae Rong Si Ngow Kim Koi Hlang Yant Fa Pratan Porn 2519 BE Chinese Lay Master Amulet for Good Business, Karma + Anti Black Magick
02859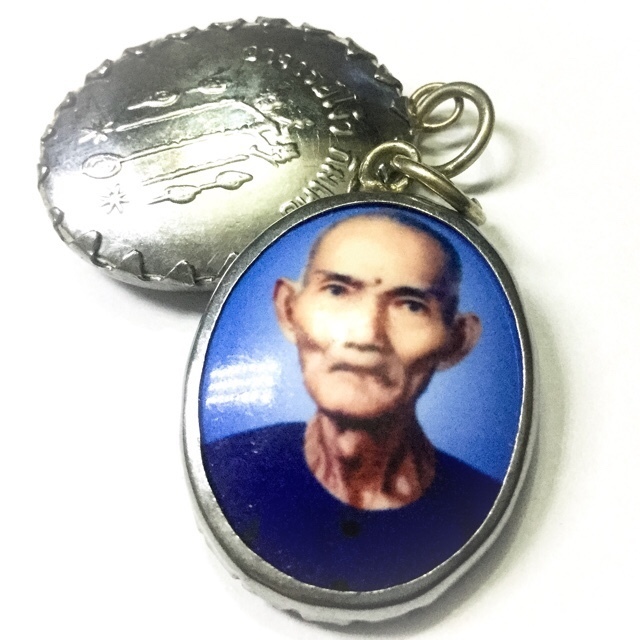 Locket Run Raek Chak Fa 1st Edition Amulet (Blue Version) with Yant Fa Pratan Porn Heavenly Blessings Yantra on rear face released in the year 2519 BE - Ajarn Ngow Kim Koy (Pae Rong Si) or 'Tao Gae Kim Keuy' - Sacred Powder amulet of Thailand's Chinese Master of the San Jao Shrine of Patum Thani who was famous for the Huang Jui Blessings.
Sian Ah Pae was for the local Thai People, a most Highly Revered Ajarn of his Era, whose blessings were famed for their success in bringing businesses to flourish.
This is an Extremely rare and highly sought after first edition amulet, as indeed are all original amulets of this Lay Master of Yesteryear. This master was lovingly known as 'Pae Rong Si' and was so loved by the local Folk of Patum Thani for his tirelessness in assisting the locals with their ailments, financial difficulties, and in helping to change their luck around, from bad to good.
The rear face of the locket has a sacred Fa Pratan Porn Yantra, with some Auspicious Chinese Syllables embossed upon it.
Sian Ah Pae Rong Si, was always available and ready to get up and go out to help anybody who was in need, and would always put the welfare of others first and foremost. His Wicha was inimitable and like that of no other.
Although Ajarn Pae was not a Thai National, rather, was a Chinese Immigrant, he was nevertheless a highly revered Ajarn for the Thai People of Patum Thani, for his merits were so well noticed by the locals, that they respected him so much for is diligence and merciful heart.
The power of the image of Ah Pae Rong Si is famous for being able to banish and chase away ghosts and demons. There is a story of a devotee who took a picture of Ah Pae to the house of a person who was afflicted and possessed by ghosts. and that as soon as the picture was presented before the possessed person, the ghosts fled immediately and were no more to be seen present, and that they never came back.
Apart from this ability of Ajarn Ah Pae, he was also the first ever Ajarn of his Lineage that could 'Doo Ngow Heng' meaning that he could tell fortunes by looking at people's eyebrows, eyes, nose, mouth, and ears.
This amulet is made in the image of Ajarn Ah Pae (head and shoulders Cameo). with a Sacred yantra on the rear face, called 'Yant Fa Pratan Porn' which means 'Yantra of The Heavens Bestowing Blessings'. The wearer of the amulets of Ah Pae Rong Si are said to be blessed with Maha Heng Lucky Fortunes, and that they will have Great Success in their Undertakings.
The amulet is empowered for Gae Huang Jui (eliminate Bad Karma and Inauspicious Horoscope), such as Husband and Wife Arguing, Loss of Respect or Status in Social Circles and Profession, Inability to get Promoted, or one's Family being Unable to find wealth or save money, and other associated cases of Bad Luck due to Inauspicious Astrological Influences.
Apart from this ability of Ajarn Ah Pae, he was also the first ever Ajarn of his Lineage that could 'Doo Ngow Heng' meaning that he could tell fortunes by looking at people's eyebrows, eyes, nose, mouth, and ears.
The life and biography of Ajarn Ah Pae before he appeared at the San Jao Shrine of Patum Thani is mostly a mystery, for he was a Chinese Immigrant who moved from Mainland China, and little is known of his life before he came to Thailand.
Both Ajarn Ah Pae and his amulets enjoy Legendary status in Thailand and with Thai Chinese People especially, as well as being highly revered in foreign shores by the Chinese devotees in Malaysia, Singapore, Indonesia, Hong Kong, China and Taiwan.
A Highly revered master with Business Owners and those who have bad Luck, who seek to turn their karma around and bring their lives and that of their families to prosper.
Use Betel and Areca to offer to Ah Pae for Bucha to Praye to the Amulet and Beseech Lucky Fortunes, and to Turn your bad Karma around and make it into Good Karma.
Temple:San Jao Patum Thani
Maker of Amulet:Sian Ah Pae Rong Si
Weight:5 Grams
Recommended Uses:Lucky Fortunes, Improve Karma, Prosperity, Turn Bad Luck into Good Luck, Lottery, Promotion, IMprove Family Relations, Banish Evil Ghosts and Demons
Size of Amulet:3 x 2.5 Cm
Encasement Options
Solid Gold Custom Casing (Waterproo​​​​​​​​f) - We will email you with a price quote according to current Gold Prices, and Invoice You after Agreement (0) Waterproof Casing (9) Without Casing (0)