Pra Benjapakee – Top Amulets of the Five Major Regions of Thailand
The Benjapakee Amulet is a Pantheon of Ancient Amulets that carry Immortal Historical Fame and Legend in the Thai Buddhist Amulet World, and are perhaps the heart of all Thai Buddhist Amulets which have arisen in a myriad of forms based in the Benjapakee Collection of amulets. The Pra Benja-Pakee is a collection of five (the word 'Benja' meaning 'Five' in Sanskrit), top amulets of each of 5 regions (the word 'Pakee' meaning 'Regions' in Sanskrit)
The Five Benjapakee Amulets of Old are;
Pra Somdej, Pra Nang Paya, Pra Pong Supan, Pra Rod Lampun, Pra Sum Gor
This slideshow requires JavaScript.
However, there also are sub variations of these five Regional amulets which most people will also class within the Benjapakee collection, such as the Pra Kong Lampun, the Pra Beum Lampun, are alsop two pra Kru amulets of Lampun Province which are as highly valued as the Pra Rod.Each Region has its own 'Benjapakee' with its own top five amulets of its region. One can also find 'Benjapakee' collections of one single type of amulet, such as the 'Benjapakee' of Look Om Sacred Powder Ball amulets or the Benjapakee of Top Five Regional Pra Pid Ta Amulets.. This is of course a Folk Tradition and so one can find the word Benjapakee used in more than just the case of the classic historical Ancient Amulets known as the classic original Benjapakee Collection.

---
Amulet Pantheon Encyclopedia Luang Phu Tim Wat Laharn Rai 163 Pages
03346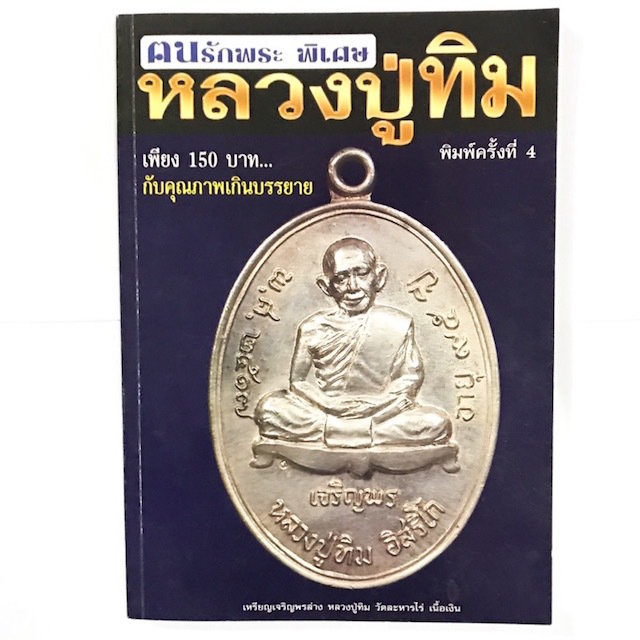 Amulet Pantheon of the great master monk of immortal fame, Luang Phu Tim Issarigo, of Wat Laharn Rai, in Ban Kaay, Rayong. This extensive book contains 163 pages for perusal and study in Thai Language, with clear full colour images of the most preferred amulets and editions, with points of study for authentication as essential reference material for students, collectors and devotees of the great master and his amulets. These books can be used to absorb and accustom the eyes to the fine details and 'Dtamni' (reference points and features) of true authentic amulets of the Luang Phu Tim. Please click on the gallery images to view an extensive preview of the inner content of the book. The book weighs 700 Grams packed, and costs for shipping will be added and calculated before you reach checkout.
Thai Amulet books and magazines are known for their tendency to be printed in limited numbers, and become immense rarities within a short time after release, and the collection of encyclopedic works is a cult niche in itself, apart from being one of the most important posessions of the true serious student aficionado of Pra Niyom category amulets. prices rise very fast as editions go out of print, and become unavailable, making such works immense rarities in themselves, and hence, are not just an essential part of the reference material of amulet collectors, but also highly prized collectors items in themselves, and the pride of the serious collector of rare publications.
Publication Type:Soft Cover Book
Publisher:Dton Rak Pra
Format:A4
Weight:700 Grams Packed and Parceled
Condition:New
Language:Thai
No. of Pages:163 Pages