Pra Benjapakee – Top Amulets of the Five Major Regions of Thailand
The Benjapakee Amulet is a Pantheon of Ancient Amulets that carry Immortal Historical Fame and Legend in the Thai Buddhist Amulet World, and are perhaps the heart of all Thai Buddhist Amulets which have arisen in a myriad of forms based in the Benjapakee Collection of amulets. The Pra Benja-Pakee is a collection of five (the word 'Benja' meaning 'Five' in Sanskrit), top amulets of each of 5 regions (the word 'Pakee' meaning 'Regions' in Sanskrit)
The Five Benjapakee Amulets of Old are;
Pra Somdej, Pra Nang Paya, Pra Pong Supan, Pra Rod Lampun, Pra Sum Gor
This slideshow requires JavaScript.
However, there also are sub variations of these five Regional amulets which most people will also class within the Benjapakee collection, such as the Pra Kong Lampun, the Pra Beum Lampun, are alsop two pra Kru amulets of Lampun Province which are as highly valued as the Pra Rod.Each Region has its own 'Benjapakee' with its own top five amulets of its region. One can also find 'Benjapakee' collections of one single type of amulet, such as the 'Benjapakee' of Look Om Sacred Powder Ball amulets or the Benjapakee of Top Five Regional Pra Pid Ta Amulets.. This is of course a Folk Tradition and so one can find the word Benjapakee used in more than just the case of the classic historical Ancient Amulets known as the classic original Benjapakee Collection.

---
Buang Nakabadtr Lanna Animist Naga Eating Tail Early Era Kroo Ba Wang Wat Ban Den
03768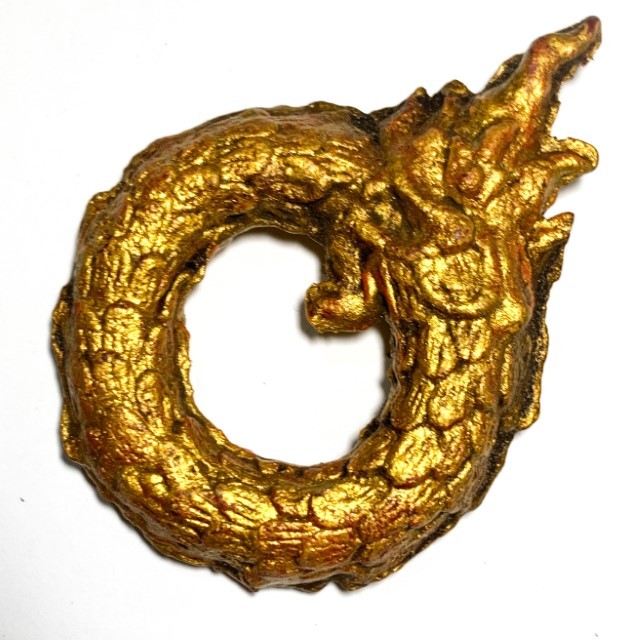 Buang Nakabadtr Naga Ring (Snake Eating Tail) in Nuea Pong Long Rak Chart Pid Tong sacred powders, with red lacquer and gold leaf), from the Great Kroo Ba Wang of Wat Ban Den. The Ngu Kin Haang, also often called 'Buang Nakabat' (Magic Naga Ring), is an image of a serpent or Naga swallowing its tail. Much like the serpent of Hermetic Magick, the attributed meanings are manyfold.
The Ngu Kin Haang of the Lanna Folk is Maha Pokasap through 'Maha Ud Sap' enclosure, or containment of accumulated wealth and treasures. it also insinuates impermeability, and hence Maha Ud Gunstopper and Kong Grapan Chadtri Invincibility against all forms of Penetrative Weaponry and Ammunition.
The Ngu (snake) and the Naga Serpent, are both given the attributed meaning of Metta Mahaniyom Mercy Charm, leaning towards successful business sales, and easy ascension through the ranks of promotion.
Ngu Snake is more Maha Pokasap (Treasure Accumulation) and Maha Sanaeh (Seduction Power).
Naga is more Maha Amnaj (Commanding Power over others), and Serm Yos (Increase Status and Rank).
It depends hence whether you wish to pray to the amulet as a Ngu (snake) or a Naga (Bhodala Serpent King), as to how you approach the method of Bucha, and what kind of Magic you Summon and Invoke from it.
The Buang Nakabat is for the Lanna People, primarily a Maha Pokasap 'Kin Mai Roo Sin' (eat drink, live and be merry without limits) type 'Krueang Rang' (Occult Talisman), with Metta Mahaniyom Kaa Khaay Mercy Charm for Prosperity and Good Business. The Buang Nak/Ngu Kin Hang Animist Talisman is a very ancient Wicha of the Northern Lanna people, which is not seen very often in the present day, for which this is a 'Serp Dtamnan' amulet, which meritoriously preserves an ancient sorcery formula, and protects the Wicha from becoming lost to Human memory.
Above and Below; examples of traditional Lanna style Buang Nakabat talismans.
A Most Noticeably early era from Kroo Ba Wang, from the visibly ancient aspects of the Muan Sarn clay, when viewed under the ey loupe at 12 x Macro
The Ngu Kin Hang, in tyhis form more often called 'Buang Nakabat' can be found in the legends of Manorah, where the Pran Bun hunter asked Phu Sri Sutto Nakarach, the Naga King of Bodhala, to borrow his magic ring. The Naga King was scared that the Pran Bun hunter would not return the ring, but he risked it and gave it to the Pran Bun, on the condition that he would return it.
The Naga King also explained that it would fulfill all of his wishes and make whatever happen that he wished, however large or small the wish. The Pran Bun Hunter was thus able to catch more than his fill of game, and then used the Buang Nakabat as a sling and rope to capture the Manorah Kinaree Goddess, and returned the ring to the Naga King thereafter. A truly rare and world-famous classic amulet, from Olden Days Master Kroo Ba Wang, of Wat Ban Den.
Free registered air parcel shipping worldwide is offered included with this amulet. The Nuang Nakarach measures 7.5 Cm High and 5 C.5 Cm wide Outer diameter, and is made from Red Sacred Muan Sarn Sacred Powders, with a gold covered surface, and golden painted on the surface. Empowered with the invocation of the Naga Kings, and is imbued with Lanna magic for Serm Yos, Anti Black Magic, Metta, Maha Amnaj, and Maha Lap Wealth Increase/
Luang Phu Kroo Ba Wang is Legendary for his Maha Sanaeh Magic, was one of the most famous of the Northern Lanna Guru Masters of the Olden Days. Highly preferred for his In Koo and In Ma Saep Nang amulets, as well as his famous Takrut scroll, Pra Rahu, and Pha Yant Sacred Geometry Yantra Cloth Spells. Of the Pha Yant he was especially renowned for his Pha Yant Ma Saep Nang Lady-Horse images.
Luang Phu was born in 2434 BE, in the country into a family of famers and market traders, In those days, the only way to get any schooling in the countryside was to stay in a temple and learn with the Monks. And so, at the age of nearly 9 years old, his father took him to live at the nearby temple, to learn to read and write. After about 3 years. Luang Phu could read and write fluently enough, and so he was able to ordain into the Sangha as a Samanera Novice Monk.
Luang Phu was born in 2434 BE, in the country into a family of farmers and market traders, In those days, the only way to get any schooling in the countryside was to stay in a temple and learn with the Monks, and so, at the age of nearly 9 years old, his father took him to live at the nearby temple, to learn to read and write. After about 3 years. Luang Phu could read and write fluently enough, and so he was able to ordain into the Sangha as a Samanera Novice Monk in the year 2445 BE. Luang Phu then began to practice Khom Sanskrit Agkhara and Wicha, and within a very short period of time became so adept that he could chant every single line of Agkhara from memory with great aptitude.
Pra Kroo Gantiya was his Upachaya Ordaining Officer, and Pra Ajarn Bpan was his Pra Gammawājājarn (Prompter). Pra Atigarn Bpum was his Pra Anusawanājarn (Witness). Luang Phu was given the Chāyā (official Monks Name) of Prohma Sēno. Luang Phu Kroo Ba Wang then stayed on at Wat Ban Baen in Lampoon for a period of 2 years more.
After this Luang Phu Kroo Ba Wang then moved to stay at Wat Ban Hmueang Jee, which was in his home area where he was born. Luang Phu then continued to study and practice Wicha Akom and Khom Agkhara for a further three years, until he became inspired to take up the practice of Tudong Solitary Forest wandering.
Luang Phu then travelled through the thick forest area of Pha Teub, on is way towards Chiang Saen, and stopped in the forest to practice for 6 months. Once he reached Chiang Saen, he stayed around the area practicing for some years, until he decided to travel towards Prae Province, where he finally arrived and stayed at the temple of Wat Den Chai. He stayed at this temple to master the various Sorcery Methods of the Region, so that he would be able to perform Powerful Incantations enabling him to cast spells and blessings to offer protection, happiness and prosperirty to the fold, and to send metta and merits to the Nature Spirits of the Nether Worlds, with Compassionate Mercy Magic.
Once he had mastered this Wicha, he then set forth once more, and practiced Tudong, until he came to rest at a very peaceful place in the forest called 'Pha Den Gradtay', which was very auspicious in energy. There was a small village nearby which was impoverished, and Luang Phu then decided to build a temple with the help of the locals. But Luang Phu was first called back by locals of the temple at Wat Dton Tong, so he agreed and went backl to assist the with their needs.
After one year helping them, he was able to return to Pha Den Gradtay, and built three Kuti Huts and invited some other monks to come and stay, and assist in developing the temple.
---
Then in the yeat 2508 Luang Phu Kroo Ba Wang began to build the Uposadha Shrine Room and the locals of the surrounding areas began to hear of his merits, and flock to the temple to make donations and assist.
The Uposadha was then finished in the the year 2510 BE. Luang Phu became famous for both is great ability to finish the temple of Wat ban den in Miraclulously short timespan, and also for his many Wicha, including Horasart (Astrology), Amulet making, Maha Sanaeh and Metta Maha Niyom Maha Lap Magic, and his ability to use Candle Magic to eliminate Bad Karma.
In the year 2513, time caught up with Luang Phu and he became ill, and began to weaken with age, and became unable to travel, and stayed for the rest of his life performing meritorious acts for the temple and the devotees, until his final passing at Wat Ban Den, in the year 2516 BE.
Kata Bucha Phu Sri Sutto Paya Nakarach
One can find or attribute many possible meanings to the symbolism contained within the image of a serpent eating its own tail, especially since this form of imagery has been found present within the pantheon of Sacred Art and Imagery of many different cultures around the world, be it the Mayans and Inca, the Druids and Pagans, the Hindu and Buddhists, or the Middle Eastern rooted Hermetic Traditions.
Snakes are sacred in many West African religions. The demi-god Aidophedo uses the image of a serpent biting its own tail. The Ouroboros is also seen in Fon or Dahomean iconography, as well as in Yoruba imagery as Oshunmare in W. Africa. Even the Norse Legends have the image of the snake eating its own tail. It is the power of the Human Mind and its ability to attribute corresponding meanings to imagery through symbolic attribution, which is the foundation of the activation of a Magical Mind, and its subsequent empowerment.
Temple:Wat Ban Den
Year of Issue:
Circa 2490 BE
Maker of Amulet:Kroo Ba Wang
Weight:11 Grams
Recommended Uses:Seduction, Mercy Charm, Business Increase, Promotion and Prosperity
Number of Amulets Made:Unknown
Size of Amulet:7.5 Cm High and 5 C.5 Cm wide Outer diameter
Material:Muan Sarn Powders Red Rak Chart Lacquer and Gold Leaf
Encasement Options
Solid Gold Custom Casing (Waterproo​​​​​​​f) - We will email you with a price quote according to current Gold Prices, and Invoice You after Agreement (0) Waterproof Casing (Free Offer) (0) Without Casing (0)