Pra Benjapakee – Top Amulets of the Five Major Regions of Thailand
The Benjapakee Amulet is a Pantheon of Ancient Amulets that carry Immortal Historical Fame and Legend in the Thai Buddhist Amulet World, and are perhaps the heart of all Thai Buddhist Amulets which have arisen in a myriad of forms based in the Benjapakee Collection of amulets. The Pra Benja-Pakee is a collection of five (the word 'Benja' meaning 'Five' in Sanskrit), top amulets of each of 5 regions (the word 'Pakee' meaning 'Regions' in Sanskrit)
The Five Benjapakee Amulets of Old are;
Pra Somdej, Pra Nang Paya, Pra Pong Supan, Pra Rod Lampun, Pra Sum Gor
This slideshow requires JavaScript.
However, there also are sub variations of these five Regional amulets which most people will also class within the Benjapakee collection, such as the Pra Kong Lampun, the Pra Beum Lampun, are alsop two pra Kru amulets of Lampun Province which are as highly valued as the Pra Rod.Each Region has its own 'Benjapakee' with its own top five amulets of its region. One can also find 'Benjapakee' collections of one single type of amulet, such as the 'Benjapakee' of Look Om Sacred Powder Ball amulets or the Benjapakee of Top Five Regional Pra Pid Ta Amulets.. This is of course a Folk Tradition and so one can find the word Benjapakee used in more than just the case of the classic historical Ancient Amulets known as the classic original Benjapakee Collection.

---
Hanuman See Gorn Hlang Roop Tai - Monkey God with Guru Monk Photo on Rear Face - Nuea Pong Pratat Pasom Poon - Luang Phu Doo Wat Sakae
02843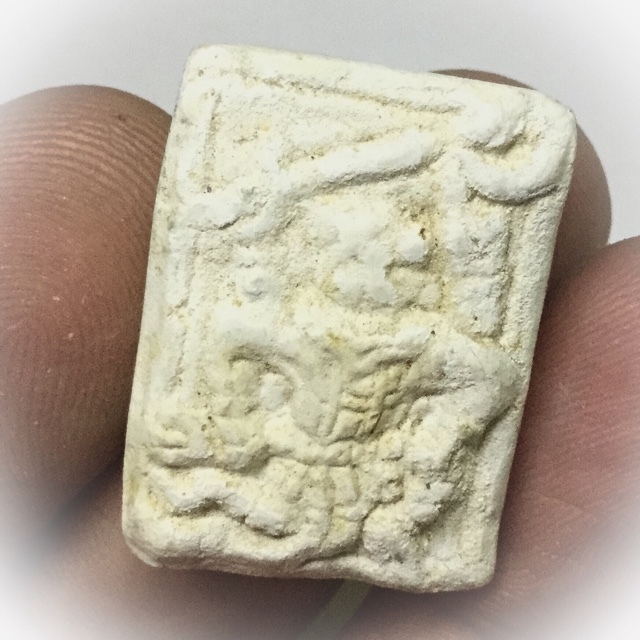 Hanuman Nuea Pong Puttakun Pasom Poon Lae Rae Pratat - Extremely Rare Sacred Powder amulet from the Arya Sangha Monk Luang Phu Doo, of Wat Sakae. The Hanuman amulet of Luang Phu Doo is one of the rarest amulets in his rather vast pantheon, and is only very rarely seen at all.
The Hanuman was made in two different stances, looking to the left, and looking to the right, and was also seen to exist as a five sided version.
Luang Phu Doo made a large number of different amulets during his lifetime, many of them taken from designs which he would beseech from other masters and temples, and others which he would design himself.
It is believed he made over 100 different models of amulets during his lifetime, ranging from Deities such as Brahma and Hanuman, to Guru masters such as Luang Phu Tuad, Lockets, and Buddha Images such as the Pra Somdej.
This particular exhibit is even rarer in the sense that it has a Roop Tai photo of Luang Phu Doo attached, with rubber ink stamp on the rear face, which has evidently been blessed by Luang Phu as a combination.
It can be assumed that the amulet and the Roop Tai will have been combined for Luang Phu Doo to bless as one single amulet.
One important fact about the sacred Powders of this amulet, is that the powders have released 'Pratat' crystalline substance, which is considered to be a form of Sacred Relic, which arises through the Sacred Power imbued within the amulet. The crystalline substance grows on the surface in small beads, which are visible when studied close up.
This amulet belongs to the Most HIghly Preferred Class Amulets of Luang Phu Doo, and is extremely sacred not only because it was made as Luang Phu was still alive and Blessed by his own hand, but because of the presence of Pratat Buddha relic within the sacred powders.
Luang Phu Doo was a great Monk of National Importance, and of Great Purity of practice in his Patipatā, who is believed by many to have attained Arahantship. The amulets were released sometime after 2517 BE at Wat Sakae.
There are a multitude of different specialized Kata for chanting to the Hanuman Deity in Thai Buddha Magic. Each Kata can be used for your different needs or time available.
Hanuman is the symbol of Loyalty, for his unwavering dedication and selfless service to Prince Rama as told in the Ramayana.
He is charming, super strong, invincible, cannot die, wily and clever, and is the commander of all the Vanora Devas as their General. Hanuman can not only protect from dangers, black magic and ill fate, he can also bring winners luck to gambling tables, is an able seducer of maidens and nymphs, and is more or less a winner in every walk of life.
His strength is immense and second to no God, for which reason he is the mascot and revered Deithy of Muay Thai Warriors, who call upon the power of Hanuman to defeat their contestants and opponents in battle in the ring.
The Winning Power of Hanuman, will clear the way of difficulties, whilst making all ventures successful.
Kata Hanuman
Na Ma Pa Ta Hanumaana Waa To No A Ma Ma Wa
Kata Hua Jai Hanuman (heart Mantra)
Ha Nu Maa Na (3 times)
Longer Alternative
Sappo Bulo Su Sang A Wisang A A Gusalaa Tammaa Abpayaa Kadtaa Tammaa A Sang Wi Su Lo Bu Sa Pu PaPa Pa Su Bu Lo Bu Na Ma Pa Ta Hanumaana Wa To No A Ma Ma Waa Na Mo Put Taa Ya Ja Pa Ga Sa Na Ma A U
Kata Pluk Hanuman
Na Mang Pae Ling Mo Mang Bpaag Grabork Ya Mi Hai Ork Udtang To Ud Tang Ad Asang Wisulo Busapupa Ma A U Om Ya Puttaa Tayo Sadtrii Nisangho
Kata Sri Hanuman (Brahman)
Maruta Nandana Namo Namaha
Kashta Bhanjana Namo Namaha
Asura Nikandana Namo Namaha
Shri Rama Dhuutang Namo Namaha
Temple:Wat Sakae
Maker of Amulet:Luang Phu Doo
Weight:8 Grams
Recommended Uses:Increase Status, Promotion, Invincibility, Evade Danger, Lucky Fortunes, Seductive Charm, Winning Over all Obstacles
Number of Amulets Made:Unknown Numbers (Very Few)
Size of Amulet:3 x 2 Cm
Encasement Options
Solid Gold Custom Casing (Waterproo​​​​​​​f) - We will email you with a price quote according to current Gold Prices, and Invoice You after Agreement (0) Waterproof Casing (9) Without Casing (0)