Pra Benjapakee – Top Amulets of the Five Major Regions of Thailand
The Benjapakee Amulet is a Pantheon of Ancient Amulets that carry Immortal Historical Fame and Legend in the Thai Buddhist Amulet World, and are perhaps the heart of all Thai Buddhist Amulets which have arisen in a myriad of forms based in the Benjapakee Collection of amulets. The Pra Benja-Pakee is a collection of five (the word 'Benja' meaning 'Five' in Sanskrit), top amulets of each of 5 regions (the word 'Pakee' meaning 'Regions' in Sanskrit)
The Five Benjapakee Amulets of Old are;
Pra Somdej, Pra Nang Paya, Pra Pong Supan, Pra Rod Lampun, Pra Sum Gor
This slideshow requires JavaScript.
However, there also are sub variations of these five Regional amulets which most people will also class within the Benjapakee collection, such as the Pra Kong Lampun, the Pra Beum Lampun, are alsop two pra Kru amulets of Lampun Province which are as highly valued as the Pra Rod.Each Region has its own 'Benjapakee' with its own top five amulets of its region. One can also find 'Benjapakee' collections of one single type of amulet, such as the 'Benjapakee' of Look Om Sacred Powder Ball amulets or the Benjapakee of Top Five Regional Pra Pid Ta Amulets.. This is of course a Folk Tradition and so one can find the word Benjapakee used in more than just the case of the classic historical Ancient Amulets known as the classic original Benjapakee Collection.

---
Hwaen Block Meed Yant Idti Luang Por Guay - Luang Phu Hmun Blessing at Wat Sap Lam Yai 2542 BE
03812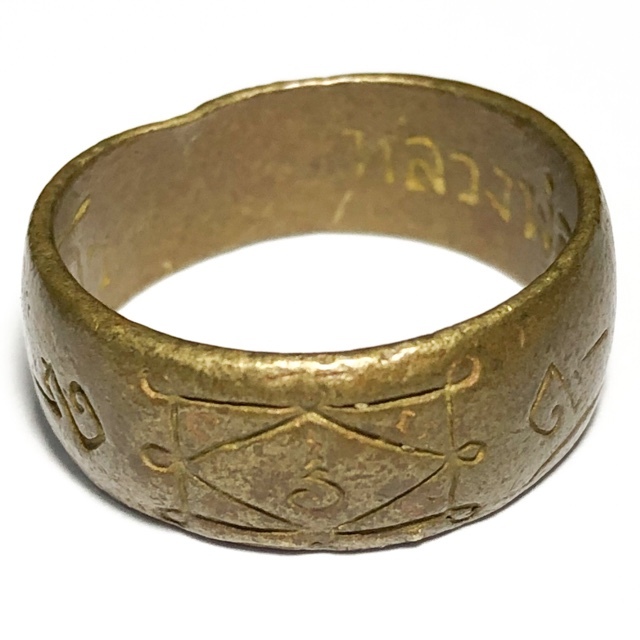 The Hwaen Blok Meed Yant Idti Luang Por Luang Por Guay was blessed by Luang Phu Hmun of Wat Ban Jan, the rings were made under commission of Ajarn Dtua, and Released at Wat Sap Lam Yai Temple, after receiving multiple empowerment sessions from Luang Phu Hmun at Wat Ban Jan, and a final empowerment during Buddha Abhiseka at Wat Sap Lam Yai.Made with the Wicha and Dtamra of the Great Luang Por Guay of Wat Kositaram, through the lineage continuation master Pra Ajarn Dtiw, who is the direct first apprentice Looksit of Luang Por Guay HImself. The edition was petitioned by Pra Ajarn Dtiw to Luang Phu Hmun, in order to finish the building of the Luang Por Guay Shrine at Wat Sap Lam Yai.
The rings were just one of many different amulets, mostly in the form of Luang Por Guay's Classic Amulets, such as the Pra Somdej Hwaek Man Hlang Mae Toranii. The amulets were passed through Buddha Abhiseka on the 5th of December 2542 BE A large number of Great Master Monks attended the Ceremony, including some Internationally Famous Names noted for their diligent Patipatā and Powerful Magic.
Free Registered Air Parcel Worldwide Shipping is included with this amulet. Some of the more famous Masters attending the Ceremony were; Luang Phu Samai, Luang Phu Hongs Prohmabanyo, Luang Por Ruay of Wat Tago, Luang Por Pian, Luang Phu Teer, Luang Por Sawai, and Luang Phu Hmun Tidtasīlō of Wat Ban Jan presiding over the Ceremony. Luang Phu Hmun, of Wat ban Jan, Sri Saket, is the Looksit of the Lineage of Somdej Lun of Jampa Sak (Laos).
Luang Phu Hmun was a Maha Thaera Guru Monk of great age and who recieved Great reverence and Respect from the people of Tambon Jan for his Diligence and Puroty in practicing the Vinaya as a Buddhist Monk. His Miracle Powers are Legendary, with so many stories of Miraculous events related to this Monk, who has seen the Reign of Five Kings in his Lifetime.
Luang Phu Hmun's amulets are now very hard to come across. his amulets are becoming very rare, and prices have risen constantly since his passing, snapped up by the inner circle of devotees and collectors, who know about the attainments of this Monk, and that there are severe reasons to believe that he may have been an Arahant. His amulets are eminent members in the annals of the Classics.
Biography of Luang Por Guay Wat Kositaram
Use Buddhist Kata Aaraatanaa Pra Krueang to Bucha the Ring
Kata Aaraatana Pra Krueang is a specialized Kata for chanting when putting on amulets, taking them off, or when leaving the house or travelling. The Kata asks for protection and blessings to go with you. Before chanting to any amulets, you should always chant Namo Dtassa, and/or the Kata to ask for refuge (Kata Dtrai Saranakom) the Triple Gem first
Kata for Chanting to Amulets (Kata Aaratanaa Pra Krueang)
Puttang Aaraatanaanang
Tammang Aaraatanaanang
Sangkang Aaraatanaanang
Puttang Prasittimae
Tammang Prasittimae
Sangkang Prasittimae
Chant this Kata 3 times whenever you are about to place the chain over your head or put on the amulets, and also when you take them off. The Kata calls upon the power of the Buddha, Dhamma and Sangha to be with you and protect and Guide you.
Temple:Wat Sap Lam Yai
Maker of Amulet:Pra Ajarn Dtiw
Weight:8 Grams
Recommended Uses:Protection, Wealth Attraction, Lucky Fortunes, Improve Karma, Anti Black Magick
Size of Amulet:2 Cm Inner Diameter
Encasement Options
Waterproof Casing (9) No Casing (0)