Pra Benjapakee – Top Amulets of the Five Major Regions of Thailand
The Benjapakee Amulet is a Pantheon of Ancient Amulets that carry Immortal Historical Fame and Legend in the Thai Buddhist Amulet World, and are perhaps the heart of all Thai Buddhist Amulets which have arisen in a myriad of forms based in the Benjapakee Collection of amulets. The Pra Benja-Pakee is a collection of five (the word 'Benja' meaning 'Five' in Sanskrit), top amulets of each of 5 regions (the word 'Pakee' meaning 'Regions' in Sanskrit)
The Five Benjapakee Amulets of Old are;
Pra Somdej, Pra Nang Paya, Pra Pong Supan, Pra Rod Lampun, Pra Sum Gor
This slideshow requires JavaScript.
However, there also are sub variations of these five Regional amulets which most people will also class within the Benjapakee collection, such as the Pra Kong Lampun, the Pra Beum Lampun, are alsop two pra Kru amulets of Lampun Province which are as highly valued as the Pra Rod.Each Region has its own 'Benjapakee' with its own top five amulets of its region. One can also find 'Benjapakee' collections of one single type of amulet, such as the 'Benjapakee' of Look Om Sacred Powder Ball amulets or the Benjapakee of Top Five Regional Pra Pid Ta Amulets.. This is of course a Folk Tradition and so one can find the word Benjapakee used in more than just the case of the classic historical Ancient Amulets known as the classic original Benjapakee Collection.

---
Khiaw Pra Pikanes Gae - Carved Tiger Tooth Ganesha 2.5 Inches - Dtamnak Dtak Sila Khao Or Circa 2490 BE
02974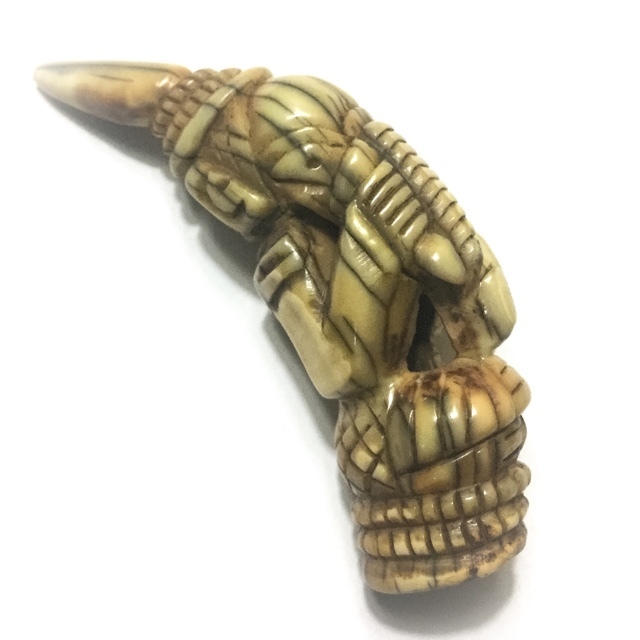 This beautifully carved Ganesha God is made from a large Khiaw Suea (Tiger Tooth), and has been empowered in Ritual Ceremony at the Holy Cave of Khao or, by the Masters of Old, of the Dtamnak Dtak Sila Khao Or. Southern Academy of Sorcery.
The tooth is estimated to have been made in the final decade before 2500 BE, and is carved with extremely fine Artisanry, with highly detailed features. The tooth is carved into the image of the Elephant Headed God Ganesha (son of Shiva), remover of all obstacles, and bringer of success. Ganesha is standing holding his tusks.
The tooth is covered with small crevices along the length of the tooth, which is part of the aging process, along with the development of a golden Patina. Such crevices are also found in pieces of ivory tusk as they age, but this exhibit has other features which confirm it to be tiger tooth, despite its great similarity in surface appearance to ivory.
Two such features would be, that one of the crevices along the central part of the side of the tooth is the typical split which is so often seen running along the lateral part of tiger Fangs. The rounded point of the tooth also reveals the nature of the tooth to be of a tiger, as a second point of recognition. Blood stains are also visible on the surface Patina, which also reveals it to be the tooth of a carnivore.
The markings on the base of the tooth which shows the rounded (slightly oval) hole, and the 'tree-ring' like lines, also reveal the tooth to be that of a tiger. The tooth is hand carved with the image of Pra Pikanes (Ganesha), for removal of Obstacles, Success in one's Undertakings and Profession, Wealth and Promotion.
The Ganesha is carved in the style of the Southern Sri Vichai Era Traditional Artistic Style, in line with the tradition of the lineage Masters of the Dtamnak Dtak Sila Khao Or. This type of individual exhibit is an extremely rare item to encounter and is especially rare to find a carved tooth in this condition, with such exquisitely finely carved details, and artistic interpretation.
Ganesha or, as we say in Thai 'Pra Pikanes' is the Deity for removal of obstacles and attainment of success. Pra Pikanes has many different forms, with different meanings. he may have four, six, eight, twelve or even fourteen arms, but almost never two arms, this being a Tabu. Pra Pikanes may carry any of a number of 57 different Cosmic weapons or regalia in his hands.
Ganesha has many different Emanations and Postures, but the most Common Traditional Posture of Ganesha, is four armed with Whip Goad, Ritual Axe, an Om in the palm of raised hand, and Fruits as consumable offerings.
This Posture and combination induces not only the removal of obstacles and success, but also wealth and plentiful treasures and possessions and well being. The hand wielding an axe, is a symbol of the retrenchment of all desires, bearers of pain and suffering. With this axe Ganesha can both strike and repel obstacles. The goad restrains all inner and outer enemies.
Ganesha, has four arms, which symbolize his status as the universal ruler and establish his power over the four categories of beings – those who can live only in water, those who can live in water and on earth, those who can live only on earth and those who can fly in air.
Significance of four : It was God Ganesha who instituted the four castes and the four Vedas. One hymn in Sri Bhagavat Tattva , says: 'In heaven, this child will establish the predominance over gods, on earth over men, in the nether world over anti-gods and serpents.
He causes the four ruling forces of the elements to move, for which he has four arms. You can use the Chants to Ganesha (Pikanes) to empower the amulet, and to beseech blessings, to attract, and improve your profession, charm, wealth, status.
Pray to Ganesha to remove any obstacle that may be preventing you from succeeding in your goals, be they amorous, financial, professional or social goals. Ganesha helps you in all these areas of life.
Thai Kata for Chanting Daily to Pra Pikanes
Om Pikanesuan Sitti Bprasittimae Mahaa Laapo
Tudtiyambpi Om Pikanesuan Sitti Bprasittimae Mahaa Laapo
Dtadtiyambi Om Pikanesuan Sitti Bprasittimae Mahaa Laapo
Kata Pra Pikanes

Om Sri Kanesaya Namaha
Use when putting the amulet on and off each day, and as a short Kata when passing Holy Places with Images of Ganesha, or when during daily activities.
Kata Bucha Pra Pikanes (Thai Brahman Pali Adaptation)
Ongaarapintunaathang Ubp-Bpannang Prahm-Mano Ja Into Pikanesadto Mahaa Taewo Ahang Wantaa Mi Sappadtaa Sittigijjang Sittigammang Sittigaariyang Bprasitti Mae
Chant this 3, 5, 9 or 108 Times
Apart from wearing the amulet, you can use it as a ritual object to make prayer water (through immersion in the water bowl, and chanting with incense, flowers and offerings, preliminary prayers), or to place on a small tray on the altar and make offerings as a Bucha Deity.
Thai Kata for Chanting Daily to Pra Pikanes
Om Pikanesuan Sitti Bprasittimae Mahaa Laapo
Tudtiyambpi Om Pikanesuan Sitti Bprasittimae Mahaa Laapo
Dtadtiyambi Om Pikanesuan Sitti Bprasittimae Mahaa Laapo
Temple:Dtamnak Dtak Sila Khao Or
Year of Issue:
Circa 2480 BE - 2490 BE
Maker of Amulet:Khao or Masters of Olden Days
Weight:18 Grams
Recommended Uses:Remove Obstacles to Success, Promotion, Prosperity, Protection, Good Business
Number of Amulets Made:1 Only
Size of Amulet:2.5 Inches
Encasement Options
Solid Gold Custom Casing (Waterproo​​​​​​​f) - We will email you with a price quote according to current Gold Prices, and Invoice You after Agreement (0) Waterproof Casing (Free Offer for this Amulet) (0) Without Casing (0)