Pra Benjapakee – Top Amulets of the Five Major Regions of Thailand
The Benjapakee Amulet is a Pantheon of Ancient Amulets that carry Immortal Historical Fame and Legend in the Thai Buddhist Amulet World, and are perhaps the heart of all Thai Buddhist Amulets which have arisen in a myriad of forms based in the Benjapakee Collection of amulets. The Pra Benja-Pakee is a collection of five (the word 'Benja' meaning 'Five' in Sanskrit), top amulets of each of 5 regions (the word 'Pakee' meaning 'Regions' in Sanskrit)
The Five Benjapakee Amulets of Old are;
Pra Somdej, Pra Nang Paya, Pra Pong Supan, Pra Rod Lampun, Pra Sum Gor
This slideshow requires JavaScript.
However, there also are sub variations of these five Regional amulets which most people will also class within the Benjapakee collection, such as the Pra Kong Lampun, the Pra Beum Lampun, are alsop two pra Kru amulets of Lampun Province which are as highly valued as the Pra Rod.Each Region has its own 'Benjapakee' with its own top five amulets of its region. One can also find 'Benjapakee' collections of one single type of amulet, such as the 'Benjapakee' of Look Om Sacred Powder Ball amulets or the Benjapakee of Top Five Regional Pra Pid Ta Amulets.. This is of course a Folk Tradition and so one can find the word Benjapakee used in more than just the case of the classic historical Ancient Amulets known as the classic original Benjapakee Collection.

---
Locket Roop Tai Luang Por Glan Hlang Yant - Guru Monk Photo in Sealed Casing with Yantra on Back Face - Wat Prayat
03168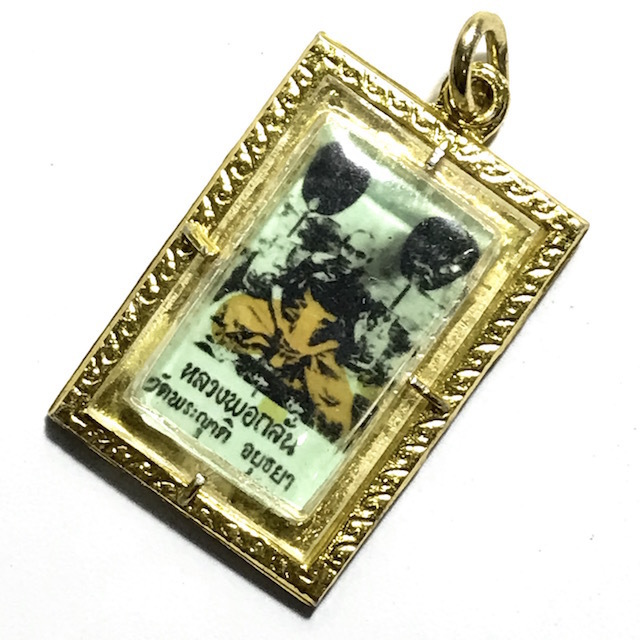 Sacred Photo of the Great Olden Days Ayuttaya Master Monk Luang Por Glan Tammachote, in Original Casing as issued at the temple during the 2517 BE Wat Prayat Traimas Ceremony, in front of the Shrine and Corpse of Luang Por An and Image of Luang Por Glan with the abbot of Wat Prayat presiding over the calling of the lineage of the Kroo Ba Ajarn - The locket has a Yantra Spell on rear face.
Luang Por Glan was the abbot of Wat Prayat in Ayuttaya, and the Kroo Ba Ajarn of the Great Luang Por An, who followed Luang Por Glan succeding him as abbot of Wat Prayat after his passing, and who was also a Great Master of Olden Days whose amulets were immensely famous during the Wartime Era, for their Kong Grapan Chadtri Klaew Klaad power. Luang Por An inherited and learned most of his Wicha from Luang Por Glan, who was one of the top ten Masters with the most powerful psychic powers of his Era.
The top ten Masters who were bestowed with the honor at the end of the 2452 BE test of magic in Nakorn Pathom, which was performed in all grandeur, when all the most powerful masters from around the country were invited to come and have their powers and knowledge of Wicha tested. This was done to find out who were the current Grand Master Adepts in that time. These Top 10 Masters who won were the following; Luang Por Glan (Wat Prayat), Luang Phu Bun (Wat Klang Bang Gaew), Luang Phu Sukh ( Wat Pak Klong Makham Tao), Luang Phu Iam (Wat Hnang), Luang Por Ngern (Wat Bang Klan), Luang Por Ta (Wat Paniang Dtaek), Luang Por Tong (Wat Khao Gop Twa Sri), Luang Por Parn (Wat Bang Hia), Luang Phu Yim (Wat Nong Bua), and Luang Por Jon (Wat Don Ruab).
The amulets of Luang Por Glan are highly regarded for their magical powers and the many miracles which have occurred with devotees who wore his amulets. They dwell within the annals of the Pra Niyom Master-Class Category, with the more highly preferred models such as the Rian Luang Por Glan 2467 BE Monk Coin, of which a top Ongk Kroo model has been already documented in Thai News as having been auctioned for a sum of 20 Million Thai Baht (more than half a million dollars at the time).
Below; Rian Luang Por Glan 2467 BE Monk Coin - was sold for over half a Million Dollars, as told in one National News Story.
Luang Por Glan was born in the year 2390 in Aranyik in the Municipality of Ayuttaya. His parents gave him the name 'Glan'. His parents were very poor, and he did not have any luxuries, and had to work hard to help his parents. He was the only child, and so had to help without the assistance of other siblings, This made the young Glan very diligent and patient, with high endurance. He helped his family until he reached the age of 27 years old, when he was Ordained at Wat Lokayasuta Sala Poon.
His Upachaya Ordaining Officer was Pra Yan Trailoke (Luang Por Sa-Ard), who was the Archbishop of the whole Province of Ayuttaya. His 'Koo Suad' (Witness and Prompter), were Pra Kroo Tamma Tada, of Wat Prohm Niwas, and Pra Atigarn Chern, of Wat Prayat. He was given the 'Chaya' Monks Surname of Tammachote (Dhamma Choti), which means 'he who is Illuminated by the Dhamma'.
Once Luang Por Glan was Ordained as a Bhikkhu, he stayed firstly at Wat Pradoo Song Tam, and during his time practicing there he studied Wicha Akom Sorcery Spells until reaching a highly adept level. He wandered on Tudong in the forests and Mountain Caves,, and learned to master his heart, and adeptly apply psychic powers and incantations to overcome the dangers of the jungle, poisonous insects and beasts, fevers, and ghostly entities. One day as the sun was setting he came out of the forest and came across the temple of Wat Prayat, and felt that this was a very peaceful temple. He thought it would be a suitable temple to stay at and be able to maintain a high level of Vipassana Kammathana practice.
He thus planted his Glod Umbrella to camp outside the temple for the evening he was then seen by the devotees of the area who were informed by locals who had seen Luang Por Glan in the forest, and invited to stay and develop the temple. He then took up this task and went on to become one of the greatest Ayuttaya Masters of all time, and one of the top Masters of all Thai History for his powerful Kong Grapan Chadtri and Klaew Klaad amulets.
Luang Por Glan began the Legendary Dtamra of Wat Prayat with his Miraculous Amulets and his bestowing his many powerful wicha to his Looksit Luang Por An, who went on to become a great Master in his own right, leading the temple to become a 'Dtamnan' Legend, which of course only happens when two or three generations of abbots succeed each other and all become great legends in their own right. Luang Por Glan passed away in the year 2477 BE, leaving Luang Por An to continue the legend, and is Magical Wicha. Devotees of Wat Prayat are equally fervent in their collection of amulets from all of the abbots of Wat Prayat since Luang Por Glan himself.
It can be said that the amulets of both Luang Por Glan and Luang Por An are considered amongst the rarest and most highly sought after and valued amulets of the Ayuttaya regional amulet scene, and the many Pra Niyom collector circles around Thailand. Luang Por Glan's special Pong Wused Muan Sarn Sacred Powders were so famous for their Magical Powers, that they became an important part of his Looksit Luang Por An's amulet making, which he would stuff into the base of clay amulets such as the Pra Luang Por Kor Hak clay Buddha Amulets.
His Looksit Luang Por An, of Wat Prayat, inherited the Sorcery Wicha of Luang Por Glan (Wat Prayat), and his special Muan Sarn Sacred Powders, and passed away in 2512 BE, as he was visiting Wat Pra Singh in Chiang Mai for a Buddha Abhiseka Blessing. HIs body was kept for devotees to worship at Wat Prayat for 25 years before he was cremated in the year 2536 BE.
Temple:Wat Prayat
Weight:3 Grams
Recommended Uses:Protection, Evade Deadly Accidents, Improve Karma,
Size of Amulet:2.5 x 2 Cm