Pra Benjapakee – Top Amulets of the Five Major Regions of Thailand
The Benjapakee Amulet is a Pantheon of Ancient Amulets that carry Immortal Historical Fame and Legend in the Thai Buddhist Amulet World, and are perhaps the heart of all Thai Buddhist Amulets which have arisen in a myriad of forms based in the Benjapakee Collection of amulets. The Pra Benja-Pakee is a collection of five (the word 'Benja' meaning 'Five' in Sanskrit), top amulets of each of 5 regions (the word 'Pakee' meaning 'Regions' in Sanskrit)
The Five Benjapakee Amulets of Old are;
Pra Somdej, Pra Nang Paya, Pra Pong Supan, Pra Rod Lampun, Pra Sum Gor
This slideshow requires JavaScript.
However, there also are sub variations of these five Regional amulets which most people will also class within the Benjapakee collection, such as the Pra Kong Lampun, the Pra Beum Lampun, are alsop two pra Kru amulets of Lampun Province which are as highly valued as the Pra Rod.Each Region has its own 'Benjapakee' with its own top five amulets of its region. One can also find 'Benjapakee' collections of one single type of amulet, such as the 'Benjapakee' of Look Om Sacred Powder Ball amulets or the Benjapakee of Top Five Regional Pra Pid Ta Amulets.. This is of course a Folk Tradition and so one can find the word Benjapakee used in more than just the case of the classic historical Ancient Amulets known as the classic original Benjapakee Collection.

---
Locket Roop Tai Somdej Dto Hlang Takrut Sam Kasat 2495 BE Luang Phu Nak
03424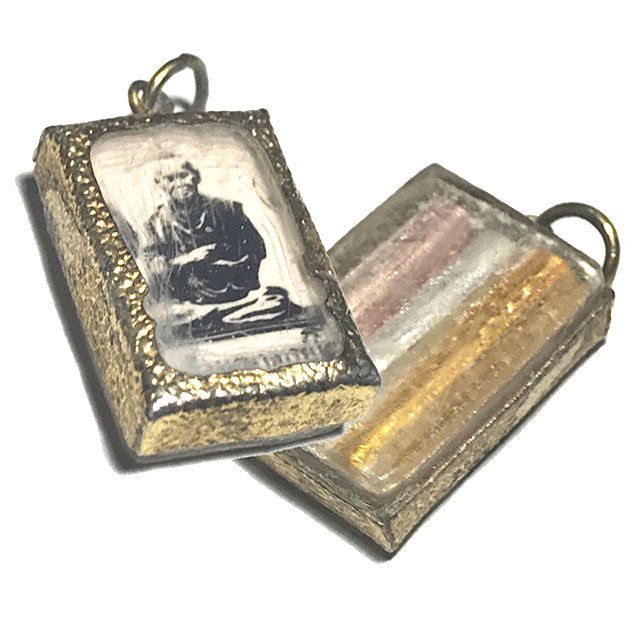 Sacred Miniature Locket with blessėd photo of Somdej Pra Puttajarn (Dto) Prohmrangsri, with triple 'Three Kings' Takrut spells in rear face from the 2495 BE edition blessed by the Great Luang Phu Nak, of Wat Rakang Kositaram The amulet is ). A Highly recommendable amulet for ladies or children, for its 'Pim Jiw' miniature size, measuring 2 x 1.4 Cm with its original temple-release casing
A very rare authentic Ancient and Sacred amulet from Luang Phu Nak, one of the Great Abbots of Wat Rakang Kositaram temple. The amulets of Luang Phu Nak are extremely sought after by both Thai Buddhists and Foreign Devotees alike, for the fact that Luang Phu Nak's sacred powder amulets were famous for having used more old Pra Somdej amulets from LP Dto Prohmrangsri than any other masters of Wat Rakang History.
This most exquisitely beautiful and sacred amulet is a highly recommendable amulet, for devotees who seek a top class amulet at a still affordable price. that is prestigious, sacred, and of high Pedigree. Luang Phu Nak is known to have released editions in the years 2485 - 2495, 2499, 2500, 2504, 2507 and 2509 BE and his final edition Sae Yid 7 Rorb of 2511 BE, as well as releasing editions at other temples.
These amulets are a perfect and best second choice to the amulets made by Somdej Dto Prohmrangsri which have now become either unavailable, or too expensive to even consider renting.
Then locket is highly suitable for devotees of Soomdej Pra Puttajarn Dto Prohmrangsri of Wat rakang, as well as devotees of Luang Phu Nak himself, for Serm Duang Karma Improvement, Buddhanussati, Gurunussati, Protection and Prosperity. Extremely Rare and Highly Sacred amulet to acquire any serious collector of the Pantheon of amulets of Luang Phu Nak, Somndej Dto, and the temple of Wat Rakang Kositaram
---
Luang Phu Nak's first edition of amulets was made in 2485 BE along with the Pra Somdej Song Taewada Ok Dtan, the Pra Somdej Sam Liam (triangle shape), and the Pra Somdej Dto Nang Borigam models. The Pra Somdej amulets made by Luang Phu Nak contained a massive quantity of crushed up Pra Somdej amulets made by Somdej Dto Prohmrangsri of Wat Rakang, which Luang Phu Nak had collected over the years, from Looksit who brought their broken amulets to return to the Temple, as well as a sackful he found in the roof of the Prayer Room ('Bote' in Thai). They are thus the second choice of those wishing to posess the magic of Pra Somdej Wat Rakang LP Dto Prohmrangsri.
Luang Phu Nak believed that the Pra Somdej amulets made by Somdej Dto had inimitable magical qualities and special power within the Muan Sarn (sacred powder used to make the amulets), and because of the meditative power of Somdej Dto who blessed them. Luang Phu Nak was during his time as abbot a very close accomplice in the making of amulets with a number of other great Masters of the time, including Luang Phu Hin (Wat Rakang), Luang Ta Pan (Wat Bang Khun Prohm), Jao Khun Tiang (who followed Luang Phu Nak as abbot of Wat Rakang), and the Great Luang Por Supoj of Wat Sutat
The front face of the locket has a black and white photographic image of Somdej Dto seated in meditation holding a rosary, encased in the original brass casing as released in the ceremony at the temple. The rear face has three Takrut spells for Protection, Prosperity, and Mercy Charm.
---
This Somdej Dto Locket was distributed to devotees during the ceremony as an auspicious memorial of the event to protect and help to prosper, and can be considered to be part of the pantheon of amulets which were released in small sizes for ladies and children being blessed by one of Thailands great Gaeji Ajarn, and being an authentic ancient Wat Rakang Amulet from one of its most famous abbots, with the image of the Grand Master of Wat Rakang, for devotees to Bucha and beseech blessings.

Luang Phu Nak's amulets are of great popularity because they are a great alternative to the original and extremely expensive Somdej Dto amulets, and are considered to be powerful and sacred through their use of the broken amulets and powders of Somdej Pra Puttajarn (Dto) Prohmrangsri, and of course the powerful blessings of Luang Phu Nak.
---
Kata Chinabanchorn
The Legend of the Chinabanchara Kata (Kata Chinabanchorn), begins when Somdej Dto Prohmrangsri traveled to Gampaeng Paetch to visit some relatives, and paid a visit to a very old temple there, by the name of Wat Sadet. There was a Chedi there with Buddha relics close by to the Bping river where an ancient Kampir (Grimoire) had been found. It was in Singhala and was found buried inside the Chedi Stupa, and Somdej Dto was given this Kampir to take with him, which he did, and placed it in his Guti at Wat Rakang.
you can see the synopsis to this Kata on Dharmathai Buddhism Portal
Long Version
---
Use the Traditional Thai Buddhist Method for Bucha;
1. Chant Maha Namasakara (3 Times)
2. Chant the Trai Soranakom (3 Times)
>3. Chant Kata Aaraatanaa Pra Krueang (3 Times)
Kata Maha Namasakara
Namo Dtat-Sa Pakawa-Dto Araha-Dto Sam-Maa Sam-Put-Dtat-Sa
Namo Dtat-Sa Pakawa-Dto Araha-Dto Sam-Maa Sam-Put-Dtat-Sa
Namo Dtat-Sa Pakawa-Dto Araha-Dto Sam-Maa Sam-Put-Dtat-Sa
---
Trai Soranakom
Puttang Cheewidtang Yaawa Nipaanang Saranang Kajchaami

Tammang Cheewidtang Yaawa Nipaanang Saranang Kajchaami
Sangkang Cheewidtang Yaawa Nipaanang Saranang Kajchaami
Tudtiyambpi Puttang Cheewidtang Yaawa Nipaanang Saranang Kajchaami
Tudtiyambpi Tammang Cheewidtang Yaawa Nipaanang Saranang Kajchaami
Tudtiyambpi Sangkang Cheewidtang Yaawa Nipaanang Saranang Kajchaami
Dtadtiyambpi Puttang Cheewidtang Yaawa Nipaanang Saranang Kajchaami
Dtadtiyambpi Tammang Cheewidtang Yaawa Nipaanang Saranang Kajchaami
Dtadtiyambpi Sangkang Cheewidtang Yaawa Nipaanang Saranang Kajchaami
---
Kata Aaraatana Pra Krueang
Puttang Aaraatanaanang
Tammang Aaraatanaanang
Sangkang Aaraatanaanang
Puttang Prasittimae
Tammang Prasittimae
Sangkang Prasittimae
Temple:Wat Rakang Kositaram
Year of Issue:
Circa 2495 - 2500 BE
Maker of Amulet:Luang Phu Nak
Weight:3 Grams
Recommended Uses:Protection, Good Karma, Status, Prosperity, Buddhanussati
Size of Amulet:2 x 1.4 Cm