Pra Benjapakee – Top Amulets of the Five Major Regions of Thailand
The Benjapakee Amulet is a Pantheon of Ancient Amulets that carry Immortal Historical Fame and Legend in the Thai Buddhist Amulet World, and are perhaps the heart of all Thai Buddhist Amulets which have arisen in a myriad of forms based in the Benjapakee Collection of amulets. The Pra Benja-Pakee is a collection of five (the word 'Benja' meaning 'Five' in Sanskrit), top amulets of each of 5 regions (the word 'Pakee' meaning 'Regions' in Sanskrit)
The Five Benjapakee Amulets of Old are;
Pra Somdej, Pra Nang Paya, Pra Pong Supan, Pra Rod Lampun, Pra Sum Gor
This slideshow requires JavaScript.
However, there also are sub variations of these five Regional amulets which most people will also class within the Benjapakee collection, such as the Pra Kong Lampun, the Pra Beum Lampun, are alsop two pra Kru amulets of Lampun Province which are as highly valued as the Pra Rod.Each Region has its own 'Benjapakee' with its own top five amulets of its region. One can also find 'Benjapakee' collections of one single type of amulet, such as the 'Benjapakee' of Look Om Sacred Powder Ball amulets or the Benjapakee of Top Five Regional Pra Pid Ta Amulets.. This is of course a Folk Tradition and so one can find the word Benjapakee used in more than just the case of the classic historical Ancient Amulets known as the classic original Benjapakee Collection.

---
Mitmor Daam Nga Penclip Ritual Knife 5 Inches with Certificate of Authenticity Luang Por Tim Wat Laharn Rai
03658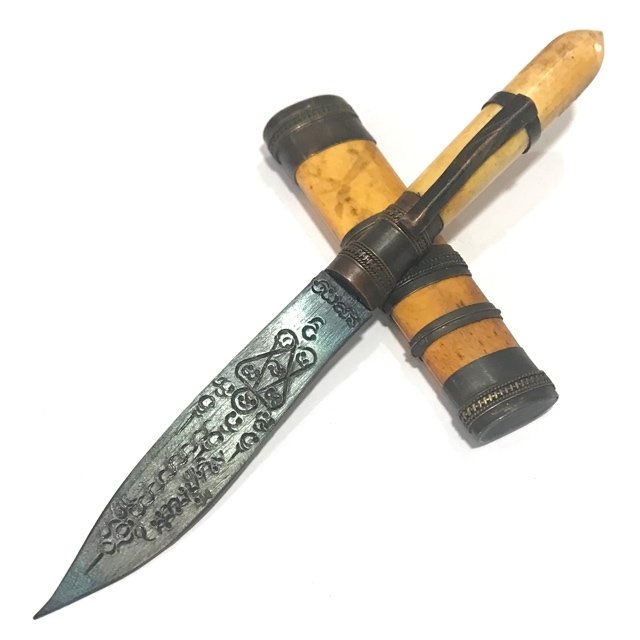 Presenting an immensely rare sacred talismanic ritual amulet, from the Great Luang Phu Tim Issarigo of Wat Laharn Rai, the Mitmor Daam Nga, portable ritual knife, with Certificate of Authenticity, issued by the Luead Ban Kaay LP Tim Amulet Society during the August 2018 Meeting. The Mitmor blade is forged from Lek Nam Pi with Engraved Spells, with carved Tusk Handle and Sheath.
FREE EMS SHIPPING is also included in the price with this item. The handle of the Mitmor has a penclip, Lek Nam Pi blade with Khom Agkhara and the Yant Grabong Khwai of Luang Phu Tim engraved, with Penclip attached to for carrying in the pocket like a pen. The Mitmor is completed with Ivory Sheath and Handle, which has been bound, strengthened and embellished with metallic closures. A very powerful portable ritual weapon and protective Talisman, that is Extremely Rare to see from this Master.
The Mitmor Ritual Spirit Knife can be carried for protection and good fortunes, but can also be used proactively as a Magical Instrument for Spellcasting, Exorcisms, Holy Water Stirring, and wearing (carry in pocket like a pen), for Protection against all dangers, evils and black magick, and to induce Maha Lap Maha Pokasap wealthy Fortunes.
The Mitmor is used for Bucha to pray to for Blessings, but is also a kind of Magic Wand, Sceptre of Command over Spirits and Ghosts, and a Weapon to Banish Evil Spirits and Nullify Curses. Mitmor are used by the Masters to perform Inscriptions on the devotees, or upon inanimate objects, to invoke magical spells and bestow blessings.
The Mitmor can be used to stir and empower prayer water, whilst performing incantations for whatever kind of blessings one may seek to invoke, be they Kong Grapan Chadtri Klaew Klaad, Maha Lap Maha Pokasap, Jerajaa Khaa Khaay, or Metta Maha Niyom Maha Sanaeh. You can use Buddhist Prayers and Candles to perform Holy Water Making, and stir the water in a clean clear bowl with clean clear water in it.
Kata Bucha Mitmor
Pra Putta Raksaa Pra Tamma Raksaa Pra Sangkang Raksaa Sadtruu Maa Biidtaa Winaas Sandti

Kata for Implementing the Mitmor to Emit Magic to Banish Enemies and Demons, Black Magic and Ghosts;
Saggassa Wachiraawutang Yamassa Nayanaawutang Aalawagassa Tusaawutang Naaraayanassa Jakraawutang Waes Suwanassa Kataawutang Bpanja Aawutaanang Ae Dtae Sang Aaanu Paawaena Sappa Sadtruu Winaas Sandti
Kata Bucha Luang Phu Tim
Luang Phu Tim Issarigo, was of course not only one of the most highly acclaimed and sought after Guru Monks for his amulets, he holds of the highest esteem in Thai Buddhist amulet history for his Pong Prai Kumarn powders. Luang Phu Tim, is Internationally Acclaimed, for his famous Pra Kring Chinabanchorn, his Pra Khun Phaen Pong Prai Kumarn, and Look Om powder balls.
As to the classic 'Rian' Monk coin Image amulets which have become all time favourites, and eternally, world famous classic amulets of the high end variety. As to the classic 'Rian' type coin image amulets which have become all time favourites, and eternally, world famous classic amulets of the high end variety. His Rian Jaroen Porn, and Rian Nakprok Paed Rorp, Rian Huang Chueam, Rian Mae Nam Koo, and Rian Sema are amongst the most highly sought after coin amulets of all.
The Pra Kring Chinabanchorn amulet of Luang Phu Tim is one of his most expensive of all amulets, and extremely rare to find. He has various direct lineage apprentices, Who are continuing to progress and spread his most powerful and world-famous Wicha. Of all of these masters, perhaps the most famous, preferred, is Luang Por Sakorn, of Wat Nong Grub (also now deceased).
In second place one could estimate the great Luang Phu Sin, of Wat Laharn Yai, and in third place, possibly, Pra Ajarn Somkid, of Wat Beung Tata (Rayong). Also, recently, intense interest has arisen in the amulets of Luang Por Rat, who is also rising in status as a Lineage Master of Luang Phu Tim, who has gaiined a large following in the North, with his Charitable Deeds and Powerful Amulets.
It is Said that he who has faith in and prays to Luang Phu Tim, is bound to experience success and advancement in wealth, professional status and increase happiness in life. This legend has come from the vast number of devotees, who almost all say that since they owned an amulet of Luang Phu Tim, their lives changed for the better in rapid fashion, and then continued to improve on a constant basis.This has been the case since the days of Luang Phu Tim to the present day, that owners of his amulets tend to experience noticeable improvements in all areas of life, almost without exception.

Temple:Wat Lahan Rai
Maker of Amulet:Luang Phu Tim Issarigo
Weight:80 Grams
Recommended Uses:Protection, Ritual Use, Good Fortunes.
Size of Amulet:5 Inches (2.5 Inch Handle 2.5 Inch Blade)