Pra Benjapakee – Top Amulets of the Five Major Regions of Thailand
The Benjapakee Amulet is a Pantheon of Ancient Amulets that carry Immortal Historical Fame and Legend in the Thai Buddhist Amulet World, and are perhaps the heart of all Thai Buddhist Amulets which have arisen in a myriad of forms based in the Benjapakee Collection of amulets. The Pra Benja-Pakee is a collection of five (the word 'Benja' meaning 'Five' in Sanskrit), top amulets of each of 5 regions (the word 'Pakee' meaning 'Regions' in Sanskrit)
The Five Benjapakee Amulets of Old are;
Pra Somdej, Pra Nang Paya, Pra Pong Supan, Pra Rod Lampun, Pra Sum Gor
This slideshow requires JavaScript.
However, there also are sub variations of these five Regional amulets which most people will also class within the Benjapakee collection, such as the Pra Kong Lampun, the Pra Beum Lampun, are alsop two pra Kru amulets of Lampun Province which are as highly valued as the Pra Rod.Each Region has its own 'Benjapakee' with its own top five amulets of its region. One can also find 'Benjapakee' collections of one single type of amulet, such as the 'Benjapakee' of Look Om Sacred Powder Ball amulets or the Benjapakee of Top Five Regional Pra Pid Ta Amulets.. This is of course a Folk Tradition and so one can find the word Benjapakee used in more than just the case of the classic historical Ancient Amulets known as the classic original Benjapakee Collection.

---
Pae Hlek Ruay Wicha Luang Por Am 80th Birthday Edition 2558 BE Alchemical Metals Powder Filled Base Luang Por Ard Wat Bun Sampant
03331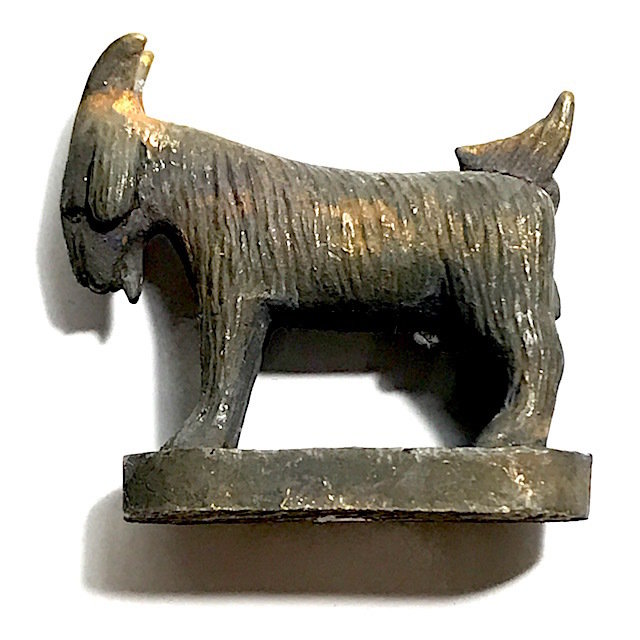 Pae Hlek Plik Phii Ruay Mang Mahasan, in Nuea Chanuan Gon Bao alchemical metal alloy, blessed in the Year of the Goat, Lucky Goat Animist Charm in Sorcerous Alchemically Forged metals, from Luang Por Ard, of Wat Bun Sampant. Luang Por Ard is the current Wicha Holder of the Wicha Pae Liaw Hlang, of Luang Por Am, of Wat Nong Grabork, who was one of his Mentors, and Initiating Masters in Sorcery. Luang Por Ard was one of the great Chonburi Masters of the modern Era, and passed away in January 2560 BE.
This edition was released in 2558 BE in celebration of Luang Por Ard's eightieth year of life, and was created to transform the bad luck and misfortunes of devotees into good luck, and fortuitous occasions.The amulets were released during the Thord Kathin Robe Donating Ceremony, and handed out to devotees who attended. Now a very rare and sought after amulet indeed.
The base of the amulet has a series code stamp on the side of the base. The bottom of the base has Sacred Powders stuffed into a small chamber in ther base of the statuette, for Maha Lap Maha Pokasap Wealthy Fortunes and Treasured Possessions. Luang Por Ard forged the Pae Hlek Plik Phii Ruay Mang Mahasan statuettes by smelting a 'Hlek Plik Phii' iron grate which was used in funeral ceremonies to turn over the corpses being burned.
This is a very powerful metal then, according to the ancient formulas of Necromancy and Reanimation Magick within the Dtamra Saiyawaet, and using the formulas of his Kroo Ba Ajarn, the Great Luang Por Am, of Wat Nong Grabork. This particular Hlek Plik Phii had been used in countless funeral ceremonies, and turned over hundreds of cremation ceremonies.
Luang Por Ard first performed a ritual to remove the Toraniyasarn (elemental and spirit world effects, entities and ghosts, which can cause havoc if not appeased and liberated beforehand). He purified and blessed the Hlek Plik Phii with Holy Water to remove all traces of black magick or dark energies. In the end, all the allowed to remain within the Hlek Plik Phii, was the magic power, but not the spirits who had wielded them. Only the magical force within the Hlek Plik Phii was left, and this was then blessed with Buddhakhun, Dhammakhun and Sanghakhun Triple Gem Energy, making the power auspicious Buddha Magic.
Luang Por Ard smelted the Hlek Plik Phii into the other Ingots of Sacred Chanuan Muan Sarn, and Yantra Foils with Invocations and Buddhist Blessings, and Sacred Geoometry spells were smelted into the molten Alchemical Alloy. Incantations and Empowerment was performed throughout the casting ceremony, which was the first stage of the empowerment before a Traimas (Trimester) period of nightly empowerments, with a final Blessing Ceremony during the Kathina Robe Giving ceremony in 2558 BE during the celebrations of Luang Por Ard's 80th Birthday.
The Pae Ruay Hlek Plik Phii were then empowered using the Dtamrap Jao Sanaeh, for enticement, enchantments, and turning bad luck into good luck. The magic within the amulet is solely focused on auspicious fortunes and mercy charm, but is immenselky powerful through the magic of the Hlek Plik Phii, whose spirits were banished but whose immense necromantic magical powers were retained within the metallic substance. The Pae also reflects Black Magick and Demons, overcomes difficult obstacles, and wins the hearts of admirers, customers, lovers, and the favours of the ruling Devas of the gambling dens.
The amulets were released in 3 different sacred metal base substances; 1 solid silver (199 amulets made) 2. Nuea Chanuan Bao Pasom Hlek Plik Phii (2558 amulets made) and 3. Nuea Pinto Sai Khaw Pasom Hlek Plik Phii (2558 amulets made).
Luang Por Ard passed away on the 18th January 2560 BE (2017), leaving his devotees heartbroken, but with his faith instilling amulets remaining behind, for devotees to remember him and connect with his protective blessings, and Bucha to receive lucky fortunes and auspicious life improvements.
Since his passing, his famous Goat amulet editions are very rare to find dues to his many devotees rushing to get one after the passing of the master. The amulets were always made in small limited series, making the Pae Hlek Ruay yet another ultra rare item from the lineage Masters of the Dtamra of Luang Por Am (Wat Nong Grabork)
Kata Bucha Luang Por Ard Dtamrap Luang Por Am, for Lucky Fortunes and Wealth
MĀ KHA YŌ MĀ WA YŌ MAYHANG MĀ JA GŌ JI U BPA TA WŌ GA HĀ BPA NĀ NI BPA WAS SAN DTU MĒN DA GAS SA YA THĀ KA RĒ IT TI RIT PUT TA NI MIDT DTANG I MANG KON GRA PAN TA NANG ATI THĀ MI
"มาขะโย มาวะโย มัยหัง มาจะโกจิ อุปัทะโว กะหาปะณานิ ปะวัสสันตุ เมณฑะกัสสะ ยะถาฆะเร อิทธิฤทธิ์ พุทธะนิมิตตัง อิมังคงกระพันธะนัง อธิฐามิ"

Temple:Wat Bun Sampant
Maker of Amulet:Luang Por Ard
Weight:37 Grams with Box
Recommended Uses:Improve Luck and Fortunes, Good Business, Mercy Charm, Gambling Luck
Number of Amulets Made:2558 Made in Nuea Chanuan Gon Bao Alchemical Metal Sacred Alloy
Size of Amulet:3 x 1 x 3 Cm
Encasement Options
Solid Gold Custom Casing - We will email you with a price quote according to current Gold Prices, and Invoice You after Agreement (0) Waterproof Casing (9) None (0)