Pra Benjapakee – Top Amulets of the Five Major Regions of Thailand
The Benjapakee Amulet is a Pantheon of Ancient Amulets that carry Immortal Historical Fame and Legend in the Thai Buddhist Amulet World, and are perhaps the heart of all Thai Buddhist Amulets which have arisen in a myriad of forms based in the Benjapakee Collection of amulets. The Pra Benja-Pakee is a collection of five (the word 'Benja' meaning 'Five' in Sanskrit), top amulets of each of 5 regions (the word 'Pakee' meaning 'Regions' in Sanskrit)
The Five Benjapakee Amulets of Old are;
Pra Somdej, Pra Nang Paya, Pra Pong Supan, Pra Rod Lampun, Pra Sum Gor
This slideshow requires JavaScript.
However, there also are sub variations of these five Regional amulets which most people will also class within the Benjapakee collection, such as the Pra Kong Lampun, the Pra Beum Lampun, are alsop two pra Kru amulets of Lampun Province which are as highly valued as the Pra Rod.Each Region has its own 'Benjapakee' with its own top five amulets of its region. One can also find 'Benjapakee' collections of one single type of amulet, such as the 'Benjapakee' of Look Om Sacred Powder Ball amulets or the Benjapakee of Top Five Regional Pra Pid Ta Amulets.. This is of course a Folk Tradition and so one can find the word Benjapakee used in more than just the case of the classic historical Ancient Amulets known as the classic original Benjapakee Collection.

---
Pra Kru Tri Gaay 3 Buddhas in Meditation Amulet 2480 BE - Nuea Din Long Rak Sacred Earthen Clay with Black Herbal Lacquer - Luang Por Ngern Wat Don Yai Horm
02849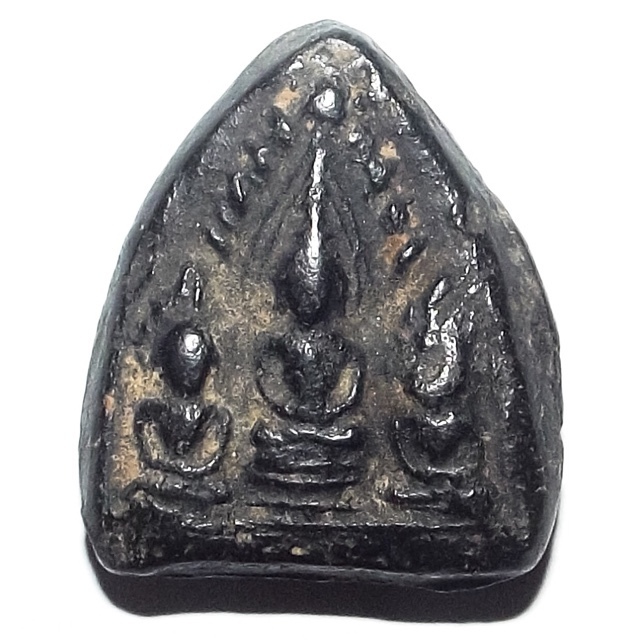 Pra Kru Tri Gaay 2480 BE - Luang Por Ngern Wat Don Yai Horm (2433 - 2520 BE). The Pra Tri Gaay amulet is one of the rarer amulets of this Great Master, and also a highly preferred classic of Luang Por Ngern's Great Pantheon of Amulets.
The amulet is made from Nuea Din Saksit Long Rak - Sacred Clay made from earths taken from ancient holy sites mixed with other sacred powders, and then covered with black herbal lacquer.
This is one of the early era models, which he began making around the Year 2480 BE, and continued to make further editions through the following two decades. Luang Por Ngern made another style of this amulet 37 years later in 2517 after a block press modl was found in a Kru Burial Stupa from the ancient Lopburi Periodic era, and was used to press some different models in the 2517 BE editions.
The front face of the amulet depicts Three Buddha Images within a lotus petal shaped frame with a crystal arch aura (rasamee) around them. All three Buddhas are sitting in Samadhi meditation.
The rear face of the amulet reveals hand pressing, and has traces of the thumbprints of the Master upon it, which are still visible through the black lacquer coating.
This is a Pim Klang medium size model measuring 2.8 x 2.3 Cm, and is a highly attractive acquisition for any true Buddhist, or devotee of Luang Por Ngern Wat Don Yai Horm.
For collectors of the amulets of the Lineage Masters of Wat Don Yai Horm this is an essential rarity to complete the showcase with, and is an extremely sacred amulet design which has been made over many many centuries of Thai Buddhist History, making this also an extremely valuable historical artifact indeed.
Luang Por Ngern had been making the Tri Gaay amulet for many years throughout the middle and latter part his ordained life, beginning in 2480 BE and many editions were made before the Year 2500 BE in Sacred Powders, But since the year 2517 BE, a different model was made from the Mae Block Pim which had been discovered from an Ancient Lopburi Era Burial Place Kru Chamber find during an archeological dig under the site of the sacred shrines. That later edition was called the 'Munlaniti' edition - the Pra Tri Gaay of that later edition was released along with another amulet, in different version, namely one of Luang Por Ngerns Classics, the Pra Baramee Sip Tat (see below image).
Above; 2517 BE Munlaniti Edition Amulets - Pra Tri Gaay and Pra Baramee Sip Tat
The Pra Tri Gaay three meditating Buddhas amulet of 2480 BE, was made in three different models; Pim Lek (small), Pim Klang (medium) and Pim Yai (large size).
Luang Por Ngern Jantasuwanno, of Wat Don Yai Horm (Official Ordained Name; Pra Racha Tammaporn), was known as the Taep Jao of Wat Don Yai Horm, and was extremely famous for his amulets, which are renowned for their Kong Grapan Chadtri, Klaew Klaad, Metta Maha Niyom, and Maha Lap Powers.
Luang Por Ngern was the previous Abbot of the temple of Wat Don Yai Horm, before the Great Luang Por Chaem, who continued after him.
He was a 'Pra Nak Pattana', which is the term given to a Monk who specialised in developing temples and Building Shrine Rooms, and local facilities for the common folk, such as schools and hospitals, to make merits helping living beings, to alleviate their sufferings.
In the times of Luang Por Ngern, the temple of Wat Don Yai Horm and the surrounding area were still in the midst of undeveloped countryside, and the temple was the centre of gathering for the local folk. The temple of Wat Don Yai Horm was hence the place where the folk would go to be educated by the monks of the temple who performed the duty of teaching children and schooling them, as well as healing illnesses and ailments.
Apart from this it was of course first and foremost the spiritual centre of the community, and the place where people received Dhamma teachings, and learned how to meditate, pray, and chant Kata.
Luang Por Ngern was renowned for his meritorious attainments in both restoring and developing the temple facilities, providing education in the form of schooling for children, and medical treatment for the poor, and was a great source of comfort to those who came in desperation to seek spiritual consolation. This is the reason why he was called 'the Angel of Wat Don Yai Horm'.
Luang Por Ngern was also extremely renowned for his high level of Patipatā (Practice of Restraint as an Ordained Bhikkhu within the 227 Rules of the Buddhist Vinaya Pitaka Canon), for his leadership in guiding the local devotees towards the right way to practice.
He was just as well renowned and revered, for diligently and tirelessly developing the temple and its annexed facilities. He build many Public Buildings for the benefit of the Local Folk, in order to alleviate their sufferings.
Even though Luang Por Ngern is long since passed on to the next world, the people of Nakorn Pathom province still pay respect and revere this Great Monk for his great Merits and Metta, and the selfless deeds he performed, and public facilities he built for the local folk, and his memory is as alive today, as it was during his lifetime.
he is considered one of the great Guru Monks of History, and his amulets are amongst the most highly sought after. His vast pantheon of amulets range from highly preferrred Pra Niyom Monk and Buddha coins, Alchemical Maekapat Metal amulets, his famous Pra Sip Tat, Takrut, Putta Chinarat, Pra Sip Tat, Clay amulets (such as the Pra Tri Gaay, Pra Baramee Sip Tat, and Pra Putta Chinarat) and Sacred Powder amulets, especially his Pra Somdej are very favoured indeed.
Temple:Wat Don Yai Horm
Maker of Amulet:Luang Por Ngern
Weight:6 Grams
Recommended Uses:Klaew Klaad, Kong Grapan Chadtri, Maha Lap, Serm Duang, Gae Aathan
Size of Amulet:2.8 x 2.3 Cm
Encasement Options
Solid Gold Custom Casing (Waterproo​​​​​​​f) - We will email you with a price quote according to current Gold Prices, and Invoice You after Agreement (0) Waterproof Casing (9) Without Casing (0)