Pra Benjapakee – Top Amulets of the Five Major Regions of Thailand
The Benjapakee Amulet is a Pantheon of Ancient Amulets that carry Immortal Historical Fame and Legend in the Thai Buddhist Amulet World, and are perhaps the heart of all Thai Buddhist Amulets which have arisen in a myriad of forms based in the Benjapakee Collection of amulets. The Pra Benja-Pakee is a collection of five (the word 'Benja' meaning 'Five' in Sanskrit), top amulets of each of 5 regions (the word 'Pakee' meaning 'Regions' in Sanskrit)
The Five Benjapakee Amulets of Old are;
Pra Somdej, Pra Nang Paya, Pra Pong Supan, Pra Rod Lampun, Pra Sum Gor
This slideshow requires JavaScript.
However, there also are sub variations of these five Regional amulets which most people will also class within the Benjapakee collection, such as the Pra Kong Lampun, the Pra Beum Lampun, are alsop two pra Kru amulets of Lampun Province which are as highly valued as the Pra Rod.Each Region has its own 'Benjapakee' with its own top five amulets of its region. One can also find 'Benjapakee' collections of one single type of amulet, such as the 'Benjapakee' of Look Om Sacred Powder Ball amulets or the Benjapakee of Top Five Regional Pra Pid Ta Amulets.. This is of course a Folk Tradition and so one can find the word Benjapakee used in more than just the case of the classic historical Ancient Amulets known as the classic original Benjapakee Collection.

---
Pra Pim Pratan Porn Pim Lek 2517 BE - Buddha Bestowing Blessings Amulet - Luang Por Pae Wat Pikul Tong
02731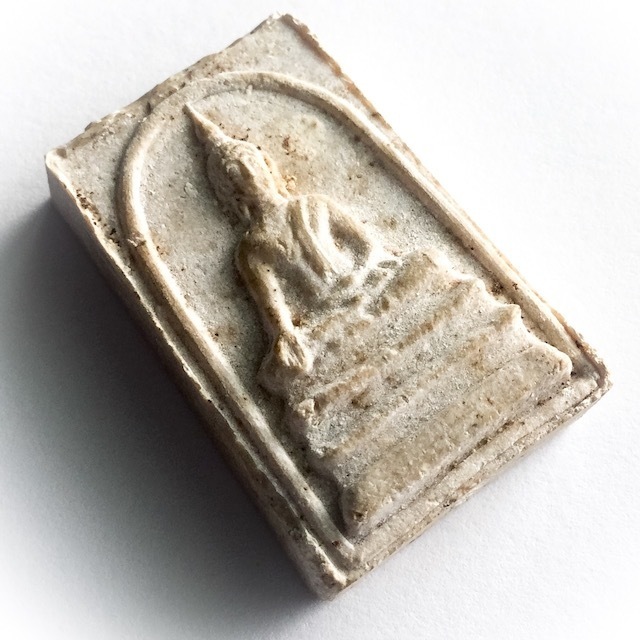 Pra Pim See Liam (Oblong Shape Model) Somdej Pra Pratan Porn (Buddha Bestowing Blessings) Hlang Roop Hmuean (Cameo on rear face) - Luang Por Pae Wat Pikul Tong. This is a very early 2517 BE Edition of Luang Por Pae's Pra Pratan Porn amulet, and is a very rare model indeed, within the large Pantheon of Amulets of LP Pae.
Made from Nuea Pong Puttakun and Ittijae Powders with Pong Paeng Sek Enchanted Talcs, and special Pong Wised Sacred Powder Substance filled into a chamber within the bottom edge of the amulet.
The amulets of Luang Por Pae are extremely favored and popular around the world, but due to the massive pantheon and Bewildering number of different models, editions and re-releases, it has become very difficult for all except experts, to distinguish between the preferred models and the less preferred ones. For this reason, not all models carry a high price, whereas the more well documented and easy to recognize models enjoy extreme popularity, and instill great confidence in the hearts of their owners.
This particular model is not only extremely rare, it is free of forgery attempts and hence extremely easy to confirm as authentic, In any case, the Sacred Muan Sarn Powders and Surface Textures are so clearly and obviously authentic Luang Por Pae, that no doubt should enter into the mind of the Devotee who beholds it.
Being a 'Pim Lek', it is a perfect Buddhanussati Heirloom Amulet that will hold its power for generations, and for your family members to cherish and revere, and pass down through further generations. Highly recommendable amulet for Ladies or Children to wear, with pure Buddhist Blessings and no Black Magic or Karmic Residues to exchange for the favors it brings the wearer.
One can call this amulet a purely 'Serm Duang' Karma-Improver Amulet with Powerful Klaew Klaad, Kong Grapan, Maha Ud, and Maha Lap Metta Mahaniyom Blessings emanating from it.
Luang Por Pae produced the first ever sacred powder amulets in 2494 BE, sixteen years before the creation of the Somdej Pae Pan (1000). The first Pra Somdej was a Pra Somdej in two Pim models.
The second time he made amulets was in 2509 BE, also with 2 different models (Pim). The first Pim has two small Sacred Yant on the rear side, (Luang Por's traditional Pu-Sorn Yantra), and the second Pim bearing the sitting image of Luang Por Pae on the rear face.
Luang Por Pae 1000, 2000, 4000 are the most highly valued and sought after (and rarest) of all the different series, because these were the editions which made the least numbers of amulets, increasing their rarity.
However, all of his 'thousand' series amulets are now becoming equally sought after, as they all become depleted and rarer to find, and it is only a matter of time before they all become Masterpiece Amulets that only the rich will be able to possess (if they can find one that is).
There were also smaller 'Pim Kanaen' models in each edition, which had also usually two different styles of miniature Somdej amulet released; One with a full frontal image of Luang por Pae on the back, and the second tier of the Buddha's dais having a 'Thaan Singh' (lion legs).
The other model has a design similar to the Thai number eight on the rear face, and no lion legs (table legs) on the Dais/Pedestal of the Buddha. Neither miniature 'Pim Kanaen' model had any lettering stating the edition. A Total of Nine Pae Pan++ editions were made.
The back face of the amulet has a Cameo Image, and the traditional name of 'Pae' (แพ) embossed, the Yant Pu, and the 'Ang' Agkhara in Khom.
Luang Por Pae Wat Pikul Tong
Luang Por Pae, or, better known as Somdej Sangkarach Pae, is one of the last half century's most reverent and long-standing respected monks of the royal procession of stateesteemed monks, Who has excelled in both his behavioural practice as well as his academic studies and adepts applied practice of Vipassana Kammathana in the Thai Tudong Forest tradition.
The amulets of this great master, have been seen to dwindle from the public amulet markets, which is due to the fact that not only Thai people have been revering and holding his Amulets over the last decade or so up, rather that all around Southeast Asia.
Luang Por Pae's amulets are famous for the mass of Pong Puttakun that rises to the surface and leaves a fine layer of white mildew upon the surface, revealing empowerment by a monk with true purity of practice. Even as far as western world, people have been snapping up and hiding and stashing away his Amulets like treasure that may soon be extremely difficult to find, which is indeed now ever increasingly true.
This has resulted in an accelerated depletion of his Amulets, despite the fact that classic Amulets made according to the official formulas such as the Pra Somdej amulet, are making numbers of up to 84,000 per edition they have still managed to begin to disappear from the public view.
The Pra Pratan Porn Amulet can be considered to be a highly favored acquisition and a very difficult amulet to find, which makes the amulet not only attractive for its revered Maker Luang Por Pae, and for its sacred Power, but also for the fact that it is also a ver difficult amulet to find, and makes any Luang Por Pae amulet collection stand out above others for its inclusion.
This amulet is much less difficult to interpret and identify than the Pae 1000 editions, making it a highly collectible amulet that does not suffer any confusion of information, and has no other similar edition to mistake it with.
A sure bet with this amulet for authentic Luang Por Pae Wat Pikul Tong Devotees and Collectors to enhance and complete their collection with, and for wearing and Bucha to a Sacred Votive Tablet of the Highest Sacred Value from an Arya Sangha Guru Monk of Immense Purity and Diligent Practice, with Royal decree Status and World Famous reputation.
They are now not only becoming classics along with the extremely sought after (but difficult to interpret in their complexity) Pae 1000 editions and the Sai Rung Raingbow Editions, but also extreme rarities and the next decade can expect to see these Amulets becoming immensely difficult to seek out. The Pae 1000, 2000 and 4000 Editions, were made in much more limited quantities, as special releases. We can now expect to see the last remaining Pae 5000, Pae 6000, Pae 7000, 8000 and 9000 also deplete, and in fact, it is the 5000 and 9000 editions which are now depleting the fastest of those 5 series. The Pae 5000 first batch is already overtaking the later batches of the Pae 3000 and 4000, and only the first batches of those two series are superior.
This 2517 BE Pratan Porn Buddha Pim Lek amulet is extremely worth intensive study of its features and to remember and record it in your studies as an authentic member of the large pantheon of Luang Por Pae amulets, for its rarity is a cause of this edition being less known of, and even is often not listed in many publications which atte,pt to catalogue the pantheon. The amulet is hence a very important amulet to record and document for posterity. This 2517 BE Edition is an immensely desirable amulet that will never decrease in Sacredness or Material value, and can only increase in status and public esteem.
The amulet is as is ubiquitous with most Pra Somdej amulets from Luang Por Pae, are made from Pong Puttakun, (Buddhakun Powders, according to the Dtamra Pra Somdej making, using the five sacred powders made from Yantra Inscriptions (Pong Wised 5 Chanid), which were mixed with 'Pong Dork Pikul' Flower Pollens,
Temple:Wat Pikul Tong
Maker of Amulet:Luang Por Pae
Weight:5 Grams
Recommended Uses:Protection, Karma Improvement, Prosperity, Mercy Charm
Size of Amulet:2.5 x 2 Cm
Encasement options
Solid Gold Custom Casing (Waterproo​​​​​​f) - We will email you with a price quote according to current Gold Prices, and Invoice You after Agreement. (0) Waterproof casing (9) Without casing (0)