Pra Benjapakee – Top Amulets of the Five Major Regions of Thailand
The Benjapakee Amulet is a Pantheon of Ancient Amulets that carry Immortal Historical Fame and Legend in the Thai Buddhist Amulet World, and are perhaps the heart of all Thai Buddhist Amulets which have arisen in a myriad of forms based in the Benjapakee Collection of amulets. The Pra Benja-Pakee is a collection of five (the word 'Benja' meaning 'Five' in Sanskrit), top amulets of each of 5 regions (the word 'Pakee' meaning 'Regions' in Sanskrit)
The Five Benjapakee Amulets of Old are;
Pra Somdej, Pra Nang Paya, Pra Pong Supan, Pra Rod Lampun, Pra Sum Gor
This slideshow requires JavaScript.
However, there also are sub variations of these five Regional amulets which most people will also class within the Benjapakee collection, such as the Pra Kong Lampun, the Pra Beum Lampun, are alsop two pra Kru amulets of Lampun Province which are as highly valued as the Pra Rod.Each Region has its own 'Benjapakee' with its own top five amulets of its region. One can also find 'Benjapakee' collections of one single type of amulet, such as the 'Benjapakee' of Look Om Sacred Powder Ball amulets or the Benjapakee of Top Five Regional Pra Pid Ta Amulets.. This is of course a Folk Tradition and so one can find the word Benjapakee used in more than just the case of the classic historical Ancient Amulets known as the classic original Benjapakee Collection.

---
Pra Putta Chinarat Run Ha Rorp Indojin YSS (50th anniversary Indojin Amulet Ceremony) - Somdej Prayan Sangworn Sangkaracha blessing - Wat Sutat 2543 BE
02613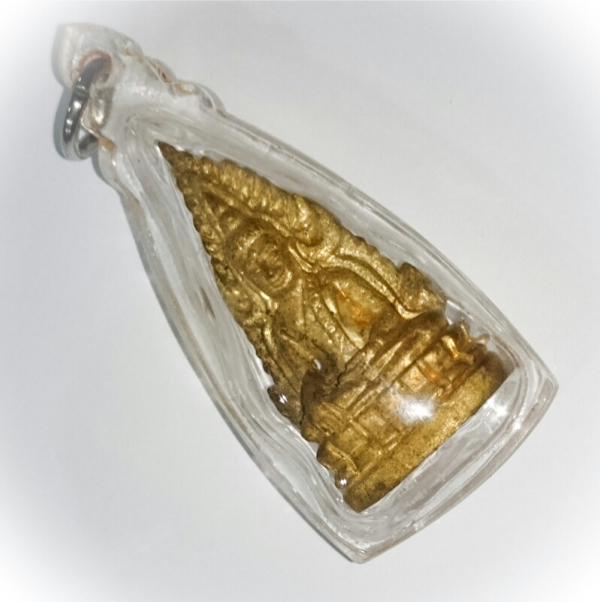 Pra Putta Chinarat Classig 'Indojin' 50th anniversary edition Buddha Amulet blessed in Buddha Abhiseka at Wat Sutat wth Personal Blessings from the Great (and now deceased) Royal Sangkaracha Monk 'Somdej Prayan Sangworn'. Made from Nava Loha (Nine Sacred Metals smelted into one Alchemical Alloy).
The Chinarat Indojin Buddha Amulets were made along with the famous Pra Kring Jom Thai amulets in 2543 BE, and empowered in Puttapisek Ceremony during Nine Days and Nine Nights continuous of chanting and empowerments. This now extremely rare edition Celebrated the anniversary of five decades since the famous Indojin Puttapisek ceremony which was the second of the three Largest Master ceremonies ever performed in the History of Thai Buddhist Artifact making.
The Indojin Chinarat Buddha is the most famous, sought after, rarest and expensive Chinarat Buddha amulet available on the collector scene, and this 'Yorn Yuk' (nostalgia piece replica), is an immensely sacred and hostorical amulet which will also take its place in the annals of National Amulet History.
Comissioned by the Sangkaracha Somdej prayan sangworn, and empowered by hundreds of Master Monks, including the Sangkaracha head monks of three countries, Thai, Yuan, and China.
Size; 6 x 3 Cm
The base has the official stamp of the temple edition embossed into it.
A true Classic Masterpiece Amulet - in Thai this would be said to be 'Pra Dee Mee Kun Kaa Mee Anaakot' (high quality amulet with sacred value and a long future).
Puttakun; Klaew Klaad, Kong Grapan, Choke Lap, Metta Mahaniyom, Serm Duang
Somdej Prayan Sangworn, or endearingly known as 'Pra Sangkarach', was the Head Monk of the Royal Palace and Administrating Monk at Wat Boworn also. He was the highest Official Status that a Monk can attain in Thailand. He passed away at the ripe age of 100 years and 21 days Years old in 2556 BE
His amulets and those in his image are now becoming ever more in demand, since his passing. His Trajectory of Purity and Auspicious Actions throughout his life, have led to his image becoming a very Sacred and Revered image in Thailand.
His amulets are of the Eternal variety, that never reduce in popularity and always increase on value and rarity. All Thai Buddhist Devotees are extremely devoted and hold the Sangkaracha in the Highest esteem who has been known for his great purity of practice, and who has been seen toe recieve the respect and reverence of His Majesty the King of Thailand, making him most certainly the most nationally revered monk of the last half century in Thai Buddhist History.
His legacy and amulets remain for the faithful to keep as heirlooms and Buddhanussati. All editions of the Sangkaracha are now becoming ever rarer since his passing away, and tis particualr edition is one of the more highly preferred, for both the sacred Blessings from the Sangkaracha, as well as for its great Historical Value as the 50th anniversary memorial edition of the Indojin Ceremony, which is one of the three greates and largest master ceremonies of Thai Buddhist History.
Temple:Wat Sutat
Maker of Amulet:Wat Sutat Blessed by Somdej Prayan Sangworn Sangkaracha
Weight:40 Grams
Recommended Uses:Buddhanssati, Klaew Klaad, Maha Lap, Serm Duang (improve fate and destiny), Kong Grapan Chadtri.
Size of Amulet:6 x 3 Cm