Pra Benjapakee – Top Amulets of the Five Major Regions of Thailand
The Benjapakee Amulet is a Pantheon of Ancient Amulets that carry Immortal Historical Fame and Legend in the Thai Buddhist Amulet World, and are perhaps the heart of all Thai Buddhist Amulets which have arisen in a myriad of forms based in the Benjapakee Collection of amulets. The Pra Benja-Pakee is a collection of five (the word 'Benja' meaning 'Five' in Sanskrit), top amulets of each of 5 regions (the word 'Pakee' meaning 'Regions' in Sanskrit)
The Five Benjapakee Amulets of Old are;
Pra Somdej, Pra Nang Paya, Pra Pong Supan, Pra Rod Lampun, Pra Sum Gor
This slideshow requires JavaScript.
However, there also are sub variations of these five Regional amulets which most people will also class within the Benjapakee collection, such as the Pra Kong Lampun, the Pra Beum Lampun, are alsop two pra Kru amulets of Lampun Province which are as highly valued as the Pra Rod.Each Region has its own 'Benjapakee' with its own top five amulets of its region. One can also find 'Benjapakee' collections of one single type of amulet, such as the 'Benjapakee' of Look Om Sacred Powder Ball amulets or the Benjapakee of Top Five Regional Pra Pid Ta Amulets.. This is of course a Folk Tradition and so one can find the word Benjapakee used in more than just the case of the classic historical Ancient Amulets known as the classic original Benjapakee Collection.

---
Pra Somdej Buddha Bhumi 2504 BE Nuea Pong Ittajae - Luang Por Jong Wat Na Tang Nork
03175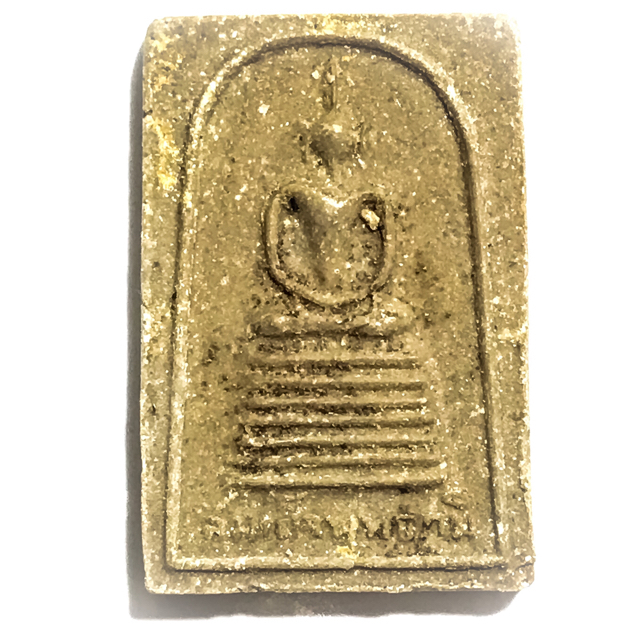 The Pra Somdej Puttapoom 'Buddha-Lands' Votive Tablet is a Pra Niyom amulet that is highly prized by the devotees of Luang Por Jong, preferred for the fact that it is both beautiful and powerful amulet from a great master of the Indo-China Wartime Era, but is also much more affordable than many other amulets from Luang Por Jong. Released in a large Buddha Abhiseka Blessing Ceremony in Year 2504 BE, this Pra Somdej amulet is an exemplary exhibit, and extremely attractive in appearance. Apart from the great Luang Por Jong, a further 26 Guru Master Monks present to assist in empowerment.
The Pra Somdej Puttapoom was blessed in the very same ceremony as the legendary Pra Somdej Kampaeng Gaew series od immortal fame, with the powerful magic of the Great Luang Por Jong Wat Na Tang Nork. This classic and most beautiful Buddha amulet was empowered by Luang Por Jong at Wat Ban Kluay, in Amper Ta Wung, in Lopburi Province, in the year 2504 BE.
Luang Por took a large number of the amulets back to Wat Na Tang Nork, and began to distribute them to his devotees at his temple. 27 Master Monks were present and assisted in the chanting of prayers and incantations who took turns to take their seats to empower the amulets;
Luang Por Jong (Wat Na Tang Nork), Luang Por Nak (Wat Rakang Kositaram), Luang Por Ngern (Wat Don Yai Horm), Luang Por To (Wat Pradoo Chimplee), Luang Por Nor (Wat Klang Ta Ruea), Luang Phu Ma (Wat Sutat), Luang Por Pae (Wat Pikul Tong), Luang Por Thin (Wat Pa Lelai), Luang Por Gan (Wat Khao Gaew), Luang Por Noi (Wat Dhamma Sala), Luang Por Chuang (Wat Pra Khaw), Luang Por Chom, Wat Dtaluk)...... (continued below image)
Luang Por Kam Mee (Wat Tham Koo Ha Sawan), Luang Por Pring (Wat Bote Goeng Tanu), Luang Por Mee (Wat Khao Samor Don), Luang Por Chay (Wat Pha Dhamma Sopon), Luang Por Pan, Wat Payakkaram, Luang Por Dam (Wat Sao Thong Tong), Luang Por Say (Wat Laiy), Luang Por Sopit (Wat Ramparam), Luang Por To (Wat Saket), Luang Por Mora from Burma, who was staying at Wat Nikom, Luang Por Go (Wat Lad Sali in Lopburi), Luang Por Gep, (Wat Suan Lamyai, Chainat), Luang Por Tong (Wat Khao Jakkajan), Luang Por Jaran (Wat Ampawan), and Luang Por Khai (Wat Khao Wong, Nakorn Sawan).
After the amulets he distributed depleted, this then caused his devotees, right up to this day, to travel to Lopburi to Wat Ban Kluay to seek this amulet. This is because many devotees experienced Miraculous results from this amulet, and it became yet another famous classic of the pantheon of amulets of Luang Por Jong.
The amulets in this edition were commissioned by Pra Sopidhammasat, the Abbot of Wat Ban Kluay, to celebrate the casting of the Chor Fa roof struts of the Uposadha Shrine Room, and the Buddha Abhiseka Empowerment of the Pra Gaes Pra Gaew Buddha images of Wat ban Kluay. Buddha Abhiseka ceremony was held on the 25th to the 31st March in 2504.
Along with the Pra Somdej Buddha Bhumi amulet, the editon was also accompanied by the Pra Somdej Gampaeng Gaew amulet, and the Pra Kring Gaes Gaew amulets, which were also blessed beginning on 25th March, in the same Buddha Abhiseka. They were then empowered for 7 days and nights with meditative empowerment and Chanting.
A classic essential rarity and perfect Buddhanussati Heirloom Amulet with the blessings of Luang Por Jong and 26 other great Masters, for Kong Grapan Chadtri Klaew Klaad Maha Lap Metta Mahaniyom, and Serm Duang Blessings, and a most exemplary showpiece for any collector's showcase.
Luang Por Jong of Wat Na Tang Nork was one of the great Guru Masters of the Ayuttaya Province, in line with the Great Luang Por Parn of Wat Bang Nom Kho, and is one of the Great Masters who assisted the Thai Military with powerful Kong Grapan Chadtri and Klaew Klaad amulets during the Indochina Wars. Luang Por Jong was a Highly Attained Master in both Worldly Deeds of Goodness and Self Renunciation, as well as in the Dhamma Path. His Great Fame and Honorable Status has survived more than half a century, and who is remembered as one of the Greatest Masters of His Time, and as one of the Greatest Masters of the Ayuttaya Lineage.
Luang Por Jong lived from 2415 BE to 2508 BE, and was one of the previous generation of attained Masters, of National and International Fame. Known for his Kong Grapan Chadtri Klaew Klaad protective amulets handed out to soldiers during the Indochina Wars, his Pla Tapian Maha Lap Kaa Khaay amulets are also renowned for their ability to instigate good commerce and prolific sales quotas with sales persons. Luang Por Jong, was a famous Gaeji Ajarn Guru Monk, highly revered for a vast pantheon of different amulets, but if there is one section of that Pantheon that stands out above others for its Kong Grapan Chadtri and Klaew Klaad Magic, it is his Takrut Amulets.
Luang Por Jong made a variety of different Takrut charms, ranging from Takrut Tone Dtakua (Leaden Yantra Foil), Tong Daeng (Copper Foil), Hnang Suea (Tiger Skin), and other combo-Takrut on waist cords or wrapped in cord with lacquer. There is a particular faction of collectors who specialise purely in the collection of Takrut of Luang Por Jong, and this is a category in itself that is accepted for Competition in many Amulet Shows and Competitions.
His Takrut 'Hnaa Phaag Suea'(Tiger forehead skin), are amongst the more difficult to find amulets, and are very jealously guarded by their owners. This is not strange, considering how so many tales of Miraculous Events arising from the amulets of Luang Por Jong during the Indo-China War have endowed his amulets with Immortal Fame, and the Unwavering Faith of the Devotees who worship them. Yet another Classic and Essential Rarity, for the Devotee who needs true Protective Magick from the Olden days Masters, from a time before Buddhism became Commercial, and when special amulets like this, were still hand made one by one by the Masters.
Luang Por Jong was born with the name 'Jong' into a farmer family in the village of Na Mai, in Bang Sai Municipality, of the Province of Ayuttaya. HIs Father was called my Yord, and his Mother was called Mrs. Khlip. Luang Por Jong had two younger siblings (one brother and one sister). His younger brother was called Nil, and his little sister was called Bplik, who was the youngest of the three. It is not known exactly which date Luang Por Jong was born, for there is no official documentation of his birth. But it is stated in his family lineage, that he was born during the time that King Rama 5 was ruling Siam, on a Thursday of the year of the monkey on the 8th Lunar Phase.
This, when calculated from knowing the Year of Monkey during the Reign of King Rama 5, within Luang Por Jongs childhood, would mean he would have been born on the 6th of March 2415 BE. During his childhood he displayed strong leanings to remain in solitary, and even when his parents would take him to the local Lige theatre shows, he would distance himself from the crowd of spectators and watch from a distance. He was never one to socialise or look for attention. Luang Por Jong was ordained in 2435 BE at Wat Na Tang Nork temple in Ayuttaya, and was given the ordained name of Jong Puttassaro with the Abbot of Wat Na Tang Nork as his Pra Anusawanajarn (Luang Por Po).
Luang Por Po noticed that Luang Por Jong, despite being weak of body and prone to illness, was excellent in his mental capacity and learned the Khom Agkhara Sanskrit perfectly in a very short time. It became noticed by the local devotess and by Ajarn Po himself that Luang Por Jong was showing wisdom and ability in Wicha Akom Sorcery that was far beyond his age.
In no time, Luang Por Jong was given every single facet of the Wicha from his Kroo Ba Ajarn Luang Por Po, and became a Master Sorceror in his own right, and a great Dhamma Practitioner and Teacher to the local Folk. His trajectory followed on from that, and he never stopped advancing, becoming one of the Greatest Sorceror Monks of his Era, until his passing in the year 2508 BE. Luang Por Jong remains one of the most famous Masters of Indochina Wartime Era for his Powerful Kong Grapan Chadtri, Klaew Klaad, Maha Lap, Kaa Khaay and Metta Maha Niyom Magic.
The Pra Somdej Buddha Bhumi (Puttapoom) and Pra Somdej Gampaeng Gaew amulets were never intended to become famous, and were originally intended as a Merit Maker, but their Legendary status happened naturally very quickly, as devotees with the amulet traveled around the country, and discovered immense Maha Sanaeh Metta Maha Niyom attraction, that people would notice the amulet for their individuality and sacredness. In a short period of time after the release, many devotees began to flock to the temple from around the country to ask for amulets, be it the Pra Somdej Buddha Bhumi and Gampaeng Gaew, and the Pra Kring Gaes Gaew amulet.
The Pra Somdej Buddha Bhumi and Gampaeng Gaew amulets are highly revered for their Muan Sarn Sacred Powders used in their making, which included the following ingredients;
Ancient Sacred Earths from the following temples; Wat Rachaburana in Supanburi, Wat Pra Roop (Supanburi), Wat Mahatat (Lopburi). Earths from the Kru Burial Chamber at the following temples; Wat Hin Dtang, Wat Aranyikaram (Bang Klan), Wat Nakorn Chum (Pijit), Wat Boromatat Thung Sethee (Gampaeng Paetch)
Klai Sima (broken pieces of temple boundary stone) from the following temples; Wat Pha Gaew (Ayuttaya), Wat Chum Gaew (Pathum Tani), Wat Ang Gaew (Samutr Sakorn), Wat Gaew (Lopburi). Earths from seven of the Sangwechaniyasathaan (Buddhist Shrines which mark the sites of Important Events in the Buddha's life, e.g. his Birthplace, the place where he became Enlightened, and the place where he entered Nibbana).
Bodhi Leaves from 7 Bodhi Trees were used, taken from Bodhi trees which were planted using seeds from the original Bodhi Tree in India where the Buddha is said to have become Enlightened. Sand from the Incense Burner Bowls of shrines and temples. Pollens and Flowers from 7 Sacred Buddhist Shrines. A Kampira Grimoire of the Abhidhamma in Khom Sanskrit was burned into powders to mix into the Muan Sarn Sacred Powders, with invocations of empowerment performed over it by seven Adept Sorceror Monks, which were then mixed with Earths from 7 Termite Mounds, Prayer Water from 7 Great Sacred Temples
Temple:Wat Ban Kluay (some later Taken to Wat Na Tang Nork)
Maker of Amulet:Luang Por Jong
Weight:7 Grams
Recommended Uses:Protection, Power, Status, Mercy Charm, Good Karma, Prosperity
Size of Amulet:3.5 x 2.3 Cm
Encasement Options
Solid Gold Custom Casing (Waterproo​​​​​​​​f) - We will email you with a price quote according to current Gold Prices, and Invoice You after Agreement (0) Waterproof Casing (9) None (0)