Pra Benjapakee – Top Amulets of the Five Major Regions of Thailand
The Benjapakee Amulet is a Pantheon of Ancient Amulets that carry Immortal Historical Fame and Legend in the Thai Buddhist Amulet World, and are perhaps the heart of all Thai Buddhist Amulets which have arisen in a myriad of forms based in the Benjapakee Collection of amulets. The Pra Benja-Pakee is a collection of five (the word 'Benja' meaning 'Five' in Sanskrit), top amulets of each of 5 regions (the word 'Pakee' meaning 'Regions' in Sanskrit)
The Five Benjapakee Amulets of Old are;
Pra Somdej, Pra Nang Paya, Pra Pong Supan, Pra Rod Lampun, Pra Sum Gor
This slideshow requires JavaScript.
However, there also are sub variations of these five Regional amulets which most people will also class within the Benjapakee collection, such as the Pra Kong Lampun, the Pra Beum Lampun, are alsop two pra Kru amulets of Lampun Province which are as highly valued as the Pra Rod.Each Region has its own 'Benjapakee' with its own top five amulets of its region. One can also find 'Benjapakee' collections of one single type of amulet, such as the 'Benjapakee' of Look Om Sacred Powder Ball amulets or the Benjapakee of Top Five Regional Pra Pid Ta Amulets.. This is of course a Folk Tradition and so one can find the word Benjapakee used in more than just the case of the classic historical Ancient Amulets known as the classic original Benjapakee Collection.

---
Pra Somdej Pim Yai Tee Raleuk Sang Bote 2517 BE - Nuea Pong Pasom Tian Chai - Luang Por Tob Wat Chon Daen
02943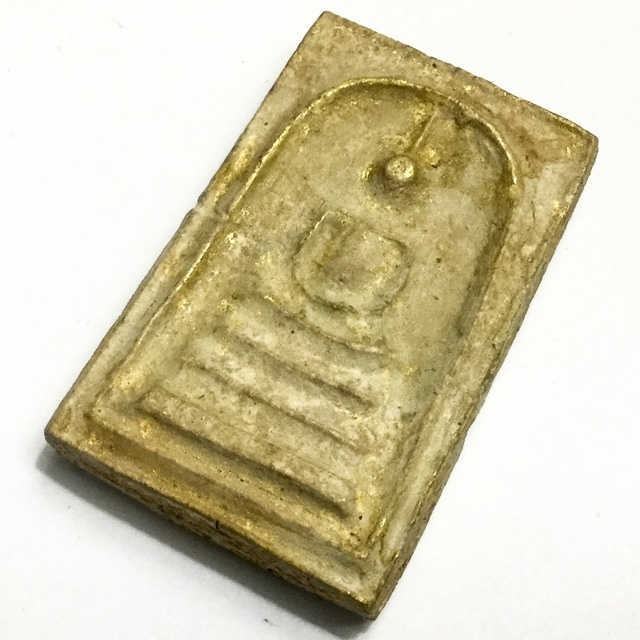 A very rare and fine example of the legendary Pra Somdej Tee Raleuk Sang Bote Uposadha Building Edition Sacred Powder amulet, from the legendary Luang Por Tob, of Wat Chon Daen (Wat Chang Phueak). Made from Nuea Pong (Sacred Yantra Powders), mixed with Victory Candle wax from Buddha Abhiseka Ceremonies. Only few of these amulets were ever made to issue as gifts during the ceremony and put the remainder for distribution to celebrate the building of Uposadha Shrine Room with collaboration of Luang Por Tob and the Devotees of Wat Chon Daen,
The Pra Somdej amulets of Luang Por Tob are highly renowned for its powerful Kong Grapan Chadtri, Maha Lap, Metta Mahaniyom, Serm Duang (improve fate and destiny], Klaew Klaad, and Maha Ud power.
Luang Por Tob Tamma Banyō, or, 'Pra Kroo Pichit Pacharājarn, of Wat Chon Daen, also known as Wat Chang Phueak, or, 'the Temple of the White Elephant', in Pechaburn, was a Nationally and Internationally famous Gaeji Ajarn Buddhist Master, renowned for his merits in building important and highly required edifices for various Buddhist Temples and for the Sangha in general around the whole province of Petchaburn.
Luang Por Tob was born on third of March 2424 BE, and was the son of Mr Phueak Muang Dee, and Mrs Intr Muang Dee. His family were relatively comfortable and did not go without or suffer to any extent.
His parents gave him the name 'Tob'. When the young Tob reached the age of 16, he was taken to the temple of Wat Chang Phueak to place under the tutelage and care of Pra Ajarn Sī by his parents, to ordain as a Samanera Novice Monk. After his Ordination, Luang Por Tob studied the Dhamma Vinaya and Wityākom Occult Sciences to a highly advanced level.
In the year 2445 BE, he reached the age of 21, and was ordained as a fully fledged adult Bhikkhu in the Buddha Sasanā, at Wat Silāmōng. Pra Kroo Mueang was his Upachāya, and Pra Ajarn Parn as his Pra Gammawājājārn, and Pra Ajarn Si as his Pra Anusāwanājārn.
He was given the Ordained name of 'Tammabanyõ', which means 'He who has Great Knowledge in Dhamma'. After his ordination as a Bhikkhu, he traveled to practice Vipassanā Kammathān and Buddha Magic (Wityākom/Wicha) with Pra Ajarn Parn, and once more excelled to the point of reaching adept mastery of the various Wicha taught to him by Pra Ajarn Parn. After completing his studies of Wicha with Pra Ajarn Parn.
Luang Por Tob then went on Tudong forest wandering, to practice solitude and develop his Kammathāna practice. During the time he spent on Tudong, he met many great Masters, and learned their Magical Wicha.
During the times of Tudong, Luang Por Tob met and became very close friends with the great Luang Por Khien Tamma Ragkhidto, who was one of the Great Famous Masters of the Petchaburn Province in that Era. Luang Por Tob and Luang Por Khien became very close friends and companions.
Luang Por Tob, made merits building temples, Sala Bprian Dhamma Halls, Uposatha Shrine Rooms for temples in need, and restored many shrines, buildings and delapidated temple facilities scattered around the province.
He made countless merits both with worldly acts, and with the spiritual teachings of the Buddha-Dhamma, and the memory of his great deeds remains in the minds of the devotees to this day, and has passed into the living memory of the current generation of Devotees.
When Luang Por Tob went on Tudong to the municipality of Chon Daen, and stayed in the forest close to the locality, the local Buddhist Folk of Chon Daen came to pay reverence, and asked Luang Por Tob to build the temple of Wat pra Puttabat Khao Noi, which was at the time was only a small Samnak Songk Sangha station in the forest.
Luang Por Tob accepted and built Kuti Hut dormitories for the Monks, an Uposatha Shrine Room, a Sala Bprian, and improved the facilities of the temple, transforming it into a large and popular temple for the local community, which was then raised in official status from the status of 'Samnak Songk' and registered as a 'Wat' (fully fledged Temple).
In the year 2490, Luang Por Tob was promoted in status to be awarded the status of Upachaya Monk (ordaining officer). In 2497 BE, he recieved the Royal decree of elevated status of 'Pra Kroo Sanyabadtr. He was given the new name of Pra Kroo Wichit Pacharājārn
Luang Por Tob passed away on the 14th of March 2519 BE, on the fourth phase of the fourth lunar month, at the age of 95 years old, after 75 years of ordained life.
The current abbot of Wat Chang Phueak (Wat Chon Daen), Pra Kroo Wimol Pacharagij, who is a direct transmission lineage Looksit of Luang Por Tob, says that Luang Por Tob had given instructions before his death, that his body should not be cremated, because one day in the future, his body would become of use to the temple in some way.
So after his death, the Looksit of Luang Por Tob took his body, and placed it inside a glass coffin. The provincial offices then built a Roop Muean statue of Luang Por Tob, and a shrine area for its placement, so that Devotees could worship Luang Por Tob's image and his Relics.
In the present Era, Wat Chang Phueak (Wat Chon Daen) is a place where Buddhists from around South-East Asia and the rest of the World come in Pilgramage and to sight-see. Hundreds and Thousands of devotees visit the temple every day to pay reverence to the relics of Luang Por Tob, and beseech his blessings.
Luang Por Tob's body has not deteriorated, and has calcified to become stone over the years, and remains in the same condition as it was when he was first placed into the glass coffin.
Each year, the temple performs a ritual to change his robes. The used robes which are removed, are cut up into pieces and given to the Devotees to use as articles of Faith, Good Fortune and Protection of the Blessings of Luang Por Tob.
The amulets of Luang Por Tob are amongst the most highly preferred of any master, with his Roop Lor Hnaa Farang, and the Rian Dode Rom Parachute coin, and Rian Paetch Rab coin being the most highly sought after amulets in his image, and his Takrut Tone spells being the most highly preferred of his Talismanic 'Krueang Rang' type amulets
Wadthumongkol - the Amulets of Luang Por Tob
As far as amulets are concerned, Luang Por Tob excelled in this Wicha, and created more than 200 different kinds of amulets during his trajectory as a Sorceror Monk, including Muan Sarn Sacred Powders amulets, Roop Lor Loi Ongk Statuettes, Takrut and other amulets.
So many of his amulets have become world famous classics and highly renowned for their magical power. His famous Roop Lor Hnaa Farang, Roop Lor Hua Mai Kheed, and Roop Lor Awk Sir are immensely sought after by collectors and devotees of the amulet appreciation societies, and fetch very high prices these days. One should be highly distrustful of amulets offered at cheap prices coming from this Great Master, because even in Thailand, the owners of his amulets, are not prepared to part with his amulets, except for a high price.
His Takrut Trairong three colored red-white and blue amulet is mostly only ever seen on show, and rarely for auction, but a large number of forgeries can be found on Ebay and similar marketplaces, offered at low prices, which should be avoided. There is no such thing as an Authentic Luang Por Tob amulet with a low price.
His charms and Talismans are legendary for their power of Kong Grapan Chadtri, Klaew Klaad, and Maha Ud Magic. His amulets are very rare to find these days, most of them already having an owner, with his Roop Lor Hnaa Farang, Rian Dode Rom, and Rian Paetch Glab coins belonging to the Pra Niyom Master Class Category.
His Pra Somdej and Takrut Tone Tak Daay Cord-Bound Yantra scroll spells are the most highly sought after amulets in the 'Sian Pra' amulet collector societies, and carry heavy prices to them, and are immensely rare to find.
Temple:Wat Chon Daen (Wat Chang Phueak)
Year of Issue:
2517 BE 95th Anniversary
Maker of Amulet:Luang Por Tob Tammabanyō (Pra Kroo Pichit Pacharājarn - Lived and Died 2424 - 2519 BE)
Weight:8 Grams
Recommended Uses:Protection, Invincibility, Imposing Command, Gunstopper
Size of Amulet:5 Inches Long
Encasement Options
Waterproof Casing (9) Solid Gold Custom Casing (Waterproo​​​​​​​​f) - We will email you with a price quote according to current Gold Prices, and Invoice You after Agreement (0) Without Casing (0)