Pra Benjapakee – Top Amulets of the Five Major Regions of Thailand
The Benjapakee Amulet is a Pantheon of Ancient Amulets that carry Immortal Historical Fame and Legend in the Thai Buddhist Amulet World, and are perhaps the heart of all Thai Buddhist Amulets which have arisen in a myriad of forms based in the Benjapakee Collection of amulets. The Pra Benja-Pakee is a collection of five (the word 'Benja' meaning 'Five' in Sanskrit), top amulets of each of 5 regions (the word 'Pakee' meaning 'Regions' in Sanskrit)
The Five Benjapakee Amulets of Old are;
Pra Somdej, Pra Nang Paya, Pra Pong Supan, Pra Rod Lampun, Pra Sum Gor
This slideshow requires JavaScript.
However, there also are sub variations of these five Regional amulets which most people will also class within the Benjapakee collection, such as the Pra Kong Lampun, the Pra Beum Lampun, are alsop two pra Kru amulets of Lampun Province which are as highly valued as the Pra Rod.Each Region has its own 'Benjapakee' with its own top five amulets of its region. One can also find 'Benjapakee' collections of one single type of amulet, such as the 'Benjapakee' of Look Om Sacred Powder Ball amulets or the Benjapakee of Top Five Regional Pra Pid Ta Amulets.. This is of course a Folk Tradition and so one can find the word Benjapakee used in more than just the case of the classic historical Ancient Amulets known as the classic original Benjapakee Collection.

---
Pra Somdej Pim Yai Thaan Sam Chan 2510 BE Nuea Graeng Luang Phu Jant Khantigo Wat Chaloke Lam (Koh Pangan)
03290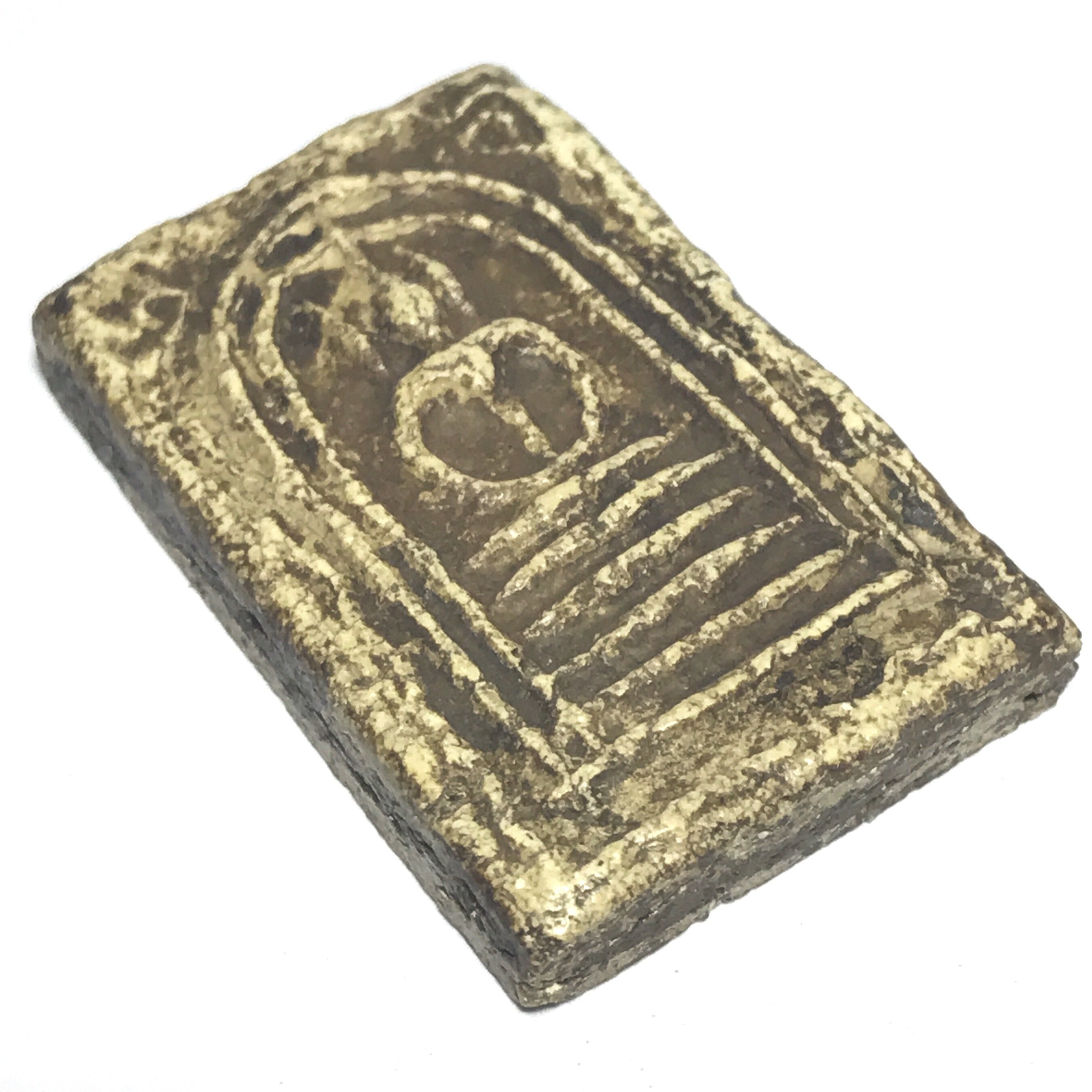 Pra Somdej Pim Luang Phu Jant Khantigo Sacred Amulet of the Great Southern Master Monk of Wat Chaloke Lam in Koh Pangan.
Luang Phu Jantr made various amulets in his lifetime, all of which are extremely rare and revered artifacts of faith, and are jealously guarded by his devotees. Only rarely does one see an amulet of Luang Phu jantr available for rent (purchase), and his amulets are considered to be amongst the rarest items.
Luang Phu Jantr was the abbot of Wat Chaloke Lum in Koh Pangan, in the Gylf of Thailand, and is a Legendary Gaeji Ajarn of the Surat Thani Province
Luang Phu Jantr was known to have been a cool character, who would not express his thoughts and feelings, be it good or bad, he would mostly keep it to himself, and would never enter into disagreement or argument with others. He was known for his great patience with others, and tolerance for people. It is said that his great patience ('Khanti' in Pali), is fitting of his Ordained Title of 'Khantigo' (meaning 'Perfect in Patience').
Luang Por Jantr was born in the town of Ban Maduea Hwan in Koh Pangan island in the Gulf of Thailand. His first name was 'Jantr' (meaning 'Moon' or 'Monday'), and the Family Surname of 'Jantr Intr'. He was born on a Monday in October of the year 2443 BE. His father was called Mr. Krop Jantr Intr, and his mother was called Mrs. Tong Dee Jantr Intr. He had four siblings.
When Luang Phu Jantr was being born, legend tells that his feet were the first part of his body to emerge. It is an ancient belief of Thai People that the best cure for a fishbone stuck in the throat, is to find a person who was born feet-first, and immerse their big toe in water, and drink the water. So every time somebody in the village had a bone stuck in their throat, they would go to see Luang Phu Jantr as a last resort, and ask him to dip his toe in water for them to drink.
He always was willing to do as they asked, and became well known for his loving kindness by the people of Ban Maduea Hwan. Even in this day and age where there is much better understanding of medicine, and long after his passing away, his devotees like to immerse his amulets in water to drink it, to cure fishbones stuck in the throat.
Around the year 2456 BE, as Luang Phu Jantr was a young teenager of around 13 years old, he was ordained as a Samanera Novice Monk, at Wat Maduea Hwan, with Luang Por Paetch Wachiro as His Upachaya Ordaining Officer. After his ordination, Luang Phu Jantr began to study and master the Khom Agkhara Magical Script, and Vipassana Kammathana Mindfulness Practices with Luang Por Paetch at Wat Khao Noi.
Luang Por Paetch was a very strict and exigent Kroo Ba Ajarn who taught very adept methods of Self Mastery in Vipassana, which gave Luang Phu Jantr immense experience during his early years of ordination. he was able to invoke the Ekakatta Citta, one pointedness. It was his early attainment of the One Pointedness factor of meditative practice, that allowed Luang Phu Jantr to learn and master the many Waetmontr Kata Akom spells and incantations taught to him by Luang Por Paetch.
This was of course the perfect firm foundation for Luang Phu Jantr to develop into the Master Sorceror-Monk he was to become. But after a couple of years as a Samanera Novice, he first disrobed to spend a few years back in the world of the lay person. But as soon as he reached full ordination age (18), he Ordained once more at Wat Mai (Wat See Taweep), with the third Abbot of Koh Samui as his Upachaya Ordaining officer.
He remained ordained for a few years and then once more disrobed, and lived the family life with a wife (also from Koh Pangan) and children, two daughters named Jen and Jerm. He made his homestead on the neighbouring island of Koh Samui, in Bo Phud. After his wife passed away, Luang Phu jantr became bored again with the world, and the 3 marks of existence. He thought about the Buddha Dhamma a lot and could no longer see much point in wandering around in the cycle of Samsaric Existence.
He confirmed for himself that all things are constantly changing and fading away, and impermanent, and cannot be held on to. He saw that all of the things we hold for important, are merely assumed truths, with no real substance. He saw how clinging to things which are impermanent, leads to stress and suffering and sadness. He saw how nothing can be owned or kept under one's control forever, not even one's own body, and confirmed the truth of Not-Selfness. So around the year 2489, Luang Phu returned to the shady peaceful grove of Monkdom, and was Ordained for the third and final time, and vowed never to disrobe again, and that the Saffron Robe will be his funeral gown.
This time Luang Phu Jantr was Ordained at Wat Samrej in Koh Samui, with Luang Por Mee Intasuwano (Pra Kroo Tipajarn Kunaraks, 4th Bishop of Koh Samui), as His Upachaya Ordaining Officer.
After Luang Phu Jant was Ordained, he went to reside and practice at Wat Chaloke Lum, a very remote temple deep in the Mangroves of the North-Western part of the island. The temple was in truth only a tiny hut with a small shrine in the Jungle Mangroves, and was very desolate and remote, and Luang Phu Jantr remained there to practice extreme austerities.
Around the time of 2500 BE, the nearby village of Chaloke Lum was a small Fishing Port, where sea gypsies and fishermen would park to sell their catch in the season. But in the windy season when storms would make the waves increase to giant sizes, the fishermen would go to seek shelter in a different bay of the island. because in those days the port of Chaloke Lum was very prosperous, Chaloke Lum was considered to be a place of Great Fortune Seeking, as the busiest trading place on the island.
After his arrival at Wat Chaloke Lum, Luang Phu Jantr began to build edifices and shrines, including an Uposatha Shrineroom, and residences for Monks. He raised the temple from a small Samnak Songk Forest Dwelling, up into a fully fledged Temple with official legal registration on 14th September 2519 BE. He named the temple 'Samnak Songk Chaloke Lum', and the Wisung Sima boundary flags were placed with the Ceremonial Invocation of the Sangha on the 23rd May 2520 BE.
The temple was then changed from 'Samnak Songk Chaloke Lum' (Sangha Office) to 'Wat Chaloke Lum' (fully fledged temple), and in the Year 2522 BE, the temple boundary wall (Putta Sima) was built around the enclave, enclosing the Temple as a Sacred place of solitude and meditation Dhamma practice. Luang Phu Jantr Khantigo had then completed the Meritorious Goal of building a Temple up from the ground, in the face of all obstacles.
Luang Phu Jantr enticed and invited the local devotees of Chaloke Lum to help him, and was assisted greatly by the Gamnan Chieftan of the Village Mr Wut Chom Intr, a famously kind Chieftan of Koh Pangan, to build a Pra Meru Cremation Building for the people of Koh Pangan. This was the first proper crematorium Koh Pangan ever had on the island, for the other temples had been using the ancient funeral pyre method of burning the coffin on top of a metallic grate over a fire in the open.
Luang Phu Jant is considered an Angelic Being by the people of Koh Pangan, for his building of the temple and its various shrines and facilities. He was the founder and the first abbot of Wat Chaloke Lum, and will always be a Legend in his own right with the Buddhist Folk of the Gulf Islands and the Southern Province of Surat Thani.
Miracles of Luang Phu Jantr
There was once a man called Mr. Chote Mueang Tong, who was a bit of a disbelieve and did not possess much faith in Monks, was asked by his friends to accompany them to receive some holy water spray blessings from Luang Phu Jantr. Mr. Chote joked with them that if the water wasn't enough to wet them, that he had a water well at home they could use (in those days the villagers would share one large water wells with each other).
Mr Chote meant this sarcastically, as if to say the Luang Phu's Holy water is no more special than the water in his home. But he went with his friends to the temple, and after the blessing he sat in the temple until dusk, when he got up and made his way out of the temple to go home.
His home was close to the temple and he knew the way very well, but for some reason, he kept finding himself back at the temple gate, going round in circles. He tried many times but always ended up back at the temple, and could not find his way home, despite the fact that his house was only about 50 meters away from the temple!
He wandered round in circles, until his wife finally arrived looking for him, worried why he had not returned home. Mr. Chote became filled with faith in Luang Phu Jantr, and thought that Luang Phu must be a monk of great diligent practice and purity with powerful Wicha, to perform such an enchantment on him. The older devotees of the temple remember that Luang Phu Jantr was always impossible to find in the temple at night, as he would wander into the forest alone to perform chanting, meditation, make and empower sacred powders for amulets in solitary.
He would empower amulets for many nights consecutively in the forest alone, night after night. Because of his extremely diligent and powerful methods of empowerment, his amulets have proved themselves to be powerful many times with the devotees, with many stories of magical and miraculous occurrences with those who wear his amulets. The Pra Somdej amulets of Luang Phu Jantr are immensely sought after for their power to protect and prosper, and one can consider it a privilege to see one of his famous Pra Somdej in real life.
Because Luang Phu Jantr never got much sleep at night, he would rest in the late afternoon instead. But one strange thing that was noticed, was that when other monks were in their huts practicing their Pali Sanskrit Chanting, even though Luang Phu Jantr was sleeping, whenever a Monk would mispronounce a syllable or a phrase, Luang Phu's voice would come from his Kuti Hut, and intone the correct pronunciation for the Monk to hear.
This would happen without fail every time, even during Luang Phu's sleeping period. This caused the other monks and devotees to suspect that Luang Phu jantr had mastered the Sathipathana practices, causing him to possess advanced consciousness, to maintain 'Sati' (attentive awareness/Mindfulness) throughout waking and sleeping.
Luang Phu Jantr not only learned Wicha from Luang Por Paetch during his early years of ordination, he also becamse the inheritor of Luang Por Paetch's Dtamra Grimoire of Magicc Spells, after Luang Por paetch passed away. Luang Phu Jantr mastered every spell in the Grimoire over the Years, and due to his prior attainment of the Aeka Kata Citta One Pointedness, was able to wield extremely powerful magic.
Hnang Hniaw 'Sticky Skin' - Invincibility Magic of Luang Phu Jantr
Mr Samart Rueang Rojana tells that he once was watching Luang Phu Jantr sharpen a razor blade of the Doll brand type, which was considered a quality razor of that time, with sharp blade, to shave his head with. He sharpened the blade for a very long time until it was extremely sharp, and then began testing it by pressing it very hard on his arm and slicing back and forth. Mr Samart saw Luang Phu do this and was astounded that no cuts were made in Luang Phu's skin.
Another time, another devotee Mr Chom Jantr, volunteered to do the job of sharpening the razor blade of Luang Phu Jantr. He sharpened the blade to the sharpest he could possibly make it and presented it to Luang Phu, and said; "This blade is sharp enough to shave three heads in only a few minutes". Luang Phu Jantr took the razor blade from him, and said 'What do you mean sharp?" as he simultaneously rubed the sharp razor blade up and down on his arm with great force and pressure. The marks of the blade were visible indents, but the skin was not broken, nor were there any scratches or redness at all, and the blade was unable to cut the skin of Luang Phu Jantr.
Luang Phu Jantr's special magical powders were legendary with the locals, from his solitary rituals in the forest at night, when he would make sacred powders using Yantra inscriptions and incantations, and secret formulas with aromatic ingredients to excite the pheromones and induce Metta Maha Niyom Maha Sanaeh Attraction and Mercy Charm Magic. People would ask him for some to use as face talcum to help attract customers and admirers to sell their wares. great success brought even more fame to Luang Phu Jantr, who the devotees began to ask for amulets. So Luang Phu Jantr began to make Muan Sarn Sacred Powder amulets in the form of rectangular votive tablets with Buddha Images (Pra Somdej).
The first edition was the year 2510 BE The great Luang Por Job tells that Luang Phu Jantr was an adept Master of the Wicha Maha Yant Paya Tao Ruean Turtle Yantra of the great Grimoire of Ta Khaw (creator of the Grimoire of Luang Por Paetch, which Luang Phu Jantr inherited). Mr Samart Rueang Rojana, a devotee of Luang Phu, told that he once sat watching Luang Phu making Pong Lob Yantra Powders, and saw him use a sacred blackboard placed underneath a white muslin cloth. He would inscribe hundreds of Yantra spells one by one on the board, until his chalk stick was used up, and then he would sit and command the Yantra powders from the used up chalk inscriptions, to rise up and float onto the muslin cloth suspended over the blackboard. Mr. Samart tells that he could not see any way that Luang Phu could make the powders end up on the Muslin cloth without touching them, and that this was a special method and ability of Luang Phu, due to his attainment of the Aeka Kata Citta one pointedness of focus.
Luang Phu made a number of different Pra Somdej amulets in different shapes and sizes, all of which are incredibly rare.
Tamniab Wadthumongkol Luang Phu Jantr
The Pra Somdej Pim Thaan Sam Chan - Three tiered Dais Buddha was made in three versions;
1. Pra Somdej Pim Thaan Sam Chan Pim Yai - large size with double decorative arch
2. Pra Somdej Pim Thaan Sam Chan Pim Klang - Medium sized with single arch
3. Pra Somdej Pim Thaan Sam Chan Pim Lek - small size with single arch
4. Pra Somdej Pim Thaan Jet Chan seven tiered Dais Buddha image - This Pim is extremely rare, with only a few exhibits found in existence
5. Pra Somdej Gao Chan nine tiered Dais Buddha within single arch
6. Pra Somdej Hwaek Man Buddha in Open Curtains
7. Pim Pra Khun Phaen
8. Pim Nang Paya - various models of triangular small Buddha Images
9. Pim Pid Ta
Below; Pim Pra Khun Phaen, pim Pra Pid Ta, and Pim Pra Nang Paya
Each model can be found in varied sizes due to the fact they were hand pressed, and each amulet is slightly different in size. It is estimated that there are around 30 different kind of Pra Somdej amulet in total made by Luang Phu jantr during his lifetime. Most of his amulets were made from Muan Sarn Sacred Powders, with a very few being made from Nuea Wan herbal Powders, the rest mostly being from 'Pong Lob' Yantra Powders
Luang Phu Jantr's Magic Powders were made in a very diligent fashion respecting the ancient methods of the Dtamra, creating each kind of Yantra Powder in sequence, Pong Normo, Pong Bathamang, Pong Ittijae, Pong Trinisinghae, and Pong Maharach. he would always perform the rituals and steps of preparation himself, the mixing of the Muan Sarn, the pressing of each amulet (except in the latter part of his life when some of his apprentices would help to press the amulets).
The Mae Pim Block Press Mold used to press the amulets of Luang Phu Jantr, were made from sharpening stones (the ones used to sharpen the razors of Luang Phu Jantr), cunt into the design form of the amulets. This kind of material breaks easily, which meant that only a few of each Pim werte pressed before the Mold would break, making each series extreme limited numbers, with no chance of repeating them, due to the broken mold.
Luang Phu Jantr has one special rule for his amulets;
"Haam Om Pra" - Do Not Put the Amulet in Your Mouth.
(In olden days, Thai Warriors would 'Om Pra', meaning 'suck the amulet', by placing the amulet inside the mouth)
Because of the fishermen of the Port of Chaloke Lum and their faith in the amulets of Luang Phu Jantr, the fame of his Magic traveled throughout the sailing community of the gulf of Thailand, as far as Rayong and Samutr Prakarn, and the Pra Somdej of Luang Phu Jantr became revered items with seamen from all over the eastern seaboard of Thailand, from Surat to Chumporn in the South, Petchburi, Bangkok Chonburi and Rayong in the Central Coastal regions. His amulets became highly renowned for their power of Maha Sanaeh, Metta Maha Niyom Seductive Power of Attraction and Mercy Charm.
Temple:Wat Chaloke Lum
Maker of Amulet:Luang Phu Jantr
Weight:12 Grams
Recommended Uses:Metta Maha Niyom, Maha Sanaeh, Kong Grapan Chadtri
Number of Amulets Made:Few Made in Each Pim
Size of Amulet:3.8 x 2.6 Cm
Encasement Options
Solid Gold Custom Casing - We will email you with a price quote according to current Gold Prices, and Invoice You after Agreement. (0) Waterproof Casing (9) None (0)