Pra Benjapakee – Top Amulets of the Five Major Regions of Thailand
The Benjapakee Amulet is a Pantheon of Ancient Amulets that carry Immortal Historical Fame and Legend in the Thai Buddhist Amulet World, and are perhaps the heart of all Thai Buddhist Amulets which have arisen in a myriad of forms based in the Benjapakee Collection of amulets. The Pra Benja-Pakee is a collection of five (the word 'Benja' meaning 'Five' in Sanskrit), top amulets of each of 5 regions (the word 'Pakee' meaning 'Regions' in Sanskrit)
The Five Benjapakee Amulets of Old are;
Pra Somdej, Pra Nang Paya, Pra Pong Supan, Pra Rod Lampun, Pra Sum Gor
This slideshow requires JavaScript.
However, there also are sub variations of these five Regional amulets which most people will also class within the Benjapakee collection, such as the Pra Kong Lampun, the Pra Beum Lampun, are alsop two pra Kru amulets of Lampun Province which are as highly valued as the Pra Rod.Each Region has its own 'Benjapakee' with its own top five amulets of its region. One can also find 'Benjapakee' collections of one single type of amulet, such as the 'Benjapakee' of Look Om Sacred Powder Ball amulets or the Benjapakee of Top Five Regional Pra Pid Ta Amulets.. This is of course a Folk Tradition and so one can find the word Benjapakee used in more than just the case of the classic historical Ancient Amulets known as the classic original Benjapakee Collection.

---
Pra Somdej Sai Rung Nuea Pong Nam Man 2505 BE - Luang Por Khom Wat Pai Rong Wua
03068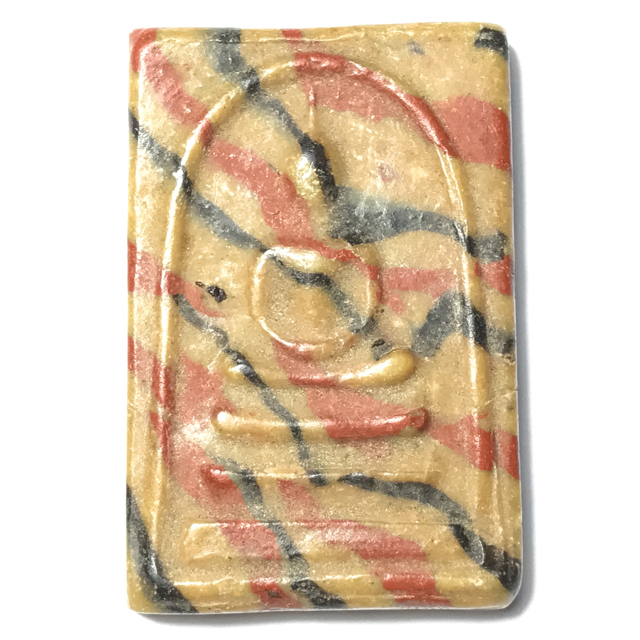 Luang Por Khom of Wat Pai Rong Wua, was renowned for his preference to make amulets that are Buddha Images, above images of himself, or Deities of the Hindu Pantheon. He always made his amulets in the most traditional methods of his Era, and would only rarely allow amulets to be made with his own image. Mostly he would like to make purely Buddha Images, and liked to make amulets in the ancient way of using baked clay.
His amulets are renowned for Kong Grapan Chadtri, Klaew Klaad, and Maha Lap Serm Duang Magic, and are a very recommendable choice for those with lower budgets who seek Buddhist Amulets of antique class, with high sacred value.
His amulets are very popular with those who prefer a purely Buddhist amulet, with no Black magick or Khmer Sorcery, for Buddhanussati Remembrance of the Buddhist practice.
His adherence to preserving the Buddha Sasana in its pure form by adherence to making almost exclusively images that reflect the existence of an Enlightened Being (The Buddha), has been seen on Earth in the Past. This is the direct applied method of preserving the existence of Buddhism into the Future, up to the Time where Arya Sri Maitreya, the Future Buddha's Time has arrived, 2500 years in the Future from Now.
The amulet is made from Nuea Pong Phao Sai Rung Gae Nam Man (Baked sacred oily powders with rainbow effect), and bears the Pra Somdej Pra Pratan Image. Luang Por Khom and his amulets came into favor some time in the early eighties, when he was also in his eighties, and were mostly snapped up by devotees shortly before and after his passing in 2533 BE (1990). The amulets of Luang Por Khom are highly recommendable for their power and affordability, as well as for their highly Sacred status.
This particular rainbow colored oily herbal powder Pra Somdej Prok Po with Bodhi Leaf containing a Buddha in Samadhi posture on rear face, was released around 2505 BE, and is an immensely favored edition of Luang Por Khom's pantheon of amulets. Pure Buddhakhun Power, with the Blessings of the Buddha Sakyamuni in his monent of Enlightenment to Protect and Guide you, and remind you of your practice, to improve your diligence.
This is the perfect amulet for diligent meditative practice throughout the working day and the resting day, to keep us reminded of the merits of the Buddha, and his Enlightenment as a Human Being, which should Inspire Us to follow his Path, and his Good Example.
A truly sacred Ancient Amulet that can be added to anybody's Family Heirloom showcase, with Pride, and Reverence, as well as the surety of a great future, be it as far as the respect that has grown for the amulets of Luang Por Khom, as well as their steady increase in rarity, and speculative value, as time passes.
Use the Thai Buddhist Method of Bucha
Kata for Chanting to Amulets (Kata Aaratanaa Pra Krueang)
Puttang Aaraatanaanang
Tammang Aaraatanaanang
Sangkang Aaraatanaanang
Make a prayer/wish and continue with;
Puttang Prasittimae
Tammang Prasittimae
Sangkang Prasittimae
Chant this Kata 3 times whenever you are about to place the chain over your head or put on the amulets, and also when you take them off.
The Kata calls upon the power of the Buddha, Dhamma and Sangha to be with you and protect and Guide you.
Temple:Wat Pai Rong Wua (Supanburi)
Maker of Amulet:Luang Por Khom
Weight:10 Grams
Recommended Uses:Protection, Improve Karma, Safety and Prosperity, Anti Black Magic, Good Health
Size of Amulet:3.5 x 2.5 Cm
Add Custom Casing
Solid Gold Custom Casing (We will Email You with a Quote according to current Gold prices) (0) Waterproof Casing (9) No Casing (0)