Pra Benjapakee – Top Amulets of the Five Major Regions of Thailand
The Benjapakee Amulet is a Pantheon of Ancient Amulets that carry Immortal Historical Fame and Legend in the Thai Buddhist Amulet World, and are perhaps the heart of all Thai Buddhist Amulets which have arisen in a myriad of forms based in the Benjapakee Collection of amulets. The Pra Benja-Pakee is a collection of five (the word 'Benja' meaning 'Five' in Sanskrit), top amulets of each of 5 regions (the word 'Pakee' meaning 'Regions' in Sanskrit)
The Five Benjapakee Amulets of Old are;
Pra Somdej, Pra Nang Paya, Pra Pong Supan, Pra Rod Lampun, Pra Sum Gor
This slideshow requires JavaScript.
However, there also are sub variations of these five Regional amulets which most people will also class within the Benjapakee collection, such as the Pra Kong Lampun, the Pra Beum Lampun, are alsop two pra Kru amulets of Lampun Province which are as highly valued as the Pra Rod.Each Region has its own 'Benjapakee' with its own top five amulets of its region. One can also find 'Benjapakee' collections of one single type of amulet, such as the 'Benjapakee' of Look Om Sacred Powder Ball amulets or the Benjapakee of Top Five Regional Pra Pid Ta Amulets.. This is of course a Folk Tradition and so one can find the word Benjapakee used in more than just the case of the classic historical Ancient Amulets known as the classic original Benjapakee Collection.

---
Pra Sum Gor Hlang Yant 2536 BE Benja Baramee Edition - Nuea Nava Loha - Luang Por Kasem Khemago
03019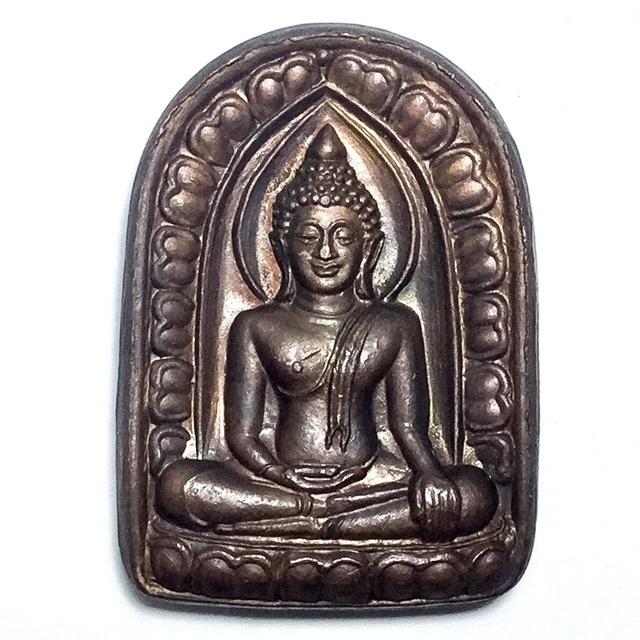 A most Pristine example of the Rian Pra Sum Gor Benjapakee Amulet from the 2536 BE Benja Baramee Edition, by the Great Arya Sangha Master Monk, Luang Por Kasem Khemago, of Sussaan Trailaks, in Lampang.
The amulet is made from Nava Loha (9 sacred Metals). The front face features the Buddha sat within a thumbnail shaped arch upon a lotus dais. The rar face has a Sacred Yant Na Metta embossed, surrounded by the four syllables of the Kata Hua Jai Pra Mae Toranee (Dharani Earth Goddess), and a Kata for Maha Lap beneath it. Below that are the words 'Luang Por Kasem Khemago', and the date of 25th September 2536 BE.
LP Kasem is one of the few Master Monks whose power and sacredness is legendary on a Historical level, but whose amulets are still affordable compared to some other amulets of other top Gaeji Ajarn. His amulets have always been very popular with Thai people even during Luang Por's early years., for the purity of practice and massive faith which the devotees had in his Patipatā (practice).
Even more so since many Devotees who wore Luang Por Kasem's amulets turned up constantly at the temple over the years, telling stories of great luck in commerce, love, as well as tales of miraculous escapes from fatal accidents, and lethal attacks from enemies. Many of these stories became National News stories, and the amulets of Luang Por kasem have long been the tre comes with the original box it was issued in from the temple, and is in perfect condition.
Luang Por Kasem was a Master Guru Monk of the Lanna Tradition whose dhamma practice and renunciation is worthy of great reverence. Presumed to be an Arahant, His amulets are full of Puttanupaap (Buddha power of protection and fortune), which is said to be present because of the purity of this monk's practice. His meditative power and clarity of concentration used in blessing the amulets is that of an Adept practitioner.
You can listen to a short biography of Luang Por Kasem Khemago within the below amulet documentary, narrated by Ajarn Spencer Littlewood
LP Kasem is one of the few Master Monks whose power and sacredness is legendary on a Historical level, but whose amulets are still affordable compared to someasured protectors of military, navy, airforce and police officers, who consider his amulets to be very powerful Maha Ud Klaew Klaad Kong Grapan Chadtri magic.
Most certainly yet another great amulet worth collecting and making Bucha to, for recieving the blessings of Metta, Kong Grapan, Choke Laap, Maha Sanaeh and Klaew Klaad that Luang Por Kasem's great purity endowed the amulets with when he blessed them.
Kata Luang Por Kasem Khemago
(Praying and paying reverence to the Sacred Buddha relics and images around the Universe)
Wantaami Jaedtiyang Sappang Sappadthaanae Subpadtisadtitdtaa Srirataadtung Mahaapoting Puttaruubpang Saggaarang Sattaa Naakalogae Taewalogae Daawadtingsae Prahmalogae Chompootiibpae Sanggaatiibpae Srirataadtuyo Gaesaataadtuyo Jaedtiyang Kantagudtii Jadturasii Dtissahassa Tammakhantaa Bpaadtijaediyang Narataewae Hibpuuchidtaa Ahang Wantaami Duuradto Ahang Wantaami Taadtuyo Ahang Wantaami Sappaso
Kata for increasing personal Metta (LP Kasem)
Sataahang Sukhidto Homi
(Chant 15 times a day)
Kata for spreading Metta to Other Living Beings
Sukhinowaa Khemino Hondtu Sappae Sadtaa Pawandtu Sukhidtadtaa
(Chant 20 times a day)
Use the Traditional Thai Buddhist Method for Bucha;
1. Chant Maha Namasakara (3 Times)
2. Chant the Trai Soranakom (3 Times)
3. Chant Kata Aaraatanaa Pra Krueang (3 Times)
Kata Maha Namasakara
Namo Dtat-Sa Pakawa-Dto Araha-Dto Sam-Maa Sam-Put-Dtat-Sa
Namo Dtat-Sa Pakawa-Dto Araha-Dto Sam-Maa Sam-Put-Dtat-Sa
Namo Dtat-Sa Pakawa-Dto Araha-Dto Sam-Maa Sam-Put-Dtat-Sa
Trai Soranakom
Puttang Cheewidtang Yaawa Nipaanang Saranang Kajchaami

Tammang Cheewidtang Yaawa Nipaanang Saranang Kajchaami
Sangkang Cheewidtang Yaawa Nipaanang Saranang Kajchaami
Tudtiyambpi Puttang Cheewidtang Yaawa Nipaanang Saranang Kajchaami
Tudtiyambpi Tammang Cheewidtang Yaawa Nipaanang Saranang Kajchaami
Tudtiyambpi Sangkang Cheewidtang Yaawa Nipaanang Saranang Kajchaami
Dtadtiyambpi Puttang Cheewidtang Yaawa Nipaanang Saranang Kajchaami
Dtadtiyambpi Tammang Cheewidtang Yaawa Nipaanang Saranang Kajchaami
Dtadtiyambpi Sangkang Cheewidtang Yaawa Nipaanang Saranang Kajchaami
Below; Amulet comes with original box from the Temple
Kata Aaraatana Pra Krueang
Puttang Aaraatanaanang
Tammang Aaraatanaanang
Sangkang Aaraatanaanang
Puttang Prasittimae
Tammang Prasittimae
Sangkang Prasittimae
Temple:Sussaan Trailaks (Lanpang)
Maker of Amulet:Luang Por Kasem Khemago
Weight:25 Grams Coin Only (36 Gtrams with Box)
Recommended Uses:Protection, Status, Prosperity
Encasement Options
Solid Gold Custom Casing (Waterproo​​​​​​​f) - We will email you with a price quote according to current Gold Prices, and Invoice You after Agreement (0) Waterproof Casing (9) Without Casing (0)