Pra Benjapakee – Top Amulets of the Five Major Regions of Thailand
The Benjapakee Amulet is a Pantheon of Ancient Amulets that carry Immortal Historical Fame and Legend in the Thai Buddhist Amulet World, and are perhaps the heart of all Thai Buddhist Amulets which have arisen in a myriad of forms based in the Benjapakee Collection of amulets. The Pra Benja-Pakee is a collection of five (the word 'Benja' meaning 'Five' in Sanskrit), top amulets of each of 5 regions (the word 'Pakee' meaning 'Regions' in Sanskrit)
The Five Benjapakee Amulets of Old are;
Pra Somdej, Pra Nang Paya, Pra Pong Supan, Pra Rod Lampun, Pra Sum Gor
This slideshow requires JavaScript.
However, there also are sub variations of these five Regional amulets which most people will also class within the Benjapakee collection, such as the Pra Kong Lampun, the Pra Beum Lampun, are alsop two pra Kru amulets of Lampun Province which are as highly valued as the Pra Rod.Each Region has its own 'Benjapakee' with its own top five amulets of its region. One can also find 'Benjapakee' collections of one single type of amulet, such as the 'Benjapakee' of Look Om Sacred Powder Ball amulets or the Benjapakee of Top Five Regional Pra Pid Ta Amulets.. This is of course a Folk Tradition and so one can find the word Benjapakee used in more than just the case of the classic historical Ancient Amulets known as the classic original Benjapakee Collection.

---
Pra U-Tong Awk Seuk Pong Supan - Jong Ang Seuk Vietnam War Edition 2510 BE - Blessed by Luang Por Mui + 68 Masters Wat Pra Sri Radtana Mahatat
02908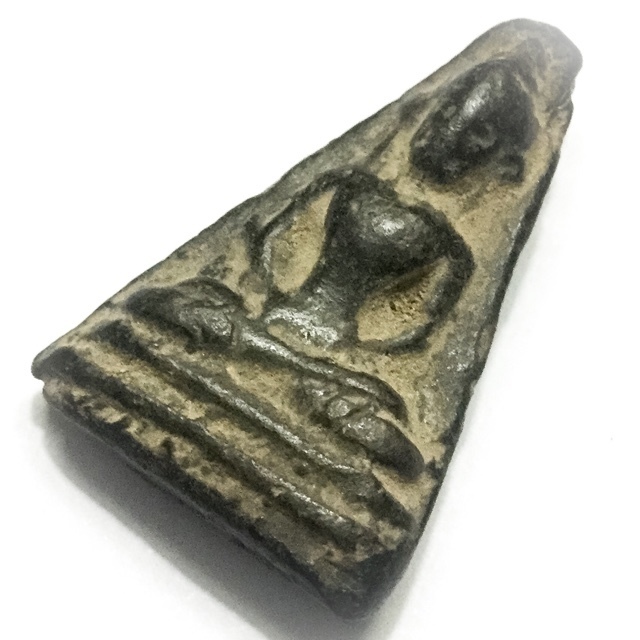 Pra U-Tong Awk Seuk - Jong Ang Seuk Edition 2510 BE - Wat Pra Ari Radtana Maha Tat (Supanburi).
The 'Pra U-Tong Awk Seuk' amulet, was made and first blessed in the year 1510 BE in a large Buddha Abhiseka Blessing ceremony at Wat Pra Sri Radtana Maha Tat temple, in Supanburi. One can see that the amulet is indeed the same features as the classic Pra Kru Pong Supan, ancient Pra-Kru hiding place amulet of Supanburi Province, whose original archeological find of U-Tong Era amulets was of course also at Wat Pra Sri Radtana Maha Tat. This is of course intentional, but in the case of this edition, was given the special name of Pra U-Tong Awk Seuk'
The amulet is known as the 'Jong Ang Seuk' edition, because a large number of them (25,700 amulets) were sent to distribute to the soldiers who had travelled to fight in the Vietnam War, to protect them in battle. The remainder of the amulets which were not sent to the warriors on the front lines, were not distributed at first, and were passed through a further 2 Buddha Abhiseka blessing ceremonies.
The first of those further two ceremonies was held between the 2nd and 10th March 2511 Be, and the second extra blessing ceremony was held on the 13th April 2511 BE. Thereafter, most of the remaining amulets were distributed to civil servants and those in governmental offices, and the last remaining amulets were then kept stored away in the Kru Hiding Chamber in the year 2512 BE
The Pra U-Tong Awk Seuk is a classic and historically famous edition of Wat Pra Sri Radtana Mahatat, in Supannburi, that is modelled in similarity to the Pra Pong Supan'Pim Hnaa Gae' Benjapakee amulet of Supreme Fame and Reverence.
Although this edition is commonly known to have the Pim Hnaa Gae Nang Samadhi Khat Paetch Meditating Buddha Image (both hands clasped together facing upwards on the lap), there were actually also some models made, which have a Buddha Image seated in the Mara Vichai (Conquering Mara) Posture, with one hand reaching down to touch the earth.
An image of the Ancient Chedi Stupa is stamped onto the rear face of the Pra U-Tong Jong Ang Seuk Pong Supan amulet, of Wat Pra Sri Radtana Mahatat.
The Muan Sarn and features of the amulet are rich in Nuances, and provide and excellent exhibit for viewing as study material for the Pra Pong Supan Pim Hnaa Gae type amulet, and its features.
Klaew Klaad Maha Amnaj, Serm Yos, Kong Grapan Chadtri, Maha Ud Power for those in lines of duty where the ability to instil confidence and trust, convince others of your will, and survive great dangers, increase status and chances of promotion. Such are the powers of the Pra U-Tong Awk Seuk Jong Ang Seuk Pong Supan amulet, and all Pra Pong Supan of the Benjapakee Class family of amulets.
Monks present in the ceremony included Luang Por Mui (Wat Don Rai), Luang Phu To (Wat Pradoo Chimplee), Luang Phu Nak (Wat Rakang Kositaram), Luang Phu Toop (Wat Kae Nang Lerng), Luang Por Toon (Wat Po Nimit), Luang Por Sud (Wat Ka Long), Luang Por Thin (Wat Pa Lelai, in Supanburi), Luang Por Gaew (Wat Chong Lom), Luang Por Khom (Wat Rong Phai Wua, Supanburi), Luang Por Huad, (Wat Don Po Tong), Luang Por Pae (Wat Pikul Tong), Luang Por An (Wat Prayatikaram, Ayuttaya), Luang Por Tim (Wat Pra Khaw, Ayuttaya), Luang Por Ngern (Wat Don Yai Horm), Luang Por Tong Yoo (Wat Mai Nong Pra Ongk) and the Great Luang Por Noi (Wat Dhamma Sala, Nakorn Pathom). These are just a few of the many great Monks who attended, amongst a total of 69 Guru Masters present in all. This amulet is officially registered in many amulet competitions of National Status, and is a well accepted, and highly affordable member of the 'Pra Niyom' category of Master-Class amulets.
Use the Traditional Thai Buddhist Method for Bucha;
1. Chant Maha Namasakara (3 Times)
2. Chant the Trai Soranakom (3 Times)
3. Chant Kata Aaraatanaa Pra Krueang (3 Times)
Kata Maha Namasakara
Namo Dtat-Sa Pakawa-Dto Araha-Dto Sam-Maa Sam-Put-Dtat-Sa
Namo Dtat-Sa Pakawa-Dto Araha-Dto Sam-Maa Sam-Put-Dtat-Sa
Namo Dtat-Sa Pakawa-Dto Araha-Dto Sam-Maa Sam-Put-Dtat-Sa
Trai Soranakom
Puttang Cheewidtang Yaawa Nipaanang Saranang Kajchaami

Tammang Cheewidtang Yaawa Nipaanang Saranang Kajchaami
Sangkang Cheewidtang Yaawa Nipaanang Saranang Kajchaami
Tudtiyambpi Puttang Cheewidtang Yaawa Nipaanang Saranang Kajchaami
Tudtiyambpi Tammang Cheewidtang Yaawa Nipaanang Saranang Kajchaami
Tudtiyambpi Sangkang Cheewidtang Yaawa Nipaanang Saranang Kajchaami
Dtadtiyambpi Puttang Cheewidtang Yaawa Nipaanang Saranang Kajchaami
Dtadtiyambpi Tammang Cheewidtang Yaawa Nipaanang Saranang Kajchaami
Dtadtiyambpi Sangkang Cheewidtang Yaawa Nipaanang Saranang Kajchaami
Kata Aaraatana Pra Krueang
Puttang Aaraatanaanang
Tammang Aaraatanaanang
Sangkang Aaraatanaanang
Puttang Prasittimae
Tammang Prasittimae
Sangkang Prasittimae
Temple:Wat Pra Sri Radtana Mahatat (Supanburi)
Maker of Amulet:Jao Kana Ampher Bishop of Supanburi Sangha and Provincial Temples
Weight:3 Grams
Recommended Uses:Protection, Prosperity, Promotion, Status, Invincibility
Size of Amulet:3 x 2 Cm
Encasement Options
Solid Gold Custom Casing (Waterproo​​​​​​​f) - We will email you with a price quote according to current Gold Prices, and Invoice You after Agreement. (0) Waterproof Casing (9) Without Casing (0)