Pra Benjapakee – Top Amulets of the Five Major Regions of Thailand
The Benjapakee Amulet is a Pantheon of Ancient Amulets that carry Immortal Historical Fame and Legend in the Thai Buddhist Amulet World, and are perhaps the heart of all Thai Buddhist Amulets which have arisen in a myriad of forms based in the Benjapakee Collection of amulets. The Pra Benja-Pakee is a collection of five (the word 'Benja' meaning 'Five' in Sanskrit), top amulets of each of 5 regions (the word 'Pakee' meaning 'Regions' in Sanskrit)
The Five Benjapakee Amulets of Old are;
Pra Somdej, Pra Nang Paya, Pra Pong Supan, Pra Rod Lampun, Pra Sum Gor
This slideshow requires JavaScript.
However, there also are sub variations of these five Regional amulets which most people will also class within the Benjapakee collection, such as the Pra Kong Lampun, the Pra Beum Lampun, are alsop two pra Kru amulets of Lampun Province which are as highly valued as the Pra Rod.Each Region has its own 'Benjapakee' with its own top five amulets of its region. One can also find 'Benjapakee' collections of one single type of amulet, such as the 'Benjapakee' of Look Om Sacred Powder Ball amulets or the Benjapakee of Top Five Regional Pra Pid Ta Amulets.. This is of course a Folk Tradition and so one can find the word Benjapakee used in more than just the case of the classic historical Ancient Amulets known as the classic original Benjapakee Collection.

---
Roop Lor Boran Singh Kor Yaw Nuea Dtakua - Himapant Lion Statuette - Luang Por Guay Wat Kositaram
03236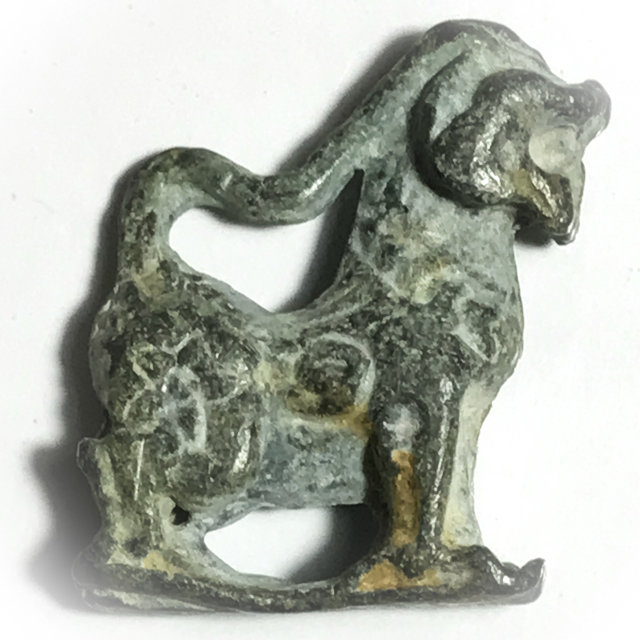 One of the most highly sought after and extremely rare amulets of Luang Por Guay, the Singh Kor Yaw long neck Singha Himapant Lion cast metal statuette. This Pim is in Nuea Dtakua sacred Alchemical Leaden Alloy, which is most preferred for the fact that this series was cast by Luang Por Guay himself with his own hand.
The Rachasri in Leaden Alloy is considered the most original and beautiful, for it was the only edition cast and designed by Luang Por Guay, whereas all other series editions were commissioned by an artisan. Also highly regarded for its Alchemical Mercurial Alloy with Powerful Elemental Magic, considered to be an extremely powerful conductor for Magical Energies.
Luang Por Guay Chudtintaro (2448 BE - 2522 BE) was a powerful Sorceror Monk and Sak Yant Master with infamous powers of Kong Grapan Chadtri and Klaew Klaad Magic, whose large pantheon of Buddhist Votive Tablets and Krueang Rang Talismanic Occult Charms are amongst the fastest disappearing amulets of the Present Era, since a massive increase in faithful devotees in recent years, have begun to deplete the amulets from public circulation.

Biography of Luang Por Guay Wat Kositaram
Temple:Wat Kositaram
Maker of Amulet:Luang Por Guay
Weight:13 Grams
Recommended Uses:Commanding Power, Status, Impose Respect, Protection, Invincibility, Promotion, Professional Success
Size of Amulet:1.5 x 2 Cm
Encasement Options
Solid Gold Custom Casing (Waterproo​​​​​​​​f) - We will email you with a price quote according to current Gold Prices, and Invoice You after Agreement (0) Waterproof Casing (9) None (0)