Pra Benjapakee – Top Amulets of the Five Major Regions of Thailand
The Benjapakee Amulet is a Pantheon of Ancient Amulets that carry Immortal Historical Fame and Legend in the Thai Buddhist Amulet World, and are perhaps the heart of all Thai Buddhist Amulets which have arisen in a myriad of forms based in the Benjapakee Collection of amulets. The Pra Benja-Pakee is a collection of five (the word 'Benja' meaning 'Five' in Sanskrit), top amulets of each of 5 regions (the word 'Pakee' meaning 'Regions' in Sanskrit)
The Five Benjapakee Amulets of Old are;
Pra Somdej, Pra Nang Paya, Pra Pong Supan, Pra Rod Lampun, Pra Sum Gor
This slideshow requires JavaScript.
However, there also are sub variations of these five Regional amulets which most people will also class within the Benjapakee collection, such as the Pra Kong Lampun, the Pra Beum Lampun, are alsop two pra Kru amulets of Lampun Province which are as highly valued as the Pra Rod.Each Region has its own 'Benjapakee' with its own top five amulets of its region. One can also find 'Benjapakee' collections of one single type of amulet, such as the 'Benjapakee' of Look Om Sacred Powder Ball amulets or the Benjapakee of Top Five Regional Pra Pid Ta Amulets.. This is of course a Folk Tradition and so one can find the word Benjapakee used in more than just the case of the classic historical Ancient Amulets known as the classic original Benjapakee Collection.

---
Roop Lor Luang Por Liw 2539 BE Nuea Tong Daeng Rom Dam Gong Tap Sang Army Sponsorship Edition Wat Rai Dtaeng Tong
03718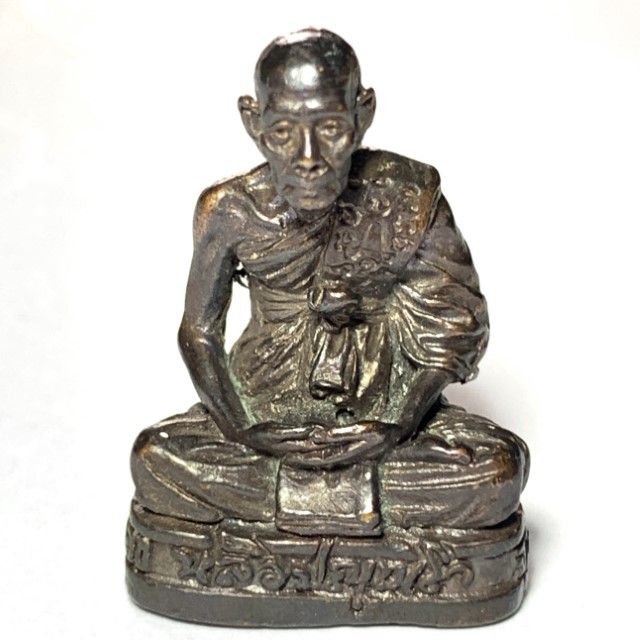 Luang Por Liw of Wa Rai Dtaeng Tong's Famous Roop Lor Boran Run Gong Tap Sang Military Sponsored Edition, from the year 2539 BE, in Nuea Nava Loha Rom Dam, with Sacred Powders of LP Liw Inserted into the base (some models had metallic Kring Inserts). The amulet features a miniature Loi Ongk Statuette of the image of LP Liw of Wat Rai Dtaeng Tong in Nakorn Pathom, so famed for his Wicha Paya Tap Ruean Turtle Magic, with Khom Agkhgara code stamps on the Jivara Robe on the Sangkati Sash of the chest of Luang Por's Image.
This edition was sponsored by the Army Land Regiment, and Released in 2539 BE,Very few indeed were made and this particular Pim (model) is now an extreme rarity to find on the Amulet Markets, if at all. Some models have sacred powders inserted, and others have a Kring Bead within it which rattles if you shake the amulet. It also has Blessed sand grains with the empowerment and spell-casting of Luang Por Liw inserted within the inner shell of the amulet. This particular example is in pristine condition, and has not seen any wear and tear through usage by devotees
Luang Por Liw was born in 2448 BE, Ordained at the age of 27 years old, and remained Ordained until he passed away in 2543 BE, on the 4th of September at 20:35 P.M. Leaving behind him this classic Heritage of Famous 'Rian Tao Ruean' Turtle shape Coin Amulets, that are among the most well known coin amulets in both Thailand, and on Foreign Shores.
Below; the base of the amulet is filled with sacred powders and Luang Por Liw's Legendary ;'Sai Sek' empowerd sandgrains

Anybody who knows these amulets, knows that one should grab them while you can, and that one can never regret owning an amulet of LP Liw, (and especially a famous Tao Ruean Coin Amulet). The amulets of LP Liw are becoming ever more difficult to find
The amulets of Luang Port Liw, are famous for their Maha Lap Kaa Khaay Power to increase Business success and Proficient Salesmanship, and their Power to bring Lucky Fortunes upon the wearer.
For this reason his amulets have become all time classics, that are Internationally Popular with Devotees around the World. The Patipata (Purity of Practice) of Luang Por Liw is also a major strong-point behind the reason for his amulets becoming such all time world famous classic amulets of sacred power, immense esteem and collector-ship value.
Kata Bucha
Chant the Maha Namasakara 3 times before the Kata for the amulet, to Revere and Invoke the Buddha first. This is necessary to perform before chanting any Kata to any Buddhist amulets.
Think of the Buddha and all the Enlightened Buddhas of all the Three Times in the Three Worlds, and their Great Attainments, and call upon their merits to Protect and bring you Prosperity, Health, Happiness, Wealth and Long Life.
Namo Dtassa Pakawadto Arahadto Sammaa Samputtassa - Namo Dtassa Pakawadto Arahadto Sammaa Samputtassa - Namo Dtassa Pakawadto Arahadto Sammaa Samputtassa
Then perform the Kata Aaraatanaa Pra Krueang, by saying in Pali; (whilst also thinking 'i beseech the Buddha, i beseech the Dhamma, and i beseech the Sangha for these wishes...')
Puttang Aaaraatanaanang, Tammang Aaaraatanaanang, Sangkang Aaaraatanaanang.
(then make your prayers and beseech your wishes with eyes closed and direct your mind towards the Devas in the celestial realms).
Then say in Pali; (thinking 'please bestow me with these blessings')
Puttang, Bprasittimae Tammang, Bprasittimae Sangkang Bprasittimae
Temple:Wat Rai Dtaeng Tong
Maker of Amulet:Luang Por Liw
Weight:16 Grams
Recommended Uses:Prosperity, Good Health, Protection, Gurunussati, Metta, Auspiciuous Karma.
Size of Amulet:2 x 1 CM
Encasement Options
Solid Gold Custom casing - we will email you with a price quote, and invoice you if in agreement (0) Stainless Steel Casing (9) Waterproof Casing (9) Without Casing (0)