Pra Benjapakee – Top Amulets of the Five Major Regions of Thailand
The Benjapakee Amulet is a Pantheon of Ancient Amulets that carry Immortal Historical Fame and Legend in the Thai Buddhist Amulet World, and are perhaps the heart of all Thai Buddhist Amulets which have arisen in a myriad of forms based in the Benjapakee Collection of amulets. The Pra Benja-Pakee is a collection of five (the word 'Benja' meaning 'Five' in Sanskrit), top amulets of each of 5 regions (the word 'Pakee' meaning 'Regions' in Sanskrit)
The Five Benjapakee Amulets of Old are;
Pra Somdej, Pra Nang Paya, Pra Pong Supan, Pra Rod Lampun, Pra Sum Gor
This slideshow requires JavaScript.
However, there also are sub variations of these five Regional amulets which most people will also class within the Benjapakee collection, such as the Pra Kong Lampun, the Pra Beum Lampun, are alsop two pra Kru amulets of Lampun Province which are as highly valued as the Pra Rod.Each Region has its own 'Benjapakee' with its own top five amulets of its region. One can also find 'Benjapakee' collections of one single type of amulet, such as the 'Benjapakee' of Look Om Sacred Powder Ball amulets or the Benjapakee of Top Five Regional Pra Pid Ta Amulets.. This is of course a Folk Tradition and so one can find the word Benjapakee used in more than just the case of the classic historical Ancient Amulets known as the classic original Benjapakee Collection.

---
Sak Yant Thai Temple Tattoos E-Book 300 Pages Magical Tattoos and Thailand Occult - Ajarn Spencer Littlewood
03275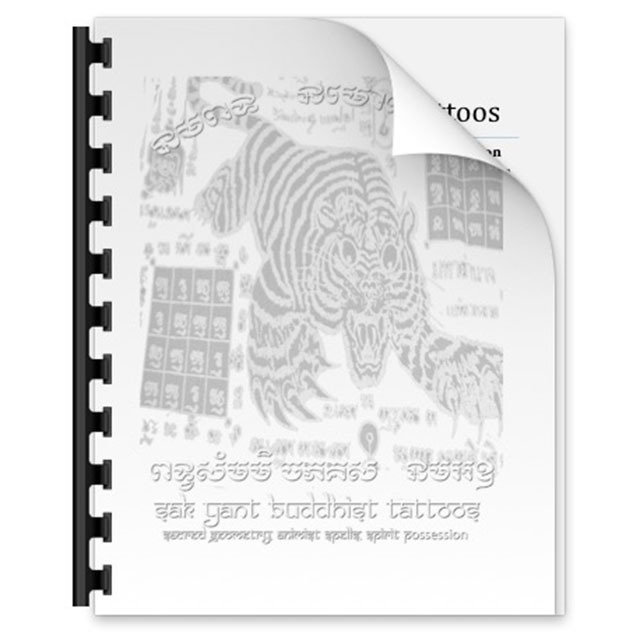 Sak Yant Thai Temple Tattoos; Ajarn Spencer Littlewood's Cult Publication from 2010, which preceded the now Legendary 'Buddha Magic' Ebook Series. Originally titled 'Sak Yant Thai temple Tattoos', Ajarn Spencer changed the name in the last minute to 'Sak Yant Buddhist Tattoos', due to the fact that not all Sak Yant come from Temples, some come from Lay Practitioners.
300 pages of detailed information and images on the Sacred Art of Sak Yant tattooing and the Sacred Geometry of Yantra. An insiders look into the world of Thai Buddha Magic. Being Ajarn Spencer Littlewood's first publication, the book was not as finely honed as the publications which followed, which as they have progressed through the years, have improved in their formatting and quality as experience was gained. Ajan Spencer's Fascinating Journey into the world of Occult Buddhism begins with this his first book, which is focused on the art of Sak Yant Thai Temple Tattoos.
The book ends with a slight digression into other occult practices and amulets, to pave the way for the Buddha Magic Series which was to follow this Book. The Buddha Magic ebook series which follow this book, then branch off into the many facets of Thai buddhist and Animist Occult Practices, Magic Amulets, Necromancy, Myths and Legends.
The book is written by by Anthropologist, Occultist, Linguist and Tattoo Artist, Ajarn Spencer Littlewood, whose experience as a tattoo artist, occultist, and a devout Buddhist led him to begin a 15 year quest which would lead him into the inner sanctums of Thai Buddha Magic and the Samnak Sak Yant, which he has studied, documented and indeed also practiced throughout his apprenticeship to Magic. This book was the result of his first 7 years of study.
Please Note; THIS IS A DIGITAL DOWNLOAD IN EBOOK (PDF) FORMAT - NOT A PHYSICAL BOOK. THE BOOK IS TO BE DOWNLOADED TO YOUR COMPUTER AND READ ON COMPUTER OR MOBILE DEVICE. YOU CAN HOWEVER PRINT ONE COPY FOR YOURSELF IF YOU WISH ON YOUR OWN PRINTER OR AT A PHOTOCOPY AGENCY.
Sak Yant E-Book.
Sak Yant Buddhist Tattoos, Animist beliefs, Spirit Possession, Ritual ceremonies, Magic Amulets
All of the aforementioned topics are talked about in the book. The book goes into surprising amount of detail uncovering some of the still unknown facts about Thai Saiyasart and Buddha magic, as well as revealing the magical methods and rituals for performing some of Thailand's most famous and powerful magic spells.
The Sak Yant E-book is not only about Thai Buddhist and Animist Temple Tattooing. It also delves into the Sacred geometry of the Yantra designs, Ritual ceremonies, amulets and their creation methods, and local Animist beliefs and traditions.
The book was published on July 15th 2010. Screen shots are below. Anyone interested in Sak Yant Tattoos, Thai Buddha Magic, Brahman or Animist practices, or Magic charms and amulets, will find a treasure trove of detailed information in the book. It is of both Occult and Anthropological interest, as well as useful to practicing Buddhists.
How to Buy;
Once you have paid and passed checkout, using either Paypal or your Credit card (through Paypal), you will be taken to the home page. Log in to your account and go to the downloads page.
How to download digital files (ebooks) from Thailand Amulets (watch video tutorial)
The Sak Yant E-Book can be acquired by using the Thailand Amulets dot net E-Publications store, BuddhistAmulet.Net, AmcientAmulet.Com, or the BuddhaMagic.Net store. The E-Book will then be available to you in the download section of your account when you log in. The Ebook will be a Download link in PDF format. The store will lead you to the homepage immediately after payment, or you can leave it until you are ready and download it later from within your account on our website when you log in.
You are permitted to print and bind one single copy for your bookshelf if you like, which is why the ebook is in pdf format instead of .lit format (pdf is for printing not ebooks, and .lit is for reading. But only PDF can print or display pages exactly as they are, so i did this with the idea that people may wish to print a hard copy of the book, I would like to see people do this, and let people hold and read it, because this was my original dream, and would have been printed if i had had enough money to do so at the time.
Enjoy some inside views of the interior of the Ebook, with the below sample pages.
Author:Ajarn Spencer Littlewood
Publication Type:E-Book (Digital Download Virtual Goods)
Publisher:Buddha Magic Multimedia & Publications
Format:PDF Printable Document Format File in A4
Language:English
No. of Pages:300 Pages