Pra Benjapakee – Top Amulets of the Five Major Regions of Thailand
The Benjapakee Amulet is a Pantheon of Ancient Amulets that carry Immortal Historical Fame and Legend in the Thai Buddhist Amulet World, and are perhaps the heart of all Thai Buddhist Amulets which have arisen in a myriad of forms based in the Benjapakee Collection of amulets. The Pra Benja-Pakee is a collection of five (the word 'Benja' meaning 'Five' in Sanskrit), top amulets of each of 5 regions (the word 'Pakee' meaning 'Regions' in Sanskrit)
The Five Benjapakee Amulets of Old are;
Pra Somdej, Pra Nang Paya, Pra Pong Supan, Pra Rod Lampun, Pra Sum Gor
This slideshow requires JavaScript.
However, there also are sub variations of these five Regional amulets which most people will also class within the Benjapakee collection, such as the Pra Kong Lampun, the Pra Beum Lampun, are alsop two pra Kru amulets of Lampun Province which are as highly valued as the Pra Rod.Each Region has its own 'Benjapakee' with its own top five amulets of its region. One can also find 'Benjapakee' collections of one single type of amulet, such as the 'Benjapakee' of Look Om Sacred Powder Ball amulets or the Benjapakee of Top Five Regional Pra Pid Ta Amulets.. This is of course a Folk Tradition and so one can find the word Benjapakee used in more than just the case of the classic historical Ancient Amulets known as the classic original Benjapakee Collection.

---
Suea Gae Tiger Amulet Carved Hipappotamus Tusk Early Era Luang Phu Tim Wat Laharn Rai
03551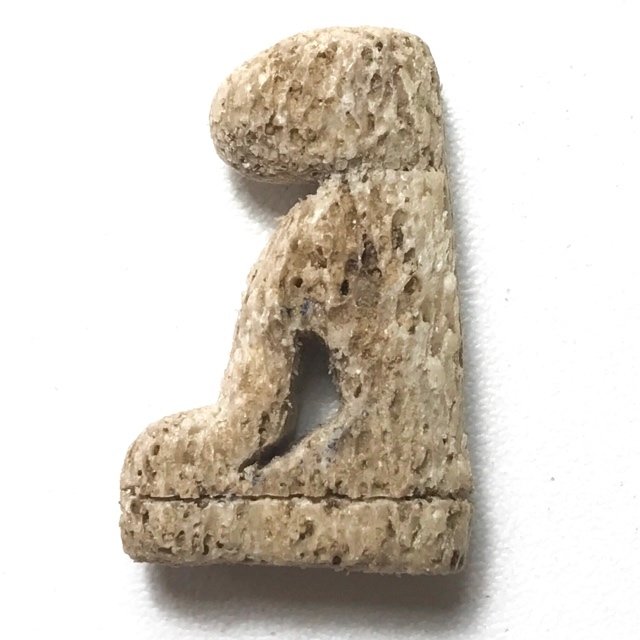 An extremely rare and powerful Maha Amnaj Kong Grapan Chadtri Maha Pokasap 'Krueang Rang' Talismanic Animist Charm Amulet from the great Luang Phu Tim of Wat Laharn Rai in Rayong. The Suea Gae is hand carved from the jawbone of a 'Chang Nam' (Water Elephant) Hippopotamus Tusk. The amulet is intended for Kong Grapan Chadtri Invincibility, Metta Maha Niyom Mercy Charm, Klaew Klaad Evasion of Enemies, Maha Amnaj Commanding Power, and Serm Yos Status Increase.
Graam Chang (elephant jawbones) and Graam Chang Nam (hippapotamus jawbones) are seen to be powerful magic according to the ancient Dtamra Saiyawaet of Animist Sorcery, and the Grimoires of Formulas of Powerful Magical Ingredients. The Graam Chang Nam Walrus Jawbone is carved into the shape of a tiger seated in regal poise looking out over his Kingdom, and keeping watch. The Graam Chang Nam can be seen to be ancient and have the typical porosity to its substance as is expected in authentic carvings of Graam Chang Nam amulets.
Graam Chang Nam is mnuch rarer to encounter than Graam Chang elephant jawbone, and it is said that Luang Phu Tim received the piece of Graam Chang in only small quantity, so not many of these amulets were carved in total. Luang Phu Tim was and remains one of the Greatest and most highly famed Guru Masters, right up to the present day, many decades after his passing. His amulets are eminent members of the top master-class category amulet pantheons of all history, including his famous Rian Guru Monk Coins in many editions, and of course his Pra Khun Phaen and Look Om and other Pra Pong Prai Kumarn amulets, which are the stuff of legend.
Luang Phu Tim Issarigo, is of course not only one of the most highly acclaimed and sought after Guru Monks for his amulets, he is the holder of the highest esteem in Thai Buddhist amulet history for Pong Prai Kumarn powders. Luang Phu Tim, is Internationally Acclaimed, for his famous Pra Kring Chinabanchorn, his Pra Khun Phaen Pong Prai Kumarn, and Look Om powder balls.
As to the classic 'Rian' Monk coin Image amulets which have become all time favourites, and eternally, world famous classic amulets of the high end variety.As to the classic 'Rian' type coin image amulets which have become all time favourites, and eternally, world famous classic amulets of the high end variety. His Rian Jaroen Porn, and Rian Nakprok Paed Rorp, Rian Huang Chueam, Rian Mae Nam Koo, and Rian Sema are amongst the most highly sought after coin amulets of all. The Pra Kring Chinabanchorn amulet of Luang Phu Tim is one of his most expensive of all amulets, and extremely rare to find.
He has various direct lineage apprentices, Who are continuing to progress and spread his most powerful and world-famous Wicha. Of all of these masters, perhaps the most famous, preferred, is Luang Por Sakorn, of Wat Nong Grub (also now deceased). In second place one could possibly estimate the great Luang Phu Sin, of Wat Laharn Yai, and in third place, possibly, Pra Ajarn Somkid, of Wat Beung Tata (Rayong).
Temple:Wat Laharn Rai
Maker of Amulet:Luang Phu Tim Issarigo
Weight:5 Grams
Recommended Uses:Commanding Power, Invincibility, Evasion, Cornucopia, Promotion And Success
Number of Amulets Made:Unknown (Extremely Few Numbers)
Size of Amulet:2.7 x 1.5 x 1 Cm
Encasement Options
Solid Gold Custom Casing - We will email you with a price quote according to current Gold Prices, and Invoice You after Agreement. (0) Solid Silver Custom Casing - We will email you with a price quote according to current Silver Prices, and Invoice You after Agreement (0) Waterproof Casing (Free Offer) (0) Stainless Steel Casing (Free Offer) (0) None (0)