Pra Benjapakee – Top Amulets of the Five Major Regions of Thailand
The Benjapakee Amulet is a Pantheon of Ancient Amulets that carry Immortal Historical Fame and Legend in the Thai Buddhist Amulet World, and are perhaps the heart of all Thai Buddhist Amulets which have arisen in a myriad of forms based in the Benjapakee Collection of amulets. The Pra Benja-Pakee is a collection of five (the word 'Benja' meaning 'Five' in Sanskrit), top amulets of each of 5 regions (the word 'Pakee' meaning 'Regions' in Sanskrit)
The Five Benjapakee Amulets of Old are;
Pra Somdej, Pra Nang Paya, Pra Pong Supan, Pra Rod Lampun, Pra Sum Gor
This slideshow requires JavaScript.
However, there also are sub variations of these five Regional amulets which most people will also class within the Benjapakee collection, such as the Pra Kong Lampun, the Pra Beum Lampun, are alsop two pra Kru amulets of Lampun Province which are as highly valued as the Pra Rod.Each Region has its own 'Benjapakee' with its own top five amulets of its region. One can also find 'Benjapakee' collections of one single type of amulet, such as the 'Benjapakee' of Look Om Sacred Powder Ball amulets or the Benjapakee of Top Five Regional Pra Pid Ta Amulets.. This is of course a Folk Tradition and so one can find the word Benjapakee used in more than just the case of the classic historical Ancient Amulets known as the classic original Benjapakee Collection.

---
Suriya Taep Pra Rahu Nuea Makasit - Chalong Sala Garn Bprian Edition 2538 BE - Luang Phu Prohmma
03314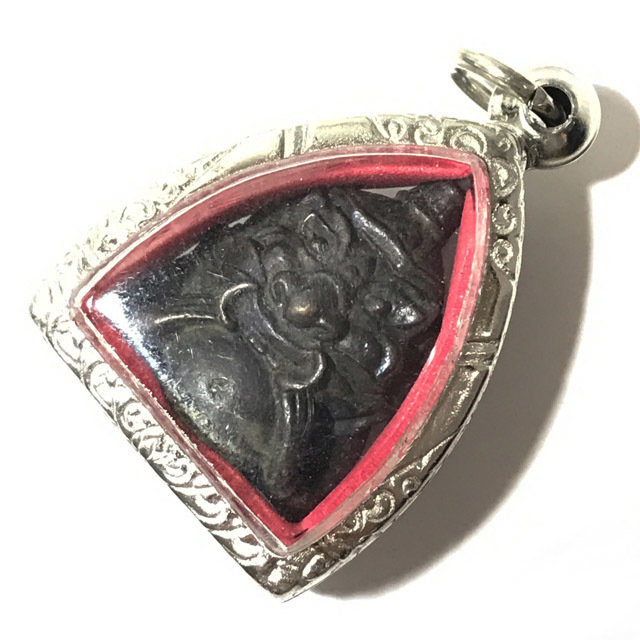 Suriyataep Pra Rahu Asura Deva Eclipse God in Nuea Maekasit Alchemical metals from the year 2538 BE with casing included, and original temple box, from Luang Phu Prohmma, of Wat Suan Himapant Nang Koi, in Ubon Rachatani. The image of Pra Rahu is swallowing the moon in his hands, with two large tusks
The amulet is imbued with the power of alchemy through ancient magical forging methods, and was blessed during eclipse, to invoke Pra Rahu Asura Deva, God of the Eclipse, and Ruler of Astrological Karmic Influences . This Pra Rahu was released in the Chalong Sala Garn Bprian Edition of 2538 BE the and is along with all amulets of Luang Phu Prohmma, extremely rare and highly regarded, and sought after by the devotees of Luang Phu Prohmma, and those seeking the power to turn their luck around, improve their Karma
Therear face of Luang Phu Prohmma of Wat Suan Himapant Nang Koi (Ubon Rachatani), is one of Thailands Historically famous Gaeji Ajarn Master Monks of the Isan region. He ordained as a Samanera at the age of 12, and learned how to make Buddha Magic at this ripe young age with Somdej Lun, a Khmer Master of Jampa Sak. He studied for 6 years under this Master, who passed away at this point. After the death of his teacher in Buddha Magic, Luang Por Prohm wandered around the country in Tudong practice (aimpless wandering of an ascetic). It was during this time that Luang Phu Prohmma was able to meet and study under the great Arahant Luang Phu Mun Puratto.
After studying with Luang Phu Mun, LP Prohmma then went to live in a Cave on the peak of a mountain called Khao Kway, and he remained here practicing in solitary for a period of 45 years. After this, he crossed the bhorder into Thailand in the year 2533, where he went to stay in a cave where he had noticed that many wild animals would come and cross paths and coexist together. He stayed in this cave practicing, and his merits and renunciation became so well known, that even Somdej Prataep Radtana Rachasuda Siam Boroma Rachachonanee (the Royal Princess), travelled twice to pay reverence and offerings to Luang Phu Prohmma.
Up to his death, Luang Phu Prohmma had helped the local folk of the forest and farmers with various projects to develop the area, or preserve the wild forest and natural habitat. Luang Phu Prohmma of Samnak Songk Tham Suan Hin Gaew (Phaa Nang Koi), Poo Grajiaw mountain, Ban Dong Na, Sri Mueang Mai, Ubon Rachatani, passed away from heart disease in 2545 BE at the respectable age of 105 years old.
This amulet has the powerful blessings made by a Monk who has practiced in the way of the Lersi for all of his adult life, living in caves and stripped bare of luxuries and comforts, and spending the dark hours in solitude and meditation in the forest caves. A monk who developed his Jhanic powers and the methods of invocations of the ancient Lersi Hermit Gods.
Luang Phu Prohmma's amulets are of high credibility, authentic power, and fine quality craftsmanship. The base has a code number of authentic limited edition embossed into it. Made from the finest pure silver, this amulet is quite heavy.
LP Prohmma is known to make extremely powerful amulets, and especially his Pra Lersi Hermit God amulets, and this is due to the fact that, as he was wandering on Tudong, he learned Wicha from a Lersi who was living in the forest. This was part of what caused LP Prohmma to be inclined to make so many tens of famous editions of Lersi amulets (for it is the Lersi for which he is famous in the amulet world) Most editions of his Lersi amulets were made from sacred herbal powders and pollens, but because of their brittleness and easy to break, the Devotees began to ask for Lersi amulets as metal coins or statuettes. His Pra Rhu are renowned for their powerful magic
Luang Phu Prohmma's amulets are of the finest and most powerful, but are very rare to find these days, because those who worship Luang Phu Prohmma and his amulets tend to keep them, and are not likely to let themgo again. The Pra Rahu is a powerful protector against physical and unworldly dangers, and is also a very recommendable item for those who like to play lottery, and those who need to break unlucky phase, and convert one's life into an auspicious one. Pra Rahu Protects against black magic, increases power of meditation, gain prosperity, protect from accidents and attacks, promotion in profession, success with less obstacles.
Around the year 2536 BE, Luang Phu Prohmma's amulets hit the news in a big way, when a famous politician of Nakorn Sawan Proovince was caught up in a shooting in an assassination attempt, and was shot at point blank range as he sat at a red light in his car. The automatic weapon used to shoot with riddled the car with bullets and the windscreen was totally smashed, but the Politician who was shot was completely unharmed by the bullets. (the bullets hit him, but did not pierce his skin).
The politician was wearing a single amulet, that of Luang Phu Prohmma. Since this event, the amulets of Luang Phu Prohmma have more or less disappeared from public amulet marketplaces and showrooms to the greater extent, and the value rose manyfold, making the amulets of Luang Phu Prohmma not only sacred and beautiful, but confirmably powerful, extremely rare, and carry a pricetag that reflects their status.
Gae Aathan (remove Black Magic), Gan Phii (scare Ghosts away), Metta Mahaniyom (great preference and popularity), Serm Yos (Increase Status and Chance of Promotion) Serm Duang (invoke an auspicious fate and destiny, horoscope). When you begin to Bucha Rahu Deity, you should make the first ever session in the evening of a Wednesday (any time from 7 pm onwards).After you have done this once, you can make Bucha in the daytime if you wish, but the first time you must include the food offerings of black foods as well as the black incense. The second time onwards only the incense is necessary in the daytime if it is a lot of trouble to get the food offerings.
Always chant the Praise to Buddha first three times;
Na Mo Dtassa Pakawadto Arahadto Sammaa Samputtassa
Na Mo Dtassa Pakawadto Arahadto Sammaa Samputtassa
Na Mo Dtassa Pakawadto Arahadto Sammaa Samputtassa
Chant 3 times on your knees with palms placed together, and bowing each time, with each palm to the floor and your outstretched thumbs touching at the tips, this leaves just enough space for the forehead to bow down and touch the floor between your two hands.
Then chant the refuge in the triple gem until entering Nirvana – chant with with hands raised in prayer, and bow after each line is finished;
Refuge;
Puttang Cheewidtang Yaawanippaanang Saranang Kyajchaami (bow once)
Tammang Cheewidtang Yaawanippaanang Saranang Kyajchaami (bow once)
Sankang Cheewidtang Yaawanippaanang Saranang Kyajchaami (bow once)
Tudtiyambpi;
Puttang Cheewidtang Yaawanippaanang Saranang Kyajchaami (bow once)
Tammang Cheewidtang Yaawanippaanang Saranang Kyajchaami (bow once)
Sankang Cheewidtang Yaawanippaanang Saranang Kyajchaami (bow once)
Dtadtiyambpi;
Puttang Cheewidtang Yaawanippaanang Saranang Kyajchaami (bow once)
Tammang Cheewidtang Yaawanippaanang Saranang Kyajchaami (bow once)
Sankang Cheewidtang Yaawanippaanang Saranang Kyajchaami (bow once)
Then you can chant all or any of the following Kata when and as you feel the wish or need, as additional Bucha
Suad Pra Kata Bucha Pra Rahu
12 repetitons of the Kata Bucha Pra Rahu are to be Chanted;
Idtipiso Pakawaa Pra Rahuu Sataewaa Samaa Winyaana Idtipiso Pakawaa Putta Sangmi
Kata Surya Buppaa (Kata to be chanted in the daylight)
Gusaedto Ma Ma Gusaedto-dto Laalaa Ma Ma Dtolaamo Tolaamo Ma Ma Tolaamo Ma Ma Tolaamodtang Haegudti Ma Ma Haegudti
Kata Jantrabupbhaa (Kata to be chanted in the night time)
Yadt-thadtang Ma Ma Dtangthaya Dtawadtang Mamadtang Wadtidtang Saegaa Ma Ma Gaasaegang Gaadtiyang Ma Ma.Gaadtiyang Ma Ma Yadtigaa
Temple:Wat Suan Himapant Nang Koi
Maker of Amulet:Luang Phu Prohmma
Weight:30 Grams
Recommended Uses:Serm Duang, Klaew Klaad, Serm Yos, Gae Aathan, Maha Lap, Maha Pokasap
Size of Amulet:2.5 x 3 Cm
Encasement Options
Solid Gold Custom Casing (Waterproo​​​​​​​​f) - We will email you with a price quote according to current Gold Prices, and Invoice You after Agreement (0) Waterproof Casing (0) Original Stainless Steel Casing (0)