Pra Benjapakee – Top Amulets of the Five Major Regions of Thailand
The Benjapakee Amulet is a Pantheon of Ancient Amulets that carry Immortal Historical Fame and Legend in the Thai Buddhist Amulet World, and are perhaps the heart of all Thai Buddhist Amulets which have arisen in a myriad of forms based in the Benjapakee Collection of amulets. The Pra Benja-Pakee is a collection of five (the word 'Benja' meaning 'Five' in Sanskrit), top amulets of each of 5 regions (the word 'Pakee' meaning 'Regions' in Sanskrit)
The Five Benjapakee Amulets of Old are;
Pra Somdej, Pra Nang Paya, Pra Pong Supan, Pra Rod Lampun, Pra Sum Gor
This slideshow requires JavaScript.
However, there also are sub variations of these five Regional amulets which most people will also class within the Benjapakee collection, such as the Pra Kong Lampun, the Pra Beum Lampun, are alsop two pra Kru amulets of Lampun Province which are as highly valued as the Pra Rod.Each Region has its own 'Benjapakee' with its own top five amulets of its region. One can also find 'Benjapakee' collections of one single type of amulet, such as the 'Benjapakee' of Look Om Sacred Powder Ball amulets or the Benjapakee of Top Five Regional Pra Pid Ta Amulets.. This is of course a Folk Tradition and so one can find the word Benjapakee used in more than just the case of the classic historical Ancient Amulets known as the classic original Benjapakee Collection.

---
Pra Nang Paya Pim Lek - Nuea Pong Nam Man 2516 BE - Luang Phu Waen Sujinno - Blessed with Many Masters Luang Por Kasem Luang Phu To Luang Por Pae Luang Por Chaem Luang Por Phang
02603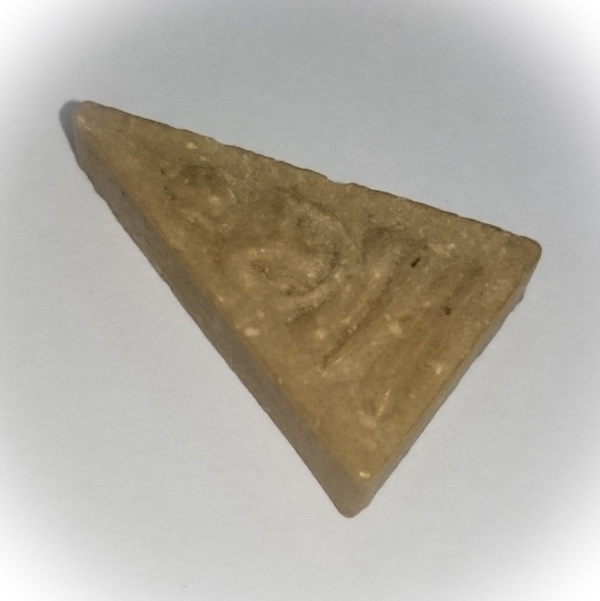 This now classic and preferred rare ancient amulet was released through Wat Plab Pla, by Luang Phu Waen Sujinno of Wat Doi Mae Bpang. Made from Nuea Pong Nam Man (high Tang Oil quantity Sacred Puttakun Powder Muan Sarn mixture).
This Pim Lek small model Nang Paya amulet, is in incredibly good condition, and almost without any wear and tear at all, its having been kept without wearing, and carefully preserved as a showcase amulet in the home of its owner, and is hence, in pristine condition despite its Mature Age of many decades.
The amulet was blessed by not only Luang Phu Waen, but a large number of some of the Greatest Thai Buddhist Master Monks of this Century. Amongst the many Great Master Monks present for 'Nang Prok' (Sitting in Meditative Empowerment) were the following;
Luang Por Kasem Khemago, Luang Por Phang, Luang Por Pae Wat Pikul Tong (Singhburi), Luang Phu To (Wat Pradoo Chimplee, Luang Phu Tiam (Wat Kasatratirach) Luang Por Gae of Wat Pak Nam, and Luang Por Chaem of Wat Don Yay Hom.
This Pim Lek small Nang Paya Amulets is a highly recommendable amulet for one's children of for a lady, for its petite size, and has an immensely high Puttakun Sacred Value for the number of Arahant Monks who blessed it, and can be most certainly considered a perfect Family Heirloom amulet to pass on to one's descendants, as a truly Sacred Ancient Amulet of immensely favorable popularity.
The amulet itself is now extremely rare to find, and is a perfect addition to one's collection for collectors and devotees of Luang Phu Hwaen amulets, as well as its connections with the other Great Guru Master Monks who are accredited with its Major Putta Pisek Blessing Ceremony which was performed at Wat Plab Pla in Nontaburi in the year 2516.
This amulet is only found in circulation in the circles of devotees of Luang Phu Hwaen of Central Thailand, making its rairty rather extreme, due to the fact that Luang Phu Hwaen is a Northern Master of Chiang Mai Province, but who released the amulets to assist the Temple of Wat Plab Pla in Nontaburi, and for this reason, is a very difficult to find amulet in the Northern Regions, where Luang Phu Hwaen amulets are generally sought after the most of all.
Luang Phu Waen Sujinno (Thai: หลวงปู่แหวน สุจิณโณ, also known as Pra Ajarn Waen Sujinno, popularly known as Luang Phu Waen meaning Venerable Grandfather; 16 February 1887 – 2 July 1985) is one of the longest living students of Phra Ajahn Mun Bhuridatta and was a very popular monk in Thailand. Another true ascetic at heart, he led the Tudong life of Forest Wandering Ascetisim, until the point where he could not physically travel any more and had to settle in a forest monastery in the Chiang Mai region. Luang Phu Waen was a revered monk, highly skilled in Samadhi Meditation, and Dhamma.
The most remarkable characteristic of Luang Phu Waen, was his dislike of crowded places. He loved to live alone in the forests away from people and urbanized areas just like his teacher, Ajahn Mun Bhuridatta. Some people say that Luang Phu Waen had achieved Arahantship. Tahn Jao Khun Nor had in fact mentioned that "There is a Pra Arahant, but he lives far away, in the forest", and that this referred to Luang Phu Waen.
Temple:Wat Plab Pla
Maker of Amulet:Luang Phu Hwaen Sujino (Wat Doi Mae Bpang, Chiang Mai)
Weight:4 Grams
Recommended Uses:Improve Auspicious karma, Wealth and Prosperity, Protection and Evade Danger.
Number of Amulets Made:Unknown
Actual Weight of Gold in Casing Frame:3.5 Grams
Size of Amulet:2 x 1 Cm
Encasement Options
Solid gold custom casing (we will email you with a price quote according to current gold prices at the time of inquiry) (0) Waterproof Casing (8) Without Casing (0)