Pra Benjapakee – Top Amulets of the Five Major Regions of Thailand
The Benjapakee Amulet is a Pantheon of Ancient Amulets that carry Immortal Historical Fame and Legend in the Thai Buddhist Amulet World, and are perhaps the heart of all Thai Buddhist Amulets which have arisen in a myriad of forms based in the Benjapakee Collection of amulets. The Pra Benja-Pakee is a collection of five (the word 'Benja' meaning 'Five' in Sanskrit), top amulets of each of 5 regions (the word 'Pakee' meaning 'Regions' in Sanskrit)
The Five Benjapakee Amulets of Old are;
Pra Somdej, Pra Nang Paya, Pra Pong Supan, Pra Rod Lampun, Pra Sum Gor
This slideshow requires JavaScript.
However, there also are sub variations of these five Regional amulets which most people will also class within the Benjapakee collection, such as the Pra Kong Lampun, the Pra Beum Lampun, are alsop two pra Kru amulets of Lampun Province which are as highly valued as the Pra Rod.Each Region has its own 'Benjapakee' with its own top five amulets of its region. One can also find 'Benjapakee' collections of one single type of amulet, such as the 'Benjapakee' of Look Om Sacred Powder Ball amulets or the Benjapakee of Top Five Regional Pra Pid Ta Amulets.. This is of course a Folk Tradition and so one can find the word Benjapakee used in more than just the case of the classic historical Ancient Amulets known as the classic original Benjapakee Collection.

---
Pra Nang Paya Pim Wat Sam Plerm Chud Wat Bor Win 2518 BE - Luang Phu Tim Issarigo - Wat Laharn Rai
03223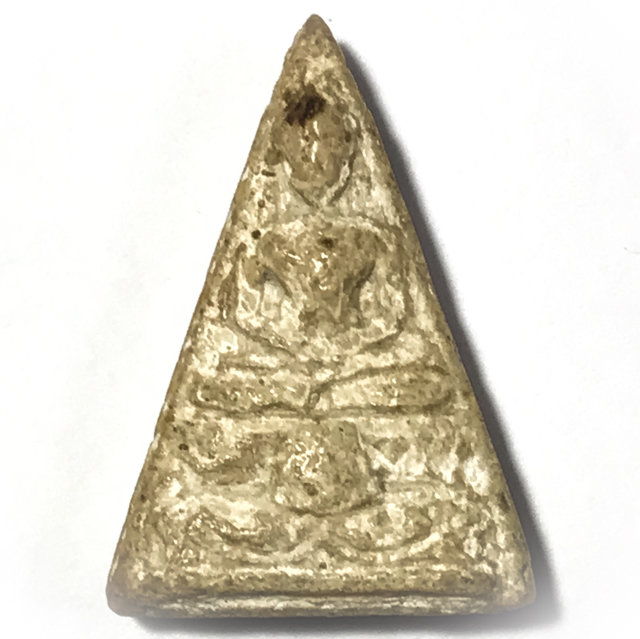 Pra Pim Wat Sam Plerm Chud Wat Bor Win 2518 BE, by Luang Phu Tim Issarigo, of Wat Laharn Rai - '9 Gaeji 9 Piti' (Blessed in 9 Empowerment Ceremonies by 9 great Masters), with a final 9 Month ceremony of empowerment by Luang Phu Tim, before passing for release at the temple of Wat Bor Win, in Chonburi.
The Pra Chud Wat Bor Win amulet series, is an officially accepted edition of the pantheon of Luang Phu Tim, and a Pra Niyom Category Master Class amulet of High Status, with Indisputably Sacred Blessings. The edition was created from Muan Sarn Sacred Powders donated by the Great Luang Phu Tim Issarigo, of Wat Laharn Rai, to Mr. Manoche Hlao Khwan Sathitya, who was the first Looksit of Luang Phu Tim, to make this edition for Pra Ajarn Gim, who commissioned it in the year 2516 - 2516 BE, for release in 2518 BE.
The Muan Sarn Sacred Powders contained the following ingredients; Puttakun Powders, Pong Prai Kumarn, Civara robe of Luang Phu Tim, Gesa (hairs) of Luang Phu Tim, The head cushion of Luang Phu, which he had slept on since his ordination as a young boy, and Ploi Sek enchanted Gemstones.
Once the powders and other sacred artifacts were all mixed into the Muan Sarn Sacred Clay, and the various Pim (models) of amulet designs were pressed, they were given to Luang Phu Tim, who performed a Traimas 3 month Trimester of solo empowerments.
After this, they were passed around the country to be empowered by 8 other Great Master Monks with Abhinya Powers; 1. Pra Ajarn Fan (Wat Pha Udom Somporn), 2. Luang Phu Sim (Wat Tham Fa Plong), 3. Luang Phu To (Wat Pradoo Chimplee), 4. Luang Phu Khaw (Wat Tham Gong Plae), 5. Pra Ajarn Wan (Wat Tham Apai Damrong Tam), 6. Luang Phu Waen Sujjino (Wat Doi Mae Pang), 7. Luang Phu Doon (Wat Buraparam), and 8. Luang Phu Sam (Wat Pha Dtrai Wiwek).
After each of these Great Masters had received the amulets and bestowed their Blessings and Empowerment, the amulets were brought back to Luang Phu Tim Issarigo at Wat Laharn Rai. Luang Phu Tim then gave the amulets a further empowerment session which lasted from the 9th October 2517 BE, until the 29th of July 2518 BE, which was a total of 9 months and 20 days continuous empowerment. This makes this series of amulets a sure bet for powerful blessings, and a most recommendable alternative to many of the other now unaffordable amulets of Luang Phu Tim of Wat Laharn Rai.
A large number of different models (Pim) were made for this series edition, some with images of Master Monks on them, some with Buddha Images such as Pra Somdej, some with Pid Ta. Some had a Yantra Embossed on the rear face (some indented, some bulging), and others had no stamp, whereas others received rubber ink stamps on the rear face. The edition is hence highly caried, and has taken decades to document and confirm all the models. The last few years saw a serious increase in documentation about this edition, and the disappearance of other famous editions which have depleted (e.g. the Wat Pai Lom and Wat Sri Palotai editions).
This has caused the Wat Bor Win series has to become the most important series for the devotees of Luang Phu Tim to collect, being one of the few remaining editions blessed by Luang Phu Tim which are not already depleted, or in the hands of the 'Sian Pra' Monopolists. The recently increased documentation of this edition, has served for the Wongarn Sian Pra (Expert Collector Groups), to have snapped up most of the remaining amulets, and the edition has now become an extremely sought after and fast disappearing edition.
A Pra Niyom Classic that is destined to become an Immortal Favourite and an Essential Rarity, which wil be ever more highly regarded, and never forgotten. Its Sacred Power to Bless and Protect should be undoubted, for the Blessings of the many great masters whose powers go undisputed, and the Sacred Muan Sarn Sacred Powders donated by Luang Phu Tim. This amulet is classifiable as a 'Pra Anuraks' (Conservation Class Model Amulet) of the Dtamra Luang Phu Tim, of Wat Laharn Rai (Rayong).
An extremely recommendable collectors piece for your personal museum, for its high Puttakun value, but still affordable price compared to many other models, such as the Pra Khun Phaen Pong Prai Kumarn, Pra Kring Chinabanchorn, Rian Jaroen Porn and the Rian Sema Luang Phu Tim. Who would not wish to possess and revere this most classic, rare, sacred, powerful, but still affordable Pra Kru amulet. This edition, along with the Wat Pai Lom Edition are now most sought after, since the complete depletion of the already extreme high price range editions which came directly from Lat Laharn Rai. Such amulets are now only affordable by the wealthiest of devotees and collectors, and which require a very high level of expertise in recognizing and authenticating before risking their purchase.
Officially catalogued and admitted into the top prize-giving competitions, this is a perfect amulet to begin on a smaller budget to enter into the High End Category of Thai Buddhist Amulet collectorship, and competition grade amulets for entry into the world of Pro-Collector Sacred Ancient Amulets of the First Class. Luang Phu Tim stands amongst the top ten Guru masters of Thai Amulet History, and Hence, this amulet can only be recommended for its status, sacred value, magical power, artistic appreciation, and collectorship value

Luang Phu Tim stands amongst the top ten Guru masters of Thai Amulet History, and Hence, this amulet can only be recommended for its status, sacred value, magical power, artistic appreciation, and collectorship value, especially considering how low its price is compared to other amulets from this master, and the added benefit that this amulet is accepted just as easily into competition, as other amulets of a much, much higher price entry level.

Kata Luang Phu Tim
MA A U TUGKHANG ANIJJANG ANATTĀ PUTTO PUTTO
Kata Bucha Luang Phu Tim
Arahang Samma Samputto Nachaa Lidti – Anadtaa Agusalaa Tammaa Namoputtaaya

Kata Pra Somdej Nang Paya
Puttang Ārātanānang Tammang Ārātanānang Sangkang Ārātanānang - (Make a Wish/Prayer and continue with); Puttang Bprasittimē Tammang Bprasittimē Sangkang Bprasittimē
Temple:Wat Bor Win/Wat Laharn Rai
Maker of Amulet:Luang Phu Tim Issarigo
Weight:3 Grams
Recommended Uses:Protection, Successful Business, Wealth and Status, Mercy Charm
Size of Amulet:2.5 x 1.5 Cm
Encasement Options
Solid Gold Custom Casing (We will email you with a price quote, and Invoice You after Agreement) (0) Waterproof Casing (0) None (0)