Pra Benjapakee – Top Amulets of the Five Major Regions of Thailand
The Benjapakee Amulet is a Pantheon of Ancient Amulets that carry Immortal Historical Fame and Legend in the Thai Buddhist Amulet World, and are perhaps the heart of all Thai Buddhist Amulets which have arisen in a myriad of forms based in the Benjapakee Collection of amulets. The Pra Benja-Pakee is a collection of five (the word 'Benja' meaning 'Five' in Sanskrit), top amulets of each of 5 regions (the word 'Pakee' meaning 'Regions' in Sanskrit)
The Five Benjapakee Amulets of Old are;
Pra Somdej, Pra Nang Paya, Pra Pong Supan, Pra Rod Lampun, Pra Sum Gor
This slideshow requires JavaScript.
However, there also are sub variations of these five Regional amulets which most people will also class within the Benjapakee collection, such as the Pra Kong Lampun, the Pra Beum Lampun, are alsop two pra Kru amulets of Lampun Province which are as highly valued as the Pra Rod.Each Region has its own 'Benjapakee' with its own top five amulets of its region. One can also find 'Benjapakee' collections of one single type of amulet, such as the 'Benjapakee' of Look Om Sacred Powder Ball amulets or the Benjapakee of Top Five Regional Pra Pid Ta Amulets.. This is of course a Folk Tradition and so one can find the word Benjapakee used in more than just the case of the classic historical Ancient Amulets known as the classic original Benjapakee Collection.

---
Pra Plod Hnee Pim Tao Wua - 2 sided Buddha Amulet with Turtle and Bull - Luang Por Pina - Wat Sanom Lao
02638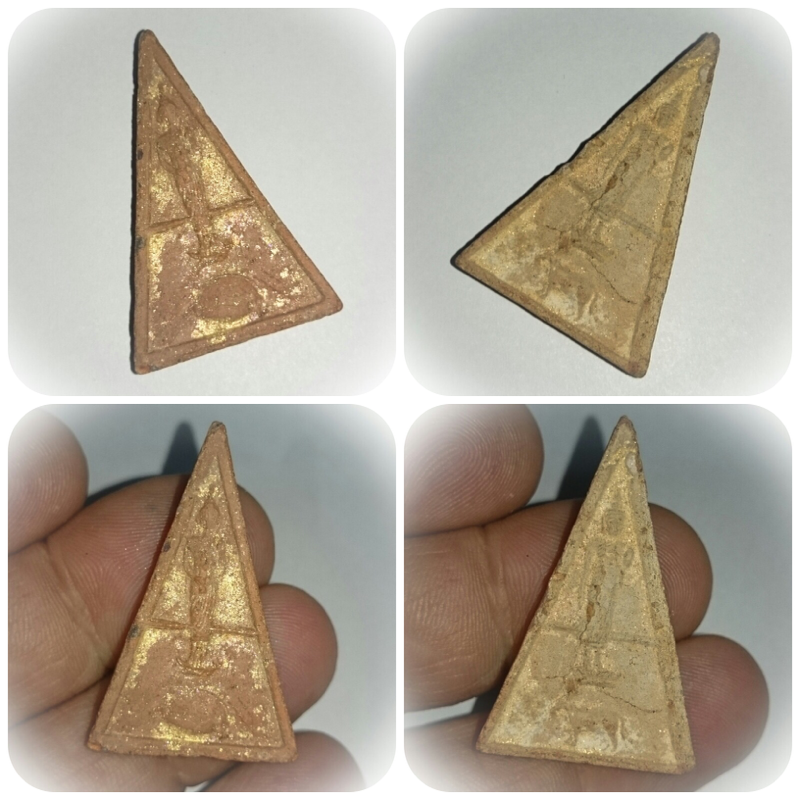 Pra Pim Sam Liam Plod Hnee Tao Wua (Pim Yai) - This is the larger of Luang Por Pina's famous and rare Two sided sacred powder amulet with Dhyani Buddha Images (any 2 of a total possible 5 were made in differing combinations). Different Animal Steeds are featured, some combinations being rarer than others. This model features the turtle and the bull.
Many Thai people prefer to call this amulet 'Pra Nang Paya Khee Sadtw', which means Nang Paya Buddha riding Animals'.
The smaller version also features five different Buddha Postures with different kinds of animal steeds. Each Buddha Image is seated over an animal Mascot as a steed, one side with a Bull, and the other side featuring a Turtle. The five different Buddhas which are found to appear on these amulets represent the five Dhyani Buddhas of this Kalpa (a Kalpa is an Aeons long period of time in Universal Cosmic time).
The Five different Dhyani Buddhas which are allocated to these amulets, which differ in various models, can be recognised by the animals they ride upon; Kakusanta Buddha is allocated with a Cockerel, Konakama Buddha is pictured with a Naga as his steed, Kassapa Buddha is pictured with a Turtle, Gautama Buddha is pictured with a Bull, and the Maitreya Buddha is pictured with a Lion.
In Vajrayana Buddhism, the Five Dhyani Buddhas (Chinese: 金刚界五智如来 / 五方佛), also known as the Five Wisdom Tathāgatas (Chinese: 五智如来; pinyin: Wǔzhì Rúlái), the Five Great Buddhas and the Five Jinas (Sanskrit for "conqueror" or "victor"), are representations of the five qualities of the Buddha. The term "dhyani-buddha" is first recorded in English by the British Resident in Nepal, Brian Hodgson, in the early 19th century, and is unattested in any surviving traditional primary sources.
These five Buddhas are a common subject of Vajrayana mandalas. These five Buddhas are the primary object of realization and meditation in Shingon Buddhism, a school of Vajarayana Buddhism founded in Japan by Kūkai. (Wikipedia - The 5 Dhyani Buddhas).
Above; Pra Plod Hnee Pim Tao Wua (Bull side) Luang Por Pina Wat Sanom Lao Circa 2525 BE ++
These amulets are highly regarded for their Metta Mahaniyom, Maha Lap Klaew Klaad and Maha Pokasap Powers as well as the obvious Power of Serm Duang ability to improve fate and destiny. They are filled with Puttakun Blessings of the 5 Buddhas of this Universal Cosmic Cycle, and offer Protection and Prosperity. Made from extremely rich admixture of sacred earths and magical Muan Sarn powders, with gold leaf pasted on them which reveals their details with increased clarity and beauty.
Pra Plod Hnee Pim Tao Wua (Turtle Side) Luang Por Pina Wat Sanom Lao
This amulet is 'Doo Ngaay' (easy to see it is real), for its clearly recognisable Muan Sarn. It is hence considered Ongk Kroo as a reference model for further study to increase the powers of recognition of authenticity of the amulets of Luang Por Pina
This is for its easily recognisable features and Muan Sarn Powders allow one to easily distinguish the authenticity of any other exhibit when held side by side for comparison, making it a Master Key for teaching the eyes to recognise Luang Por's famous Sacred Powders, as well as the effects of aging over the years, as to how discoloration and surface mildews should appear in a true authentic example of the Daw Aathan Hnun Duang.
Luang Por Pina is the deceased Abbot of Wat Sanom Lao in Sra Buri and was said to have possessed Abhinya Powers, and to have Mastered the 10 Kasina Powers of Elemental Magical Dominion.
It is said that he was able to read the minds and intentions of other Humans, and bring amulets to life with is Empowerment Methods, and that his amulets were able to give signs and also can be beseeched and prayed to for wish fulfilment (Sarapat Neuk). There are many stories of Miraculous Events occurring through his amulets.
Luang Por Pina is known to have performed strange Magical feats in front of the eyes of his disciples many times, especially when devotees would ask him for an amulet. He would ask the devotee to lay down and open their eyes, and would take a handful of sand and pour it over their face, as they would hold the amulet in the hand.
But the sand would bounce back before it hit their eyes, and no matter how much was poured on the face, not a single grain of sand would be able to enter the eyes of the devotee, becoming repelled as if by a force field before it touched the eyes.
Above Pic; The corpse of Luang Por Pina which was found in meditation posture, dead since over 12 Hours, but was still warm, and not stiff, to the immense surprise of those who found him. The surprise was because a corpse that is dead for over 12 hours, should be stiff as a board and cold.. his body was not mummified or given any special treatment according to his wishes and placed in his mausoleum.
Kata Luang Por Pina
Light 5 sticks of Incense, and chant the Maha Namasakara 3 times before chanting the special Kata for Luang Por Pina Bpiyataro
Namo Dtassa Pakawadto Arahadto Sammaa Samputtassa
Namo Dtassa Pakawadto Arahadto Sammaa Samputtassa
Namo Dtassa Pakawadto Arahadto Sammaa Samputtassa
Then chant the Kata for Luang Por Pina (3 times);
Ahang Sukhadto Pina Bpiyataro Naamadtae Aajaariyo Ma Pandtae Hohi
Kata Pluk Khong (Call the power within the amulet)
Puttang Gandtang Saranang Haa
Puttang Gandtang Saranang Hae
Puttaaa Namo Ya
Kata Pra Som Hwang (Fulfilment of Wishes)
Chant the following for as many repetitions as your age (for example, if you are 35 years old, then chant the Kata, repeatedly for 35 times)
Nadtae Sudtae
The last repetition, change the words to
Mahaa Sudtae Nachaa
As an example, let us pretend a four year old were to recite the mantra, which would result in four lines like this;
Nadtae Sudtae, Nadtae Sudtae, Nadtae Sudtae, Mahaa Sudtae Nachaa
If you wish to know more about another famous amulet of Luang Por Pina, then you can listen to the three quarter of an hour talk and explanation of the Sacred Daw Aathan along with a short Biography of Luang Por Pina, recounted and narrated by Amulet Expert Ajarn Spencer Littlewood in the below Podcast. In the podcast, You will be amazed to learn about the very deep meanings contained within the Daw Aathan Hnun Duang Lucky Star amulets of Luang Por Pina.
Please Enjoy the short Bio and Long Explanation of this Amulet revealed; Perd Dtamnan Daw Athan Hnun Duang, and increase your knowledge of the amulets of Luang Por Pina.
Temple:Wat Sanom Lao
Year of Issue:
Circa 2525 BE
Maker of Amulet:Luang Por Pina Piyataro
Weight:5 Grams
Recommended Uses:Serm Duang (improve fate and destiny), Maha Lap Lucky Fortunes, Metta Mahaniyom Mercy Charm
Size of Amulet:3.5 x 2 Cm
Encasement Options
Waterproof Casing (free) (0) Solid gold custom casing (we will email you with a price quote according to current gold prices at the time of inquiry (0) Solid Silver custom casing (we will email you with a price quote according to current silver prices at the time of inquiry (0) Without Casing (0)