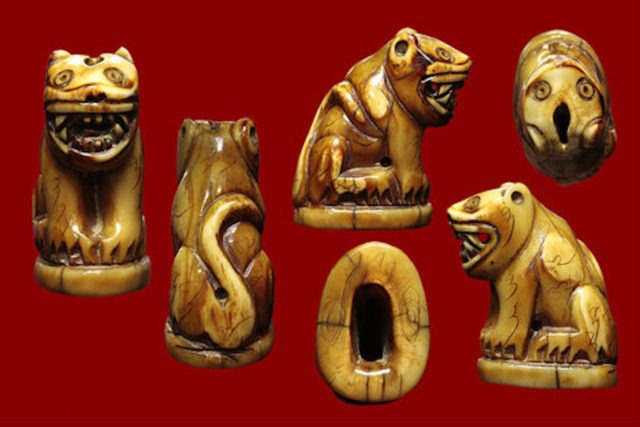 Thailand's Top Ten Tiger Amulets from the Top Masters of all History
The concept of 'Top Ten' is highly arguable depending on the faith of each individual devotee, but the list is compiled from majority of public popularity on a National and International Level, and has hence some degree of accuracy, when popularity is included as the criteria of measurement. 'Top Ten' should therefore mean 'Top ten most popular amulets'
According to Popular Consensus and the Highly Valued opinion of the Samakom Pra, and various appreciation societies and publishers, the top ten Tiger Amulets of all time in Thailand would probably be;
Suea Luang Por Parn Wat Bang Hia (Wat Bang Bor), and those of his predecessor Luang Por Ruean (Wat Bang Hia)
Suea Luang Por Nok (Wat Sangkasi) – Direct first apprentice to Luang Por Parn of Wat bang Hia (Now 'Wat bang Bor')
Suea Luang Por Say (Wat Bang Bor) – Looksit Apprentice to Luang Por Nok and Luang Por Parn at Wat Bang Bor
Suea Luang Por Wongs (Wat Bariwas) – famed for his Loi Ongk Statuettes in 6 editions of seated tigers with inimitable design, of which all 6 editions enjoy immense popularity
Takrut Hnaa Phaag Suea Wat Sapan Sung (from all 4 generations of masters; Luang Phu Iam, Luang Phu Glin, Luang Por Tong Sukh, and Luang Phu Waas)
Suea Luang Phu Sukh ( Wat Pak Klong Makham Tao) – famed for Hnaa Phaag Suea tiger forehead and Hnang Suea tiger skin amulets
Suea Luang Por Phern Tidtakuno Wat Bang Pra – Master of the 'Ride the Tiger' Wicha, Wicha Suea Maha Amnaj and Suea Koo, the Tiger and Luang Por Phern Tidtakuno are synonimous with each other.
Suea Luang Por Tong Sukh Wat Tanode Luang – Famous for Takrut Hang Hnaa Phaag Suea
Luang Por Te Kong Ton (Wat Sam Ngam) – famous for Takrut Hnaa Phaag and Hnang Suea
Luang Por Jong (Wat Na Tang Nork) – famed for his Hnang Suea and Hnaa Phaag Suea Tiger Takrut amulets, for their immense Kong Grapan Chadtri Klaew Klaad powers.
This slideshow requires JavaScript.
Other contenders for the early modern and present late modern Era to enter the annals of History and are certainties to become ever more respected for their Tiger amulets are;
Takrut Hnang Suea Luang Por Mum Wat Prasat Yer
Takrut Hnang Suea Luang Phu Ka Long Wat Ban Hlaem
Suea Luang Por Chan Wat Bang Bor, famous for continuation of tiger amulets of the Temple Inheritance Wicha of Luang Por Parn.
Suea Luang Por Foo Wat Bang Samak – a Great Master of the Modern era with lineage mentors from both the Luang Phu Tim Wat Laharn Rai Lineage and the Luang Por Parn Wat bang Hia Lineages, with powerful Wicha Suea
Suea Luang Phu Yaem Wat Takian
Suea Akom Luang Por Pian Wat Grern Gathin
Below is an interesting Podcast with personal views from Ajarn Spencer Littlewood about the use and abuse, understanding and misunderstanding of the Wicha Suea Tiger Magic Invocation
The Wicha Suea is a Powerful Wicha which has been used since human memory can trace back, since we lived in caves and worshiped the animals of the forests, for their inherent powers.
---