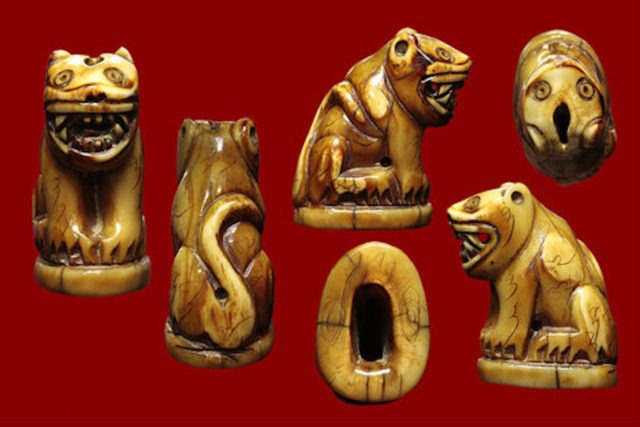 Thailand's Top Ten Tiger Amulets from the Top Masters of all History
The concept of 'Top Ten' is highly arguable depending on the faith of each individual devotee, but the list is compiled from majority of public popularity on a National and International Level, and has hence some degree of accuracy, when popularity is included as the criteria of measurement. 'Top Ten' should therefore mean 'Top ten most popular amulets'
According to Popular Consensus and the Highly Valued opinion of the Samakom Pra, and various appreciation societies and publishers, the top ten Tiger Amulets of all time in Thailand would probably be;
Suea Luang Por Parn Wat Bang Hia (Wat Bang Bor), and those of his predecessor Luang Por Ruean (Wat Bang Hia)
Suea Luang Por Nok (Wat Sangkasi) – Direct first apprentice to Luang Por Parn of Wat bang Hia (Now 'Wat bang Bor')
Suea Luang Por Say (Wat Bang Bor) – Looksit Apprentice to Luang Por Nok and Luang Por Parn at Wat Bang Bor
Suea Luang Por Wongs (Wat Bariwas) – famed for his Loi Ongk Statuettes in 6 editions of seated tigers with inimitable design, of which all 6 editions enjoy immense popularity
Takrut Hnaa Phaag Suea Wat Sapan Sung (from all 4 generations of masters; Luang Phu Iam, Luang Phu Glin, Luang Por Tong Sukh, and Luang Phu Waas)
Suea Luang Phu Sukh ( Wat Pak Klong Makham Tao) – famed for Hnaa Phaag Suea tiger forehead and Hnang Suea tiger skin amulets
Suea Luang Por Phern Tidtakuno Wat Bang Pra – Master of the 'Ride the Tiger' Wicha, Wicha Suea Maha Amnaj and Suea Koo, the Tiger and Luang Por Phern Tidtakuno are synonimous with each other.
Suea Luang Por Tong Sukh Wat Tanode Luang – Famous for Takrut Hang Hnaa Phaag Suea
Luang Por Te Kong Ton (Wat Sam Ngam) – famous for Takrut Hnaa Phaag and Hnang Suea
Luang Por Jong (Wat Na Tang Nork) – famed for his Hnang Suea and Hnaa Phaag Suea Tiger Takrut amulets, for their immense Kong Grapan Chadtri Klaew Klaad powers.
This slideshow requires JavaScript.
Other contenders for the early modern and present late modern Era to enter the annals of History and are certainties to become ever more respected for their Tiger amulets are;
Takrut Hnang Suea Luang Por Mum Wat Prasat Yer
Takrut Hnang Suea Luang Phu Ka Long Wat Ban Hlaem
Suea Luang Por Chan Wat Bang Bor, famous for continuation of tiger amulets of the Temple Inheritance Wicha of Luang Por Parn.
Suea Luang Por Foo Wat Bang Samak – a Great Master of the Modern era with lineage mentors from both the Luang Phu Tim Wat Laharn Rai Lineage and the Luang Por Parn Wat bang Hia Lineages, with powerful Wicha Suea
Suea Luang Phu Yaem Wat Takian
Suea Akom Luang Por Pian Wat Grern Gathin
Below is an interesting Podcast with personal views from Ajarn Spencer Littlewood about the use and abuse, understanding and misunderstanding of the Wicha Suea Tiger Magic Invocation
The Wicha Suea is a Powerful Wicha which has been used since human memory can trace back, since we lived in caves and worshiped the animals of the forests, for their inherent powers.
---
Takrut Hnaa Phaag Suea Tiger Forehead with Sinjana Cord Binding Spell Circa 2485 BE - Luang Por Jong - Wat Na Tang Nork
02903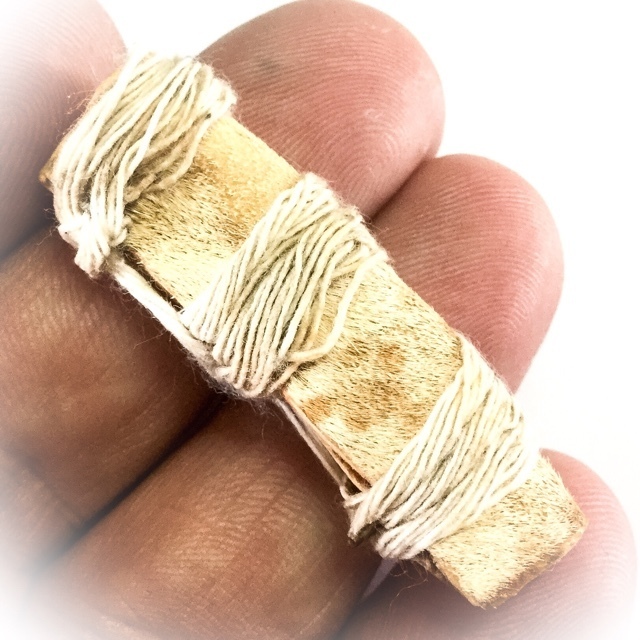 Sacred Animist Takrut Occult Charm from the Great Luang Por Jong. LP Jong, was a famous Gaeji Ajarn Guru Monk, highly revered for a vast pantheon of different amulets, but if there is one section of that Pantheon that stands out above others for its Kong Grapan Chadtri and Klaew Klaad Magic, it is his Takrut Amulets.
The forehead skin of the tiger, is seen to be the most powerful of all parts places to take the skin, and full of concentrated Kong Grapan Magic. It is believed to be much more powerful than body skin, and to have the best Anti Black Magick and Gunstopper Maha Ud Power. It is also preferred for its Maha Amnaj Commanding Dominion over others.
Luang Por Jong made a variety of different Takrut charms, ranging from Takrut Tone Dtakua (Leaden Yantra Foil), Tong Daeng (Copper Foil), Hnang Suea (Tiger Skin), and other combo-Takrut on waist cords or wrapped in cord with lacquer. There is a particular faction of collectors who specialise purely in the collection of Takrut of Luang Por Jong, and this is a category in itself, that is accepted for Competition in many Amulet Shows and Competitions.
His Takrut 'Hnaa Phaag Suea', are amongst the more difficult to find amulets, and are very jealously guarded by their owners. This is not strange, considering how so many tales of Miraculous Events arising from the amulets of Luang Por Jong during the Indo-China War have endowed his amulets with Immortal Fame, and the Unwavering Faith of the Devotees who worship them.
You can encase the amulet in waterproof Casing or Solid Gold if you prefer, or you can take free stainless steel capped casing, which is offered for free with this amulet.
Powerful Kong Grapan Chadtri Klaew Klaad Serm Yos Metta Mahaniyom and Maha Sanaeh Animist Occult Charm from one of the top Ten Master Monks of the Indo-China Wartime Era. Small and portable, this amulet is both Powerful, and of Historical Value and of Extremely High Status in the Amulet World.
One more classic and essential Rarity for the Devotee who needs true Protective Magick from the Olden days Masters, from a time before Buddhism became Commercial, and when special amulets like this, were still hand made one by one by the Masters
Luang Por Jong Puttasaro lived from 2415 BE to 2508 BE, and was one of the previous generation of attained Masters, of National and International Fame. Known for his Kong Grapan Chadtri Klaew Klaad protective amulets handed out to soldiers during the Indochina Wars, his Pla Tapian Maha Lap Kaa Khaay amulets are also renowned for their ability to instigate good commerce and prolific sales quotas with sales persons.
Luang Por Jong of Wat Na Tang Nork was one of the great Guru Masters of the Ayuttaya Province, in line with the Great Luang Por Parn of Wat Bang Nom Kho, and is one of the Great Masters who assisted the Thai Military with powerful Kong Grapan Chadtri and Klaew Klaad amulets during the Indochina Wars.
Known for his Kong Grapan Chadtri Klaew Klaad protective amulets which were handed out to protect Thai soldiers during the Indochina Wars, his aring Amulets, Pra Somdej and other Sacred Powder Votive Tablets, and Powerful Takrut are famous as they are rare to find, and his Pla Tapian Maha Pokasap Lap Kaa Khaay Gold-Silver Fish amulets, are also renowned worldwide, for their ability to instigate good commerce and prolific sales quotas with sales persons.
Luang Por Jong was a Highly Attained Master in both Worldly Deeds of Goodness and Self Renunciation, as well as in the Dhamma Path. His Great Fame and Honorable Status has survived more than half a century, and who is remembered as one of the Greatest Masters of His Time, and as one of the Greatest Masters of the Ayuttaya Lineage.
Temple:Wat Na Tang Nork (Ayuttaya)
Year of Issue:
Circa 2485 BE
Maker of Amulet:lp Jong
Weight:2 Grams
Recommended Uses:Protection, Status, Promotion, Commanding Power and Dominion, Business, Evasion, Instill Respect
Number of Amulets Made:Single Items for individual Devotees hand made one at a time.
Size of Amulet:4 Cm
Encasement Options
Solid Gold Custom Casing (we will email you with a price quote according to current gold prices at the time of inquiry) (0) Waterproof Casing (9) Without Casing (0) Free Stainless Steel Capped Casing (0)