Prakam 108 Met Nuea Mai Saksit Dtid Rian Kroo Ba Gaew 2520 BE – a Sacred wooden bead Blessėd Rosary with Guru Monk coin, from the great Lanna Monk, Kroo Ba Gaew Sutto, of Wat Doi Mokkhala, in Chiang Mai. Serm Duang (Good Karma) Maha Mongkol (Auspicious Blessings), Klaew Klaad (Evade Dangers), Maha Lap (Lucky Fortunes)
The rosary has a 2520 BE Rian Roop Muean Guru Monk Coin with the image of Kroo Ba Gaew gazing sideways on the front face, and a Sacred Nam Tao Yantra with Khom Agkhara on the rear face. A highly recommendable item for Buddhanussati and Gurunussati, Meditation, Prayer Counting, Protection and Mercy Charm. Wear as a necklace with amulet of the Guru. and use for counting your prayers and Kata Chants.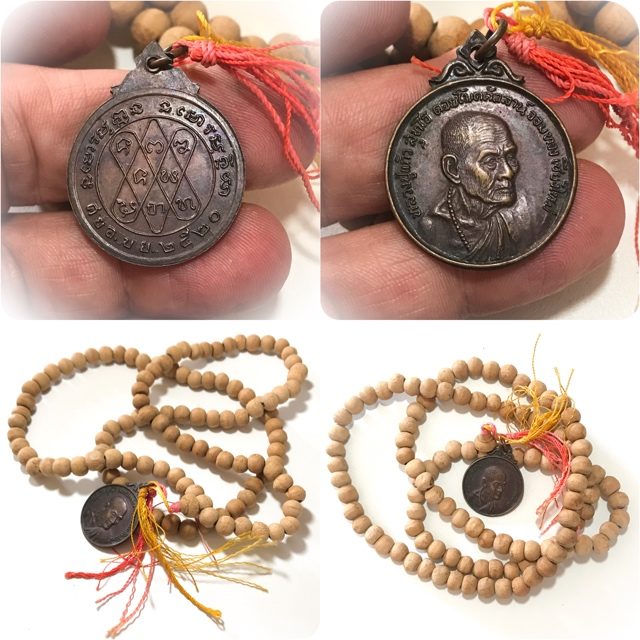 Luang Phu Kroo Ba Gaew was trained in his early ordination under the lineage of Luang Phu Mun Puritatto, and is one of the great Kroo Ba Ajarn of the Northern Lanna Region, who was a very close companion of the Great Luang Phu Hwaen Sujjino, of Wat Doi Mae Pang.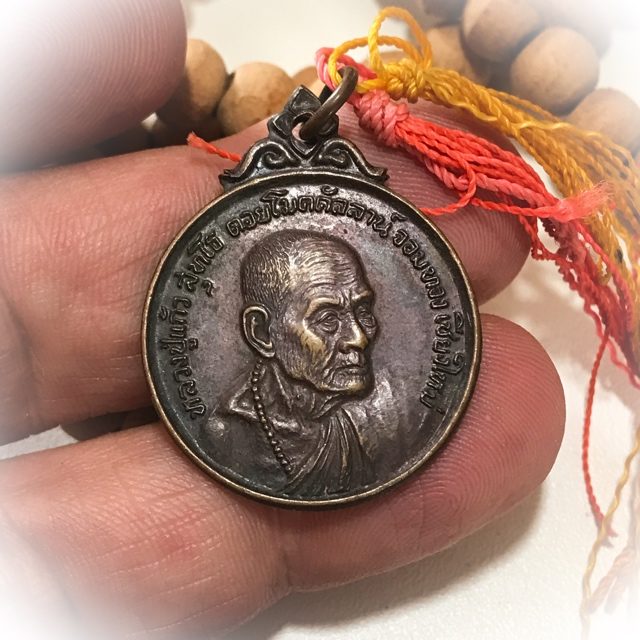 Luang Phu Kroo Ba Gaew has somewhat of a mysterious past, because his biography was never officially documented, and Kroo Ba Gaew himself was not prone to talk about himself very much. This of course common with High Arya Sangha who have practiced and attained inner peace, and is in itself a sign of great attainments. Sadly however, this results in little being known about his early life as a monk in the lineage of Luang Phu Mun, leaving us with only a partial knowledge of his Biography.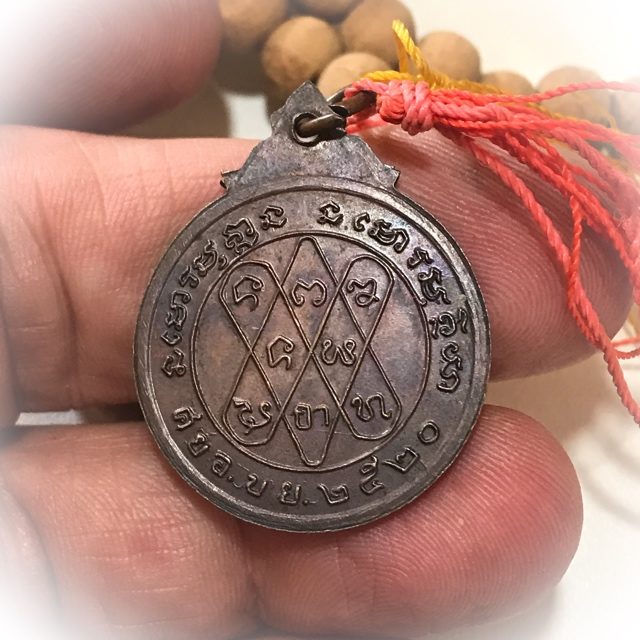 But the miracles of this Great Monk have been told and retold over many decades, and by word of mouth, Kroo Ba Gaew became a Great Kroo Ba Ajarn of the region, on the merits of Miracles made. It is said, that once during the time Kroo Ba Gaew was still living, a Naga Serpent came up from the underworld near the temple, and was run over by a truck as it slithered across the road, and was hurt. The Naga crawled up to the temple and called Luang Phu Kroo Ba Gaew to come out and heal him with holy water.
Another famous legend is the tale of the three Buddha images in the Mae Nam Ping river, which were embedded in the stream. Luang Phu Kroo Ba Gaew performed a ceremony to invite them to rise up from the waters to perform miracles for humanity, and come to reside at the temple.
The statues rose up from the depths and were able to be transported to the temple, where they reside to this day. It is said these Buddhas can make the rain fall in the proper season to make the crops grow, which is a matter of life and death from many farming communities in the region. The Buddhas are hence extremely sacred for the local devotees, and Kroo Ba Gaew's miracle of calling them, is perhaps his most famous legend.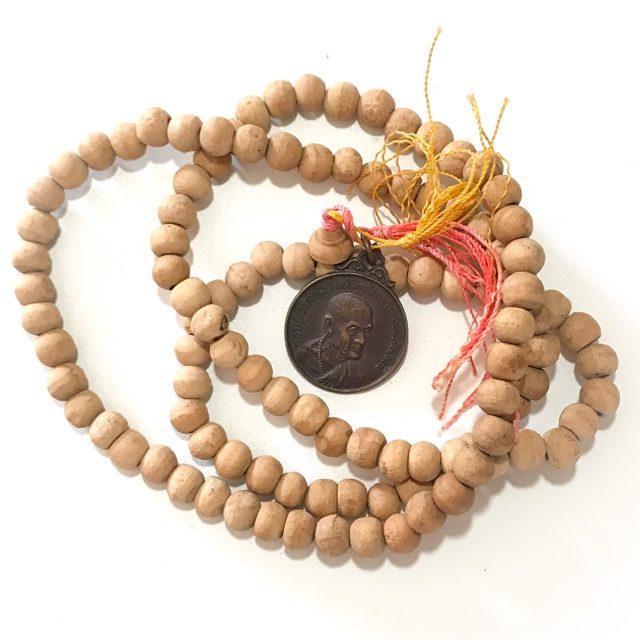 Luang Phu Kroo Ba Gaew's amulets are extremely rare, because he never ever really focused on making amulets of many kinds. he would only release mainly Buddhist amulets such as his monk coins, and 'Roop Tai' blessėd monk photos, and items of reverence and practice such as the Prakam Saksit Blessėd Rosary. Devotees of Kroo Ba Gaew like to wear his rosaries with one of his coin amulets attached for prayer and protection of the Guru. HIs devotees are very reluctant to part with their amulets of Luang Phu Kroo Ba Gaew, for they believe them to possess very powerful protection, and bring auspicious blessings.
The Wongarn Pra Krueang Lanna Northern Amulet Appreciation Society have registered the pantheon of amulets of Kroo Ba Gaew as residing within the Dtamrap Pra Krueang Lanna Yord Niyom 'Top List of Most Preferred Amulets of the Lanna Region'.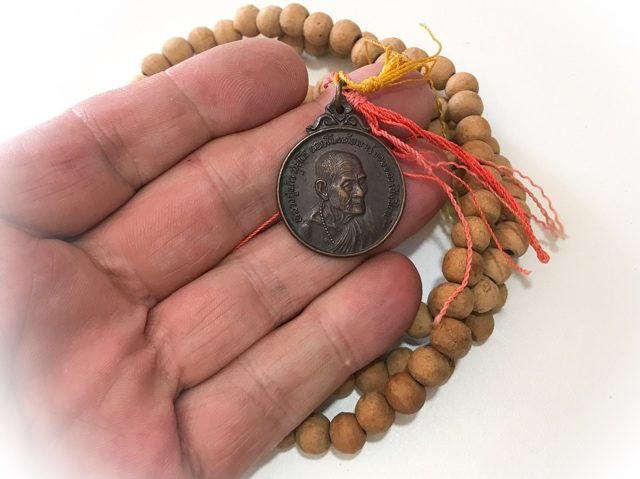 Use the Traditional Thai Buddhist Method for Bucha;
1. Chant Maha Namasakara (3 Times)
2. Chant the Trai Soranakom (3 Times)
3. Chant Kata Aaraatanaa Pra Krueang (3 Times)
Kata Maha Namasakara
Namo Dtat-Sa Pakawa-Dto Araha-Dto Sam-Maa Sam-Put-Dtat-Sa
Namo Dtat-Sa Pakawa-Dto Araha-Dto Sam-Maa Sam-Put-Dtat-Sa
Namo Dtat-Sa Pakawa-Dto Araha-Dto Sam-Maa Sam-Put-Dtat-Sa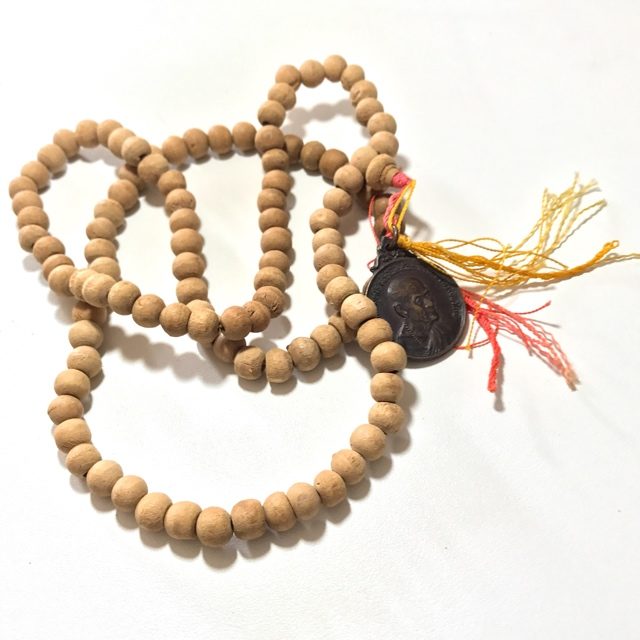 Trai Soranakom
Puttang Cheewidtang Yaawa Nipaanang Saranang Kajchaami
Tammang Cheewidtang Yaawa Nipaanang Saranang Kajchaami
Sangkang Cheewidtang Yaawa Nipaanang Saranang Kajchaami
Tudtiyambpi Puttang Cheewidtang Yaawa Nipaanang Saranang Kajchaami
Tudtiyambpi Tammang Cheewidtang Yaawa Nipaanang Saranang Kajchaami
Tudtiyambpi Sangkang Cheewidtang Yaawa Nipaanang Saranang Kajchaami
Dtadtiyambpi Puttang Cheewidtang Yaawa Nipaanang Saranang Kajchaami
Dtadtiyambpi Tammang Cheewidtang Yaawa Nipaanang Saranang Kajchaami
Dtadtiyambpi Sangkang Cheewidtang Yaawa Nipaanang Saranang Kajchaami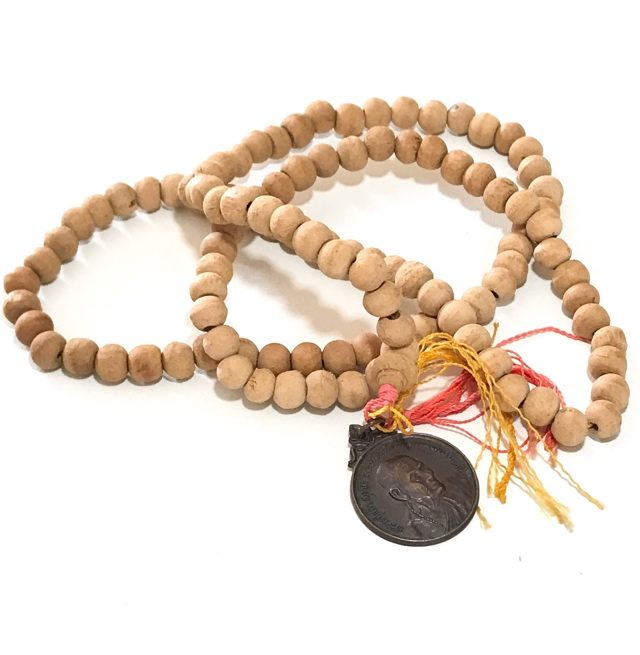 Kata Aaraatana Pra Krueang
Puttang Aaraatanaanang
Tammang Aaraatanaanang
Sangkang Aaraatanaanang
Puttang Prasittimae
Tammang Prasittimae
Sangkang Prasittimae






Daw Fan Chalaam Lucky Star Shark Teeth with Duang Ta Aathan & Pearl Insert Prai Powders Hand Inscriptions Luang Por Pina FREE EMS
03843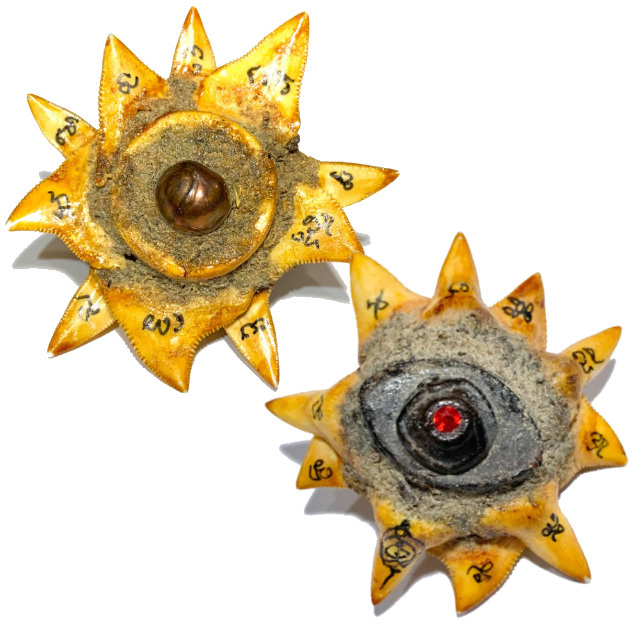 A one-off chance to admire a very special and individual amulet of the 'Krueang Rang' Talismanic Variety from the great Luang Por Pina, made in the form of a star, using hand inscribed enchanted sharks teeth, with a Duang Ta Aathan Shiva Eye in Sacred Pong Asupa Powders wth Ploi Sek Maha Pokasap Gem insert on one side, and a Sacred Enchanted Pearl on the other side, also embedded in Luang Por Pina's famous Pong Asupa Prai Necromantic Powders
Free EMS Express Airmail Shipping Wortdwide is included with this amulet. This Talismanic amulet possesses the Wicha Duang Ta Aaathan AND the Wicha Daw Mae Nuea Horm Lucky Star Magic in one combination, with the added forces of animist and Prai necromantic ingredients adding to the3 magical properties of this most inimitable and truly stunning exhibit. The amulet can be considered to be the Daw Aathan Mae Nuea Horm and Duang Ta Aathan in one, but must also consider the power of the Lucky Star Wicha and the Enchanted Sharks teeth, with special hand inscriptions to complete a cicumnambulation of magicla spells.

The amulet also possesses an massive repository of attributed Buddhist Blessings of very sacred and Auspicious Influences on the Forces of Karm, hidden within the formulas of empowerment embedded by Luang Por Pina.
When understood, the meanings within the sacred Lucky Star Pentacle amulets of Luang Por Pina, are very extensive and comprehensive, and aligned to the focal points of Advanced Buddhist Vipassana Kammathana Practices, with the accompanyiing Miraculous Power of transformation that comes with the 40 Kammathanas.
Luang Por Pina is the deceased Abbot of Wat Sanom Lao in Sra Buri and was said to have possessed Abhinya Powers, and to have Mastered the 10 Kasina Powers of Elemental Magical Dominion.
It is said that he was able to read the minds and intentions of other Humans, and bring amulets to life with is Empowerment Methods, and that his amulets were able to give signs and also can be beseeched and prayed to for wish fulfilment (Sarapat Neuk). There are many stories of Miraculous Events occurring through his amulets.
The Duang Ta Aathan inserted into the center of the amulet is in itself, a very Early Era amulet of this Master, made from Luang Por Pina's secretive Necromantic Powders and Earths, and filled with Powerful Prai Oil Imbued Powders. Thje Duang Ta Aathan is in itself, an all time world famous classic amulet, among the most well known amulets of the Great Luang Por Pina, of Wat Sanom Lao (Wat Ta Geuy). To discover a talismanic object like this with the added power of the Duang Ta Aathan included within the Wicha, along with the Wicha Daw Aathan Star.
The Daw Aathan Lucky Star is made from a mixture of Highly Sorcerous Ingredients, Herbal and Prai Necromantic Powders, which are both incredibly difficult to find and obtain, and also very easy to recognise their presence within the sacred Muan Sarn Powder mixture. Those who have had an authentic Daw Aathan before their eyes, will be able to see instantly that this amulet is a very recognisable and distinguished exhibit with the clear to see presence of Luang Por Pina's Sorcerous Muan Sarn Powders.
Embedded with sacred Ploi Sek Maha Pokasap Gemstone in the Shiva eye, and an enchanted pearl;, each empowered with the corresponding Buddhist Kammathana invocations aligned to their sequence of attributed meanings and powers of transformation.
This exhibit despite being such a rare hand made item, is still easily recognisable by its features and Muan Sarn Powders, which allow one to easily distinguish the authenticity by viewinf the Sacred Powders, making it a Master Key for teaching the eyes to recognise Luang Por's famous Sacred Powders, as well as the effects of aging over the years, as to how discoloration and surface mildews should appear in a true authentic example of Pong Asupa powders of Luang Por Pina
Luang Por Pina is known to have performed strange Magical feats in front of the eyes of his disciples many times, especially when devotees would ask him for an amulet. He would ask the devotee to lay down and open their eyes, and would take a handful of sand and pour it over their face, as they would hold the amulet in the hand. But the sand would bounce back before it hit their eyes, and no matter how much was poured on the face, not a single grain of sand would be able to enter the eyes of the devotee, becoming repelled as if by a force field before it touched the eyes.
If you listen to the three quarter of an hour talk and explanation of the Sacred Daw Aathan along with a short Biography of Luang Por Pina, recounted and narrated by Amulet Expert Ajarn Spencer Littlewood in the below Podcast. In the podcast, You will be amazed to learn about the very deep meanings contained within the Daw Aathan Hnun Duang Lucky Star amulets of Luang Por Pina, and for those of you who are devoted Buddhists and Practitioners of Dhamma, you will feel incredibly inspired to own and apply the meanings found in the amulet to your Buddhist practice of Dhamma, Meditation and Vipassana.
For indeed, in its highest level of Bucha, this amulet is a powerful tool not only to increase your Fortunes and Improve your karma in a worldly sense, but can be used as a contemplative focal point of self transformation and empowerment of manifest Buddhist Kammathana Meditative Practice. It points to the path towards enlightenment, and can assist you in walking the path, if this is your intention, and leads far above and beyond simple worldly desires.
Kata Luang Por Pina
Light 5 sticks of Incense, and chant the Maha Namasakara 3 times before chanting the special Kata for Luang Por Pina Bpiyataro
Namo Dtassa Pakawadto Arahadto Sammaa Samputtassa
Namo Dtassa Pakawadto Arahadto Sammaa Samputtassa
Namo Dtassa Pakawadto Arahadto Sammaa Samputtassa

Then chant the Kata for Luang Por Pina (3 times);
Ahang Sukhadto Pina Bpiyataro Naamadtae Aajaariyo Ma Pandtae Hohi
Kata Pluk Khong (Call the power within the amulet)
Puttang Gandtang Saranang Haa
Puttang Gandtang Saranang Hae
Puttaaa Namo Ya

Kata Pra Som Hwang (Fulfilment of Wishes)
Chant the following for as many repetitions as your age (for example, if you are 35 years old, then chant the Kata, repeatedly for 35 times)
Nadtae Sudtae
The last repetition, change the words to
Mahaa Sudtae Nachaa
As an example, let us pretend a four year old were to recite the mantra, which would result in four lines like this;
Nadtae Sudtae, Nadtae Sudtae, Nadtae Sudtae, Mahaa Sudtae Nachaa

Below; The remains of Luang Por Pina in the Sussaan Pina, as he requested to be unpreserved Unmummified, and left to rot naturally according to the laws of Nature, without a grand funeral ceremony or chanting, and forbidden to be cremated.
Temple:Wat Sanom Lao
Maker of Amulet:Luang Por Pina Piyataro
Weight:40 Grams
Recommended Uses:Seduction, Gambling, Good Karma, Promotion and Prosperity, Anti Black Magick
Number of Amulets Made:Unknown
Size of Amulet:5 Cm Diameter
Material:Pong Asupa Prai Powders with Ploi Sek Maha Pokasap Gemstone Inserts
Additional Info:An extremely attractive Talsimanic Magical Amulet from this Great Master, among the hardest to find varieties of amulets from Luang Por Pina. Undeniably Desirable to any true Devotee or Collector
Encasement Options
Waterproof Casing (free) (0) Without Casing (0)