Prakam 108 Met Nuea Mai Saksit Dtid Rian Kroo Ba Gaew 2520 BE – a Sacred wooden bead Blessėd Rosary with Guru Monk coin, from the great Lanna Monk, Kroo Ba Gaew Sutto, of Wat Doi Mokkhala, in Chiang Mai. Serm Duang (Good Karma) Maha Mongkol (Auspicious Blessings), Klaew Klaad (Evade Dangers), Maha Lap (Lucky Fortunes)
The rosary has a 2520 BE Rian Roop Muean Guru Monk Coin with the image of Kroo Ba Gaew gazing sideways on the front face, and a Sacred Nam Tao Yantra with Khom Agkhara on the rear face. A highly recommendable item for Buddhanussati and Gurunussati, Meditation, Prayer Counting, Protection and Mercy Charm. Wear as a necklace with amulet of the Guru. and use for counting your prayers and Kata Chants.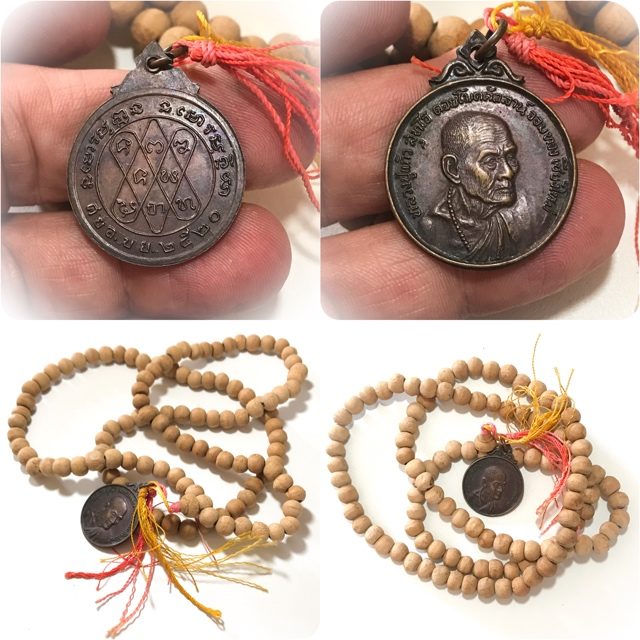 Luang Phu Kroo Ba Gaew was trained in his early ordination under the lineage of Luang Phu Mun Puritatto, and is one of the great Kroo Ba Ajarn of the Northern Lanna Region, who was a very close companion of the Great Luang Phu Hwaen Sujjino, of Wat Doi Mae Pang.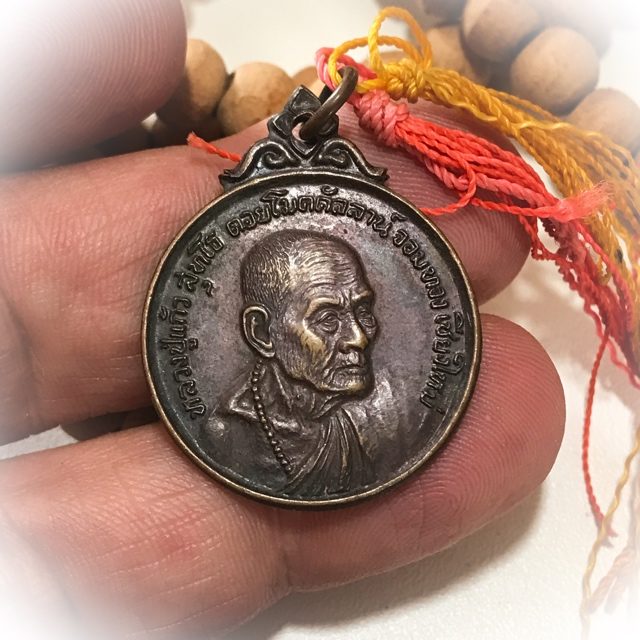 Luang Phu Kroo Ba Gaew has somewhat of a mysterious past, because his biography was never officially documented, and Kroo Ba Gaew himself was not prone to talk about himself very much. This of course common with High Arya Sangha who have practiced and attained inner peace, and is in itself a sign of great attainments. Sadly however, this results in little being known about his early life as a monk in the lineage of Luang Phu Mun, leaving us with only a partial knowledge of his Biography.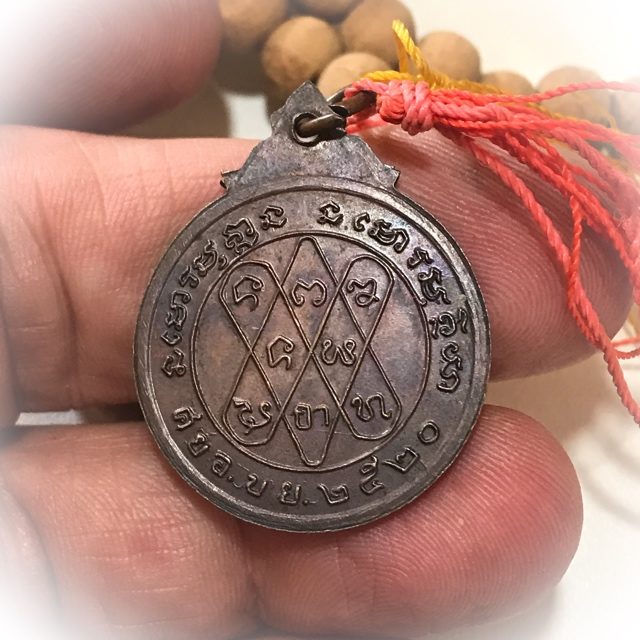 But the miracles of this Great Monk have been told and retold over many decades, and by word of mouth, Kroo Ba Gaew became a Great Kroo Ba Ajarn of the region, on the merits of Miracles made. It is said, that once during the time Kroo Ba Gaew was still living, a Naga Serpent came up from the underworld near the temple, and was run over by a truck as it slithered across the road, and was hurt. The Naga crawled up to the temple and called Luang Phu Kroo Ba Gaew to come out and heal him with holy water.
Another famous legend is the tale of the three Buddha images in the Mae Nam Ping river, which were embedded in the stream. Luang Phu Kroo Ba Gaew performed a ceremony to invite them to rise up from the waters to perform miracles for humanity, and come to reside at the temple.
The statues rose up from the depths and were able to be transported to the temple, where they reside to this day. It is said these Buddhas can make the rain fall in the proper season to make the crops grow, which is a matter of life and death from many farming communities in the region. The Buddhas are hence extremely sacred for the local devotees, and Kroo Ba Gaew's miracle of calling them, is perhaps his most famous legend.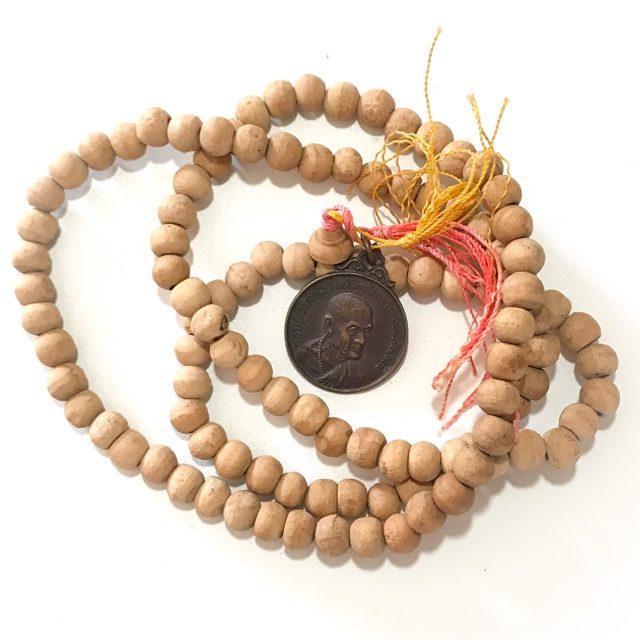 Luang Phu Kroo Ba Gaew's amulets are extremely rare, because he never ever really focused on making amulets of many kinds. he would only release mainly Buddhist amulets such as his monk coins, and 'Roop Tai' blessėd monk photos, and items of reverence and practice such as the Prakam Saksit Blessėd Rosary. Devotees of Kroo Ba Gaew like to wear his rosaries with one of his coin amulets attached for prayer and protection of the Guru. HIs devotees are very reluctant to part with their amulets of Luang Phu Kroo Ba Gaew, for they believe them to possess very powerful protection, and bring auspicious blessings.
The Wongarn Pra Krueang Lanna Northern Amulet Appreciation Society have registered the pantheon of amulets of Kroo Ba Gaew as residing within the Dtamrap Pra Krueang Lanna Yord Niyom 'Top List of Most Preferred Amulets of the Lanna Region'.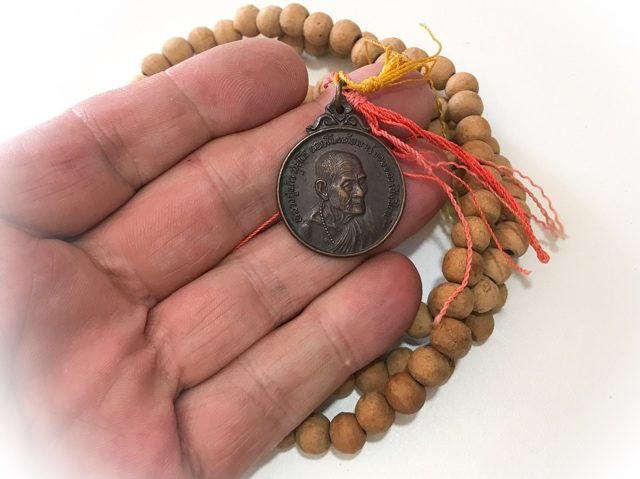 Use the Traditional Thai Buddhist Method for Bucha;
1. Chant Maha Namasakara (3 Times)
2. Chant the Trai Soranakom (3 Times)
3. Chant Kata Aaraatanaa Pra Krueang (3 Times)
Kata Maha Namasakara
Namo Dtat-Sa Pakawa-Dto Araha-Dto Sam-Maa Sam-Put-Dtat-Sa
Namo Dtat-Sa Pakawa-Dto Araha-Dto Sam-Maa Sam-Put-Dtat-Sa
Namo Dtat-Sa Pakawa-Dto Araha-Dto Sam-Maa Sam-Put-Dtat-Sa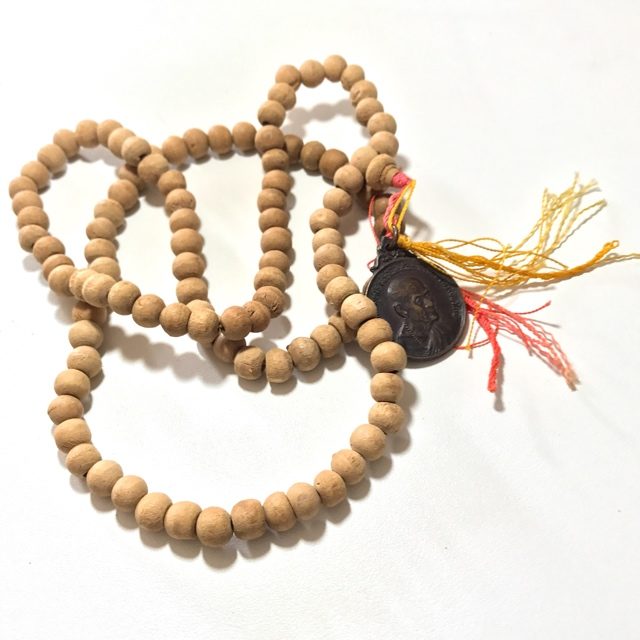 Trai Soranakom
Puttang Cheewidtang Yaawa Nipaanang Saranang Kajchaami
Tammang Cheewidtang Yaawa Nipaanang Saranang Kajchaami
Sangkang Cheewidtang Yaawa Nipaanang Saranang Kajchaami
Tudtiyambpi Puttang Cheewidtang Yaawa Nipaanang Saranang Kajchaami
Tudtiyambpi Tammang Cheewidtang Yaawa Nipaanang Saranang Kajchaami
Tudtiyambpi Sangkang Cheewidtang Yaawa Nipaanang Saranang Kajchaami
Dtadtiyambpi Puttang Cheewidtang Yaawa Nipaanang Saranang Kajchaami
Dtadtiyambpi Tammang Cheewidtang Yaawa Nipaanang Saranang Kajchaami
Dtadtiyambpi Sangkang Cheewidtang Yaawa Nipaanang Saranang Kajchaami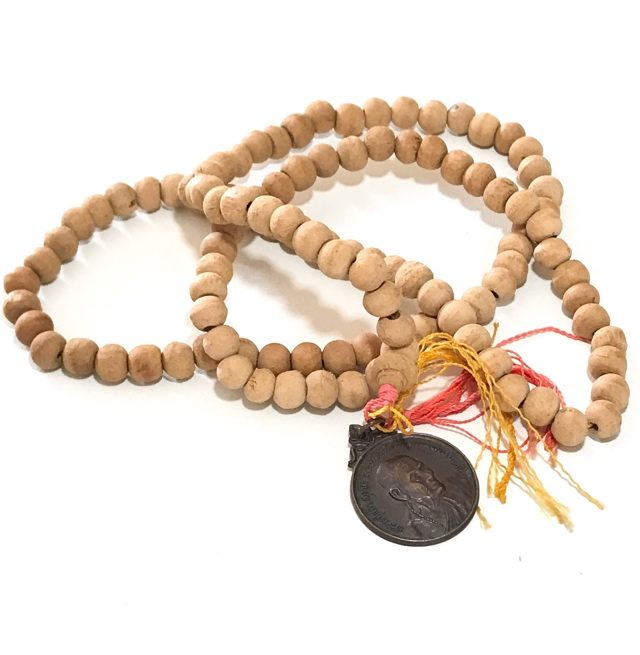 Kata Aaraatana Pra Krueang
Puttang Aaraatanaanang
Tammang Aaraatanaanang
Sangkang Aaraatanaanang
Puttang Prasittimae
Tammang Prasittimae
Sangkang Prasittimae






Praput Chin Dtakua Fang Khiaw Hmaa Pha 2460 BE Leaden Buddha Amulet with Wolf Tooth Insert Luang Por Dam Wat Kuti
03736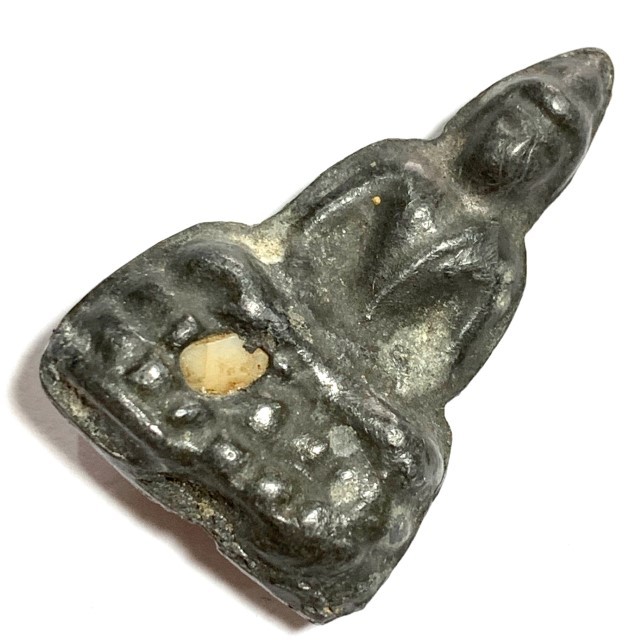 A seldom seen Large Pim Yai version (3 x 2 Cm) of Luang Por Dam's Extremely Rare and Highly Prized Khmer Alchemical amulet, the Pra Pim Pra Put Nuea Chin Dtakua Fang Khiaw Hmaa Pha, Leaden Buddha Amulet with Magic Spell and Visible Wolf's Tooth Insert.
Free Registered Airmail Shipping Worldwide is included with this amulet. The Pra Pim Pra Put Dtakua Fang Khiaw Hmaa Pha, was one of a variety of different Pim (models), which Luang Por Dam created by taking already pre-existing designs from other great temples and masters, and using them to make these amulets. Created by forging them with alchemical metallurgy into leaden statuettes, which the filled with the insertion of a magic spell in Sacred Khom Agkhara on a piece of parchment paper, and wolf's canine tooth.
Luang Por Dam was an olden days Khmer Sorceror Monk who stayed at Wat Kuti in the Pre Modern Era. He is said to have been of the same Generation and approximate age of the Great Luang Phu Suk of Wat Pak Klong Makham Tao, and lived long ago. Nobody has ever been able to compile a full biography of this monk, whose Khmer past is obscured from history.
Luang Por Dam made his amulets in his own inimitable way with his own particular metho, which came from his Khmer Sorcery Wicha. He was able to manipulate alchemical metals and to 'riak parort', which means 'to call alchemical mercury'.
He would make the amulets by bthe alchemical method of using Incantations and meditative prowess to call the mercury to flow to him and guide them into the casting molds with magical spell-casting.
Apart from being famous for Kong Grapan Chadtri Klaew Klaad and 'Gan Sadtw Pit Raay' (protect against poisonous beasts), the amulets of Luang Por Dam are known for their power to erase Black Magick. It is said that if a house is cursed, or there are any sorcerous magical spells influencing the house, to walk in with one of Luang Por Dam's amulets will dispel the curse or Black Magick Immediately, dispersing it and banishing it.
In those olden times, as Luang Por Dam would make amulets for the devotees at the temple, he became famous from many stories of miraculous lifesaving events connected with his amulets. Ranging from people being attacked by bandits and shot at at point blank range, but the guns would not fire, to surviving deadly accidents in the face of certain death.
But his amulets also then became famous outside of his locality and to spread around the provinces, because of Rice!
Luang Por Dam's temple needed rice, and Luang Por Dam would also have to go to Sara Buri township often to get rice for the temple, and would take his amulets to exchange with the market farmers for rice.
In the beginning, not many people took much notice, but he would exchange one amulet for a cart of rice with some traders. But after some time, there were some devotees who payed reverence and gave alms to Luang Por Dam, and received an amulet as a gift from him for their kindness.
The devotees took the amulet and hung it up against a tree to test it with a revolver, by shooting at it, but however they tried, the gun would not shoot when pointed at the amulet.
The amulets of Luang Por Dam of Wat Kuti are now extremely rare to encounter, and are highly renowned for their powerful Kong Grapan Chadtri, Maha Ud, Klaew Klaad and Gan Sadtw Pit Raay Powers.
His first edition came to be, because of the Thai devotees of the area hearing of Luang Por Dam being from the Khmer side of the border, and that he was a Tudong Forest Monk, so they came to ask him for a way to prevent the Black Magick spells which were being placed on them using Khmer Necromancy and Black Magick.
Luang Por Dam then made his first edition, using the wolf's teeth inserts, which are now so rare and famousl powerful, with Anti Black Magick and Kong Grapan Chadtri Maha Ud klk Protective Sorcery to keep his devotees safe and banish any evil curses they may have had afflicting them.
The wolfs teeth were obtained by Luang Por Dam, as he was wandering through the forests of the Khao Gaew Jungle, and he came upon the scene of a pile of skeletons of wolves, and a couple of tiger skeletons, all in one area.
He concluded that the wolves must have died in their struggle with the tigers, but that the wolves, despite being much smaller, were as brave and fearless and just as much a fierce hunter as the much larger tiger himself.
He took the teeth and empowered them throughout his Tudong wandering times with Maha Amnaj, Maha Ud, Klaew Klaad and Kong Grapan Chadtri Magic, for later use, in these amulets. He made the amulets in various models, including the Pra Put Buddha image, the Pra Pid Ta Pra Pim Pak Pao (single Pidta) up to the Pra Pid Ta Pim Haa Gler (5 sided Pidta), which is known in the present day as 'Pid Ta Piang Chompoo Haa Gler'.
Use the Traditional Thai Buddhist Method for Bucha;
1. Chant Maha Namasakara (3 Times)
2. Chant the Trai Soranakom (3 Times)
3. Chant Kata Aaraatanaa Pra Krueang (3 Times)

Kata Maha Namasakara
Namo Dtat-Sa Pakawa-Dto Araha-Dto Sam-Maa Sam-Put-Dtat-Sa
Namo Dtat-Sa Pakawa-Dto Araha-Dto Sam-Maa Sam-Put-Dtat-Sa
Namo Dtat-Sa Pakawa-Dto Araha-Dto Sam-Maa Sam-Put-Dtat-Sa
Trai Soranakom
Puttang Cheewidtang Yaawa Nipaanang Saranang Kajchaami

Tammang Cheewidtang Yaawa Nipaanang Saranang Kajchaami
Sangkang Cheewidtang Yaawa Nipaanang Saranang Kajchaami
Tudtiyambpi Puttang Cheewidtang Yaawa Nipaanang Saranang Kajchaami
Tudtiyambpi Tammang Cheewidtang Yaawa Nipaanang Saranang Kajchaami
Tudtiyambpi Sangkang Cheewidtang Yaawa Nipaanang Saranang Kajchaami
Dtadtiyambpi Puttang Cheewidtang Yaawa Nipaanang Saranang Kajchaami
Dtadtiyambpi Tammang Cheewidtang Yaawa Nipaanang Saranang Kajchaami
Dtadtiyambpi Sangkang Cheewidtang Yaawa Nipaanang Saranang Kajchaami
Kata Aaraatana Pra Krueang
Puttang Aaraatanaanang
Tammang Aaraatanaanang
Sangkang Aaraatanaanang
Puttang Prasittimae
Tammang Prasittimae
Sangkang Prasittimae
Temple:Wat Kuti
Year of Issue:
Circa 2460 BE
Maker of Amulet:Luang Por Dam
Weight:25 Grams
Recommended Uses:Protection, Gunstopper, Evasion, Anti Black Magick
Size of Amulet:3 x 2 Cm
Encasement Options
Solid Gold Custom Casing (Waterproo​​​​​​​f) - We will email you with a price quote according to current Gold Prices, and Invoice You after Agreement (0) Waterproof Casing (9) Without Casing (0)