Presenting a close up look at a pristinely well preserved and rare Pra Khun Phaen Pong Prai Kumarn, with 6 code stamps on front face, and Pra Somdej indent on rear face, with bronze wanich and sai rae tong kam golden coating. This is a master class Khun Phaen of LP Tim, which won first prize trophy during the August 2561 BE LP Tim amulet competition of the Samakom Luead Ban Kaay Luang Phu Tim amulet association.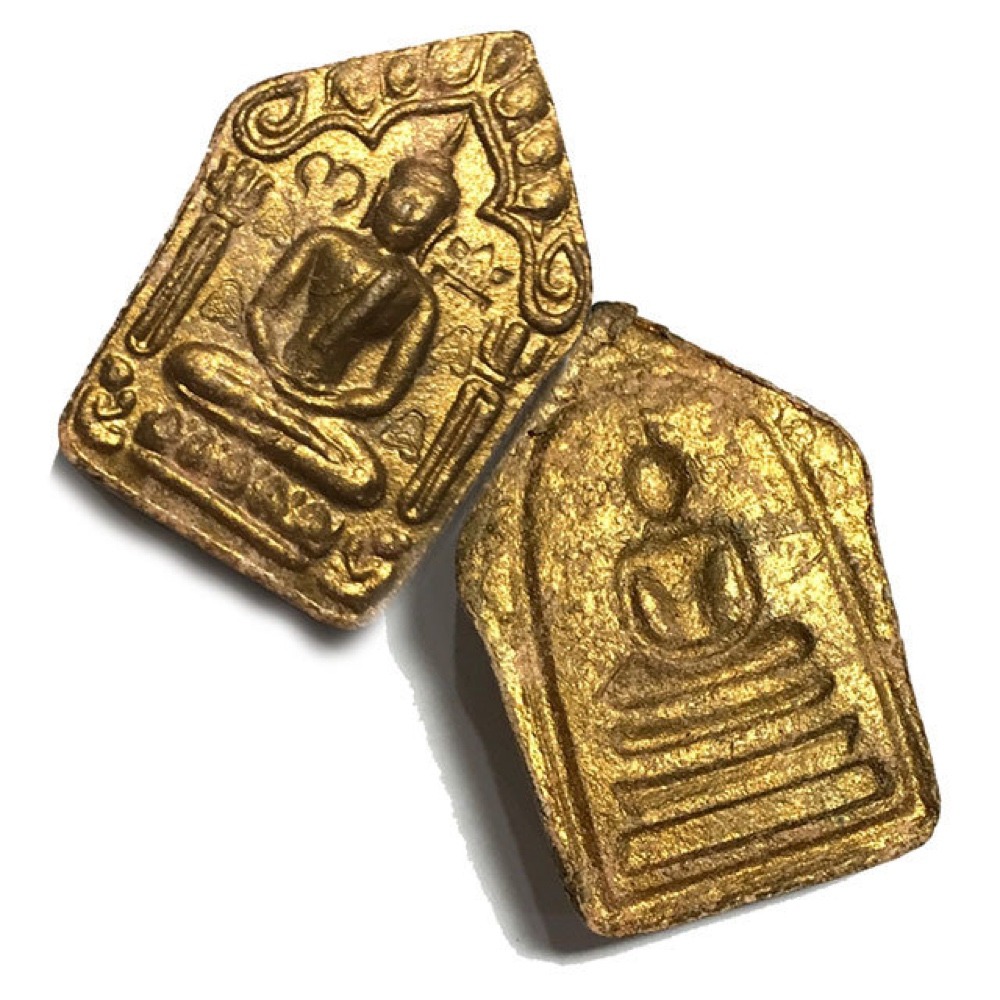 This Model is  Pra Khun Phaen pok Pim Niyom Sao Mee Sen, in Pink Prai Kumarn Powders with Sai rae Tong Kam golde  coating, 6 code stamps on front face, amd Pra Somdej coin impression indented into rear face.  this Amulet won first prize trophy during the highly esteemed Amulet competition of the Luead Ban Kaay Lp Tim Amulets association, for its impressive beauty and originality, in the category of Pra Khun Phaen with coin impressions in rear face.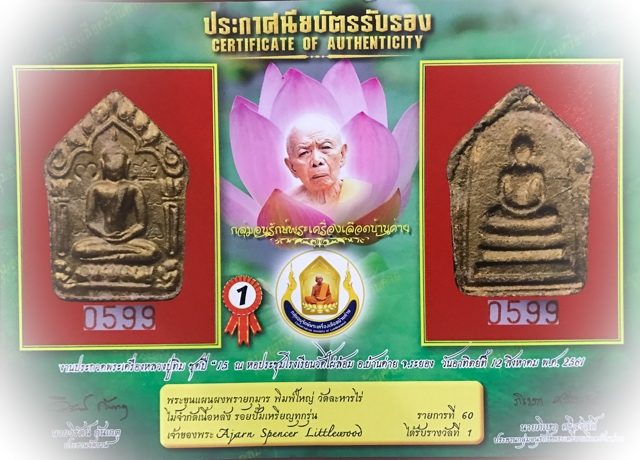 Luang Phu Tim Issarigo, was of course not only one of the most highly acclaimed and sought after Guru Monks for his amulets in his lifetime, amd posthumously, but is also the holder of the highest esteem in Thai Buddhist amulet history for Pong Prai Kumarn powders. Luang Phu Tim, is Internationally Acclaimed, for his famous Pra Khun Phaen Pong Prai Kumarn, and Look Om powder balls.

As to the classic 'Rian' type coin image amulets which have become all time favourites, and eternally, world famous classic amulets of the high end variety. His rian Jaroen Porn, and Rian Nakprok Paed Rorp are amongst the most highly sought after coin amulets of all.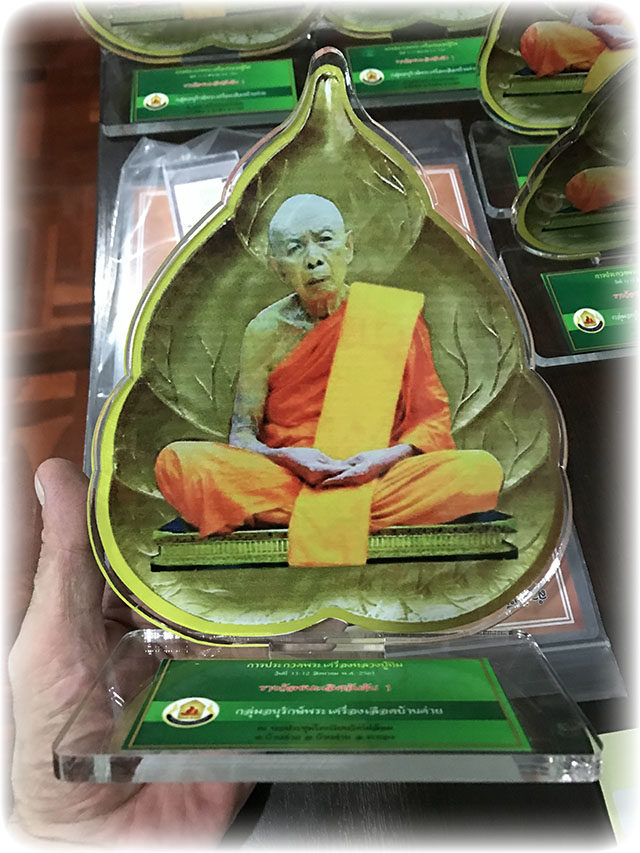 An exquisitely beautiful Pra Khun Phaen Prai Kumarn 2515 BE Pim Yai Niyom Block Tong Hlueang (Block 2) Hlang Dtok Dtaeng Niyom Nuea Chompoo with Khaw Hniaw Suk & Pong Prai Kumarn Ta Bronze Wanich Dtem Ongk, code Sala (crown code stamp), code 3, and quadruple code Pidta embossed on the front face, with the indented image of a Rian Pra Somdej Lor LP Tim embossed into the rear face as an indentation.






























































​Pra Roop Muean Ajarn Tong Tao Nuea Wan Sabu Luead Wat Khao Tham Ngern Sadet Glab Ceremony 2511 BE Ajarn Chum Chai Kiree
03844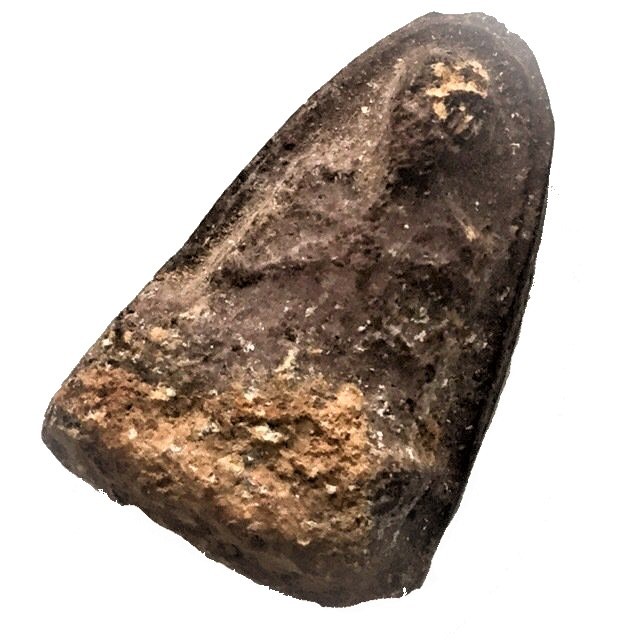 Sacred Powder image of the Great Ajarn Tong Tao, Founder of the Khao Or Sorcery Lineage of Wat Khao Or, from Ajarn Chum Chai Kree made in 2511 BE. The amulet is covered with 'Kraap Nam Tale' seawater mildew stains. This is an especially preferred and desirable exhibit, due to the highly visible 'Kraap Nam Tale' mildew stains on it. Examples of this amulet which have visible signs of immersion in the sea, are categorised as 'Niyom' - (Preferred) - Guru Monk Amulet Of historical epic fame, by the Great Legendary Ajarn Chum Chai Kiree, in conjunction with his Ordained Accomplice in Sorcery and Buddha Magic; Pra Ajarn Kong, of Wat Ban Suan.
This example is made from Nuea Wan Sabu Luead (Red Bloodsoap Herb Powders), mixed with 200 other kinds of Sacred Herbs, and powders from broken amulets from 108 ancient Kru Hiding Place Burial Chambers. The Pra Roop Muean Ajarn Tong Tao Amulet is one of the most rare of all the amulets from Ajarn Chum Chai Kiree and Pra Ajarn Kong, along with the Pra Yord Khun Pol, Pra Nakprok Taep Nimit, Pra Khun Phaen Awk Seuk, and the Pra Kong Chai Chum amulets.
Pong Kru is powder from 108 different 'Gru' (or 'Kru' if you like - a Gru is a chedi or other secret burial place where monks and master amulet makers will hide the amulets, to be later found and distributed as objects of faith and continuation of the Buddha Sasana).
This sacred powder of 108 Gru was made by Ajarn Kong and famous Lay Master, Ajarn Chum Chay Kiree, which they had been empowering and chanting into since the war till the time they made the amulets. The powders included 500 types of sacred magical ingredients, including; Pong Ittijae, Pong Dtinisinghae, Pong Yant Bpatamang, Pong Yant Normo Pra Intr.
This amulet is highly recommended for Ladies due to its smaller size
Ajarn Chum, who was so very Adept in Khom Agkhara spells and the Sacred Geometry of Yant, made a three month ceremony of constructing a Yant (Piti Chak Yant). The Sangha then gave the special powder the Name 'Pra Pong Wised Kong Chay Chum' .
Sacred Yant is hand inscribed on the rear face of the amulet
Ajarn Tong Tao is the Boromajarn root Lineage Master of the world famous Khao Or magical tradition of South Thailand. This is said to have been the most powerful magical lineage of Masters in all Thailand, of all time. Especially in those days, the Lineage and the Samnak was one single Lineage, and extremely powerful.
These amulets were empowered and blessed during the famous Wat Tham Khao Ngern Sadej Glab Buddha Abhiseka and Taewa Abhiseka Ceremonies, which is one of the most revered, and famous ceremonies and editions of powerful amulets of all the ceremonies attended by Ajarn Kong and Ajarn Chum in that Era, including the Great 2483 BE Indochina War Edition.
One part of the ceremony that stands out is the immersion of the amulets in the river, and letting them drift away, and then, setting up a 'Sala Baram Piti' (a sort of small pedestal with a roof on high legs, above water level), which is dressed with white cloth.
Then Ajarn Chum would perform the incantations and prayers, to ask the Devas to bring the amulets back ('Sadej Glab', is high speech for high ranking persons or Deities, and means 'To travel back'). The amulets all returned back one by one with the streamflow, and came to rest at the Sala Baram Piti.
Ajarn Chum Chai Kiree often performed this method of empowerment in various parts of Thailand at various temples, and every time the amulets would return to their originator, or owner without a single piece missing. Sometimes the distance between the place the amulets were thrown in the river, and where they were recieved, was up to 30 Kilometers away.
The Buddha Abhiseka fiinal Blessing after Ajarn Chum Chai Kiree's Impressive Miraculous Empowerment, was performed with one of the largest assemblies of devotees of the various Khao Or Sorcery Lineage Temples of all Ceremonies, and is accepted that the Wat Tham Khao Ngern Sadej Glab Ceremony is of the most Sacred and Important of all Ceremonies performed by the Dtamnak Dtak Sila Khao Or Southern Academy of Sorcery.
Important Names Present Were; Pra Ajarn Nam (Wat Don Sala), Pra Ajarn Parn (Wat Khao Or), Luang Por Hmun (Wat Khao Daeng), Pra Kroo Palad Puang (Wat Prasat Nikorn, in Hlang Suan in Chumporn), Luang Por Tan Kloi (Wat Tham Khao Ngern in Chumporn), and of course Luang Por Kong, and Ajarn Chum Chai Kiree.
Below, famous ceremony and show of magic by Ajarn Chum
Below; Ajarn Chum, Khun Pantaraks Rachadej (creator of the Jatukam Ramathep amulet), and other masters performing amulet blessings and empowerments (We recommend to turn sound down because of loud volume in below clip)
Temple:Wat Tham Khao Ngern
Maker of Amulet:Ajarn Chum Chai Kiree + Ajarn Kong
Weight:2 Grams
Recommended Uses:Serm Duang, Klaew Klaad, Kong Grapan, Metta, Maha Lap, Kong Grapan
Size of Amulet:2 x 1 Cm
Material:Nuea Wan Sabu Luead
Additional Info:Often mistaken as an image of Somdej Dto, due to the holding of the Kampir Grimoire, this amulet is an early classic of the Khao Or Lineage representing the Great Ajarn Tong Tao
Encasement Options
Solid gold custom casing (we will email you with a price quote according to current gold prices at the time of inquiry) (0) Waterproof Casing (9) Stainless Steel Casing (9) None (0)