A Powerful Gurunussati Type Amulet, the Sacred Roop Tai Ad Grajok 'mirror press' version Olden Days Photograph of, the Great Guru Master Luang Por Opasi, Legendary Miracle Monk of of Asrom Bang Mot released in the year 2507 BE.
Roop Tai (Photos) were and still are one of the most direct ways in which a Devotee can connect with and revere to receive blessings from a chosen Guru master, and are a highly favored type of Sacred Amulet with Thai Buddhist People. Original Photos blessed by the olden days masters are of course also very rare and original. This photograph is double sided (Ad Grajok), and features the image of Luang Por Opasi standing on a pedestal with his hands raised in prayer, during the Ngan Piti Song Nam Luang Por Opasi bathing ceremony of 2507 BE at Asrom Bang Mot.
Roop Tai (Photos) were and still are one of the most direct ways in which a Devotee can connect with and revere to receive blessings from a chosen Guru master, and are a highly favored type of Sacred Amulet with Thai Buddhist People. Original Photos blessed by the olden days masters are of course also very rare and original.
Luang Por Opasi was born in 2441 BE, in Nakorn Sri Tammarat, but was taken and placed in charge of the Sangkaracha at the Royal Temple of Wat Bowornives in Bangkok, where he remained studying and was finally ordained as a full Bhikkhu, in 2461 BE at the age of 20, at Wat Bovornives.
He was ordained by the Sangkaracha Monk himself, as his Upachaya (Ordaining Officer). He studied Pali and Dhamma to reach the academic level of Prayoke 5, and then turned to study and practice Wicha Akom (Buddha Magic and Sorcery). He continued on there to attain his completion of Dhamma Studies and develop all facets of his practice, and finally, after 20 years serving at Wat Bowornives, he decided to begin Tudong Solitary Forest Wandering.
He spent the next 20 years wandering and learning Wicha with various Guru Masters throughout this time. One of the masters he spent the most time with to absorb the methods of empowerment and formulas, was Luang Por Gop, of Wat Khao Sariga in Nakorn Nayok. He spent a long time with this Master in order to develop the special abilities of Dtecho Kasin (Fire Kasina), and to stare at the flames and meditate to vanquish the restless mind, and to overcome material attachment.
Part of this practice, was to burn any possessions or material offerings given in the fire, and to watch them burn, until the Kilesa (selfish instinct and desires and attachments) cease to arise within the heart. After mastering his own heart, he returned to Wat Bowornives. But after some time, with his practice of burning all thing he was given, except the four requisites of food, medicine, clothing and lodging necessities, began to cause devotees to begin to travel from far and wide to pay reverence to Luang Por Opasi at Wat Bowornives, and this seemed unfitting to Luang Por Opasi, who did not wish to attract attention
Below; front cover of Amulets of LP Opasi Encyclopaedic Catalog
So he decided it was time to leave Wat Bowornives, and travel on Tudong to go stay at Bang Mot, but this was to no avail, because the devotees just followed after him to Bang Mot, and slowly but surely he was receiving many devotees again. The local folk of Bang Mot had also become very faifhtful devotees of Luang Por Opasi, and had built a small Samnak Songk (name of a Buddhist Forest Ashram before it becomes officially a registered temple) for Luang Por to reside in permanently.
From then on, Luang Por remained at Asrom Bang Mot, and developed it into a fully fledged temple, with his fold of devotees ranging from the poorest farmer, to the richest noble, all of whome came to give alms and watch those gifts which were not of the 4 requisites be burned in Luang Por Opasi's fire. Everybody who came to have material possessions burned in the fire, would experience great wealthy fortunes thereafter, and the legend of Luang Por Opasi's Powers began to circulate.
Luang Por Opasi was also very famous for his ability to appear in more than one place at the same time, and be seen by witnesses in both places. There is a Legend of a visit to India where Luang Por Opasi was supposed to appear, and he sent his two apprentice monks to travel ahead, saying he would appear there later.
In 2499 BE (1955), LP Opasi and two of his disciples where invited to a Buddhist gathering in India to be held from October 28. LP Opasi called to his two disciples to leave before him and that he would join them later. He also told them that he will not be on the spot before October 31 and to warn the organizers of his delay and the date of its arrival. October 31 many of his disciples went to the airport to wish LP Opasi a happy voyage, but it did not come, a few days later the death of LP Opasi was announced.
In fact, in the evening, LP Opasi warned his monks that he was going to remain in meditation several days and to not disturb him under any circumstance, then he went in his Kuti. He stayed there until a anxious monk decides to go and see whether LP Opasi were well or not, he enters the Kuti to find LP Opasi in a state having all the aspect of death.
During this time, in India, the two disciples of LP Opasi attended the Buddhist gathering in company of LP Opasi. Luang Por Opasi spoke with many other Buddhists dignitaries and gave even a state education in front of several hundreds of people, even photos of this occasion has being taken. LP Opasi said goodbye to its two disciples, and told them that he was going to return to Thailand only by separate means of transport.
When they arrived the disciples had a hard time believing the news of LP Opasis Passing Away, everyone believed that they had become insane when they said to have spent the last days in his company… Only the testimony of several other monks present and the photographs in India of LP Opasi proved the veracity of their incredible history.
Each year the coffin of LP Opasi is opened, his body has not decomposed and his finger nails and hair is cut. This is a common thing regarding monks that have become enlightened, The body will not decompose or if the body is burned the bones will turn to stone or diamond.
(extra info: The great master of Sak Yant Luang Por Phern (Wat Bang Pra) was a student of Luang Por Opasi)
Luang Por Opasi Kata for Chanting;
Ithisukhathoe Arahang Puttoe Namoe Puttaaya Bpatawee Kongkaa Phrapoom Taewaa Khamaamihang
Hwaen Pirod 2460 BE Ancient Warrior Ring of Invincibility Luang Por Muang Wat Ban Tuan
03795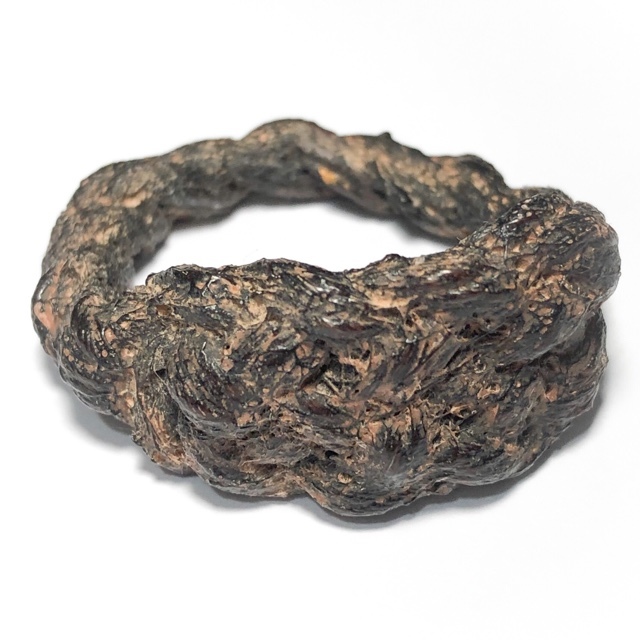 The world famous Hwaen Pirod Ancient Warriors Ring of Luang Por Muang, made from Corpse Cloth Yantra Sinjana Cords with Lacquer Ancient Amulet. An immensely rare and sought after amulet of Luang Por Muang, of Wat Ban Tuan. Estimated Circa 2460 BE or earlier. Luang Por Muang Jantasaro of Wat Ban Tuan, Amper Ban Tuan, Kanjanaburi Province, is an Old Gaeji Ajarn Guru Monk of Great Fame who was in his Heyday during the First World War. He was around in the same era as the Great Luang Por Ngern of Wat bang Klan and was a very famous and revered Master during those days.
His most famous and sought after ancient amulets were and are now more than ever, his Rian Pum Luang Por Muang (differing faces Hnaa Hnum and Hnaa gae/Young Old Face) of 2460 and also his Waen Pirod Warrior Rings of Protection, which are even more extremely rare to find these days. Even during the time he was still alive, is Waen Pirod were a most sought after item, and anybody who owned one would be unable to convince to part with it.
Nowadays, his Waen Pirod are amongst some of the rarest items to be found in Thai Amulet collectorship, in the 'Krueang Rang' (Occult Talismans) Category of Amulets. Serious Collectors and Devotees of Essentially Rare amulets and Talismans in the Thai Collector scene are known to be very fervent about wanting to own a Waen Pirod of Luang Por Muang, which are so difficult to find, as to make them the dream of many a collector.
Most 'Sian Pra' (expert collectors and traders) will not sell their Waen Pirod, but will only place it in competition or on show for admiration, but hardly ever are prepared to part with them for any price.
This is because those in the know, are aware that Luang Por Muang did not make so many of these rings, for the fact that his method of making them adhered to the Ancient Wicha and that this meant, that the extremely complex methods used limited the amount he was able to make. So he never made that many, and would also not hand them out easily to just anybody, because he never made them in any mass quantities
In those days, Guru masters would not allow their devotees to assist in making mass productions, and so each amulet would pass only through the hands of the master and be self made and self empowered (this rule of course, does not apply to the case of smelted coins of course, and is specifically true for talismans, Takrut and similar hand made amulets). Luang Por did not make them for fundraising or other reasons, and would only make them for special reasons in special circumstances, for specific persons or reasons.
Their magic power is also unquestioned, for the way that Luang Por Muang would perform his Ritual Method of creating and empowering these rings of power in the ancient traditional method of applied Wicha (Sorcery).
He would use 'Pha Hor Sop Dtaay Hoeng' (cloth used to wrap Hoeng Prai corpses who died in sudden circumstances - a prerequisite for Prai Necromantic Sorcery power to be at its most powerful) cloth for their making. He use the full and complete 'Dtamra' (formula of legend) of the Wicha used during the Ancient Ayuttaya period, which he had received passed down to him from his lineage Masters, which was used by the first Kings of Thailand (Pra Naresuan Maharaj).
Once he has made and bound the rings into their shape and form, he would then perform Invocations and Ritual Methods of Empowerment, and then throw the rings into the blazing ritual fire. If the ring would burn, then he would destroy it and not use it, for this would mean that not enough Samadhi Meditative Concentration had been applied, and would begin again and make a new ring. Only the rings which did not burn in the fire, would be used. Those rings which proved through the fire test that they possessed true power, would be taken and covered in herbal lacquer to make them last for centuries (Pirod means burning flame, hence 'Waen Pirod' means Flaming Ring - and is fireproof).
Luang Por would use a reddish lacquer similar to Chinese lacquer which was used in those days, but which turns black in time. He would dip the rings many times to get a thick coating, but this kind of lacquer would slowly crack and form small openings as the years passed by, which is part of the immense beauty and attraction of the Waen Pirod of Luang Por Muang.
To authenticate and know what a real Waen Pirod (for indeed such a sought after item has many forgeries around) one should know to examinig the lacquer and see the slight cracks and the beige brownish sinjana cord and corpse cloth within that is visible through the cracks of the lacquer. One should also notice small areas of reddish tints where the original red lacquer color still resonates through the darkened lacquer surface.
Kata Waen Pirod
Om Pra Pirod Khord Pra Pinai
(Chant 9 Times when placing the ring on or hanging it on your neckchain for wearing)
Om Pra Pinai Klaay Pra Pirod
(Chant 9 times when removing the ring, or taking of your neck-chain or pendant holder)
Luang Por Muang's famous Waen Pirod is reputed to have many magical powers, among them are said to be invincibility and safety in dangerous situations, as well as in the olden days, as people would have to enter the deep jungle, that the ring will protect against all sorts of dangerous animals, ghosts and demons, and poisonous beats such as cobras, scorpions and hunting animals such as the tiger.
Demons and Prai Hian Ghosts will not dare to approach. Maha Ud (Gun-Stopper), and protection agains all sorts of weaponry. This is a truly ancient amulet, and is is roughty one century old.
Temple:Wat Ban Tuan
Year of Issue:
Before 2461 BE
Maker of Amulet:Luang Por Muang
Weight:3 Grams
Recommended Uses:Kong Grapan and Klaew Klaad Protection, Maha Amnaj Command and Dominion
Number of Amulets Made:Extremely small numbers hand made during the life of Luang Por Muang
Encasment Options
Solid Gold Custom Casing - We will email you with a price quote according to current Gold Prices, and Invoice You after Agreement (0) Waterproof Casing (Free Offer) (0) Without Casing (0)