A Powerful Gurunussati Type Amulet, the Sacred Roop Tai Ad Grajok 'mirror press' version Olden Days Photograph of, the Great Guru Master Luang Por Opasi, Legendary Miracle Monk of of Asrom Bang Mot released in the year 2507 BE.
Roop Tai (Photos) were and still are one of the most direct ways in which a Devotee can connect with and revere to receive blessings from a chosen Guru master, and are a highly favored type of Sacred Amulet with Thai Buddhist People. Original Photos blessed by the olden days masters are of course also very rare and original. This photograph is double sided (Ad Grajok), and features the image of Luang Por Opasi standing on a pedestal with his hands raised in prayer, during the Ngan Piti Song Nam Luang Por Opasi bathing ceremony of 2507 BE at Asrom Bang Mot.
Roop Tai (Photos) were and still are one of the most direct ways in which a Devotee can connect with and revere to receive blessings from a chosen Guru master, and are a highly favored type of Sacred Amulet with Thai Buddhist People. Original Photos blessed by the olden days masters are of course also very rare and original.
Luang Por Opasi was born in 2441 BE, in Nakorn Sri Tammarat, but was taken and placed in charge of the Sangkaracha at the Royal Temple of Wat Bowornives in Bangkok, where he remained studying and was finally ordained as a full Bhikkhu, in 2461 BE at the age of 20, at Wat Bovornives.
He was ordained by the Sangkaracha Monk himself, as his Upachaya (Ordaining Officer). He studied Pali and Dhamma to reach the academic level of Prayoke 5, and then turned to study and practice Wicha Akom (Buddha Magic and Sorcery). He continued on there to attain his completion of Dhamma Studies and develop all facets of his practice, and finally, after 20 years serving at Wat Bowornives, he decided to begin Tudong Solitary Forest Wandering.
He spent the next 20 years wandering and learning Wicha with various Guru Masters throughout this time. One of the masters he spent the most time with to absorb the methods of empowerment and formulas, was Luang Por Gop, of Wat Khao Sariga in Nakorn Nayok. He spent a long time with this Master in order to develop the special abilities of Dtecho Kasin (Fire Kasina), and to stare at the flames and meditate to vanquish the restless mind, and to overcome material attachment.
Part of this practice, was to burn any possessions or material offerings given in the fire, and to watch them burn, until the Kilesa (selfish instinct and desires and attachments) cease to arise within the heart. After mastering his own heart, he returned to Wat Bowornives. But after some time, with his practice of burning all thing he was given, except the four requisites of food, medicine, clothing and lodging necessities, began to cause devotees to begin to travel from far and wide to pay reverence to Luang Por Opasi at Wat Bowornives, and this seemed unfitting to Luang Por Opasi, who did not wish to attract attention
Below; front cover of Amulets of LP Opasi Encyclopaedic Catalog
So he decided it was time to leave Wat Bowornives, and travel on Tudong to go stay at Bang Mot, but this was to no avail, because the devotees just followed after him to Bang Mot, and slowly but surely he was receiving many devotees again. The local folk of Bang Mot had also become very faifhtful devotees of Luang Por Opasi, and had built a small Samnak Songk (name of a Buddhist Forest Ashram before it becomes officially a registered temple) for Luang Por to reside in permanently.
From then on, Luang Por remained at Asrom Bang Mot, and developed it into a fully fledged temple, with his fold of devotees ranging from the poorest farmer, to the richest noble, all of whome came to give alms and watch those gifts which were not of the 4 requisites be burned in Luang Por Opasi's fire. Everybody who came to have material possessions burned in the fire, would experience great wealthy fortunes thereafter, and the legend of Luang Por Opasi's Powers began to circulate.
Luang Por Opasi was also very famous for his ability to appear in more than one place at the same time, and be seen by witnesses in both places. There is a Legend of a visit to India where Luang Por Opasi was supposed to appear, and he sent his two apprentice monks to travel ahead, saying he would appear there later.
In 2499 BE (1955), LP Opasi and two of his disciples where invited to a Buddhist gathering in India to be held from October 28. LP Opasi called to his two disciples to leave before him and that he would join them later. He also told them that he will not be on the spot before October 31 and to warn the organizers of his delay and the date of its arrival. October 31 many of his disciples went to the airport to wish LP Opasi a happy voyage, but it did not come, a few days later the death of LP Opasi was announced.
In fact, in the evening, LP Opasi warned his monks that he was going to remain in meditation several days and to not disturb him under any circumstance, then he went in his Kuti. He stayed there until a anxious monk decides to go and see whether LP Opasi were well or not, he enters the Kuti to find LP Opasi in a state having all the aspect of death.
During this time, in India, the two disciples of LP Opasi attended the Buddhist gathering in company of LP Opasi. Luang Por Opasi spoke with many other Buddhists dignitaries and gave even a state education in front of several hundreds of people, even photos of this occasion has being taken. LP Opasi said goodbye to its two disciples, and told them that he was going to return to Thailand only by separate means of transport.
When they arrived the disciples had a hard time believing the news of LP Opasis Passing Away, everyone believed that they had become insane when they said to have spent the last days in his company… Only the testimony of several other monks present and the photographs in India of LP Opasi proved the veracity of their incredible history.
Each year the coffin of LP Opasi is opened, his body has not decomposed and his finger nails and hair is cut. This is a common thing regarding monks that have become enlightened, The body will not decompose or if the body is burned the bones will turn to stone or diamond.
(extra info: The great master of Sak Yant Luang Por Phern (Wat Bang Pra) was a student of Luang Por Opasi)
Luang Por Opasi Kata for Chanting;
Ithisukhathoe Arahang Puttoe Namoe Puttaaya Bpatawee Kongkaa Phrapoom Taewaa Khamaamihang
Kot Kala Phueak Pra Rahu Mai Mee Ta Albino Eyeless Coconut Carved Asura Deva Eclipse God Luang Por Pin Wat Srisa Tong
03794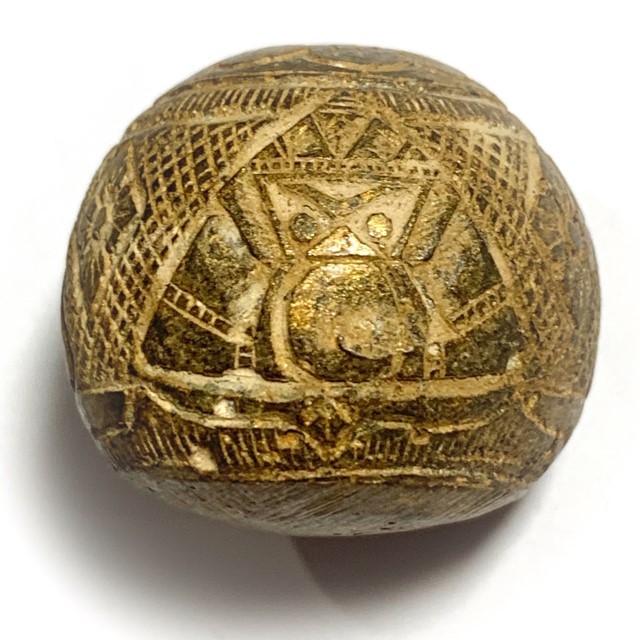 A beautifully hand carved miniature Look Kala Mai Mee Ta eyeless coconut careved Asura Deva God amulet, and one of the extreme rarities of the amulet pantheon from a highly preferred top master of Wicha Pra Rahu, Luang Por Pin, of Wat Srisa Tong, in Nakorn Pathom. There are many levels of detail found in the carved Kala Mai Mee Ta of Luang Por Pin, ranging from that of the simple village artisan, to the fine master craftsman.This exhibit is a Kot Kala Mai Mee Ta Phueak, minature self enclosed eyeless coconut shell, and is in very rare albinbo coconut shell.
The word 'Kot' means 'anomaly'. Eyeless Coconut is even more powerful than one eyed coconut in Thai Magical Belief System. The Albino Eyeless Kot Kala Mini Coconut Anomaly is of course considered perhaps the rarest of all Kot Kala.

This amulet comes (as do all) with free registered air parcel shipping worldwide, and a free gift. The Kot Kala amulet is exquisitely carved with Laoatian influenced Buddhist Art eminently visible with the triangular crown worn by Pra Rahu, and other fine details which show the carving was made by one of the Lao Ethnic Artisans who had moved since earlier generations to Nakorn Pathom, and blessed and inscribed with Agkhara by Luang Por Pin.
A rare Ritual Artifact for Wearing as an amulet, or a Mini Bucha for Altar Worship with the World Famous Wicha of Wat Srisa Tong, empowered with the Magic of the preceding Lineage Masters of Wat Srisa Tong; Luang Por Dto, Luang Por Dtrai, Luang Por Dtan, Luang Por Lee, Luang Por Tong, Luang Por Choi, and his Kroo Ba Ajarn Luang Por Noi before him.
The Look Kala Ta Diaw, and Kot Kala Mai Mee Ta and Pra Rahu Sema Glab amulets of Luang Por Pin are for Bucha to Pra Rahu Asura Deva of the Solar and Lunar Eclipse. Tjhis exhibit is carved by a top artisan of Wat Sri Sa Tong, and empowere in ceremony during the eclipses of sun and moon, in Bucha Ceremony at Wat Srisa Tong, with Luang Por Pin, presiding over the Blessing Ceremony.
Luang Por Pin was the Looksit Aek (first and roemost apprentice in Wicha), to the Great Luang Por Noi, previous abbot of Wat Srisa Tong, who bestowed the Wicha onwards to Luang Por Pin in its entirety. The Wicha Pra Rahu Kala Ta Diaw of Wat Srisa Tong is perhaps the most famous of all temples in Thailand, with its lineage of great Guru Master Sorceror-Monks who have practiced this Wicha in lineage transmission since ancient times.
Both Luang Por Noi, and Luang Por Pin enjoy top status for Pra Rahu Kala Ta Diaw amulets, as does the temple of Wat Srisa Tong itself. When we speak of the Pra Rahu Sema Glab amulet in carved coconut shell, one immediately comes to mind with the names of Luang Por Noi, and Luang Por Pin being synonymous.
If you feel that your Fate and Horoscope is not Auspicious, then it could be that Pra Rahu is interfering. You can solve this problem by making Bucha offerings to Pra Rahu every Wednesday;
Light 10 black incense sticks ('Toop' in Thai), and five types of black offerings (e.g. black sticky rice, black jelly grass drink, black semolina or sago pudding and the like).
12 repetitons of the Kata Bucha Pra Rahu are to be Chanted;
Idtipiso Pakawaa Pra Rahuu Sataewaa Samaa Winyaana Idtipiso Pakawaa Putta Sangmi
Below; Magazine from the 1980's showing an example of the Kot Kala of Luang Por Pin, which already carried a price of 8000 Thai Baht half a century ago (circa 280$)

Kata Surya Buppaa (to be chanted in the daylight)
Gusaedto Ma Ma Gusaedto-dto Laalaa Ma Ma Dtolaamo Tolaamo Ma Ma Tolaamo Ma Ma Tolaamodtang Haegudti Ma Ma Haegudti
Kata Jantra Bupaa (to be chanted in the night time)
Yadt-thadtang Ma Ma Dtangthaya Dtawadtang Mamadtang Wadtidtang Saegaa Ma Ma Gaasaegang Gaadtiyang Ma Ma.Gaadtiyang Ma Ma Yadtigaa
When you begin to Bucha Rahu Deity, you should make the first ever session in the evening of a Wednesday (any time from 7 pm onwards). After you have done this once, you can make Bucha in the daytime if you wish, but the first time you must include the food offerings of black foods as well as the black incense. The second time onwards, only the incense is necessary in the daytime, if it is a lot of trouble to get the food offerings.
The Pra Rahu Kala Ta Diaw of Luang Phu Noi and Luang Por Pin, are the most prestigious of all in the eyes of the Pra Niyom Collector Community, with the exception of the Great Lanna Master Kroo Ba Nanta of Wat Tung Man Dtai
The Rahu amulets of Wat Srisa Tong themselves were made by Artisans, who were devoted Looksit of Luang Por Noi, who were mostly immigrants from Vientiane, in Laos, who moved to Thailand during the early Ratanakosin Period of Thai History. Luang Por would then would distribute them back to the devotees for protection and Serm Duang (improve fate and destiny).
As the Lao artisans began to develop their skills and experience repeatedly carving the coconut shells, the design became ever more finely tuned and increasing in beauty, but due to the fact that there were a large number of artisans all making these carvings, the designs would be varied both in appearance of features, and in the quality and amount of detail.
Wat Srisa Tong
As the earthen foundations of the temple of Wat Srisa Tong were being dug for the building of the temple, a golden Buddha Head was discovered, and because of this, the Temple was first given the name 'Wat Hua Tong' which means 'Temple of the Golden Head'. The word 'Hua' means 'head' in colloquial Thai, but for referring to a Sacred Image of a Deity or a Buddha (or a Monk), the word 'Srisa', which also means 'Head', in high speech, is preferred. So the name was then changed later to 'Wat Srisa Tong'
The first Abbot of the temple was Luang Por Dto, who was one of the Laoatian people who had immigrated from Vientiane. Luang Por Dtrai developed the temple continually. The Lao people who built the temple had many artisan who knew that Luang Por Dtrai had powerful Wicha Akom and the sectrets of the Laoatian Wicha Pra Rahu Om Jantr, and so they carved Rahu Amulets from one eyed coconut shells using the traditional Lao Artistic style, to give to Luang Por Dtrai for empowerment.
Over the years, Wat Srisa Tong grew constantly throughout the lineage of Abbots, from a small temple into a large impressive temple over the years. After Luang Por Dtrai's passing, he was succeeded by the new Abbot, Luang Por Dtan, who was succeeded by Luang Por Lee, who was then succeeded by Luang Por Tong, after which came Luang Por Choi, and then cam the fifth Abbot, Luang Por Noi Kantachodto.
It was the second Abbot, Luang Por Lee, who inherited and continued the Wicha Pra Rahu Om Jantr in the Lao tradition from Luang Por Dtrai. Luang Por Noi was also one of the Lao People of Srisa Tong municipality in Nakorn Chaysri, who during his time as a Buddhist Monk before becoming Abbot, was practicing at Wat Srisa Tong, and learned the Wicha of Luang Por Dtrai from Luang Por Lee, and ascended later to become the next Master Adept.
This adepthood was supported by a strong foundation in the Wicha Pra Rahu Om Jantr from Luang Por Noi's Father, who was also a Laymaster of Lao Sorcery too, and who made carved Rahu amulets and empowered them.
So Luang Por Noi got to learn this Wicha from his Father from a very early age, and this made him the perfect apprentice for Luang Por Lee to pass on his Wicha of the Pra Rahu Om Jantr Kala Ta Diaw. Luang Por Noi brought the Wicha Pra Rahu Om Jantr Gae Kala Ta Diaw begun by Luang Por Dtrai, passed to him through Luang Por Lee, to World Fame, through his higher development of the artistic features of the artisanry and design of the carved coconut shell images.
Below; Luang Por Noi- Kroo Ba Ajarn of Luang Por Pin

Luang Por Noi did this by raising a more stringent rule for the magical requirements in allowing only coconuts with one single eye to be used for the carving of the Rahu image. Luang Por Noi then passed on in turn all of his accumulated knowledge and prowess and the secrets of empowerment of the Pra Rahu Kala Ta Diaw, to Luang Por Pin. It is then with Luang Por Pin that the Wicha Pra Rahu Kala Ta Diaw was given to preserve and continue. Luang Por Pin then became the Master of the Wicha after the Passing of Luang Por Noi.
Below; Luang Por Pin
The Wicha continued on with the next abbot Luang Por Manich, which also passed away now in 2559 BE. We await the appearance of the next Master of the Wicha Rahu of Wat Srisa Tong, and hope to find and present as many examples of the amulets of this lineage as we can over the coming years, to collect and admire.
Temple:Wat Srisa Tong
Maker of Amulet:Luang Por Pin
Weight:5 Grams
Recommended Uses:Maha Ud, Siang Choke, Glab Duang, Maha Pokasap, Serm Duang, Klaew Klaad, Kong Grapan Chadtri, Gae Aathan
Size of Amulet:2 Cm Diameter
Encasement Options
Solid Gold Waterproof Casing - We will Email You with Price Quote and Invoice if in Agreement (0) Waterproof Casing (9) Stainless Steel Casing (9) None (0)