A Powerful Gurunussati Type Amulet, the Sacred Roop Tai Ad Grajok 'mirror press' version Olden Days Photograph of, the Great Guru Master Luang Por Opasi, Legendary Miracle Monk of of Asrom Bang Mot released in the year 2507 BE.
Roop Tai (Photos) were and still are one of the most direct ways in which a Devotee can connect with and revere to receive blessings from a chosen Guru master, and are a highly favored type of Sacred Amulet with Thai Buddhist People. Original Photos blessed by the olden days masters are of course also very rare and original. This photograph is double sided (Ad Grajok), and features the image of Luang Por Opasi standing on a pedestal with his hands raised in prayer, during the Ngan Piti Song Nam Luang Por Opasi bathing ceremony of 2507 BE at Asrom Bang Mot.
Roop Tai (Photos) were and still are one of the most direct ways in which a Devotee can connect with and revere to receive blessings from a chosen Guru master, and are a highly favored type of Sacred Amulet with Thai Buddhist People. Original Photos blessed by the olden days masters are of course also very rare and original.
Luang Por Opasi was born in 2441 BE, in Nakorn Sri Tammarat, but was taken and placed in charge of the Sangkaracha at the Royal Temple of Wat Bowornives in Bangkok, where he remained studying and was finally ordained as a full Bhikkhu, in 2461 BE at the age of 20, at Wat Bovornives.
He was ordained by the Sangkaracha Monk himself, as his Upachaya (Ordaining Officer). He studied Pali and Dhamma to reach the academic level of Prayoke 5, and then turned to study and practice Wicha Akom (Buddha Magic and Sorcery). He continued on there to attain his completion of Dhamma Studies and develop all facets of his practice, and finally, after 20 years serving at Wat Bowornives, he decided to begin Tudong Solitary Forest Wandering.
He spent the next 20 years wandering and learning Wicha with various Guru Masters throughout this time. One of the masters he spent the most time with to absorb the methods of empowerment and formulas, was Luang Por Gop, of Wat Khao Sariga in Nakorn Nayok. He spent a long time with this Master in order to develop the special abilities of Dtecho Kasin (Fire Kasina), and to stare at the flames and meditate to vanquish the restless mind, and to overcome material attachment.
Part of this practice, was to burn any possessions or material offerings given in the fire, and to watch them burn, until the Kilesa (selfish instinct and desires and attachments) cease to arise within the heart. After mastering his own heart, he returned to Wat Bowornives. But after some time, with his practice of burning all thing he was given, except the four requisites of food, medicine, clothing and lodging necessities, began to cause devotees to begin to travel from far and wide to pay reverence to Luang Por Opasi at Wat Bowornives, and this seemed unfitting to Luang Por Opasi, who did not wish to attract attention
Below; front cover of Amulets of LP Opasi Encyclopaedic Catalog
So he decided it was time to leave Wat Bowornives, and travel on Tudong to go stay at Bang Mot, but this was to no avail, because the devotees just followed after him to Bang Mot, and slowly but surely he was receiving many devotees again. The local folk of Bang Mot had also become very faifhtful devotees of Luang Por Opasi, and had built a small Samnak Songk (name of a Buddhist Forest Ashram before it becomes officially a registered temple) for Luang Por to reside in permanently.
From then on, Luang Por remained at Asrom Bang Mot, and developed it into a fully fledged temple, with his fold of devotees ranging from the poorest farmer, to the richest noble, all of whome came to give alms and watch those gifts which were not of the 4 requisites be burned in Luang Por Opasi's fire. Everybody who came to have material possessions burned in the fire, would experience great wealthy fortunes thereafter, and the legend of Luang Por Opasi's Powers began to circulate.
Luang Por Opasi was also very famous for his ability to appear in more than one place at the same time, and be seen by witnesses in both places. There is a Legend of a visit to India where Luang Por Opasi was supposed to appear, and he sent his two apprentice monks to travel ahead, saying he would appear there later.
In 2499 BE (1955), LP Opasi and two of his disciples where invited to a Buddhist gathering in India to be held from October 28. LP Opasi called to his two disciples to leave before him and that he would join them later. He also told them that he will not be on the spot before October 31 and to warn the organizers of his delay and the date of its arrival. October 31 many of his disciples went to the airport to wish LP Opasi a happy voyage, but it did not come, a few days later the death of LP Opasi was announced.
In fact, in the evening, LP Opasi warned his monks that he was going to remain in meditation several days and to not disturb him under any circumstance, then he went in his Kuti. He stayed there until a anxious monk decides to go and see whether LP Opasi were well or not, he enters the Kuti to find LP Opasi in a state having all the aspect of death.
During this time, in India, the two disciples of LP Opasi attended the Buddhist gathering in company of LP Opasi. Luang Por Opasi spoke with many other Buddhists dignitaries and gave even a state education in front of several hundreds of people, even photos of this occasion has being taken. LP Opasi said goodbye to its two disciples, and told them that he was going to return to Thailand only by separate means of transport.
When they arrived the disciples had a hard time believing the news of LP Opasis Passing Away, everyone believed that they had become insane when they said to have spent the last days in his company… Only the testimony of several other monks present and the photographs in India of LP Opasi proved the veracity of their incredible history.
Each year the coffin of LP Opasi is opened, his body has not decomposed and his finger nails and hair is cut. This is a common thing regarding monks that have become enlightened, The body will not decompose or if the body is burned the bones will turn to stone or diamond.
(extra info: The great master of Sak Yant Luang Por Phern (Wat Bang Pra) was a student of Luang Por Opasi)
Luang Por Opasi Kata for Chanting;
Ithisukhathoe Arahang Puttoe Namoe Puttaaya Bpatawee Kongkaa Phrapoom Taewaa Khamaamihang
Pra Pid Ta Putto Nuea Poon Sek Pim Yai Ongk Kroo Fang Met Pratat Insert Mae Chee Bun Ruean Wat Awut
03737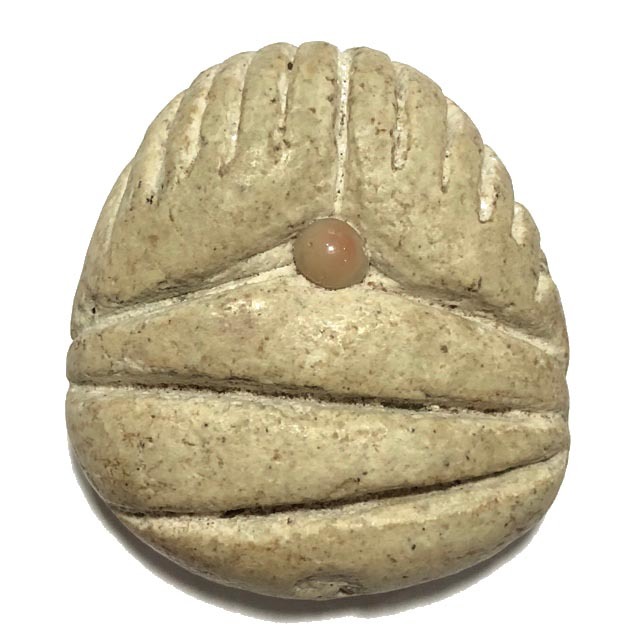 An extremely rare and immensely revered Ongk Kroo version amulet with blessed Met Pratat Sacred relic insert, that is seldom seen, of the Great Thai Buddhist Nun, Mae Chee Bun Ruean, of Wat Awut; the Sacred Pra Pid Ta is inimitably fashioned in a manner that is instantly recognisable as that of the Mae Chee Bun Ruean Thai Buddhist Nun, and made from her famous 'Poon Sek sacred muan sarn ingredients, which are known for their Buddhakhun Magical Properties. This Ongk Kroo with Ruby Insert is a Pim Niyom Preferred Model and an essential rarity.
The rear face is 'Hlang Riab' smooth faced. The front face has an Blessed Relic Stone inserted as Ploi Sek Maha Pokasap, enclosed by the limbs of the Buddha (Ud Sap, meaning to allow influx but no outflow of wealth).

The Pidta were dfistributed to the closest devotees of Mae Chee Bun Ruean, for they were made in small numbers, and are hence very rare to encounter indeed. Kun Mae Chee Bun Ruean was famous for her 'Pra Putto Noi' amulet, Thung Khiaw Hniaw Sap treasure pouches, and Khaw Dtok Pra Ruang Sacred Elements. Her amulets and those in her image enjoy immense reverence with Buddhist Folk of every Province in Thailand, for her great healing powers and her Merits made for Buddhism, and her meditative prowess and teachings.
The amulet is empowered for protection, wish fulfilment by holding and praying to, and making wishes, and is a protector against black magick, as well as possessing healing elements.The amulet can be held in the palm of the hand when meditating too, for intensive practices.

Mae Chee Bun Ruean is perhaps the most famous of Thai Buddhist Nuns, which is underlined by the fact that a Buddhist Nun made such great impression and influence in the Thai Buddhist religion is a statement in itself of her great merits to propagate and preserve the Buddha's teachings, and to lead her devotees towards the true path of practice.
---
Who was Mae Chee Bun Ruean?
Kun Mae Chee Bun Ruean was a Buddhist Nun whose purity of practice was so exemplary that she became a Buddhist master in her own right in Thailand's Theravada tradition, which is highly unusual and a difficult task to acheive, in a Tradition where women are not permitted to ordain as a Bhikkhuni, and must remain in white as a Karavasa Holder of Precepts.
Despite these disadvantages, her great practice, Metta (Compassion) and her teachings, and Charitable Works for Buddhism, brought her to become the most highly beloved Buddhist Nun in the History of Thai Buddhism. She was known to practice and listen to the Dhamma mostly at Wat Sampant Wongs in Bangkok.
Below; Hand Inscriptions on the Yant Putto are visible on the rear face of the Pra Pid Ta Mae Chee Bun Ruean Ongk Kroo Pim Yai Amulet

Her most famous amulet is of course the 'Pra Putto Noi' amulet, which was made in various kinds of sacred powder clay. The most popular model being the 'Pim Jumbo' large size model, in its white powder version.
The Pra Putto Noi was created in the year 2494 BE, with the Mae Chee Bun Ruean as the Organiser of the raising of the funds for their making and the Charitable Acts which were planned from the funds. The Pra Putto Noi amulet in its Pim Niyom model, if in pristine state, can fetch tens of thousands of dollars in the high end auction rooms of the Sian Pra Niyom.
Luckily there were many models, and some are still affordable in this time, but they are very far and few to discover for collection. The devotees who wear her amulets walk confidently in faith of the Metta Maha Niyom and Serm Duang Klaew Klaad Powers, and healing effects of the amulets of Kun mae Chee Bun Ruean. Devotees would rub the powders ointment onto giant centipede and snake bites and infected wounds, to heal them.
Her amulets are said to heal illnesses and to improve Karma. They are believed to be full of Puttakun Power to bring auspicious blessings and prosperity, because of Mae Chee Bun Ruean's life of charitable acts, and her practice of great generosity. They are full of Metta Maha Niyom from Mae Chee Bun Ruean's Equal treatment and Loving Compassion for all of her devotees regardless of their social or financial status. All were treated with the same Metta.
Her purity is believed to have made the amulets she created to be so powerful, and caused her Pra Putto Noi and other amulets to be extremely sought after amulets. She blessed the amulets in 2494 BE, with a ceremonial prayer for the Welfare of the Temple of Wat Awut, in Thonburi. The aim of the funds raised from the edition was to construct the Pra Putto Paas Chinarat Jom Muni, as the 'Pra Pratan' Main presiding Buddha Image of the Uposatha Shrineroom at Wat Sarnath Dhammaram temple, in Rayong.
She bestowed permission to Pra Ajarn Sanguan Kosago, the Abbot of Wat Awut Wikasitaram, who had already collaborated in the making of the Pra Putto Noi Amulets which were previously distributed during the Tord Pha Pha robe donation ceremony. Ma Chee Bun ruean also made extra batches to donate to the Monks at Wat Sampant Wongs, for them to give to their devotees who came to make merits.
Apart from the Pra Putto Noi amulet, Kun Mae Chee Bun Ruean made various other amulets which are also in extremely high regard for their Sacredness, such as the Pra Chaiyawat Putto Brass Votive Tablet of 2499 BE, and the Rian Pra Putto Jom Muni coin of the Pra Putto Yai Statue Installation Ceremony of 2499 BE.
Another very popular 'Krueang Rang' Talismanic Charm of Mae Chee Bun Ruean was the 'Thung Hniaw Sap" treasure glue purse (lucky purse to attract treasures and money like glue sticks to paper), made in 2497 BE. The treasure purse was made in various colours; white, blue, yellow, pink, red, black, and with various styles and designs. Som were made from sack cloth, others from fine cloths, some were large others small purses. The closures of the purses were also varied, ranging from zip to string closures.
Mae Chee Bun Ruean empowered the Thung Khiaw Hniaw Sap treasure attractor purses at the temple of the Buddha Footprint at Wat Pra Puttabat, in Sra Buri, where they were blessed in a large Buddha Abhiseka ceremony and released in early 2488 BE. Some purses actually had something inside of them, and others didn't. The purses are reputed for their Maha Pokasap power to increase wealth and professional success, but have also gained a reputation for powerful healing and protection powers too.
Kata Bucha Mae Chee Bun Ruean
Na Chā Lī Dti Chimpalī Ja Mahā Thērō Suwana Mā Mā Pō Chana Mā Mā Pōka Mā Mā Mahā Lāpō Mā Mā Sappē Chanā Pahū Chanā Pawandtumē
The Kata is said to have been transmitted to Mae Chee Bun Ruean in Meditation from the God Indra, to pay reverence to the Chimplee Arahant (Pra Sivali), in order to bring Maha Lap Lucky Fortunes, Maha Choke, Lucky Windfalls, and Maha Pokasap Treasures.
For Auspicious Blessings, the Kata should be chanted on any Sunday that falls on the 6th day of the month, any Monday falling on the 15th of any Month, Tuesdays which fall on the 8th day of any Month, Wednesdays which fall on the 17th of any Month, Thursdays which fall on the 19th of any Month, Fridays which fall on the 12th day of any Month , and Saturdays which fall on the 10th day of any Month.
Kata Pra Pid Ta
Temple:Wat Awut
Year of Issue:
Between 2494 - 2498 BE
Maker of Amulet:Kun Mae Chee Bun Ruean
Weight:10 Grams
Recommended Uses:Healing, Protection, Prosperity, Mercy Charm, Lifesaver, Meditation, Good Business, Anti Black Magick
Number of Amulets Made:Extremely Few Made (Ultra Rare, especially in Ongk Kroo with Ruby Insert)
Size of Amulet:2.5 x 3 Cm
Encasement Options
Solid Gold Custom Casing - We will email you with a price quote according to current Gold Prices, and Invoice You after Agreement (0) Waterproof Casing (Free Offer) (0) None (0)