A Powerful Gurunussati Type Amulet, the Sacred Roop Tai Ad Grajok 'mirror press' version Olden Days Photograph of, the Great Guru Master Luang Por Opasi, Legendary Miracle Monk of of Asrom Bang Mot released in the year 2507 BE.
Roop Tai (Photos) were and still are one of the most direct ways in which a Devotee can connect with and revere to receive blessings from a chosen Guru master, and are a highly favored type of Sacred Amulet with Thai Buddhist People. Original Photos blessed by the olden days masters are of course also very rare and original. This photograph is double sided (Ad Grajok), and features the image of Luang Por Opasi standing on a pedestal with his hands raised in prayer, during the Ngan Piti Song Nam Luang Por Opasi bathing ceremony of 2507 BE at Asrom Bang Mot.
Roop Tai (Photos) were and still are one of the most direct ways in which a Devotee can connect with and revere to receive blessings from a chosen Guru master, and are a highly favored type of Sacred Amulet with Thai Buddhist People. Original Photos blessed by the olden days masters are of course also very rare and original.
Luang Por Opasi was born in 2441 BE, in Nakorn Sri Tammarat, but was taken and placed in charge of the Sangkaracha at the Royal Temple of Wat Bowornives in Bangkok, where he remained studying and was finally ordained as a full Bhikkhu, in 2461 BE at the age of 20, at Wat Bovornives.
He was ordained by the Sangkaracha Monk himself, as his Upachaya (Ordaining Officer). He studied Pali and Dhamma to reach the academic level of Prayoke 5, and then turned to study and practice Wicha Akom (Buddha Magic and Sorcery). He continued on there to attain his completion of Dhamma Studies and develop all facets of his practice, and finally, after 20 years serving at Wat Bowornives, he decided to begin Tudong Solitary Forest Wandering.
He spent the next 20 years wandering and learning Wicha with various Guru Masters throughout this time. One of the masters he spent the most time with to absorb the methods of empowerment and formulas, was Luang Por Gop, of Wat Khao Sariga in Nakorn Nayok. He spent a long time with this Master in order to develop the special abilities of Dtecho Kasin (Fire Kasina), and to stare at the flames and meditate to vanquish the restless mind, and to overcome material attachment.
Part of this practice, was to burn any possessions or material offerings given in the fire, and to watch them burn, until the Kilesa (selfish instinct and desires and attachments) cease to arise within the heart. After mastering his own heart, he returned to Wat Bowornives. But after some time, with his practice of burning all thing he was given, except the four requisites of food, medicine, clothing and lodging necessities, began to cause devotees to begin to travel from far and wide to pay reverence to Luang Por Opasi at Wat Bowornives, and this seemed unfitting to Luang Por Opasi, who did not wish to attract attention
Below; front cover of Amulets of LP Opasi Encyclopaedic Catalog
So he decided it was time to leave Wat Bowornives, and travel on Tudong to go stay at Bang Mot, but this was to no avail, because the devotees just followed after him to Bang Mot, and slowly but surely he was receiving many devotees again. The local folk of Bang Mot had also become very faifhtful devotees of Luang Por Opasi, and had built a small Samnak Songk (name of a Buddhist Forest Ashram before it becomes officially a registered temple) for Luang Por to reside in permanently.
From then on, Luang Por remained at Asrom Bang Mot, and developed it into a fully fledged temple, with his fold of devotees ranging from the poorest farmer, to the richest noble, all of whome came to give alms and watch those gifts which were not of the 4 requisites be burned in Luang Por Opasi's fire. Everybody who came to have material possessions burned in the fire, would experience great wealthy fortunes thereafter, and the legend of Luang Por Opasi's Powers began to circulate.
Luang Por Opasi was also very famous for his ability to appear in more than one place at the same time, and be seen by witnesses in both places. There is a Legend of a visit to India where Luang Por Opasi was supposed to appear, and he sent his two apprentice monks to travel ahead, saying he would appear there later.
In 2499 BE (1955), LP Opasi and two of his disciples where invited to a Buddhist gathering in India to be held from October 28. LP Opasi called to his two disciples to leave before him and that he would join them later. He also told them that he will not be on the spot before October 31 and to warn the organizers of his delay and the date of its arrival. October 31 many of his disciples went to the airport to wish LP Opasi a happy voyage, but it did not come, a few days later the death of LP Opasi was announced.
In fact, in the evening, LP Opasi warned his monks that he was going to remain in meditation several days and to not disturb him under any circumstance, then he went in his Kuti. He stayed there until a anxious monk decides to go and see whether LP Opasi were well or not, he enters the Kuti to find LP Opasi in a state having all the aspect of death.
During this time, in India, the two disciples of LP Opasi attended the Buddhist gathering in company of LP Opasi. Luang Por Opasi spoke with many other Buddhists dignitaries and gave even a state education in front of several hundreds of people, even photos of this occasion has being taken. LP Opasi said goodbye to its two disciples, and told them that he was going to return to Thailand only by separate means of transport.
When they arrived the disciples had a hard time believing the news of LP Opasis Passing Away, everyone believed that they had become insane when they said to have spent the last days in his company… Only the testimony of several other monks present and the photographs in India of LP Opasi proved the veracity of their incredible history.
Each year the coffin of LP Opasi is opened, his body has not decomposed and his finger nails and hair is cut. This is a common thing regarding monks that have become enlightened, The body will not decompose or if the body is burned the bones will turn to stone or diamond.
(extra info: The great master of Sak Yant Luang Por Phern (Wat Bang Pra) was a student of Luang Por Opasi)
Luang Por Opasi Kata for Chanting;
Ithisukhathoe Arahang Puttoe Namoe Puttaaya Bpatawee Kongkaa Phrapoom Taewaa Khamaamihang
​Pra Roop Muean Ajarn Tong Tao Nuea Wan Sabu Luead Wat Khao Tham Ngern Sadet Glab Ceremony 2511 BE Ajarn Chum Chai Kiree
03844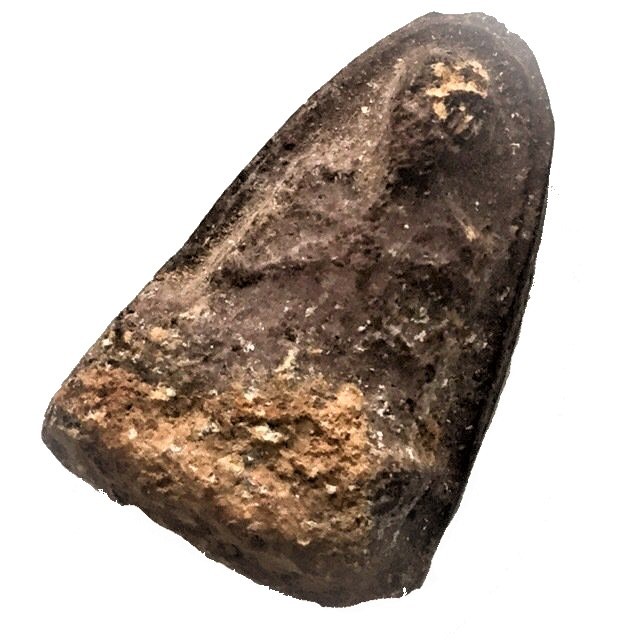 Sacred Powder image of the Great Ajarn Tong Tao, Founder of the Khao Or Sorcery Lineage of Wat Khao Or, from Ajarn Chum Chai Kree made in 2511 BE. The amulet is covered with 'Kraap Nam Tale' seawater mildew stains. This is an especially preferred and desirable exhibit, due to the highly visible 'Kraap Nam Tale' mildew stains on it. Examples of this amulet which have visible signs of immersion in the sea, are categorised as 'Niyom' - (Preferred) - Guru Monk Amulet Of historical epic fame, by the Great Legendary Ajarn Chum Chai Kiree, in conjunction with his Ordained Accomplice in Sorcery and Buddha Magic; Pra Ajarn Kong, of Wat Ban Suan.
This example is made from Nuea Wan Sabu Luead (Red Bloodsoap Herb Powders), mixed with 200 other kinds of Sacred Herbs, and powders from broken amulets from 108 ancient Kru Hiding Place Burial Chambers. The Pra Roop Muean Ajarn Tong Tao Amulet is one of the most rare of all the amulets from Ajarn Chum Chai Kiree and Pra Ajarn Kong, along with the Pra Yord Khun Pol, Pra Nakprok Taep Nimit, Pra Khun Phaen Awk Seuk, and the Pra Kong Chai Chum amulets.
Pong Kru is powder from 108 different 'Gru' (or 'Kru' if you like - a Gru is a chedi or other secret burial place where monks and master amulet makers will hide the amulets, to be later found and distributed as objects of faith and continuation of the Buddha Sasana).
This sacred powder of 108 Gru was made by Ajarn Kong and famous Lay Master, Ajarn Chum Chay Kiree, which they had been empowering and chanting into since the war till the time they made the amulets. The powders included 500 types of sacred magical ingredients, including; Pong Ittijae, Pong Dtinisinghae, Pong Yant Bpatamang, Pong Yant Normo Pra Intr.
This amulet is highly recommended for Ladies due to its smaller size
Ajarn Chum, who was so very Adept in Khom Agkhara spells and the Sacred Geometry of Yant, made a three month ceremony of constructing a Yant (Piti Chak Yant). The Sangha then gave the special powder the Name 'Pra Pong Wised Kong Chay Chum' .
Sacred Yant is hand inscribed on the rear face of the amulet
Ajarn Tong Tao is the Boromajarn root Lineage Master of the world famous Khao Or magical tradition of South Thailand. This is said to have been the most powerful magical lineage of Masters in all Thailand, of all time. Especially in those days, the Lineage and the Samnak was one single Lineage, and extremely powerful.
These amulets were empowered and blessed during the famous Wat Tham Khao Ngern Sadej Glab Buddha Abhiseka and Taewa Abhiseka Ceremonies, which is one of the most revered, and famous ceremonies and editions of powerful amulets of all the ceremonies attended by Ajarn Kong and Ajarn Chum in that Era, including the Great 2483 BE Indochina War Edition.
One part of the ceremony that stands out is the immersion of the amulets in the river, and letting them drift away, and then, setting up a 'Sala Baram Piti' (a sort of small pedestal with a roof on high legs, above water level), which is dressed with white cloth.
Then Ajarn Chum would perform the incantations and prayers, to ask the Devas to bring the amulets back ('Sadej Glab', is high speech for high ranking persons or Deities, and means 'To travel back'). The amulets all returned back one by one with the streamflow, and came to rest at the Sala Baram Piti.
Ajarn Chum Chai Kiree often performed this method of empowerment in various parts of Thailand at various temples, and every time the amulets would return to their originator, or owner without a single piece missing. Sometimes the distance between the place the amulets were thrown in the river, and where they were recieved, was up to 30 Kilometers away.
The Buddha Abhiseka fiinal Blessing after Ajarn Chum Chai Kiree's Impressive Miraculous Empowerment, was performed with one of the largest assemblies of devotees of the various Khao Or Sorcery Lineage Temples of all Ceremonies, and is accepted that the Wat Tham Khao Ngern Sadej Glab Ceremony is of the most Sacred and Important of all Ceremonies performed by the Dtamnak Dtak Sila Khao Or Southern Academy of Sorcery.
Important Names Present Were; Pra Ajarn Nam (Wat Don Sala), Pra Ajarn Parn (Wat Khao Or), Luang Por Hmun (Wat Khao Daeng), Pra Kroo Palad Puang (Wat Prasat Nikorn, in Hlang Suan in Chumporn), Luang Por Tan Kloi (Wat Tham Khao Ngern in Chumporn), and of course Luang Por Kong, and Ajarn Chum Chai Kiree.
Below, famous ceremony and show of magic by Ajarn Chum
Below; Ajarn Chum, Khun Pantaraks Rachadej (creator of the Jatukam Ramathep amulet), and other masters performing amulet blessings and empowerments (We recommend to turn sound down because of loud volume in below clip)
Temple:Wat Tham Khao Ngern
Maker of Amulet:Ajarn Chum Chai Kiree + Ajarn Kong
Weight:2 Grams
Recommended Uses:Serm Duang, Klaew Klaad, Kong Grapan, Metta, Maha Lap, Kong Grapan
Size of Amulet:2 x 1 Cm
Material:Nuea Wan Sabu Luead
Additional Info:Often mistaken as an image of Somdej Dto, due to the holding of the Kampir Grimoire, this amulet is an early classic of the Khao Or Lineage representing the Great Ajarn Tong Tao
Encasement Options
Solid gold custom casing (we will email you with a price quote according to current gold prices at the time of inquiry) (0) Waterproof Casing (9) Stainless Steel Casing (9) None (0)