When speaking of the Pae Maha Lap lucky goat amulet, there is one name which stands above all others, and that is the name of Luang Por Am, of Wat Nong Grabork, in Ban Kaay Rayong. Luang Por Am was, along with Masters like Luang Por Horm of Wat Sak Hmak, Luang Por Rerm of Wat Juk Gacher, and Luang Por Chaem, considered among the top Masters of the Province, long before even the Great Luang Phu Tim of Wat Laharn Rai acheived his fame. Luang Por Am was the Kroo Ba Ajarn of the Great Luang Por Lat (Wat Nong Grabork), who is famed in his own right for his powerful Pae Maha Lap Hand Carved Goat Amuletsม which he of course mastered under the tutelage of Luang Por Am.
The male Goat is known for the fact that it is able to keep a whole herd of dozens of females under his ownership, through merciful and protective influence. It is thus believed that who wears the Pae Maha Lap Khao Kwai Gae Sacred buffalo horn Goat amulets of Luang Por Am, will be an owner and controller of great possessions and wealth, with grand entourage.
Below; Luang Por Am, of  Wat Nong Grabork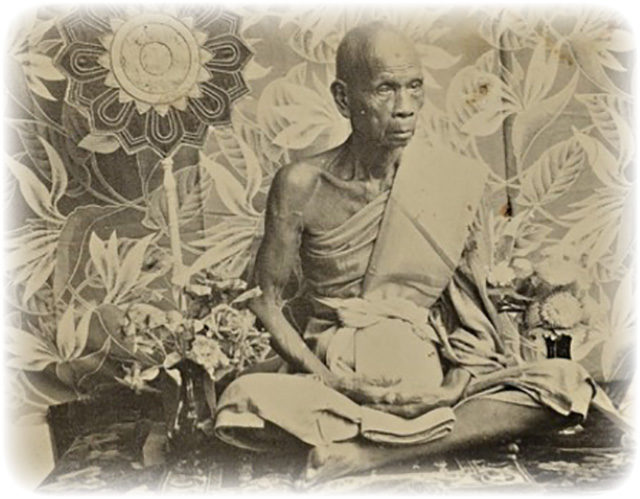 Luang Por Am, or 'Pra Kroo Taep Sittaa, was one of the Great Masters of the Central-Eastern Provinces during His Era, and the ex abbot of Wat Nong Grabork from 2431 – 2490 BE. He was rrespected and revered all around the Province, and had Great fame around the Nation for his Powerful Wicha. During his lifetime he became known as the top Master for carved Lucky Goat amulets. What is less known, and is of immense interest to investigate the lineage Wicha of the Pae Maha Lap, is the fact that Luang Por Am himself received this Wicha from Luang Por Dtaeng of Wat Ang Sila.
Luang Por Am was abbot of Wat Nong Grabork between the years 2431 to 2490 BE, being a Gaeji Ajarn of around 150 years ago, and was the Kroo Ba Ajarn teacher of many other great names of the time, such as Luang por Rerm of Wat Juk Gacher, and Luang Por Lat of Wat Nong Grabork (his successor and apprentice in magick). The Pae Maha Lap Nuea Khao Kwai Gae of Luang Por Am, is believed to possess the power to absorb Black Magick and protect the wearer/devotee from being affected.
It can be said that the Pae Maha Lap of Luang Por Am, Luang Por Lat, and now Pra Atigarn Surasit Akkawaro, the current abbot (written 2562 BE), are considered the 'cream of the crop', by serious devotees of the Pae Maha Lap, along with those other Great Chonburi Masters whose names carry fame for this Wicha such as Luang Phu Tim, uang Por Sakorn, Luang Phu Sin.
The Pae Maha Lap of Luang Por Am, was almost always made by carving a goat from 'Khao Kwai Fa Pha Dtaay', which is the horn of a buffalo which died struck by lightning in a field. It is an ancient magical belief that the horn of a lightning-struck bull or buffalo has the power of angelic beings in it, for indeed, the angelic beings of the elemental realms who control the weather, are who control these divine forces of Nature.
After the carving of the shape of the goat, Luang Por Am would then empower the Goats with incantations, and invocations of elemental powers and angelic beings, with Buddhist Blessings on top. Sometimes he would immerse them in aromatic sacred oils to consecrate them, mixed with herbal oils made from herbs and vines and flowers of the forest, with magical, healing, protective, and attraction powers. He would rebless them again and again until he felt the amulets were completely stuffed as full with magic as possible, and unable to insert any more. The magic within the amulets was hence always filled to the brim before distribution.
Khaw Dtok Pra Ruang Vairocana Rice 2497 BE 0.4 x 0.4 Cm Sacred Kaya Siddhi Substance Kun Mae Chee Bun Ruean
03721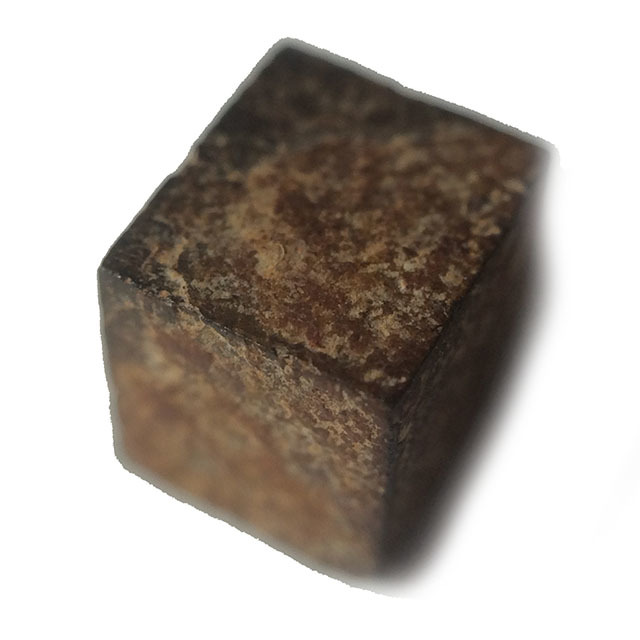 Khaw Dtok Pra Ruang blessed Sacred Element for Prosperity, and Healing Power, from the Great Thai Buddhist Nun, Mae Chee Bun Ruean. This piece is a 'chin lek' measuring 0.4 x 0.4 Cm cubic piece.
Khaw Dtok Pra Ruang, is used to protect against illness and heal existing ailments, and to attract prosperity. As a Kaya Siddhi substance with healing powers, it is useful for channeling healing energy (such as Reiki Healing and Prana Healing).
Free registered airmail shipping worldwide is included. 'Khaw Dtok' means 'puffed rice', and 'Pra Ruang' means 'Vairocana Buddha', hence, the meaning of 'Khaw Dtok Pra Ruang' is 'Vairocana's Puffed Rice', which is the popular name for this substance. Vairocana is a celestial buddha who is often interpreted, in texts like the Flower Garland Sutra, as the Dharma Body.
Khaw Dtok Pra Ruang, appears as small pieces of stony-metallic type elemental substance, which has cube, or dice shaped formations. Areas of the surface may be black, golden or even have a burned rusty colour to them. There are many different kinds of Khaw Dtok Pra Ruang, many of which are carried as a natural Magical Elemental Substance to induce prosperity. Also, ancient folk would grind the Khaw Dtok Pra Ruang into powder and use to make an ointment to smear on poisonous insect and animal bites, to heal the wounds. Ancient Folk also liked to put Khaw Dtok Pra Ruang into a pot of See Pheung Potion, to imbuie it with increased Metta Maha Niyom Maha Pokasap power.
Khaw Dtok Pra Ruang is hence highly favoured for Prosperity Increase and Prevention and Healing of Ailments. The substance is considered to be a 'Tat Kayasit' Kaya Siddhi element, with a Ruesi hermit God spirit inhabiting it, similar to the beliefs about Lek Lai, which is also a Kaya Siddhi Adamantine Substance of legendary repute.
---
What is Khaw Dtok Pra Ruang according to Geology and Minerology?
Khaw Dtok Pra Ruang is actually a form of Pyrite, or Disulfide of Iron. Even in western Elemental Magical tradition, Khaw Dtok pra Riuang (Pyrite) helps one to communicate more openly and honestly, providing both emotional and physical protection. If you are indecisive, or unsure about something, carry a pyrite with you as a touchstone to help boost your self confidence. The reflective qualities of the stone make it a wonderful meditation or divination tool.
It increases physical stamina, stimulates the intellect, and helps to transform thought into intelligent action. It is a wonderful stone for use in wealth magic or assisting in manifestation of needed energies. An excellent shield-stone, pyrite removes negativity from the aura to help one concentrate. The difference with the Khaw Dtok used in Thai Sorcery, is that the elements are not only empowered with their naturally imbued powers, but also blessed with the Ritual Chanting and Psychic Empowerment of Buddhist Monks and the Mae Chee Bun Ruean, which makes the Elemental Substance into a Sacred Amulet.
It is a Universally known fact, that the amulets and Sacred Kaya Siddhi Elements of the Buddhist Nun Kun Mae Chee Bun Ruean, are amongs the most highly revered Buddhist Amulets in Thailand, and are as rare as they are sacred.
---
Kun Mae Chee Bun Ruean was a Buddhist Nun whose purity of practice was so exemplary that she became a Buddhist master in her own right in Thailands Theravada tradition, which is highly unusual and a difficult task to acheive, in a Tradition where women are not permitted to ordain as a Bhikkhuni, and must remain in white as a Karavasa Holder of Precepts.
Despite these disadvantages, her great practice, Metta (Compassion) and her teachings, and Charitable Works for Buddhism, brought her to become the most highly beloved Buddhist Nun in the History of Thai Buddhism. She was known to practice and listen to the Dhamma mostly at Wat Sampant Wongs in Bangkok.
Her most famous amulet is of course the 'Pra Putto Noi' amulet, which was made in various kinds of sacred powder clay. The most popular model being the 'Pim Jumbo' large size model, in its white powder version. The Pra Putto Noi was created in the year 2494 BE, with the Mae Chee Bun Ruean as the Organiser of the raising of the funds for their making and the Charitable Acts which were planned from the funds. The Pra Putto Noi amulet in its Pim Niyom model, if in pristine state, can fetch tens of thousands of dollars in the high end auction rooms of the Sian Pra Niyom. Luckily there were many models, and some are still affordable in this time, but they are very far and few to discover for collection. The devotees who wear her amulets walk confidently in faith of the Metta Maha Niyom and Serm Duang Klaew Klaad Powers, and healing effects of the amulets of Kun mae Chee Bun Ruean. Devotees would rub the powders ointment onto giant centipede and snake bites and infected wounds, to heal them.
Her amulets are said to heal illnesses and to improve Karma. They are believed to be full of Puttakun Power to bring auspicious blessings and prosperity, because of Mae Chee Bun Ruean's life of charitable acts, and her practice of great generosity. They are full of Metta Maha Niyom from Mae Chee Bun Ruean's Equal treatment and Loving Compassion for all of her devotees regardless of their social or financial status. All were treated with the same Metta.
Her purity is believed to have made the amulets she created to be so powerful, and caused her Pra Putto Noi and other amulets to be extremely sought after amulets. She blessed the amulets in 2494 BE, with a ceremonial prayer for the Welfare of the Temple of Wat Awut, in Thonburi. The aim of the funds raised from the edition was to construct the Pra Putto Paas Chinarat Jom Muni, as the 'Pra Pratan' Main presiding Buddha Image of the Uposatha Shrineroom at Wat Sarnath Dhammaram temple, in Rayong.
She bestowed permission to Pra Ajarn Sanguan Kosago, the Abbot of Wat Awut Wikasitaram, who had already collaborated in the making of the Pra Putto Noi Amulets which were previously distributed during the Tord Pha Pha robe donation ceremony. Ma Chee Bun ruean also made extra batches to donate to the Monks at Wat Sampant Wongs, for them to give to their devotees who came to make merits. Apart from the Pra Putto Noi amulet, Kun Mae Chee Bun Ruean made various other amulets which are also in extremely high regard for their Sacredness, such as the Pra Chaiyawat Putto Brass Votive Tablet of 2499 BE, and the Rian Pra Putto Jom Muni coin of the Pra Putto Yai Statue Installation Ceremony of 2499 BE.
Another very popular 'Krueang Rang' Talismanic Charm of Mae Chee Bun Ruean was the 'Thung Hniaw Sap" treasure glue purse (lucky purse to attract treasures and money like glue sticks to paper), made in 2497 BE. The treasure purse was made in various colours; white, blue, yellow, pink, red, black, and with various styles and designs. Som were made from sack cloth, others from fine cloths, some were large others small purses. The closures of the purses were also varied, ranging from zip to string closures.
Mae Chee Bun Ruean empowered the Thung Khiaw Hniaw Sap treasure attractor purses at the temple of the Buddha Footprint at Wat Pra Puttabat, in Sra Buri, where they were blessed in a large Buddha Abhiseka ceremony and released in early 2488 BE. Some pursae actually had something inside of them, and others didn't. The purses are reputed for their Maha Pokasap power to increase wealth and professional success, but have also gained a reputation for powerful healing and protection powers too.
Kata Bucha
Na Chā Lī Dti Chimpalī Ja Mahā Thērō Suwana Mā Mā Pō Chana Mā Mā Wadthu Wadthā Mā Mā Palā Palang Mā Mā Pōka Mā Mā Mahā Lāpō Mā Mā Sappē Chanā Pahū Chanā Pawandtumē
The Kata is said to have been transmitted to Mae Chee Bun Ruean in Meditation from the God Indra, to pay reverence to the Chimplee Arahant (Pra Sivali), in order to bring Maha Lap Lucky Fortunes, Maha Choke, Lucky Windfalls, and Maha Pokasap Treasures.

For Auspicious Blessings, the Kata should be chanted on any Sunday that falls on the 6th day of the month, any Monday falling on the 15th of any Month, Tuesdays which fall on the 8th day of any Month, Wednesdays which fall on the 17th of any Month, Thursdays which fall on the 19th of any Month, Fridays which fall on the 12th day of any Month , and Saturdays which fall on the 10th day of any Month.
Temple:Wat Awut
Maker of Amulet:Kun Mae Chee Bun Ruean
Weight:0.5 Grams
Recommended Uses:Healing, Protection, Prosperity, Mercy Charm, Good Business
Size of Amulet:0.4 Cm Cube
Encasement Options
Solid Gold Custom Casing (Waterproo​​​​​​​​f) - We will email you with a price quote according to current Gold Prices, and Invoice You after Agreement (0) Waterproof Casing (0) None (0)