When speaking of the Pae Maha Lap lucky goat amulet, there is one name which stands above all others, and that is the name of Luang Por Am, of Wat Nong Grabork, in Ban Kaay Rayong. Luang Por Am was, along with Masters like Luang Por Horm of Wat Sak Hmak, Luang Por Rerm of Wat Juk Gacher, and Luang Por Chaem, considered among the top Masters of the Province, long before even the Great Luang Phu Tim of Wat Laharn Rai acheived his fame. Luang Por Am was the Kroo Ba Ajarn of the Great Luang Por Lat (Wat Nong Grabork), who is famed in his own right for his powerful Pae Maha Lap Hand Carved Goat Amuletsม which he of course mastered under the tutelage of Luang Por Am.
The male Goat is known for the fact that it is able to keep a whole herd of dozens of females under his ownership, through merciful and protective influence. It is thus believed that who wears the Pae Maha Lap Khao Kwai Gae Sacred buffalo horn Goat amulets of Luang Por Am, will be an owner and controller of great possessions and wealth, with grand entourage.
Below; Luang Por Am, of  Wat Nong Grabork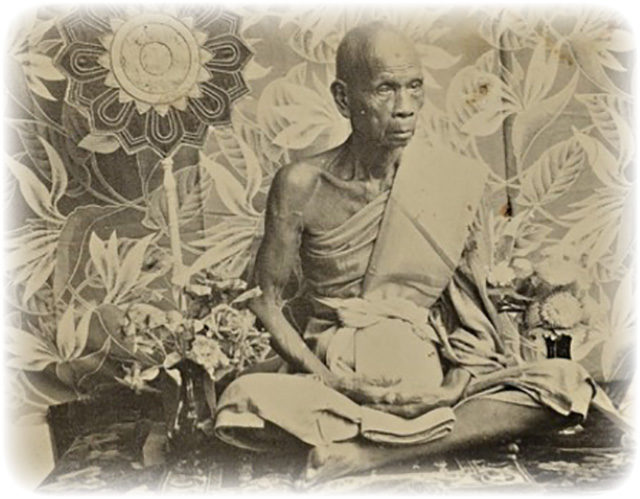 Luang Por Am, or 'Pra Kroo Taep Sittaa, was one of the Great Masters of the Central-Eastern Provinces during His Era, and the ex abbot of Wat Nong Grabork from 2431 – 2490 BE. He was rrespected and revered all around the Province, and had Great fame around the Nation for his Powerful Wicha. During his lifetime he became known as the top Master for carved Lucky Goat amulets. What is less known, and is of immense interest to investigate the lineage Wicha of the Pae Maha Lap, is the fact that Luang Por Am himself received this Wicha from Luang Por Dtaeng of Wat Ang Sila.
Luang Por Am was abbot of Wat Nong Grabork between the years 2431 to 2490 BE, being a Gaeji Ajarn of around 150 years ago, and was the Kroo Ba Ajarn teacher of many other great names of the time, such as Luang por Rerm of Wat Juk Gacher, and Luang Por Lat of Wat Nong Grabork (his successor and apprentice in magick). The Pae Maha Lap Nuea Khao Kwai Gae of Luang Por Am, is believed to possess the power to absorb Black Magick and protect the wearer/devotee from being affected.
It can be said that the Pae Maha Lap of Luang Por Am, Luang Por Lat, and now Pra Atigarn Surasit Akkawaro, the current abbot (written 2562 BE), are considered the 'cream of the crop', by serious devotees of the Pae Maha Lap, along with those other Great Chonburi Masters whose names carry fame for this Wicha such as Luang Phu Tim, uang Por Sakorn, Luang Phu Sin.
The Pae Maha Lap of Luang Por Am, was almost always made by carving a goat from 'Khao Kwai Fa Pha Dtaay', which is the horn of a buffalo which died struck by lightning in a field. It is an ancient magical belief that the horn of a lightning-struck bull or buffalo has the power of angelic beings in it, for indeed, the angelic beings of the elemental realms who control the weather, are who control these divine forces of Nature.
After the carving of the shape of the goat, Luang Por Am would then empower the Goats with incantations, and invocations of elemental powers and angelic beings, with Buddhist Blessings on top. Sometimes he would immerse them in aromatic sacred oils to consecrate them, mixed with herbal oils made from herbs and vines and flowers of the forest, with magical, healing, protective, and attraction powers. He would rebless them again and again until he felt the amulets were completely stuffed as full with magic as possible, and unable to insert any more. The magic within the amulets was hence always filled to the brim before distribution.
Khiaw Dtem Gae Suea Carved Tooth Tiger Amulet with Hand Inscriptions Luang Por Nok Wat Sangkasi
03649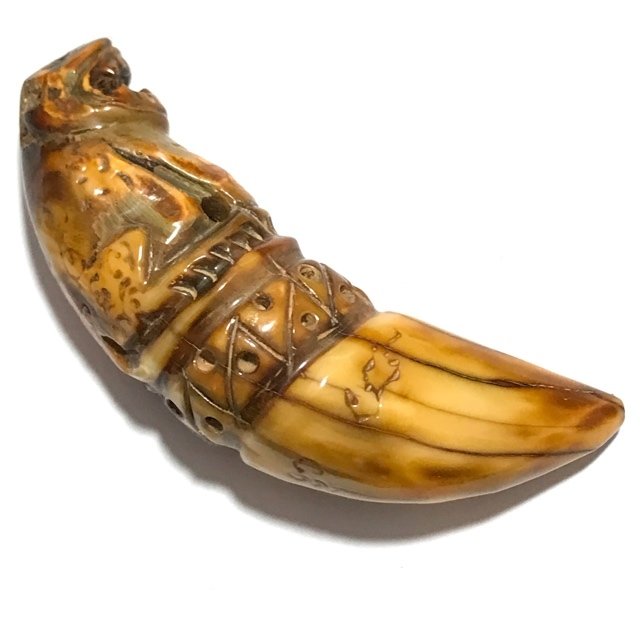 A beautiful and pristinely preserved exhibit of the Khiaw Suea Gae Carved Tooth (full tooth), in form of a Tiger amulet, hand carved and inscribed with Yant Wicha Luang Por Parn from Luang Por Nok, of Wat Sangkasi. Circa 2450-60 BE - a Kong Grapan Chadtri Maha Amnaj Talismanic Amulet of Master Class Status. The tooth is 5.5 Cm in length and 2 Cm breadth. This item being the Fang (Incisor), posesses the power of the Suea Maha Amnaj, being empowered with the very same Wicha Suea of Luang Por Parn (Wat Bang Bor). The Khiaw Suea of Luang Por Nok is known as one of the Top Ten Tiger Amulets of Thai Amulet History.
Free EMS Shipping is Included with this Item. Luang Por Nok of Wat Sangkasi (Born 29/12/2392 BE - Passed Away 21/09/2475 at 83 years old). Luang Por Nok was most famously known as being direct lineage Master and Prime Apprentice in Buddha Magic, of the Great Luang Por Parn of Wat Bang Hia, and for his Lineage Mastery in the making and empowerment of Tiger teeth and Carved Tiger Amulets, in the traditional methods of Luang Por Parn of Wat Bang Hia.
Luang Por Nok of Wat Sangkasi was ordained at the age of 15 years old as a Samanera Novice monk, at Wat Gong Gaew in Samut Prakarn, with Pra Kroo Wibulya Dhamma as his Upachaya. He studied Khom Agkhara and Pali during his Novice Monk period, to a point of fluency, after which he came of age and disrobed to return with his family.
His father had passed away by this time, so his mother took him to Wat Bang Hia at Ban Klong Dan. He underwent the Ceremony in front of thwe Buddha Sima temple monastic border monument at Wat Bang Hia(***), in Amper Bang Hia, and was ordained as a fully fledged Bhikkhu in the Buddha-Sasana.
Wat Bang Hia is of course a World famous Historical Temple of Monumental Status in the Amulet Scene for the fact that this was the temple of Luang Por Parn, Master Wicha holder of making famous Tiger Tooth and Carved Tiger amulets, whose amulets are now of the 'Maha Sethee' Millionaire master Class, even more so than the Tiger Amulets of Luang Por Nok himself, who is his antecessor and direct Lineage Inhertor of the Wicha for Tiger Amulet empowerment using the Wicha of Wat Bang Hia.
His Upachaya at Wat Bang Hia was Pra Kroo Pipat Nirodhakij, otherwise known as the Great Luang Por Parn of Wat Bang Hia. His Pra Gamma Wajaajarn Recital Prompter was Pra Ajarn Tong. Hiw Pra Anusawanaajarn was Pra Ajarn Ruean. Luang Por Nok was given the Official Monk's name of 'Dhamma Chodti'.
After his ordination, Luang Por Nok then studied and practiced the Buddhist Vinaya, Vipassana Kammathana and Samatha Meditation methods and also practiced the Mastery of Wicha Saiyasart Buddha Sastra Occult magic under Luang Por Parn himself. He fast became Luang Por's most elite apprentice for his fast wittedness, ease of learning and good memory.
Because of this, he received the teachings and attained Mastery of the methods of Luang Por Parn in a very short space of time, and was soon considered to have a level of Mastery and Understanding that Thai people call 'Dtaek Chan', which means to Master a subject to the point where one excels above all other practitioners.
Luang Por Nok often followed Luang Por Parn out into the forest when he would wander on Tudong Practice. This is where Luang Por Parn revealed and taught the Master Wicha of the 'Khiaw Suea' Tiger tooth amulet. Luang Por Nok was attentive and gave his utmost and attained such a high Mastery of the Wicha that even Luang Por Parn would admire his attainments and power. Luang Por Parn was often heard to state that Luang Por Nok was able to make Tiger Teeth amulets that were equally powerful to his own, and that Luang Por Nok was also able to make the amulets fly out of the alms-bowl as he would perform the incantations, with psychic power.
For this reason, Luang Por Nok's Tiger Tooth and Carved Tiger amulets are as popular with High End Collectors and devotees of the Lineage as are those from Luang Por Parn himself. These days it is almost as difficult to find a tiger tooth from Luang Por Nok, as it is to find one from Luang Por Parn, his Mentor and Predecessor
In fact, many of the tiger amulets of Luang Por Parn himself were inscribed with Khom Agkhara spells by Luang Por Nok himself, because Luang Por Parn was highly impressed with Luang Por Nok and trusted his powers and ability as being equal to his own.
The Powers of the Tiger Tooth are reputably said to possess Kong Grapan Chadtri, Klaew Klaad, and Maha Amnaj (commanding power and influence), as well as powerful Maha Sanaeh attraciton power and Metta Mahaniyom Mercy Charm. After many years with Luang Por Parn at Wat Bang Hia, Luang Por Nok was travelling on Tudong with a couple of other Bhikkhus, and made camp in the country in the area of Bang Pli Noi in Bang Bor, Samut Prakarn.
It was there, as he was camping in the countryside near to the village, that along came a very Rich Lady, to give offerings and pay reverence, who was instilled with great faith in Luang Por Nok, whose fame had preceded him, and offered and pleaded to be allowed to donate Land and for Luang Por Nok to use is Merits to build a temple there.
So Luang Por Nok returned to discuss the matter with Luang Por Parn, who gave his blessing, and so it was, that Luang Por Nok came to be the Abbot of the temple at Wat Bang Bor, which came to be known as Wat Sangkasi, which was installed in the year 2430 BE. Luang Por Nok remained there as the Abbot, and brought the temple to grow and prosper, until his passing away on the 21st September of the year 2475 BE on the 7th day of the Lunar Month, in the Year of the Monkey.
Luang Por Nok passed away at the age of 83 Years Old. His Tiger Tooth amulets are one of the Thai High End Master Class Collector Scene's mots sought after and prized talismanic amulets, and stand amongst the other greats in the Historical hall of Fame of Thai Amulet and Guru Monk History.
The tooth can be encased with pendant ring to attach to a neckchain, or a cord around your waist, or for other methods of attaching as a pendant.
Temple:Wat Sangkasi
Year of Issue:
Circa 2460 BE
Maker of Amulet:Luang Por Nok
Weight:14 Grams
Recommended Uses:Kong Grapan Chadtri, Maha Amnaj (commanding power and influence), Klaew Klaad, Maha Sanaeh, Serm Yos, Metta Mahaniyom.
Number of Amulets Made:Luang Por Nok made each of his tiger teeth amulets as single items, empowered by his own hand.
Size of Amulet:5.5 Cm Long x 2 Cm Wide
Encasement Options
Solid Gold Custom Casing - We will email you with a price quote according to current Gold Prices, and Invoice You after Agreement (0) Waterproof Casing (Free Offer) (0) None (0)
Chueak Kart Aew Cord Belt
Ochre Cord Belt (Free) (0) Black Cord Belt (Free) (0) None (0)