When speaking of the Pae Maha Lap lucky goat amulet, there is one name which stands above all others, and that is the name of Luang Por Am, of Wat Nong Grabork, in Ban Kaay Rayong. Luang Por Am was, along with Masters like Luang Por Horm of Wat Sak Hmak, Luang Por Rerm of Wat Juk Gacher, and Luang Por Chaem, considered among the top Masters of the Province, long before even the Great Luang Phu Tim of Wat Laharn Rai acheived his fame. Luang Por Am was the Kroo Ba Ajarn of the Great Luang Por Lat (Wat Nong Grabork), who is famed in his own right for his powerful Pae Maha Lap Hand Carved Goat Amuletsม which he of course mastered under the tutelage of Luang Por Am.
The male Goat is known for the fact that it is able to keep a whole herd of dozens of females under his ownership, through merciful and protective influence. It is thus believed that who wears the Pae Maha Lap Khao Kwai Gae Sacred buffalo horn Goat amulets of Luang Por Am, will be an owner and controller of great possessions and wealth, with grand entourage.
Below; Luang Por Am, of  Wat Nong Grabork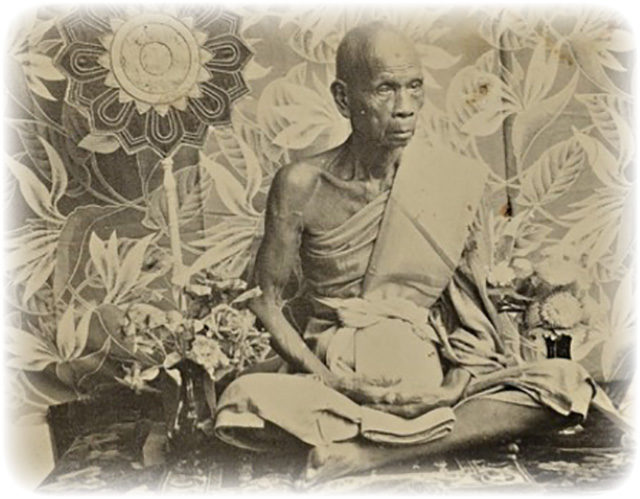 Luang Por Am, or 'Pra Kroo Taep Sittaa, was one of the Great Masters of the Central-Eastern Provinces during His Era, and the ex abbot of Wat Nong Grabork from 2431 – 2490 BE. He was rrespected and revered all around the Province, and had Great fame around the Nation for his Powerful Wicha. During his lifetime he became known as the top Master for carved Lucky Goat amulets. What is less known, and is of immense interest to investigate the lineage Wicha of the Pae Maha Lap, is the fact that Luang Por Am himself received this Wicha from Luang Por Dtaeng of Wat Ang Sila.
Luang Por Am was abbot of Wat Nong Grabork between the years 2431 to 2490 BE, being a Gaeji Ajarn of around 150 years ago, and was the Kroo Ba Ajarn teacher of many other great names of the time, such as Luang por Rerm of Wat Juk Gacher, and Luang Por Lat of Wat Nong Grabork (his successor and apprentice in magick). The Pae Maha Lap Nuea Khao Kwai Gae of Luang Por Am, is believed to possess the power to absorb Black Magick and protect the wearer/devotee from being affected.
It can be said that the Pae Maha Lap of Luang Por Am, Luang Por Lat, and now Pra Atigarn Surasit Akkawaro, the current abbot (written 2562 BE), are considered the 'cream of the crop', by serious devotees of the Pae Maha Lap, along with those other Great Chonburi Masters whose names carry fame for this Wicha such as Luang Phu Tim, uang Por Sakorn, Luang Phu Sin.
The Pae Maha Lap of Luang Por Am, was almost always made by carving a goat from 'Khao Kwai Fa Pha Dtaay', which is the horn of a buffalo which died struck by lightning in a field. It is an ancient magical belief that the horn of a lightning-struck bull or buffalo has the power of angelic beings in it, for indeed, the angelic beings of the elemental realms who control the weather, are who control these divine forces of Nature.
After the carving of the shape of the goat, Luang Por Am would then empower the Goats with incantations, and invocations of elemental powers and angelic beings, with Buddhist Blessings on top. Sometimes he would immerse them in aromatic sacred oils to consecrate them, mixed with herbal oils made from herbs and vines and flowers of the forest, with magical, healing, protective, and attraction powers. He would rebless them again and again until he felt the amulets were completely stuffed as full with magic as possible, and unable to insert any more. The magic within the amulets was hence always filled to the brim before distribution.
Look Gaew Sarapat Neuk Klueab Parort Alchemical Crystal Wishing Ball Blue 1.5 Cm Luang Por Opasi 2490 BE
03675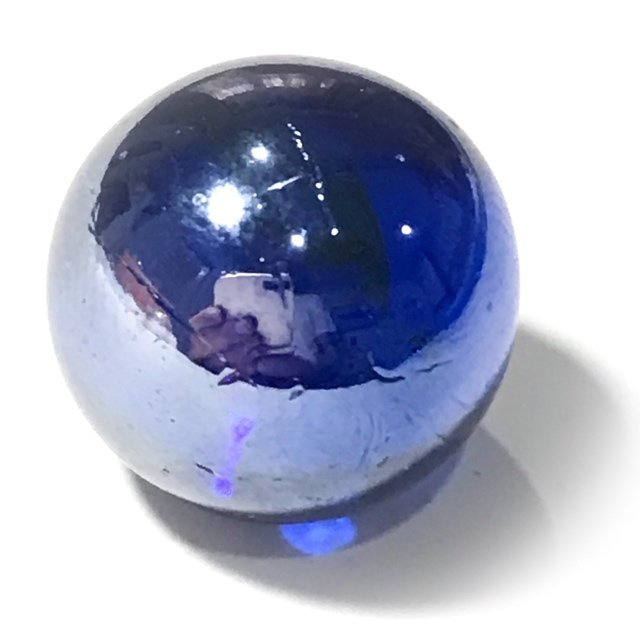 Look Gaew Sarapat Neuk Magic Wishing Crystal Ball from the Great Miracle Monk Luang Por Opasi of Asrom Bang Mot (2441 - 2498 BE). The Look Gaew Sarapat Neuk Klueab Parort is a Legendary Amulet of the Pantheon of the Great Miracle Monk Luang Por Opasi, and is a highly preferred Wicha since centuries in Siam, for its all round wish fulfilling powers. Luang Por Opasi is one of the Great Arya Sangha of Thai Buddhist History, and has Miraculous Legends about him, which are indeed completely unexplainable except by belief in Miracles. This particular exhibit is turqoise in color, and in extremely pristine condition, which is a very rare find, because most exhibits will show some wear and tear.
Luang Por Opasi was born in 2441 BE, in Nakorn Sri Tammarat, but was taken and placed in charge of the Sangkaracha at the Royal Temple of Wat Bowornives in Bangkok, where he remained studying and was finally ordained as a full Bhikkhu, in 2461 BE at the age of 20, at Wat Bovornives.
He was ordained by the Sangkaracha Monk himself Somdej Prayan Sangworn, as his Upachaya (Ordaining Officer). He studied Pali and Dhamma to reach the academic level of Prayoke 5, and then turned to study and practice Wicha Akom (Buddha Magic and Sorcery).
He continued on there to attain his completion of Dhamma Studies and develop all facets of his practice, and finally, after 20 years serving at Wat Bowornives, he decided to begin Tudong Solitary Forest Wandering. He spent the next 20 years wandering and learning Wicha with various Guru Masters throughout this time.
One of the masters he spent the most time with to absorb the methods of empowerment and formulas, was Luang Por Gop, of Wat Khao Sariga in Nakorn Nayok. He spent a long time with this Master in order to develop the special abilities of Dtecho Kasin (Fire Kasina), and to stare at the flames and meditate to vanquish the restless mind, and to overcome material attachment.
Part of this practice, was to burn any possessions or material offerings given in the fire, and to watch them burn, until the Kilesa (selfish instinct and desires and attachments) cease to arise within the heart. After mastering his own heart, he returned to Wat Bowornives. But after some time, with his practice of burning all thing he was given, except the four requisites of food, medicine, clothing and lodging necessities, began to cause devotees to begin to travel from far and wide to pay reverence to Luang Por Opasi at wat Bowornives, and this seemed unfitting to Luang Por Opasi, who did not wish to attract attention.
So he decided it was time to leave Wat Bowornives, and travel on Tudong to go stay at Bang Mot, but this was to no vaial, because the devotees just followed after him to Bang Mot, and slowly but surely he was receiving many devotees again. The local folk of Bang Mot had also become very faifhtful devotees of Luang Por Opasi, and had built a small Samnak Songk (name of a Buddhist Forest Ashram before it becomes officially a registered temple) for Luang Por to reside in permanently.
From then on, Luang Por remained at Asrom Bang Mot, and developed it into a fully fledged temple, with his fold of devotees ranging from the poorest farmer, to the richest noble, all of whome came to give alms and watch those gifts which were not of the 4 requisites be burned in Luang Por Opasi's fire. Everybody who came to have material possessions burned in the fire, would experience great wealthy fortunes thereafter, and the legend of Luang Por Opasi's Powers began to circulate.
Luang Por Opasi was also very famous for his ability to appear in more than one place at the same time, and be seen by witnesses in both places. There is a Legend of a visit to India where Luang Por Opasi was supposed to appear, and he sent his two apprentice monks to travel ahead, saying he would appear there later.
In 1955, LP Opasi and two of his disciples where invited to a Buddhist gathering in India to be held from October 28. LP Opasi called to his two disciples to leave before him and that he would join them later. He also told them that he will not be on the spot before October 31 and to warn the organizers of his delay and the date of its arrival. October 31 many of his disciples went to the airport to wish LP Opasi a happy voyage, but it did not come, a few days later the death of LP Opasi was announced.
In fact, in the evening, LP Opasi warned his monks that he was going to remain in meditation several days and to not disturb him under any circumstance, then he went in he Kuti. He stayed there until a anxious monk decides to go and see whether LP Opasi were well or not, he enters the Kuti to find LP Opasi in a state having all the aspect of death.
During this time, in India, the two disciples of LP Opasi attended the Buddhist gathering in company of LP Opasi. Lp Opasi spoke with many other Buddhists dignitaries and gave even a state education in front of several hundreds of people, even photos of this occasion has being taken.
LP Opasi said goodbye to its two disciples, and told them that he was going to return to Thailand only by separate means of transport. When they arrived the disciples had a hard time believing the news of LP Opasis death, everyone believed that they had become insane when they said to have spent the last days in his company. Only the testimony of several other monks present and the photographs in India of LP Opasi proved the veracity of their incredible history.
Each year the coffin of LP Opasi is opened, his body has not decomposed and his finger nails and hair is cut. This is a common thing regarding monks that have become enlightened, The body will not decompose or if the body is burned the bones will turn to stone or diamond.
(extra info: The great master of Sak Yant Luang Por Phern (Wat Bang Pra) was a student of Luang Por Opasi)
Luang Por Opasi Kata for Chanting;
Ithi Sukhathoe Arahang Puttoe Namoe Puttaaya Bpatawee Kongkaa Phrapoom Taewaa Khamaamihang
This amulet is in all ways a priceless treasure, and essential rarity, from a Master who is recognized and revered by every Thai Buddhist, and whose personage is both Legendary, and considered Highly Sacred, and a True Attained Master.
Use Kata Aaraatana Pra Krueang for making Wishes
Kata for Chanting to Amulets (Kata Aaratanaa Pra Krueang)
Puttang Aaraatanaanang
Tammang Aaraatanaanang
Sangkang Aaraatanaanang
Then make your wish/prayer
Puttang Prasittimae
Tammang Prasittimae
Sangkang Prasittimae
Chant this Kata 3 times whenever you are about to place the chain over your head or put on the amulets, and also when you take them off.
The Kata calls upon the power of the Buddha, Dhamma and Sangha to be with you and protect and Guide you.
Temple:Asrom Bang Mot
Year of Issue:
Circa 2490 BE
Maker of Amulet:Luang Por Opasi
Weight:4 Grams
Recommended Uses:Wish Fulfilment
Size of Amulet:1.5 Cm Diameter
Encasement Options
Solid Gold Custom Casing (Waterproo​​​​​​​f) - We will email you with a price quote according to current Gold Prices, and Invoice You after Agreement (0) Waterproof Casing (9) Without Casing (0)