When speaking of the Pae Maha Lap lucky goat amulet, there is one name which stands above all others, and that is the name of Luang Por Am, of Wat Nong Grabork, in Ban Kaay Rayong. Luang Por Am was, along with Masters like Luang Por Horm of Wat Sak Hmak, Luang Por Rerm of Wat Juk Gacher, and Luang Por Chaem, considered among the top Masters of the Province, long before even the Great Luang Phu Tim of Wat Laharn Rai acheived his fame. Luang Por Am was the Kroo Ba Ajarn of the Great Luang Por Lat (Wat Nong Grabork), who is famed in his own right for his powerful Pae Maha Lap Hand Carved Goat Amuletsม which he of course mastered under the tutelage of Luang Por Am.
The male Goat is known for the fact that it is able to keep a whole herd of dozens of females under his ownership, through merciful and protective influence. It is thus believed that who wears the Pae Maha Lap Khao Kwai Gae Sacred buffalo horn Goat amulets of Luang Por Am, will be an owner and controller of great possessions and wealth, with grand entourage.
Below; Luang Por Am, of  Wat Nong Grabork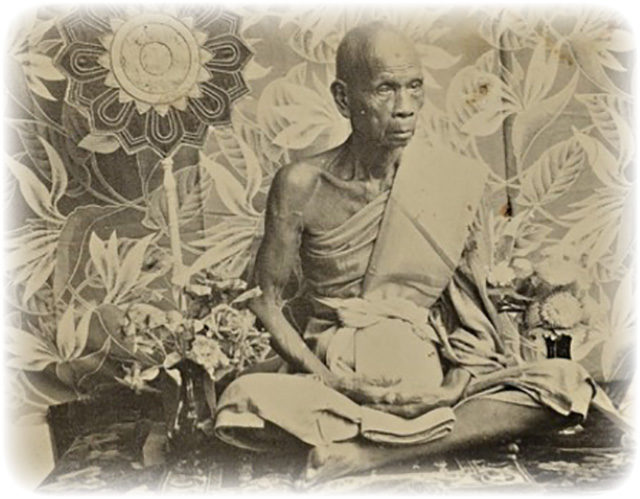 Luang Por Am, or 'Pra Kroo Taep Sittaa, was one of the Great Masters of the Central-Eastern Provinces during His Era, and the ex abbot of Wat Nong Grabork from 2431 – 2490 BE. He was rrespected and revered all around the Province, and had Great fame around the Nation for his Powerful Wicha. During his lifetime he became known as the top Master for carved Lucky Goat amulets. What is less known, and is of immense interest to investigate the lineage Wicha of the Pae Maha Lap, is the fact that Luang Por Am himself received this Wicha from Luang Por Dtaeng of Wat Ang Sila.
Luang Por Am was abbot of Wat Nong Grabork between the years 2431 to 2490 BE, being a Gaeji Ajarn of around 150 years ago, and was the Kroo Ba Ajarn teacher of many other great names of the time, such as Luang por Rerm of Wat Juk Gacher, and Luang Por Lat of Wat Nong Grabork (his successor and apprentice in magick). The Pae Maha Lap Nuea Khao Kwai Gae of Luang Por Am, is believed to possess the power to absorb Black Magick and protect the wearer/devotee from being affected.
It can be said that the Pae Maha Lap of Luang Por Am, Luang Por Lat, and now Pra Atigarn Surasit Akkawaro, the current abbot (written 2562 BE), are considered the 'cream of the crop', by serious devotees of the Pae Maha Lap, along with those other Great Chonburi Masters whose names carry fame for this Wicha such as Luang Phu Tim, uang Por Sakorn, Luang Phu Sin.
The Pae Maha Lap of Luang Por Am, was almost always made by carving a goat from 'Khao Kwai Fa Pha Dtaay', which is the horn of a buffalo which died struck by lightning in a field. It is an ancient magical belief that the horn of a lightning-struck bull or buffalo has the power of angelic beings in it, for indeed, the angelic beings of the elemental realms who control the weather, are who control these divine forces of Nature.
After the carving of the shape of the goat, Luang Por Am would then empower the Goats with incantations, and invocations of elemental powers and angelic beings, with Buddhist Blessings on top. Sometimes he would immerse them in aromatic sacred oils to consecrate them, mixed with herbal oils made from herbs and vines and flowers of the forest, with magical, healing, protective, and attraction powers. He would rebless them again and again until he felt the amulets were completely stuffed as full with magic as possible, and unable to insert any more. The magic within the amulets was hence always filled to the brim before distribution.
Look Om Maha Gan 2480 BE Nuea Chompoo Luang Por Kong Wat Bang Gaporm
03650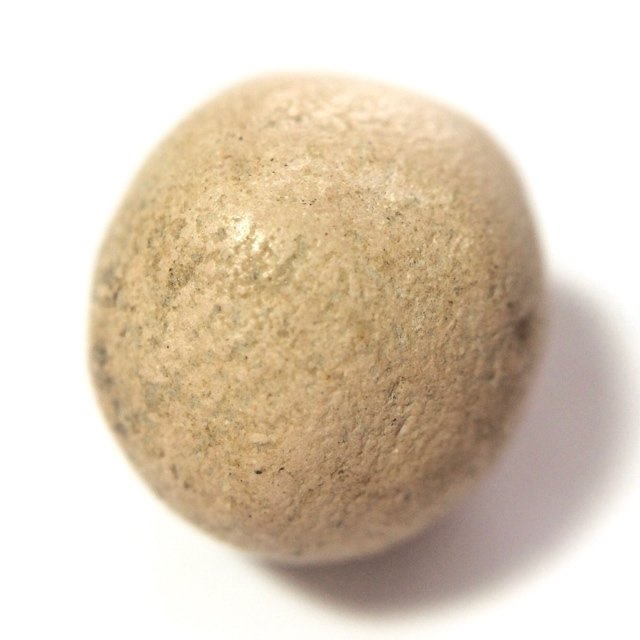 An extremely rare and famously powerful Kong Grapan Chadtri Klaew Klaad amulet of Olden Days, the Sacred Look Om Maha Gan Nuea Chompoo, pink powders version of Luang Por Kong, of Wat Bang Gaporm, released around 2480 BE.
The Look Om of Luang Por Kongare famed amongst the top Look Om amulets of all Masters. They are found in white, black, gray, brown and pinkish colours, each of which have their points of recognition of the content of the Muan Sarn Sacred Powders in each respective color.
The Look Om of Luang Por Kong, is classed as one of the five top Look om within the 'Benjapakee' of Top Look Om of the five Regions of Thailand. The five members of the Look Om Benjapakee are;
1. Look Om Maha Jinda Mani Montrakom of Pra Palad Parn, Wat Tukata (who was the Upachaya of Luang Phu Bun Wat Klang Bang Gaew) 2. Look Om Maha Gan of Luang Por Kong, Wat Bang Gapom 3. Look Om Grao Paetch of Luang Por Parn, Wat Bang Nom Ko 4. Look Paya Chang Sarn of Wat Bang Wua (Luang Por Ding), and 5. the Look Om of Luang Por Pring, Wat Bang Bakork.
It is not every day that one can be lucky enough to encounter the Look Om Luang Por Kong, a Rare Classic Sacred Powder Wishing Ball from the World War Two Era, from a Gaeji Ajarn of Old whose Look Om carry the status of Niyom Category Benjapakee Top 5 Look Om, of Master-Class. This example is in Nuea Chompoo powders, with pinkish tints (comes from Nam Hmak areca-betel nut chewed by Luang Por), and has evidence of Pong Bailan Gao burned grimoire parchment soot (blackish toned spots within the Muan Sarn Sacred Powders).
Luang Por Kong (3rd April 2407 - 6th February 2486 BE)
Luang Por Kong Wat Bang Gaporm is a name that devotees have been uttering for over a century now, and which is a name that resounds with fame for Patipata (Purity of Practice) as well as for Wityakom (Wicha Saiyasart Buddha Magic Sorcery).
Luang Por Kong was one of the abbots of Wat Bang Gaporm in Amphoe Ampawa in Samut Songkram, whose Rian Kanajarn Monk Coins are said to be the second most popular monk coins of that era, after Luang Por Gaew of Wat Puang Malai.
His Rian Tong Daeng holds fourth position in the most popular coins of all time of the Benjapakee Coin Amulet Family (Most Popular Monk Coins of the Five Main regions of Thailand). His famous Run Badtr Dtan 2486 BE coin in silver with Rachawadee enamels, is very famed for the number of persons who had miraculous events occur whilst wearing the amulet.
Luang Por Kong was Ordained into the Sangha in 2427 BE in the month of August with Pra Ajarn Duang as Upachaya Ordaining Officer, and Pra Ajarn Jui as his Gammawajajarn Prompting Officer and Ajarn Tim of Wat Mueang Mai as his Anusawanajarn Witness. Plus 25 Ordained Monks of the temple attended as witnesses. He was given the 'Chāyā' Monk's Name of 'Tammachōdtō', which means 'He who Advances in Dhamma'
Once he had Ordained, Luang Por Kong began to study and master Pali Sanskrit Grammar, which he found himself to have a great affinity for. He spent 13 years studying and mastering the translation of many Kampira Grimoires with his Kroo Ba Ajarn, and developed immense ability and fluency in Khom Pali Sanskrit. He also took intense interest in the Wicha Prawaet Wityakom (Buddha Magic and Occult Sorcery).
He began to practice Magic right from the very beginning of his ordination starting with Pra Ajarn Duang, his Upachaya, who taught him to master the Wicha Tam Pong Lob Sacred Yantra Powder making ritual method. Luang Por Kong continued to gather Wicha from Luang Por Dtard of Wat Ban Wan Tong, who was a Master Adept of the Wicha Na Bad Dtalord. It was said that Luang Por Dtard was able to blow a Yantra spell through the crown of the head of a devotee sat on a blackboard, and make the Yantra pass through, and appear on the blackboard the devotee was sitting on.
This Wicha which Luang Por Kong Mastered, was the very same Wicha which the great Gaeji Ajarn Luang Por Tong Sukh had also learned from the very same Master. Luang Por Kong also was bestowed Wicha by Luang Por Hrun, of Wat Chang Phueak, who was a monk who possessed supernatural abilities, and who is famed for having passed away seated in meditation.
In his 21st Year of Ordination, the folk of the Municipality Invited Luang Por Kong to accept the position of Abbot of Wat Bang Gaporm, and perform the duty of caring for the temple and its development, and the faith of the devotees of the temple. Luang Por Kong built various edifices to improve the temple in his lifetime, as well as creating the Pra Pha Lelai Buddha statue, and perform many restorations within the temple enclave. His practice and teachings were a source of hope and inspiration to the local Thai Buddhist Folk, for he was always ready and willing to come to the aid of his congregation when asked for help.
Luang Por Kong became ill in the end because he never stopped doing his endless duties, be it building Buddha statues, restoration works on temple buildings, creating and blessing amulets, and attending to the calls of the congregation. In the 4th Month of each year, he would take his Glod (Umbrella with Mosquito Net), and stay in the cemetery at the side of the temple. He would practice Tudong 13 there for a period of 1 Month each Year. He considered this a self purification practice after spending the whole year busy with the needs of the world, and a withdrawal from the world to reflect on his own practice.
The Miraculous Passing of Luang Por Kong
On the 6th February 2485 BE, Luang Por Kong was seated performing the chanting of the instalment of a Buddha-Rupa image of a local shop in the township, when, just as he had finished blessing the Topknot of the Buddha statue after opening the eyes of the Buddha, he became dizzy and fell to be caught by other Bhikkhus. He was able to regain his awareness and asked to be helped into the meditation posture, where he sat then and entered meditation, and passed away silently.
His devotees remained seated in silence for a long time before they realized he had passed away, and even longer before they could bring themselves to bring Luang Por Kong's body down from the shop premises. And so it was that Luang Por Kong passed away in Meditation after blessing a Buddha-Rupa, on 6th February 2485 BE, at age 78, after 58 years of Ordained Life.
Temple:Wat Bang Gaporm
Maker of Amulet:Luang Por Kong
Weight:2 Grams
Recommended Uses:Protection, Evade Danger, Anti Black Magick, Auspicious Blessings, Lucky Fortunes
Size of Amulet:1.2 Cm Diameter
Encasement Options
Solid Gold Custom Casing - We will email you with a price quote, and Invoice You after Agreement (0) Solid Silver Casing - We will email you with a price quote, and Invoice You after Agreement (0) Waterproof Casing (Free) (0) Stainless Steel Casing (Free) (0) None (0)