When speaking of the Pae Maha Lap lucky goat amulet, there is one name which stands above all others, and that is the name of Luang Por Am, of Wat Nong Grabork, in Ban Kaay Rayong. Luang Por Am was, along with Masters like Luang Por Horm of Wat Sak Hmak, Luang Por Rerm of Wat Juk Gacher, and Luang Por Chaem, considered among the top Masters of the Province, long before even the Great Luang Phu Tim of Wat Laharn Rai acheived his fame. Luang Por Am was the Kroo Ba Ajarn of the Great Luang Por Lat (Wat Nong Grabork), who is famed in his own right for his powerful Pae Maha Lap Hand Carved Goat Amuletsม which he of course mastered under the tutelage of Luang Por Am.
The male Goat is known for the fact that it is able to keep a whole herd of dozens of females under his ownership, through merciful and protective influence. It is thus believed that who wears the Pae Maha Lap Khao Kwai Gae Sacred buffalo horn Goat amulets of Luang Por Am, will be an owner and controller of great possessions and wealth, with grand entourage.
Below; Luang Por Am, of  Wat Nong Grabork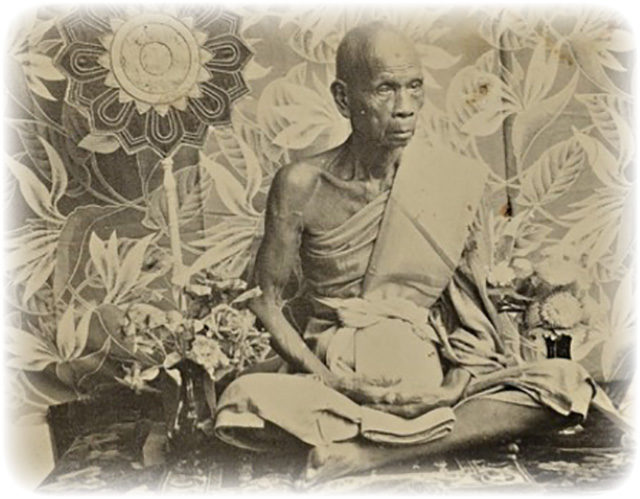 Luang Por Am, or 'Pra Kroo Taep Sittaa, was one of the Great Masters of the Central-Eastern Provinces during His Era, and the ex abbot of Wat Nong Grabork from 2431 – 2490 BE. He was rrespected and revered all around the Province, and had Great fame around the Nation for his Powerful Wicha. During his lifetime he became known as the top Master for carved Lucky Goat amulets. What is less known, and is of immense interest to investigate the lineage Wicha of the Pae Maha Lap, is the fact that Luang Por Am himself received this Wicha from Luang Por Dtaeng of Wat Ang Sila.
Luang Por Am was abbot of Wat Nong Grabork between the years 2431 to 2490 BE, being a Gaeji Ajarn of around 150 years ago, and was the Kroo Ba Ajarn teacher of many other great names of the time, such as Luang por Rerm of Wat Juk Gacher, and Luang Por Lat of Wat Nong Grabork (his successor and apprentice in magick). The Pae Maha Lap Nuea Khao Kwai Gae of Luang Por Am, is believed to possess the power to absorb Black Magick and protect the wearer/devotee from being affected.
It can be said that the Pae Maha Lap of Luang Por Am, Luang Por Lat, and now Pra Atigarn Surasit Akkawaro, the current abbot (written 2562 BE), are considered the 'cream of the crop', by serious devotees of the Pae Maha Lap, along with those other Great Chonburi Masters whose names carry fame for this Wicha such as Luang Phu Tim, uang Por Sakorn, Luang Phu Sin.
The Pae Maha Lap of Luang Por Am, was almost always made by carving a goat from 'Khao Kwai Fa Pha Dtaay', which is the horn of a buffalo which died struck by lightning in a field. It is an ancient magical belief that the horn of a lightning-struck bull or buffalo has the power of angelic beings in it, for indeed, the angelic beings of the elemental realms who control the weather, are who control these divine forces of Nature.
After the carving of the shape of the goat, Luang Por Am would then empower the Goats with incantations, and invocations of elemental powers and angelic beings, with Buddhist Blessings on top. Sometimes he would immerse them in aromatic sacred oils to consecrate them, mixed with herbal oils made from herbs and vines and flowers of the forest, with magical, healing, protective, and attraction powers. He would rebless them again and again until he felt the amulets were completely stuffed as full with magic as possible, and unable to insert any more. The magic within the amulets was hence always filled to the brim before distribution.
Look Om Maha Gan 5 Sacred Yantra Powders Ball Amulet Early Era Luang Por Pring Wat Bang Bakork
03708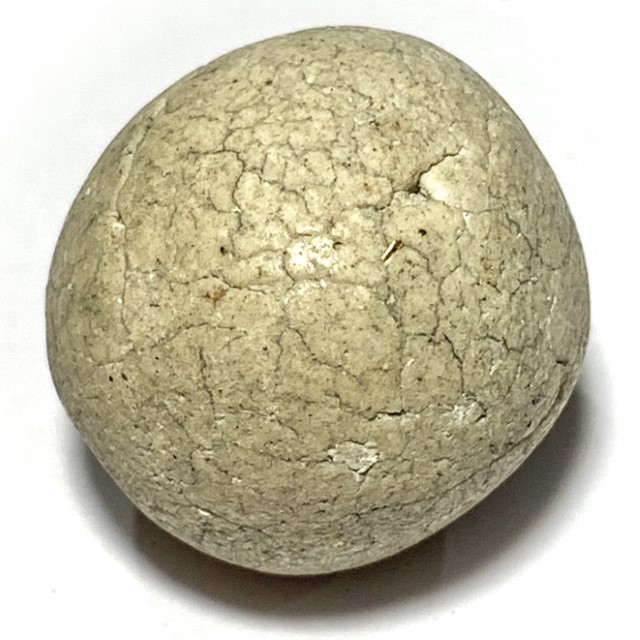 Presenting a white pong puttakun powders version of one of the famous 'Top Five' Benjapakee classic 'Look Om Maha Gan', sacred powder wishing balls, of the Great Luang Por Pring, of Wat Bang Bakork. Luang Por Pring has the honor of being Declared a Powerful Adept, by the great Master Monk Luang Phu Sukh, of Wat Pak Klong Makham Tao, and of receiving Kammathāna secrets from the Great Luang Por Parn, of Wat Bang Nom Kho.
The Look Om Luang Por Pring was made mostly in both Gray and Brownish coloured Sacred powders, and is an extremely rare and powerful amulet, most highly sought after by devotees of this Genre. In addition, a very small number of Black color, and some of these white colored Look Om are also found in existence, as well as some very rare pink colored models, both of which are most highly preferred of all from this Master along with his grayish 'Nuea Pong Pasom Toop versions. It is assumed that the Wicha he received from making Pra Somdej according to the formula of Somdej Dto, may have influenced this particular mixture of Muan Sarn Sacred Powders used for these Pong Puttakun white versions, which indeed have many aspects which resemble the sacred clay of Pra Somdej Wat Rakang including Pong Bpathamang, Pong Puttakun, Pong Trinisinghae, Pong Ittijae, and Pong Maharach
The Look Om Luang Por Pring is most certainly an essential rarity and esteemed member of the amulet appreciation society's pantheon of 'Niyom' (preferred) level Master-Class status amulets. The Look Om of Luang Por Pring is classed as one of the five top Look om within the 'Benjapakee' of 5 Top Look Om of the five Regions of Thailand.
The five members of the Look Om Benjapakee are 1. Look Om Maha Jinda Mani Montrakom of Pra Palad Parn, Wat Tukata (who was the Upachaya of Luang Phu Bun Wat Klang Bang Gaew) 2. Look Om Maha Gan of Luang Por Kong, Wat Bang Gapom 3. Look Om Grao Paetch of Luang Por Parn, Wat Bang Nom Ko 4. Look Paya Chang Sarn of Wat Bang Wua (Luang Por Ding), and 5. the Look Om of Luang Por Pring, Wat Bang Bakork.
The Look Om of Luang Por Pring is made from Pong Puttakun, Bucha Flowers, and Incense Powders from the Bucha Shrines of Wat Bang Bakork. Luang Por Pring distributed jhs Look Om during the second world war. He made various versions in different kinds of sacred powders.
The Look Om are empowered leaning towards the Magical Aspect of Klaew Klaad Kong Grapan Chadtri, because they were made during times of great physical dangers in the time of World War 2. Luang Por Pring was one of the various Kroo Ba Ajarn of Grom Luang Chumporn. Even the great Luang Por Parn of Wat Bang Nom Kho came to Wat Bang Bakork to learn the Wicha Look Om from Luang Por Pring. These days the Look Om of Luang Por Pring is an extremely rare amulet to find.
Due to the popularity and rarity of the Look Om Luang Por Pring, there are a great number of fakes around.One thing to look out for when studying the Muan Sarn Sacred Powders under an eye loupe to authenticate, is to seek out the presence of the different ingredients within the Muan Sarn;
IFor example, in the gray models, one should seek the presence of 'Nam Dtan Daeng' - reddish flakes from the dried flowers kept from in front of the shrine should be found as tiny little reddish transparent flecks, which derive from the rose petals. In white models, one should seek particles of crystalline 'Hin Silatikun'. Below; the macro image reveals the truly natural ageing process which has resulted in the surface texture of sacred clay that is only possible from the natural passage of time, and cannot be replicated by forgery
It is not every day that one can be lucky enough to encounter the Look Om Luang Por Pring, a Classic Master-Class Kong Grapan Chadtri Klaew Klaad amulet and Sacred Wishing Ball from the World War Two Era, from a Master Geji Ajarn who carries the status of Kroo Ba Ajarn in Wicha Look Om to the Great Luang Por Parn of Wat Bang Nom Kho.
Powerful Protection from a Niyom Category Benjapakee Top 5 Look Om, of Master-Class Status, of the early era of Luang Por Pring, whose oobvious ageing cvharacteristics show its early era status.
Temple:Wat Bang Bakork
Maker of Amulet:Luang Por Pring
Weight:3 Grams
Recommended Uses:Metta, Maha Sanaeh, Klaew Klaad, Kong Grapan Chadtri, Serm Duang
Size of Amulet:Circa 2 Cm Diameter
Encasement Options
Solid Gold Custom Casing (Waterproo​​​​​​​f) - We will email you with a price quote according to current Gold Prices, and Invoice You after Agreement (0) Waterproof Casing (Free Offer) (0) Without Casing (0)
Chueak Kart Aew Waistcord (Adds 12 Grams to Shipping Weight)
With Waistcord (Black) - Free Offer (0) With Waistcord (Ochre) - Free Offer (0) No Waistcord (0)